This Creamy Green Chili Chicken Bake requires just 3 main ingredients, plus a few spices, and results in shredded chicken with a velvety smooth sauce. Serve this family friendly dish over rice or other side of your choice, or even spoon it into tortillas.  Makes a 9×13 pan and serves 6. Scroll past recipe for more step by step photos and instructions!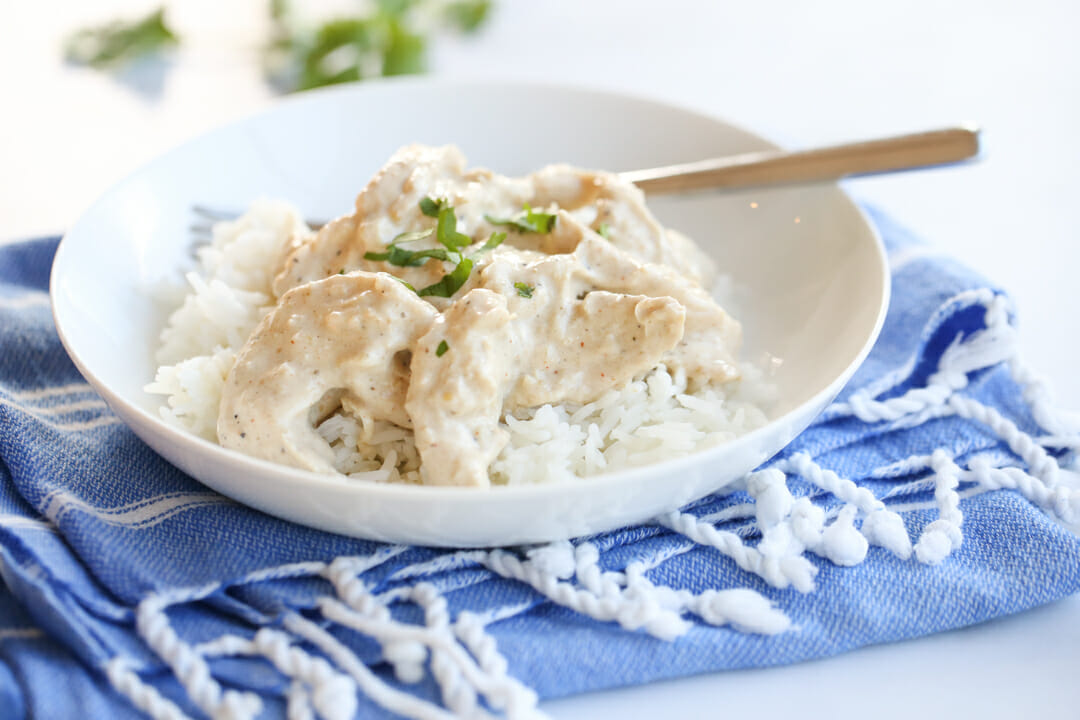 Print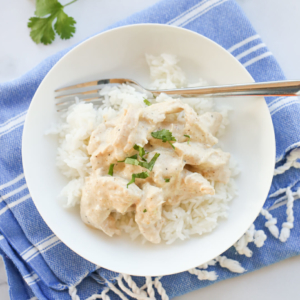 Creamy Green Chili Chicken Bake
---
Description
A quick and easy recipe with minimal ingredients!  A creamy green chili sauce coats shredded chicken- perfect for serving over rice.
---
2–3 lbs boneless skinless chicken breasts (4–6 breasts)
1 teaspoon garlic powder
1 teaspoon cumin
1/2 teaspoon chili powder
1/2 teaspoon smoked paprika (optional, if you don't have it don't stress)
1/4 teaspoon black pepper
16oz jar green salsa (I prefer mild)
8oz cream cheese
Kosher salt to taste
Cooked rice, for serving.
---
Instructions
Preheat oven to 350 degrees.  Place chicken in a 9×13 pan, sprinkle with spices (except salt).  Pour entire jar of green salsa over everything.  Bake until an instant-read digital thermometer reads 165 degrees in the thickest part of the meat.
Remove pan from oven, gently scrape off any salsa off top of each chicken breast and place chicken on a cutting board.
(Note:  Basically the only other step is adding cream cheese to the sauce in the baking dish.  The following instructions are how I found the most consistent results for a smooth sauce, but read the notes section below for some other options.)
Place cream cheese in a heat-safe bowl and microwave for 20-30 seconds or more, until it is soft and easy to stir smoothly.  Ladle some of the green chili sauce from your baking pan into the cream cheese and whisk until smooth.  Add more and keep whisking.  This little process with ensure you don't end up with lumps in your sauce!  Scrape out all the cream cheese mixture back into your baking pan and whisk everything until smooth.
Shred chicken and add back to pan, tossing in sauce.  Season with kosher salt, if needed.  Serve over rice.
---
Notes
Cooking Options!  I tested all of these options to find the easiest method for you.  Here are my notes! 
 I've cut room temperature cream cheese into small squares and tossed them in the hot sauce in the pan and then whisked it together (I like the ease of not having to use another bowl to warm the cream cheese first) but some brands of cream cheese will never get smooth and you'll end up with chunks.  You can always pop the sauce in the blender if this happens to you.
I tested placing all the ingredients into a blender first (cream cheese, salsa, spices) and then pouring over the chicken and baking.  It totally works, but compared to the method outlined in this recipe, the sauce is not as smooth.  The cream cheese tends to "break" just a bit.  But it definitely still tastes great and  some of you might find this method easiest for you.
I tested cooking this with *thin cut* frozen chicken breast straight from the freezer and it worked great.  It just takes a bit longer to cook.
If you want this dish to cook faster, cut your chicken breasts in half horizontally, or dice into smaller pieces.  It should come to temperature in about 30 minutes.
ALTERNATE COOKING METHODS
PRESSURE COOKER:  Place everything except cream cheese into your pot.  Cook at high pressure for 10 minutes.  Remove chicken.  Add cream cheese to sauce, I would suggest an immersion blender to make sure it gets smooth.  Return chicken to pot. '
SLOW COOKER:  Place everything except cream cheese in slow cooker and cook on low for 4 hours or until chicken has reached an internal temperature of 185 degrees. Remove chicken and shred and add softened cream cheese to sauce and whisk until smooth.  I would suggest an immersion blender.
What kind of green salsa should I use in Creamy Green Chili Chicken Bake?
This is one of the easiest recipes you'll ever make!  The main flavor component here is green salsa.  It's a great shortcut ingredient because it has things like tomatillo, lime, cilantro, onion and garlic already in the jar.  However, not all green salsas are NOT created equal.  One of the biggest factors is the heat level.  Even different bottles of the same salsa can sometimes taste different and have different heat levels.  If you like spicy food, feel free to use a spicy green salsa.  For my family, I always make sure to buy something labeled mild.  As an example, this is a common grocery store brand that's easily found in grocery stores: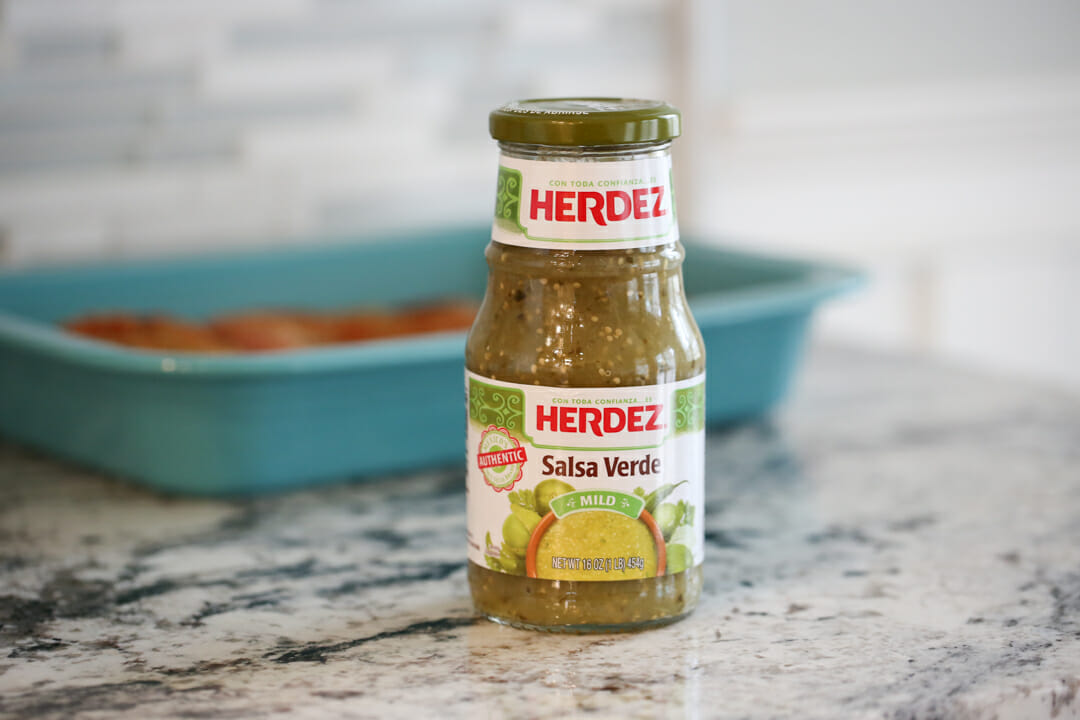 Sprinkle Spices over Chicken
You'll sprinkle a handful of spices over some boneless, skinless chicken breasts in a 9×13 pan.  If you don't have all of these, don't sweat it.  It's totally fine to even eyeball!  Then pour the jar of green salsa right over everything.  That's it!  Pop it in the oven.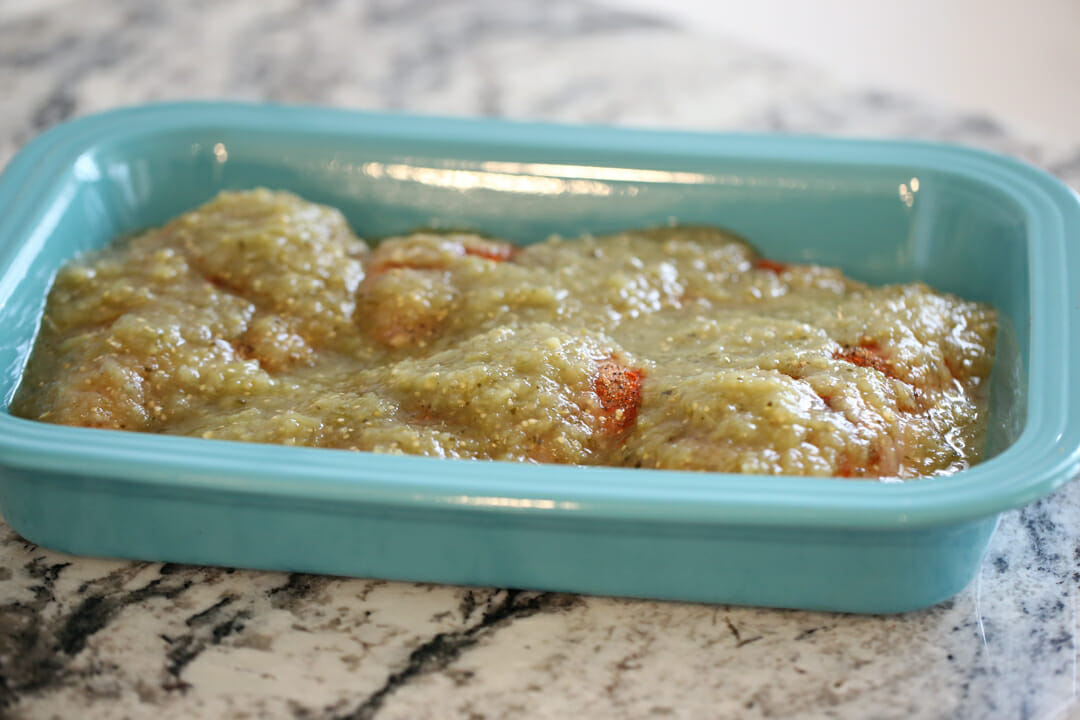 How Long Does Green Chili Chicken Take to Bake?
Your best friend will be an instant read digital thermometer.  Simply cook your chicken until it reaches an internal temp of 165 degrees and then remove.  For average size chicken breasts, I'd say 35-45 minutes.  Thin cut will be done in about 30 and thick will take close to an hour.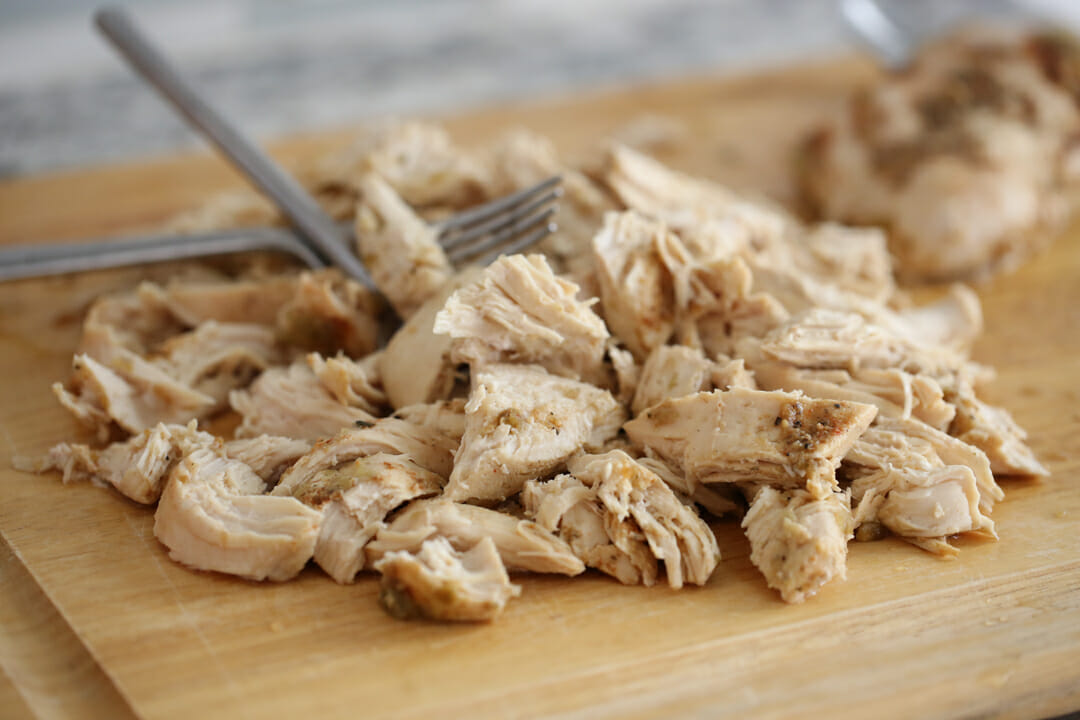 Shred the Chicken
After the dish comes out of the oven, remove the chicken pieces to a cutting board and shred.  You'll also combine a block of cream cheese to the remaining sauce in the baking dish.  I've outlined a couple different ways to do this is the printable recipe.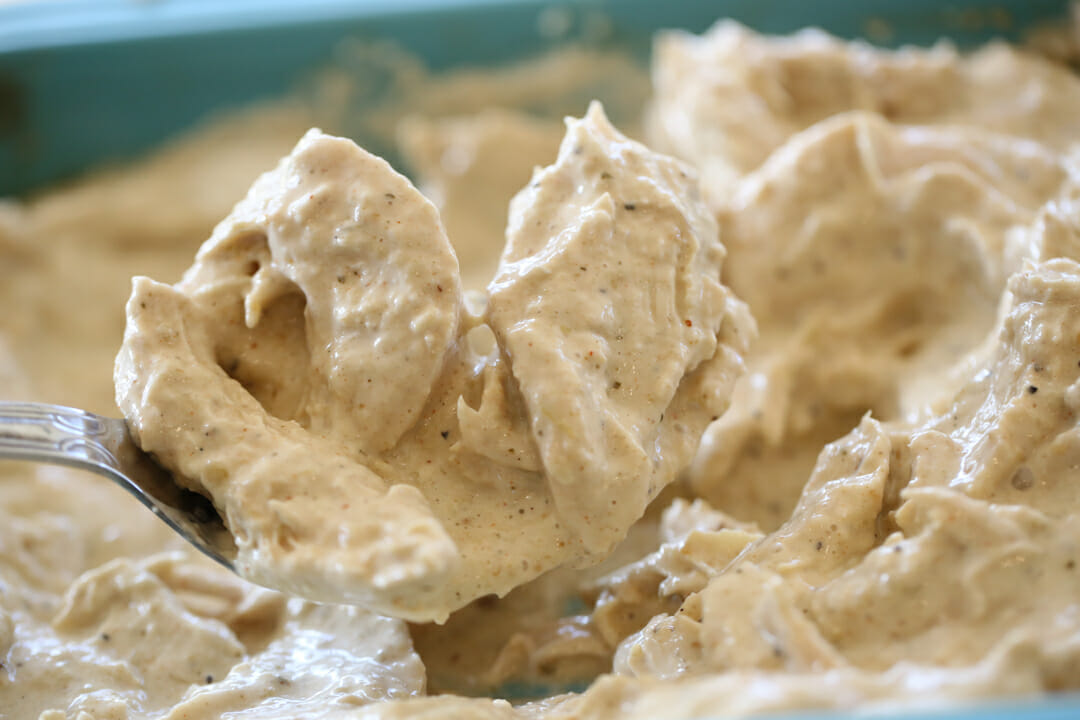 How do I serve Green Chili Chicken Bake?
My family's favorite way to eat this is over rice.  The creamy sauce drizzles over everything and it's warm and perfect.  I've had people tell me they've folded this into tortillas as well.  You could also try it over pasta.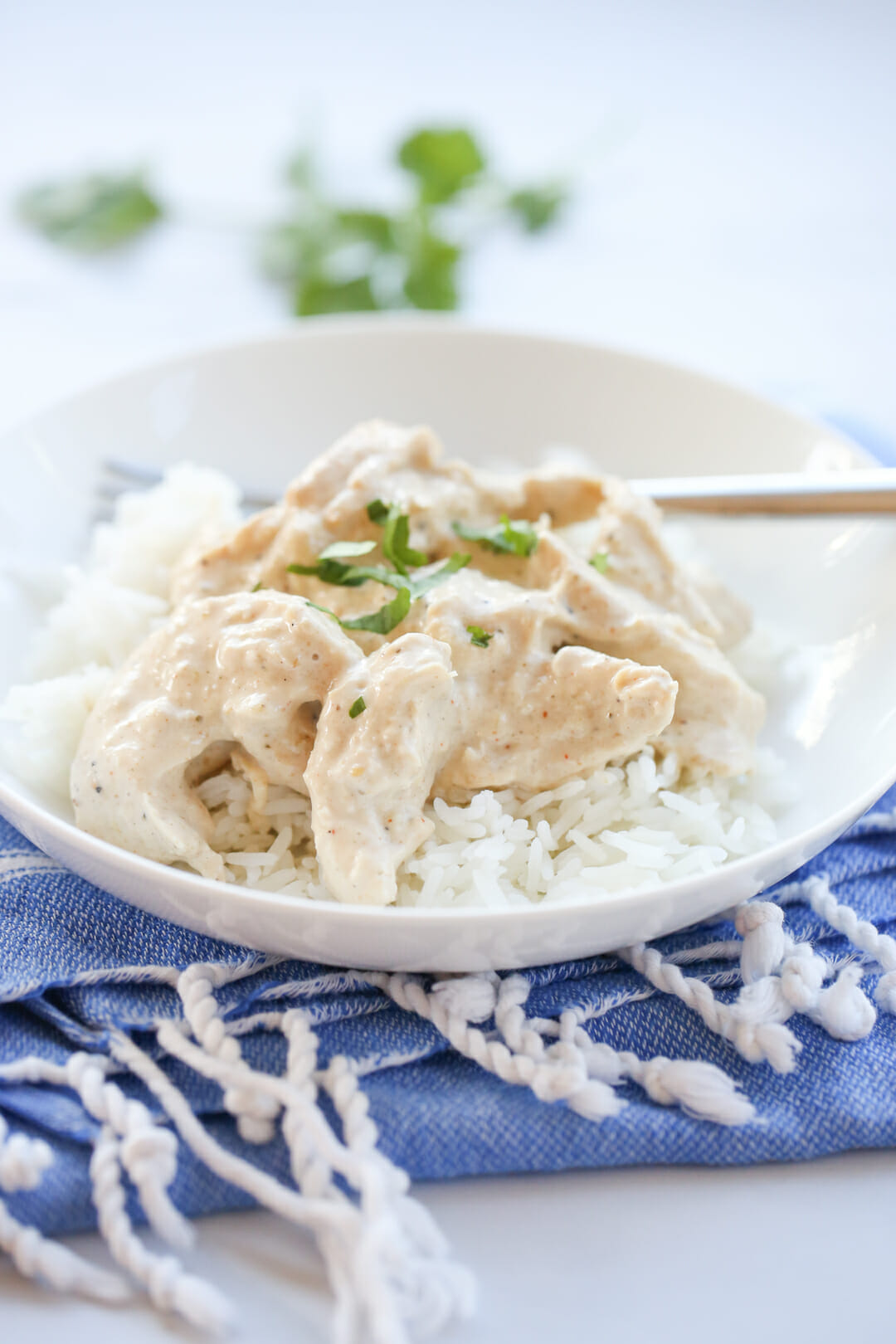 If this looks good to you, here are some other dishes you'll probably love!
Baked Creamy Chicken Taquitos
Taco Chicken
Pressure Cooker Chili-Lime Chicken
Slow Cooker Taco Chicken