With the onset of October, the entire blogosphere is erupting with pumpkin this week. So the fact that I'm posting something with bright summer flavor might seem strange, but stick with me here. We're all about the pumpkin-madness (hello- just look at our sidebar!) but the arrival of cool autumn days also means the arrival of warm autumn dinners. At least one night a week at my house, from now until about March, there is some sort of soup or stew simmering away at dinner time. And there is undoubtedly some sort of warm, bready, carbohydrate along side it. When I make a hearty soup, I often just grab a loaf of french bread to go along with it, and I love making a flavored butter to spread on it. I swear to you that warm buttered fresh bread dunked in hot, homemade soup is one of life's greatest pleasures. I make a lot of compound butters, and this is one of my most favorites. It's spiked with fresh lime and garlic and a little kick from some jalapeno. I love, love, love it served with bread or corn bread along side our White Chicken Chili, Chipotle Chocolate Chili, Chicken Tortilla Soup, Creamy Corn Chowder, or Black Bean and Sweet Potato Chili.
It starts with a little bit of a secret ingredient.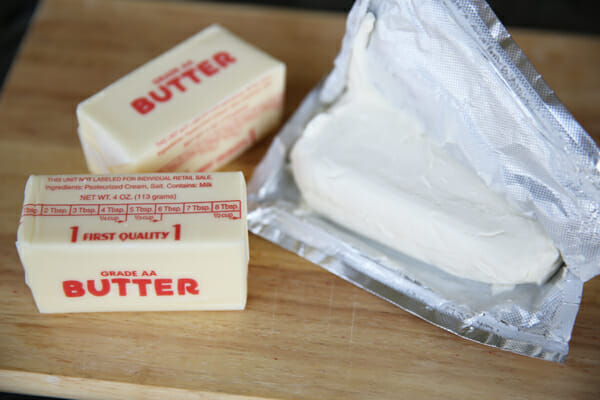 Adding just a little bit of cream cheese to the butter makes the overall consistency extra creamy and whipped, and the flavor is smooth with just a little bit of tang. The butter and cream cheese together just sort of melt into this perfect consistency when slathered on hot bread. So start with your butter (real butter. I can't say that enough. If you make this with any form of margarine, you're fired from reading this blog. Forever.) and cream cheese at room temperature. Yes, this takes a little bit of planning, but it really makes the finished product so much better.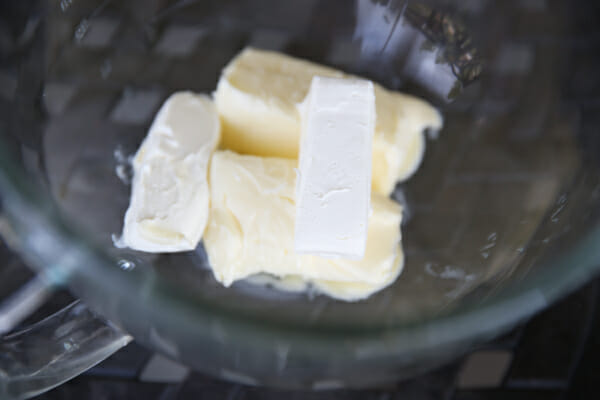 Whip those together until they're creamy and smooth and then add in the flavor:
I add minced jalapeño- and you can add as much as you want depending on how spicy you want it. But I do suggest that you mince it as small as possible so you don't have any huge chunks of raw hot peppers in there. Also the zest of one lime, and a little juice, some fresh garlic, and chopped fresh cilantro.
Whip those together (this paddle attachment for the KitchenAid is perfect) until the mixture is light and fluffy and everything is distributed. Give it a little taste and sprinkle in a little kosher salt if you feel it needs it.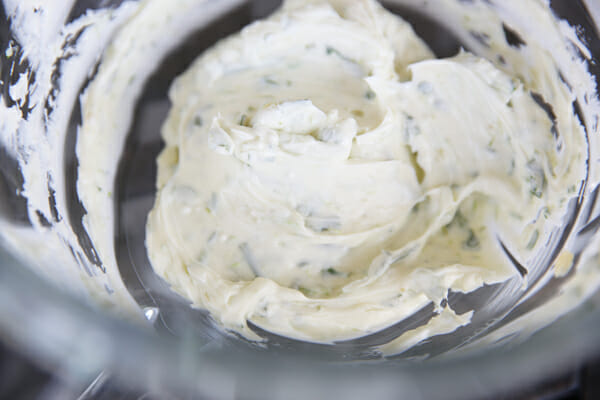 With the holidays coming up, this makes a really cute hostess gift.
Just put it in a cute jar and tie a tag on it and you're good to go. It's also such a quick and easy side-dish to bring to a pot-luck, tailgating, or a dinner party. Just bring along a loaf of crusty french bread or a basket of corn muffins and let people slather away.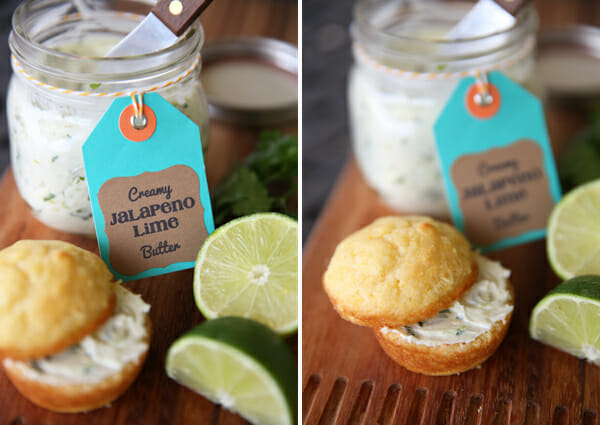 Love it on french bread or corn bread, toast, or sourdough, too!
The absolute best thing in the world is when you spread it on warm french bread and then dip the bread in White Chicken Chili. Seriously, one of my most favorite things ever.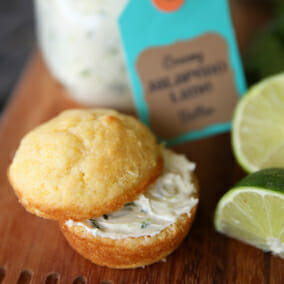 Creamy Jalapeño-Lime Butter
---
Description
An easy flavored butter with lime, jalapeno, cilantro, and garlic. Perfect for cornbread along side a hot bowl of chili.
---
1 cup

(

2

sticks) real butter, at room temperature

4 ounces

cream cheese (low fat is fine, avoid fat free), at room temperature

1/4 teaspoon

finely minced garlic
zest from

one

large lime

2 teaspoons

fresh lime juice (more to taste, if desired)

1

–

2

teaspoons finely minced jalapeno

2

–

3

tablespoons chopped fresh cilantro
---
Instructions
Beat butter and cream cheese together until well blended and light and fluffy. Add in garlic, lime zest, lime juice, jalapeño, and cilantro. Mix until everything is well distributed.
Spread on bread or corn bread. When not in use, store in fridge and bring to room temperature before serving again.
---
Do you all follow us on
Facebook
? We love connecting with you all on social media, so be sure to check us out not only on
Facebook
,
Pinterest
,
Twitter
, and
Instagram
, too!
*Disclaimer: This post contains affiliate links.