Do you remember being a kid and wondering in the kitchen around dinner time to check out what your Mom was making and the sheer jubilation you'd feel when you unexpectedly found out it was something you LOVED?  When I was growing up I secretly loved it when my Dad travelled for business because it meant when he got home he'd pull out gift-shop trinkets from his suitcase, we could sneak into Mom's bed at night since there was an open spot, and we also got to have spaghetti for dinner.  He didn't like spaghetti, so as soon as he left, we'd start boiling noodles and we all loved spaghetti night.   Another all-time favorite was French Dips, which we always make (and actually still make) with good sliced deli meat instead of our yummy slowcooker version.  Chicken Divan is another classic family favorite, but if I had to pick just one- one meal that that I loved and adored, one meal that to this day the smell melts me into a pool of delicious nostalgia, it would undoubtedly be my Mother's Rice Krispie Chicken.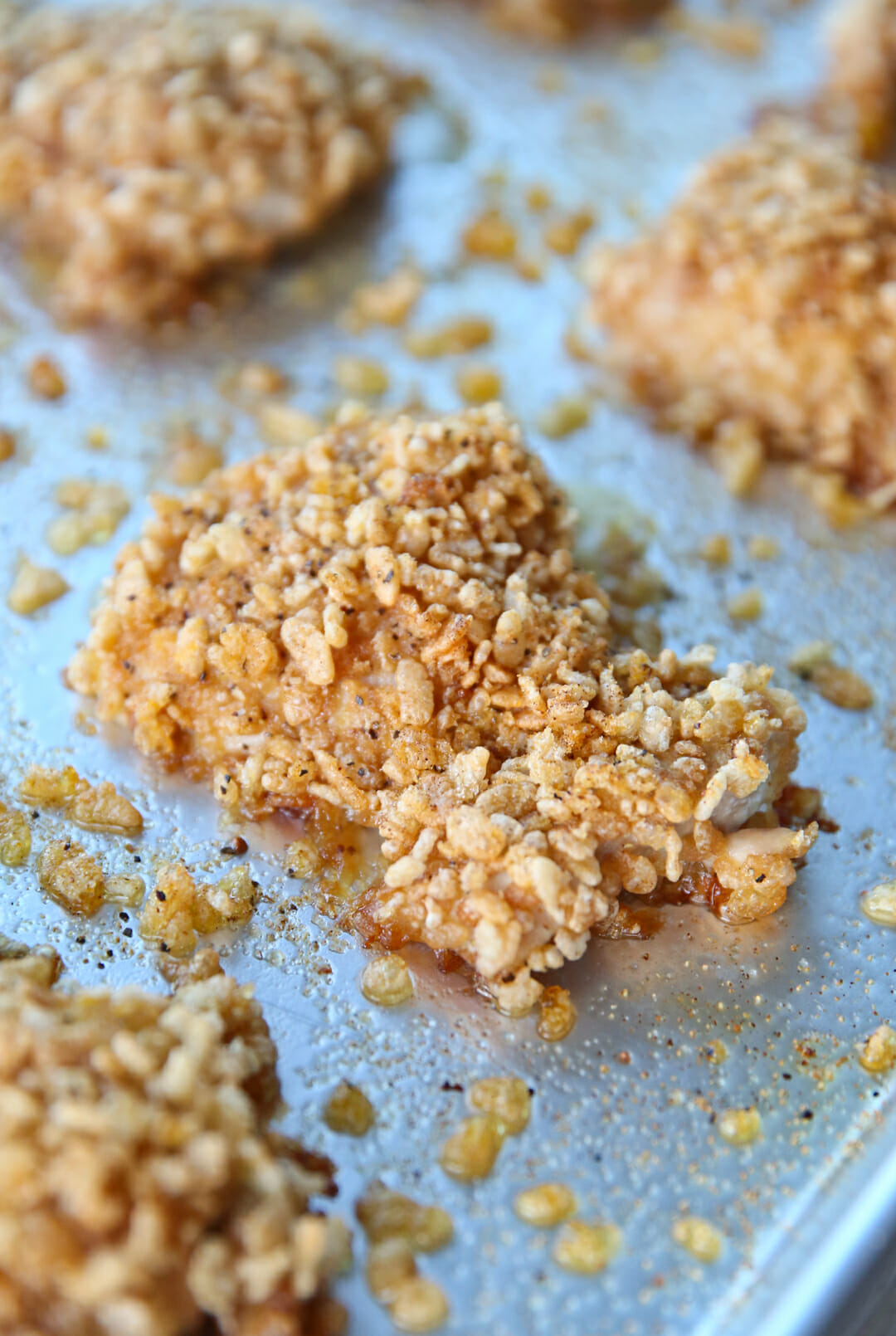 Looking back I can see this meal is quick, easy, and inexpensive.  My Mom probably made it up one day when rummaging through bare cupboards but to us it was magic.  Tender juicy chicken is coated with the most buttery, savory topping that's delicately crispy and soooo delicious.   When my sister was in town over the holidays, she mentioned she makes it a lot for company and every single time her guests rave like crazy about it.  Neither of us really use a "recipe" so I asked her to walk me through how she makes it and we do basically the same thing, but I did add an extra seasoning from her tips and it made it even better.  I'm glad she reminded me of this though because I was surprised I had never shared this recipe before seeing as it's one of my lifetime favorites and go-to's for quick family dinner that everyone loves.
Guys it's so easy!  First thing you'll need is boneless, skinless chicken thighs.  Don't ask me if you can make this with chicken breasts or chicken tenders.  I know you were about to.  I know the world is obsessed with boneless skinless chicken breasts but branch out a little, people.  There are a couple reasons thighs are your best best here and I'll explain later in the post.  This recipe is so simple and easy, though!  You'll just need your prepped chicken and two bowls- one with a stick of melted butter, and one with rice krispie cereal.   Dip both sides of the chicken in the butter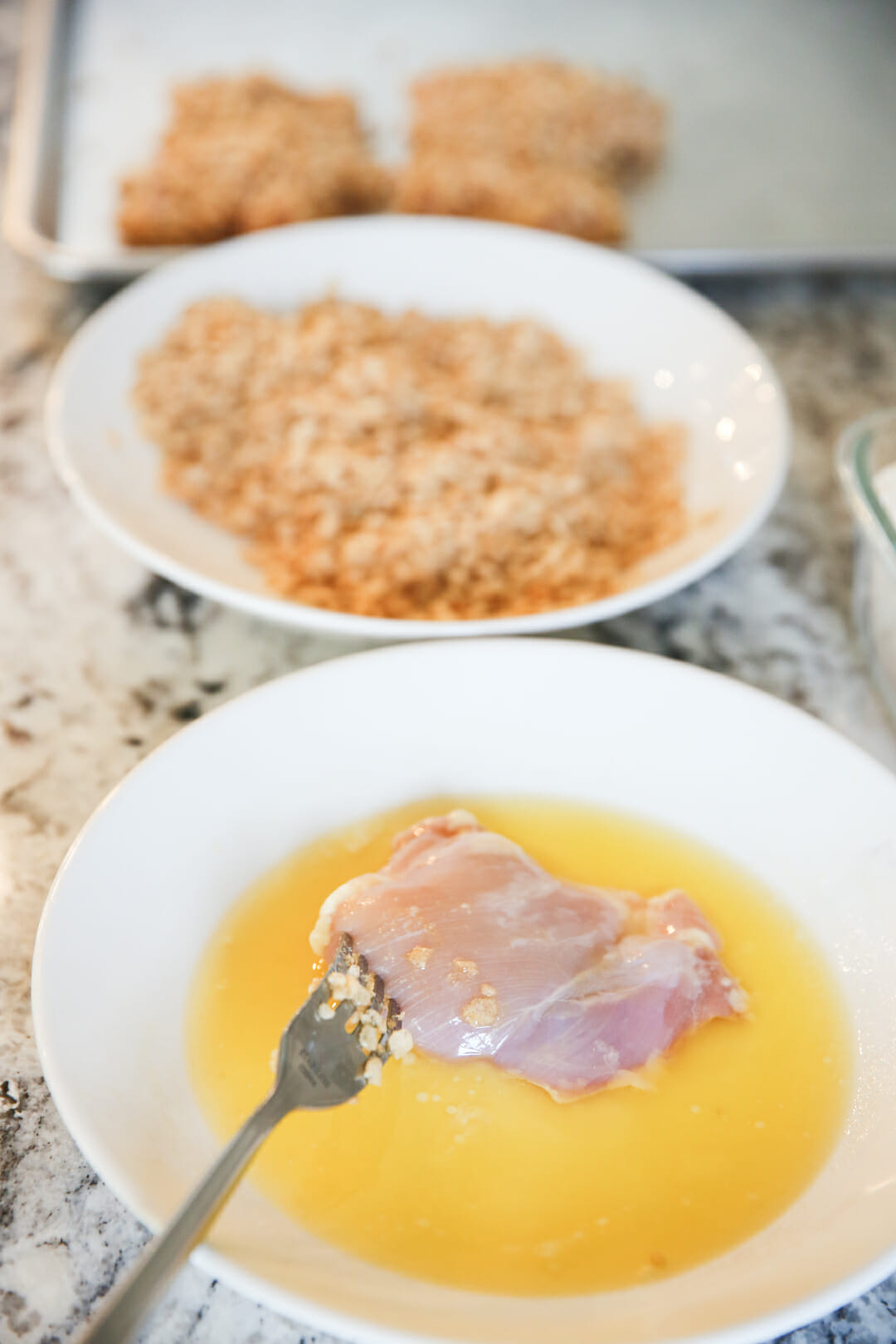 and then plop it into the rice krispies.  Now one trick here is to only dip the top side in cereal.  My mom only dipped the top to save on calories, but honestly if you dip the bottom as well, it tends to get soggy, so just do the tops.  I usually dip the top and then flip it over in my hand and use my fingers to crush on extra cereal and press it into the top.  Basically getting in as much cereal as you can on there.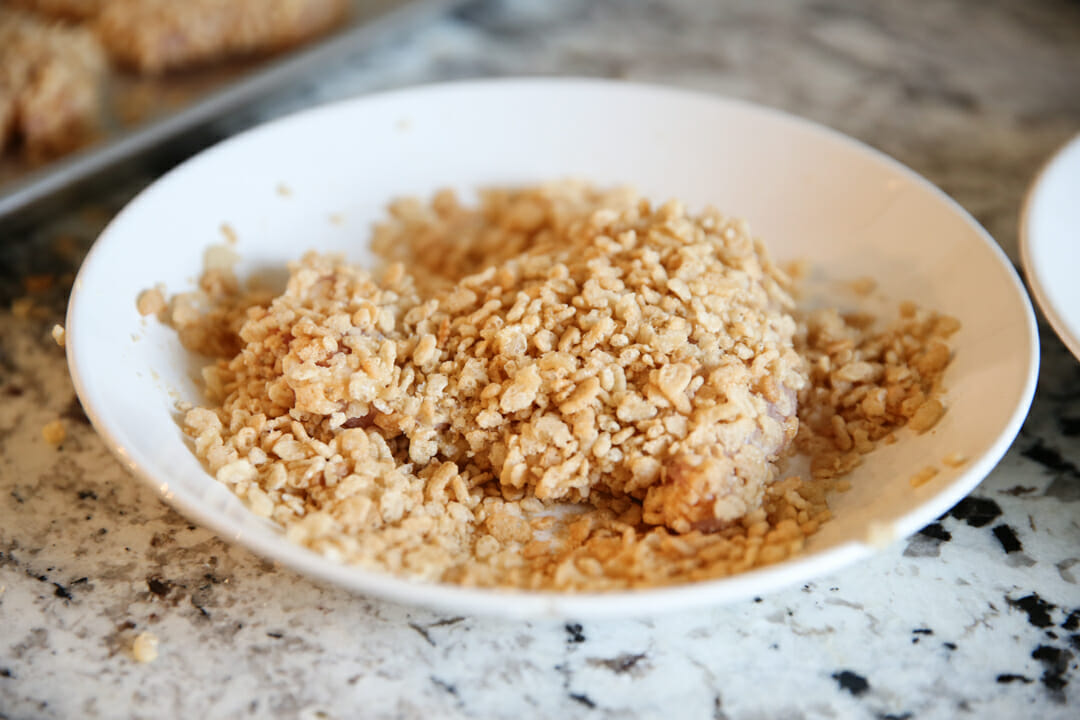 Then just place on a baking sheet.
You'll sprinkle seasonings over the top of everything.  There are no measurements here because it depends on the size of your chicken and also you are smart people and I believe in your ability to properly sprinkle seasonings.  I've tried these with a lot of different seasoning combos, and you are certainly welcome to experiment at this point, but my favorite is still our classic family combo my sister always goes with: Garlic powder, Lawry's seasoned salt, lemon pepper, and onion powder.  I hadn't been doing lemon pepper but that's the one my sister told me to throw on there and it was perfect.  It doesn't make it taste lemon-y at all, just adds lots of flavor!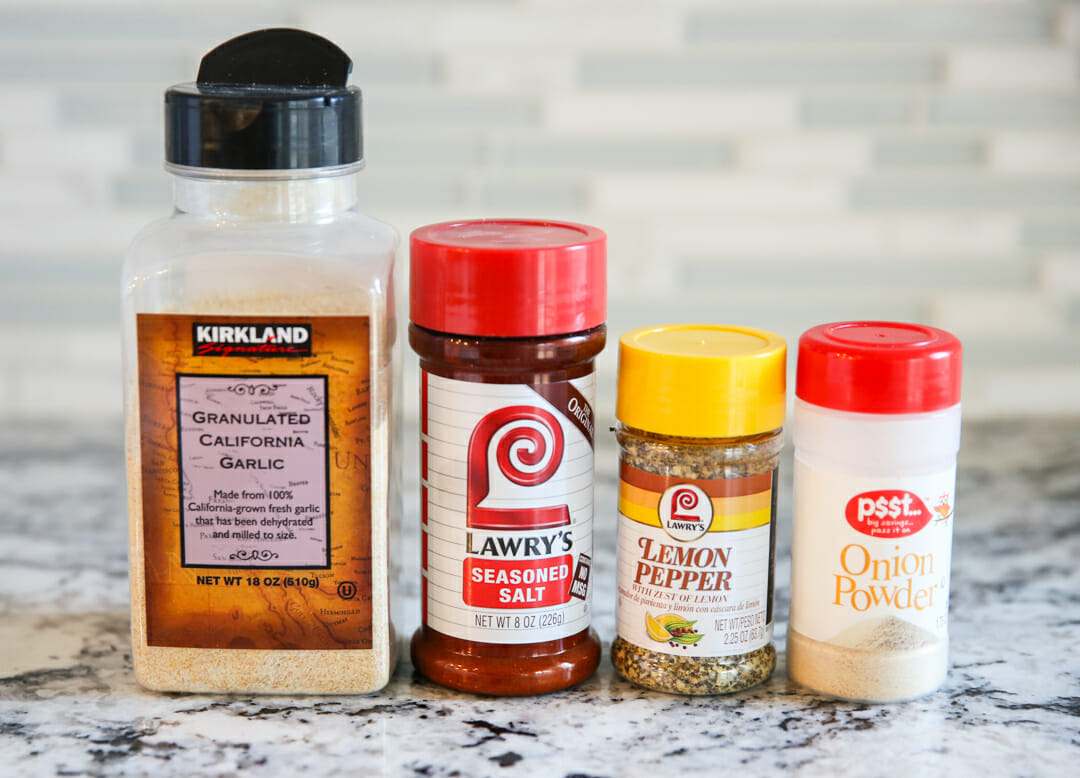 Just sprinkle a good amount over all the chicken pieces and you're good to go!  See?  So easy!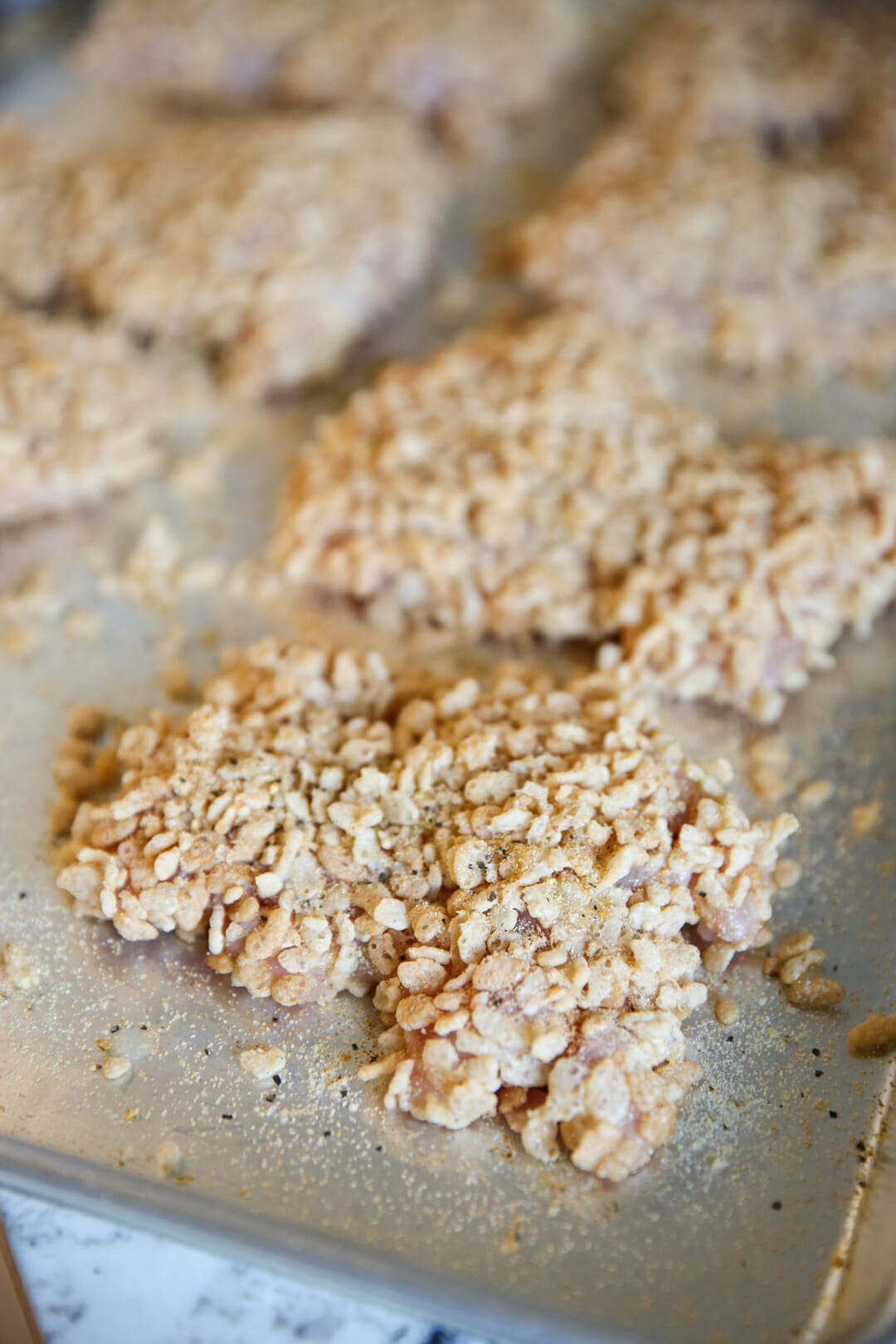 This just goes into a pre-heated 400 degree oven and cooks for 20-25 minutes.  Now here's where that other benefit of using chicken thighs comes to play.  You need to accomplish 2 things here- cooking the chicken to an internal temperature of 165 degrees, and also getting a golden-brown crispy topping.  With chicken breasts, you need to take them out right at 165, or even a tad bit under, or it will be dry and tough.  But at that point the topping isn't always done.  With thighs you get much more wiggle room since they can handle being cooked a little longer past temperature and still stay nice and juicy. That way you get cooked chicken AND the perfect topping.  Plus the thighs with their little bit of additional fat created a far superior topping when all is said and done.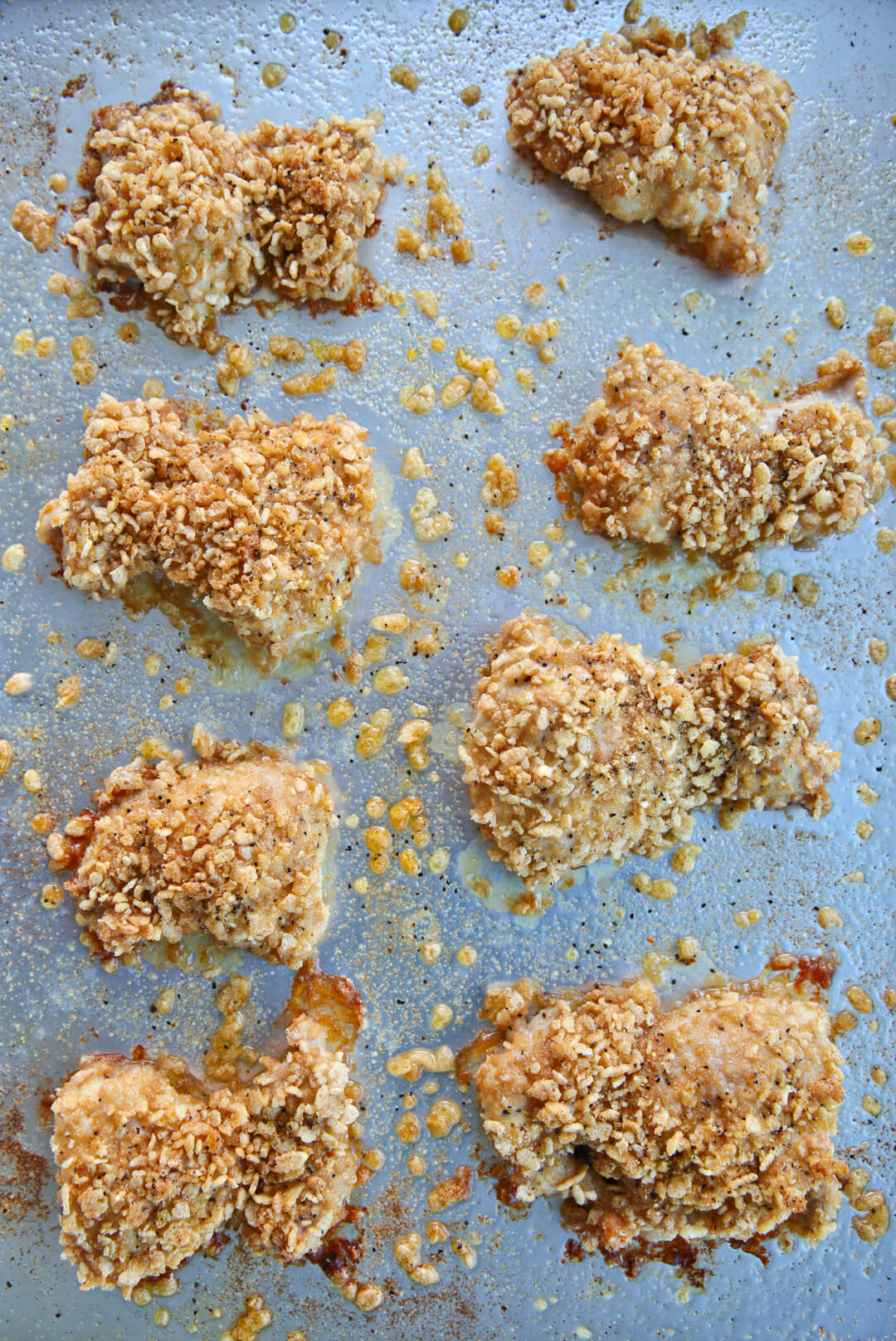 When I was little my most favorite part of this meal was after dinner when everyone was going back and forth clearing the table and every time we passed by the pan on the counter picking off those little crispy, salty baked-on bits.  Okay it's still my favorite part.  This topping is unlike any other.  Because those rice krispies are so delicate, they are able to soak up a little butter and turn into the most buttery crunch.  It combines with the savory seasonings and the bite of tender chicken and the whole thing is just perfection.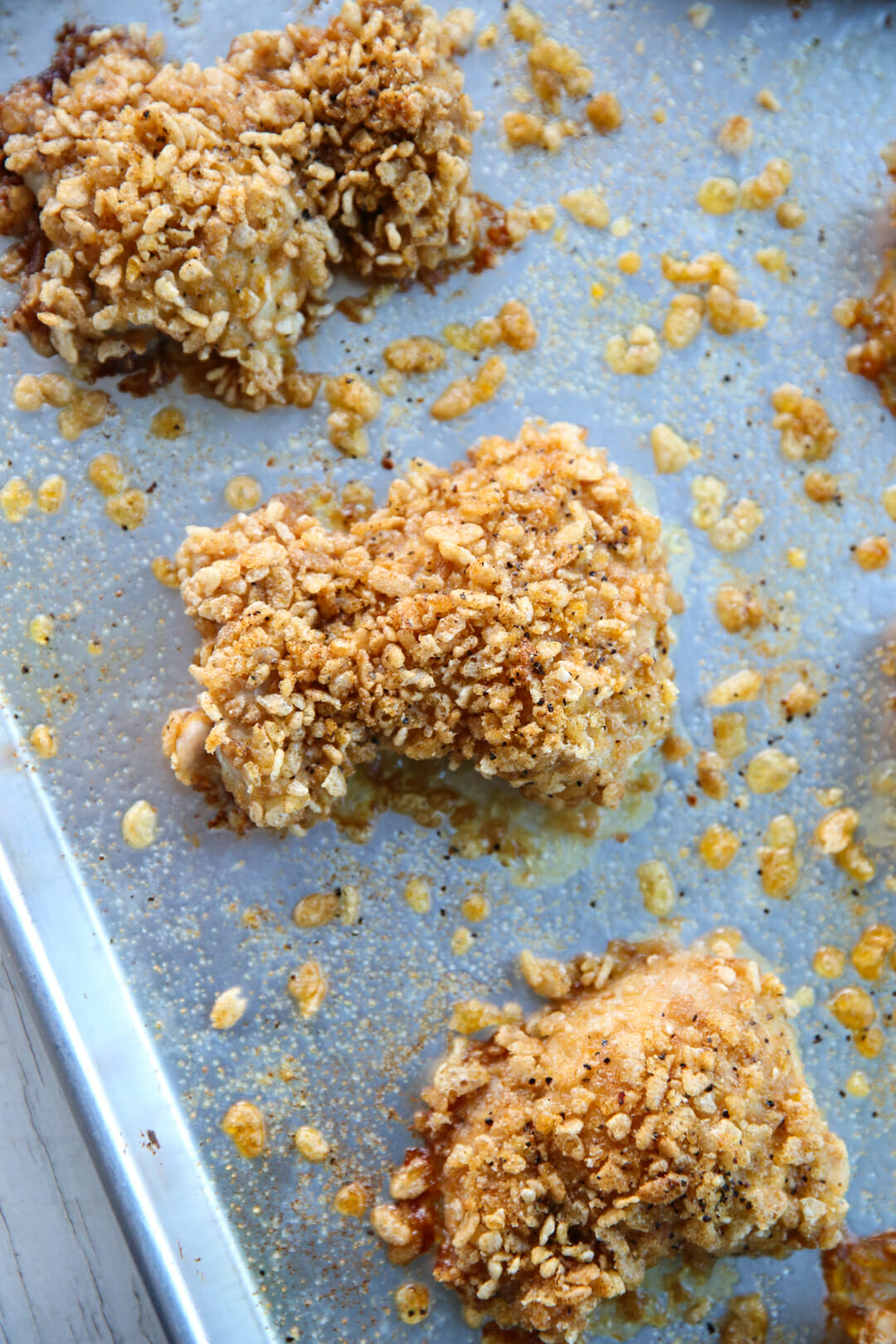 I love that one of my favorite childhood meals is now one of my kid's favorite meals!  This is so quick and easy and requires so few ingredients that's it's a great go-to.  I often keep a box of rice krispies up on the top shelf of my pantry where my kids can't actually eat it as cereal and I have it for recipes like this, and also these.  Let me know how you like this one- I can't wait for you to try it!
Print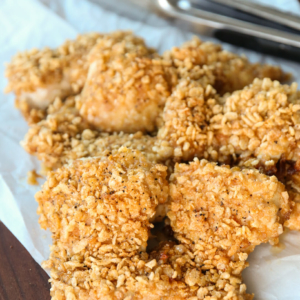 Crispy Baked Chicken Thighs
Author:

Sara Wells

Prep Time:

10

Cook Time:

25

Total Time:

35 minutes
---
Description
A delicious and simple recipe with tender juicy chicken and a buttery-crisp topping!
---
8

boneless skinless chicken thighs

1

stick butter (

8 tablespoons

)
rice krispie cereal
Lawry's Seasoned Salt
lemon pepper
garlic powder
onion powder
---
Instructions
Preheat oven to 400 degrees.
Pat chicken dry and use a clean pair of kitchen shears (or a pair of regular scissors that's been washed with soap and hot water- just pop them in the dishwasher after!) to trim off any excess fat.
Melt butter in a shallow dish.  Pour several cups of rice krispy cereal in a separate dish.  Use your hands to very lightly crush the cereal just a few times.
Dip each chicken piece in butter on both sides and then dip the top side in the cereal.  Use your had to press a little more cereal onto the top and then place on a baking sheet.
When all chicken pieces have been placed on the baking sheet, sprinkle all pieces with each spice (seasoning salt, lemon pepper, garlic powder, and onion powder.) If there is any extra butter in your dish you can gently drizzle it over the chicken.
Bake for 20-30 minutes, until the chicken reaches an internal temperature of 165 and also the cereal is golden brown and crisp.
---
Notes
You can make as much or as little chicken as you like!  I included measurements on the chicken and butter so you know that I usually use 1 stick per about 8 thighs.  When it comes to the cereal and seasonings, it's not hard to eyeball and the exact amount will vary depending on the size of your chicken pieces.