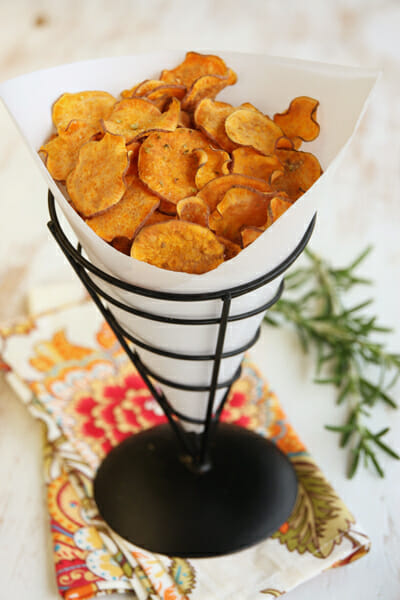 Some quick items of business:
1.  Kate and I will each be doing book signings either today or tomorrow!
Boise, Idaho: Saturday September 22, 11:30am-1pm.  Deseret Book Store, Boise Idaho (that's the store on Overland, not Eagle Road)
Baton Rouge, Louisiana:  Friday September 21, 7 pm.  Barnes and Noble 7707 Bluebonnet Blvd, Baton Rouge (that's TODAY!)
** Feel free to bring in books you've already purchased, come say hello!
2.  We have a giveaway going on right now- click here to enter!
3.  We're still accepting entries in our photo contest through today- so send them over!  We'll be featuring more of our faves this weekend and announcing the winner of the KitchenAid next week.  Woot!
3.  You need to make these Sweet Potato Chips.  Like, now.
I'm kickin' it totally old-school today because I used to make chips like this when I was in, like, 6th grade after school.  Sweet potatoes are incredibly versatile and incredibly good for you!  They're high in vitamin B6, vitamin C, vitamin D, iron, potassium and magnesium.  They're also super sweet, but unlike regular potatoes, they won't spike your blood-sugar.  It's crazy how easy these are, and how good the results are.  Sweet potatoes have a reputation for being a little soggy in the oven, but don't be fooled- these will turn out perfectly crisp.
Sweet Potatoes come in all sorts of random shapes and sizes.  Keep in mind that it's helpful for the slices to be close to the same size in order to cook evenly, so if you spot some evenly-sized sweet potatoes (like the one shown on the left- see how it's straight and long as opposed to all curvy like the one on the right?) grab 'em.  But in the end it doesn't really matter much so don't stress too much about the perfectly shaped sweet potato.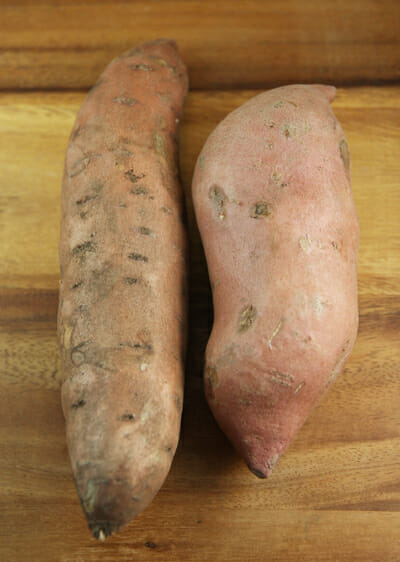 You will need to have either a mandoline, a food processor with a thin slice attachment, or some crazy ninja knife skills.  A mandoline is definitely the easiest.  If you're using a food processor, you want the thinnest slice possible, and you'll probably have to cut your sweet potatoes so they won't be round.  I gave mine a slice with my mandoline (I also sliced my finger off for the first time.  With the frequency that I use my mandoline and my history of injury in the kitchen, it's fairly miraculous it's never happened before.)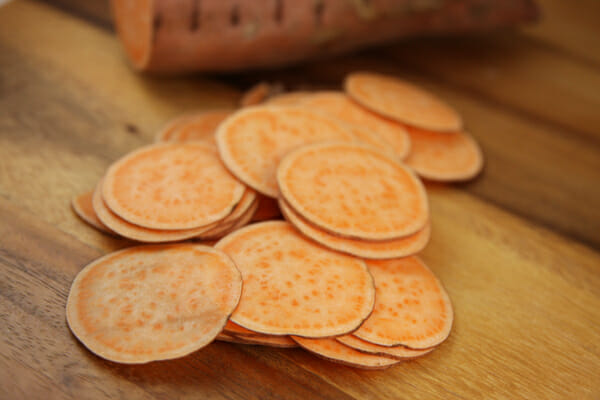 Now, these can be baked in the oven at about 400 degrees, but I've made them a million times a million ways and you want to know what works the best?  The microwave.  It's faster, and at least for me, produces more consistent results and crispier chips.  In the oven, I almost always get burn chips on the pan along side chewy ones that aren't cooked.  So I recommend the microwave for this one.  If your microwave doesn't have a turn table, you might need to rotate during cooking.  To fit the most chips in at once, I just use the glass plate/tray that's in the microwave already.  Cut a piece of parchment paper to fit it and lay your sweet potatoes right on there.  They can be touching, but try not to overlap them.  Squish as many as you possibly can on there because they shrink a ton.
At this point, you can just pop them in the microwave.  Or you can give them a quick spritz of non-stick cooking spray and season them.  A light sprinkle of sea salt or kosher salt is great (and I really do mean light sprinkle.)  I like them with cumin, or the seasoning mix I use for my Sweet Potato Fries.  I also love the flavor of rosemary with sweet potatoes.
There's a great burger place where I live called The Boise Fry Company.  When you order fries to go with your burger, you can choose from a ton of different types (russet/red/sweet/blue etc) and then there is a Smörgåsbord (seriously, that's the correct spelling.  I Googled) of flavored dipping sauces (blueberry mayo!  Spicy Thai!) and flavored salts (vanilla!  Chipotle!)  My favorite salt is a rosemary-garlic one and last time I used it I sprinkled it on sweet potato fries and they were so good.  So I made my own little version.
I just combined kosher salt, garlic powder, and fresh minced rosemary.
Process it in the blender until it looks something like this:
The flavor of the rosemary is actually really mild, because you don't sprinkle very much on.  There's a lot of salt in there and once the chips are cooked and the moisture evaporates, everything is intensified.  It is very easy to over-salt these things, so consider yourselves warned.  Sprinkle it on with a very light hand.
Then place the plate into the microwave.  Now, when it comes to cooking in microwaves there is a huge variance in heat temperature and cooking times.  Every microwave is really different so you might have to experiment a little.  I've found that cooking at 50-60% power for 8-10 minutes is perfect in my microwave.  If you're only cooking a few chips, they'll be done much quicker than that.  You'll want to keep a close eye on them once the edges start curling up.  Keep cooking them until you see slight browned spots.  Not dark brown all over- that means they're burned, just golden brown-ish in the middles.  Keep a close watch on your first batch so you know what to expect from your own microwave.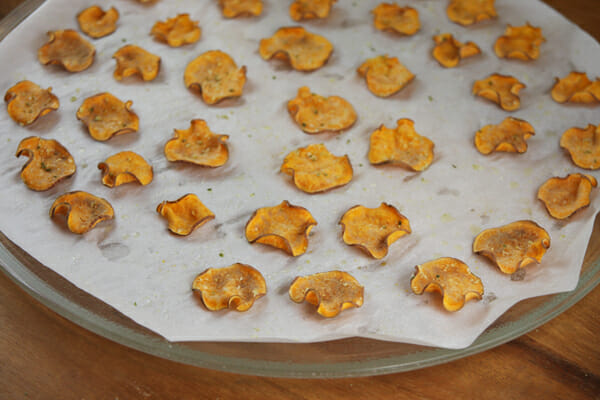 You'll need to let them cool completely before they get their crunch.  If cooked properly, they're super crispy and crunchy and naturally flavorful.
My kids devour these things- and little do they know they're eating straight-up veggies, score one for Mom!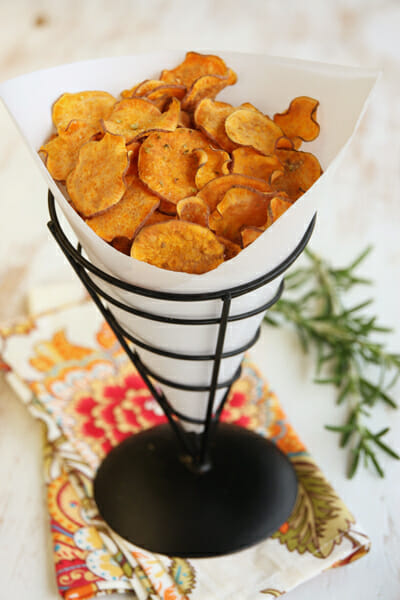 They're even sturdy enough for dipping, but they totally don't need it.  They have so much flavor they're great all on their own.  But if you wanted to dip- try the honey-lime dip in this post, it's awesome.
And since I know people will ask- yes, you can use this same method on regular potatoes.  I've found it does take longer for them to cook, and red potatoes tend to work better than russets.  I do however think both the flavor and texture is much better with sweet potatoes.
Crispy Baked Sweet Potato Chips with Rosemary Garlic Salt
Recipe by Our Best Bites
Ingredients
1 sweet potato
non-stick spray
4 tablespoons kosher salt or sea salt
2-2 1/2 tablespoons fresh minced rosemary
1 1/2 teaspoon garlic powder (not garlic salt)
Instructions
Cut a piece of parchment to fit the glass plate inside your microwave.  Slice sweet potato with a mandoline and lay slices in a single layer on the parchment.  Spray lightly with nonstick spray and sprinkle very lightly with the salt mixture.  Microwave on 50-60% power for 8-10 minutes*, but keep an eye on them after bout 5 minutes) until sweet potatoes start to very lightly brown.  Let cool completely before eating and store in an airtight container.
*Note this time and cooking length is for my microwave, definitely experiment to find the perfect combo in yours, as all microwaves are different and cooking time will depend on the thickness of the potato slices.
Rosemary Salt:  Combine salt, rosemary, and garlic powder in a food processor and process until granules are evenly sized (this can take a few minutes).   Note: you will not use all of this mixture.  Place it in an airtight container in the fridge and use it to season other foods!