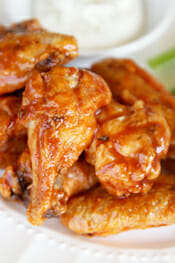 You guys.  Fall is in the air.  As I write this, we're having a massive thunder storm with marble-sized hail and I love the dark gray skies and the fact that they dropped the temperature 20 degrees in a span of about 5 minutes.  I'm ready for it to drop 20 more so I can bust out all of my tall boots, wear sweaters and corduroy, and sip steamers all day while I light cinnamon-scented candles and see how many ways I can incorporate pumpkin into my daily food consumption.  This is my most favorite time of year and I love seeing everything autumn pop up in stores these days.  Here's another tell-tale sign of fall :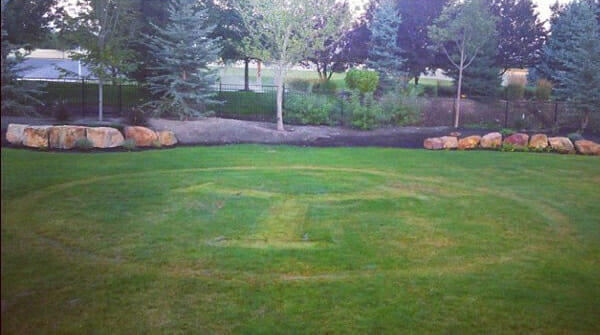 Yes, that's our Alma Mater's logo mowed into my back lawn which can only mean one thing: football season is here.  And football season also means football food.  I've made plenty of chicken wings in my day, but baked wings are always a far cry from their yummier, crispier, naughtier, fried counterparts.  So I was intrigued to see that someone at ATK had taken on researching a method that could produce tender chicken and crispy fried skin, in the oven.  The solution comes with one very surprising ingredient: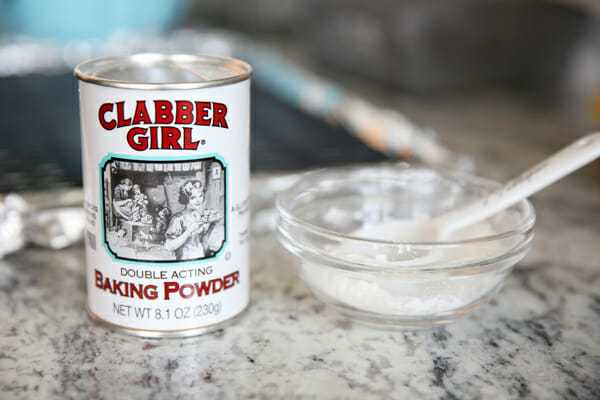 I told you it was surprising.  Cook's Country explains: baking powder is composed of an acid and an alkali.  It helps draw moisture to the surface of the poultry skin, where it can evaporate.  The acid helps break down proteins within the skin, and the alkali accelerates the browning process, meaning that the skin can crisp more quickly.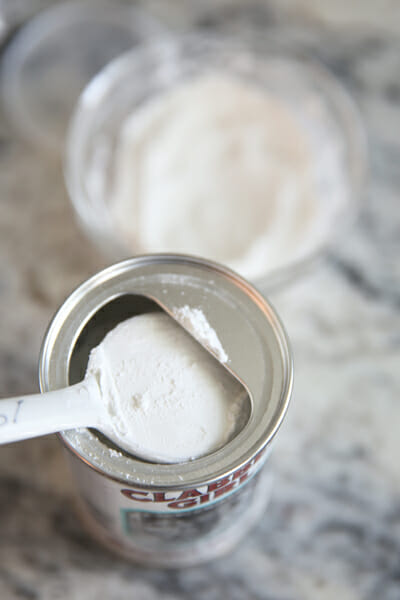 Now.  Let's talk about the chicken for a minute.  If you can find wings that have already been cut and prepped (meaning the little drumstick is separated from the wing, and the wing tips are removed and discarded) then I would totally go for those.  I myself don't have any major issues with raw meat, and I'm pretty good with a knife, and I will tell you right now, I hate prepping chicken wings.  I'm not going to show you the ugly photos of me butchering meat (and by "butchering" I don't mean the logical definition of one who specializes in the preparation of raw meat products. I mean the other one: the act of ruining or destroying something someone else could have done with grace and ease.)  If you don't know how to separate your wings, just do a quick google search and there are oodles of YouTube videos that will show you.  It's really not hard, I just need to sharpen my knives apparently.  Anyway, let's skip forward to some perfectly prepped little wings.
The only prep for these guys is to dust them with a mix of baking powder and salt and then place them on a rack that's been placed over a foil-lined cookie sheet.  How's that for quick and easy?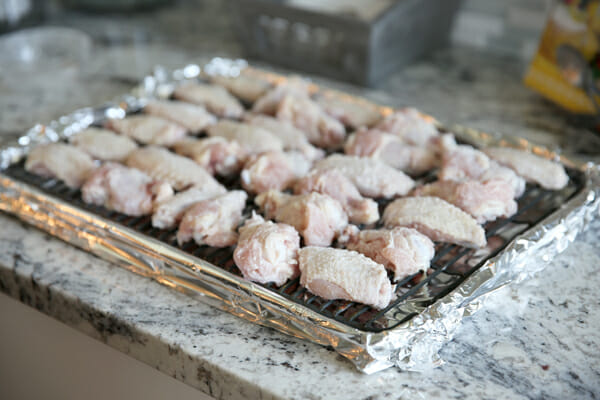 They cook for a little bit in a barely-warm oven (there's lots of science there too, but let's skip that and just follow the instructions, ok?)  and then the pan gets moved to the top rack and the heat is cranked up to 425.
When they come out, they even look fried with their beautifully golden brown crispy skin.  They have a nice crunch on the outside and tender juicy chicken on the inside.  And in case you were wondering (because it was one of my first questions) there is absolutely no lingering taste of baking powder.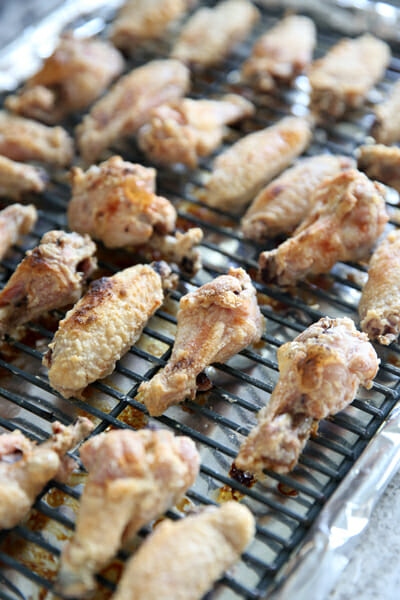 You'll want to toss them with sauce and then serve them right away.  When it comes to the sauce, the sky's the limit.  I'm not a huge fan of buffalo, but that's an obvious choice.  I'll include my recipe for a Honey-Lime-Sesame glaze that was a hit around here.  It's got lots of my favorite things in it, like honey, lime juice, sesame oil and ginger.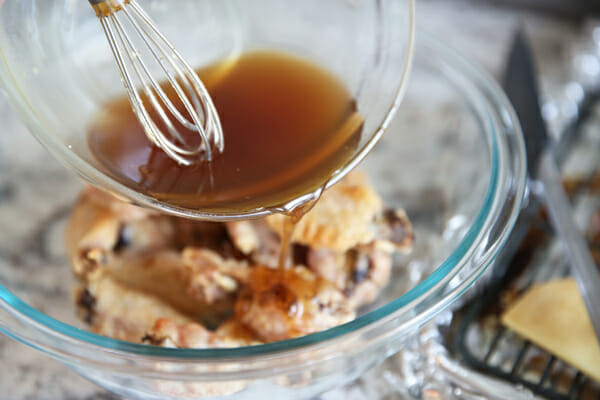 I sprinkled on some black sesame seeds to that batch for color and crunch.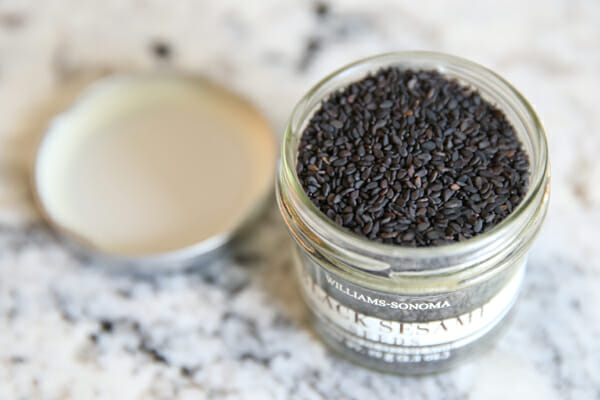 Everyone loved the sweet and salty combo.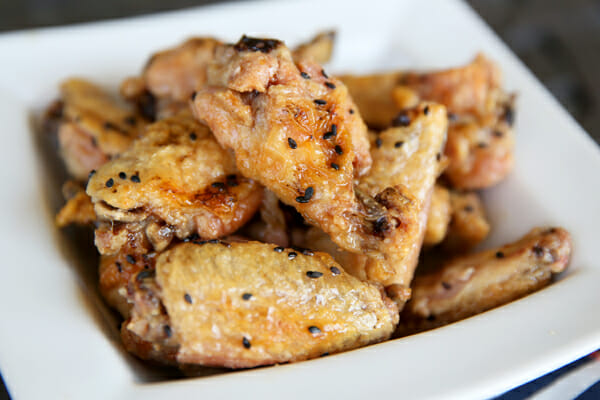 Another easy sauce is bbq, and honestly, you could use one of our homemade sauces, like this one, or do what I did and take your favorite bottled sauce and mix in a good drizzle of honey, and a couple shots of hot sauce.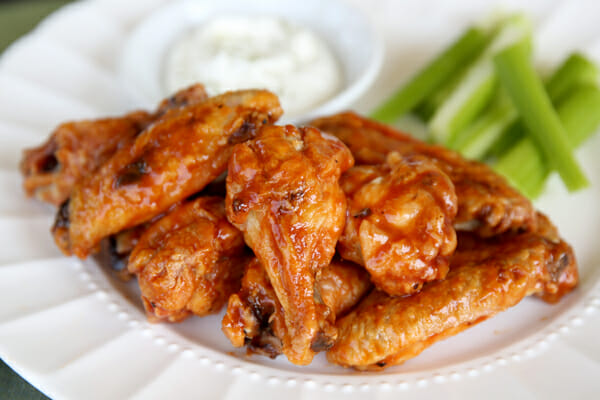 It makes a sweet, spicy, sticky glaze; just how wings should be!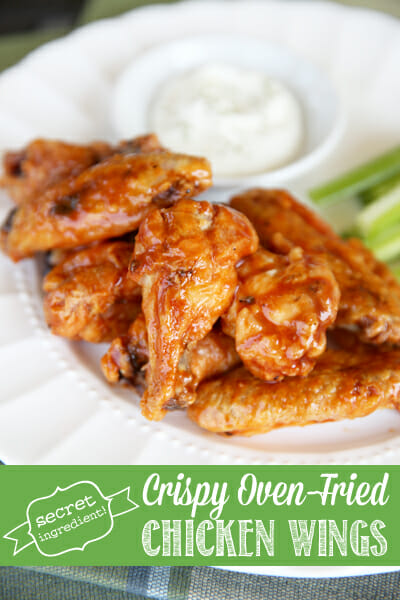 Cook up a batch or two for your next game.  That way whether you win or lose, at least there will be something good to eat 😉
Crispy Oven-Fried Chicken Wings
Recipe Adapted from Cook's Country Oct/Nov '13

4 lbs chicken wings, halved at joints, wingtips discarded
2 tablespoons baking powder
3/4 teaspoon salt
sauce (recipes and ideas follow)
Adjust oven racks to upper-middle and lower-middle positions and preheat oven to 250 degrees.  Set wire rack in aluminum foil-lined rimmed baking sheet and spray rack with non stick spray.  Pat wings dry with paper towels and transfer to a  large bowl.  Combine baking powder and salt, add to wings, and toss to evenly coat.
Arrange wings, skin side up, in single layer on prepared wire rack.  Bake wings on lower-middle oven rack for 30 minutes.  Move wings to upper-middle rack, increase oven temperature to 425 degrees, and roast until wings are golden  brown and crisp, 40-50 minutes longer, rotating sheet halfway through baking.  Remove sheet from oven and let stand for 5 minutes.  Transfer wings to bowl with wing sauce of your choice, toss to coat, and serve.
Honey-Lime Sauce
Recipe by Our Best Bites
2/3 cup honey
juice from one lime (a couple tablespoons)
2 teaspoons cider vinegar
sprinkle of ground ginger
2 tablespoons soy sauce
1/2 teaspoon sesame oil
1/2 teaspoon salt
Whisk all ingredients until smooth.  Pour desired amount over hot wings and toss to coat. (You may not use all of it)
Spicy Honey BBQ
Recipe by Our Best Bites
1/2 cup of your favorite bottled BBQ sauce
3-4 tablespoons honey
hot sauce to taste
Whisk all ingredients until smooth.  Pour desired amount over hot wings and toss to coat.
Buffalo Sauce
Recipe from Cook's Country
1/2 cup hot sauce
4 tablespoons unsalted butter, melted
1 tablespoon molasses
Whisk all ingredients until smooth.  Pour desired amount over hot wings and toss to coat.
Did you guys know our little Ice Cream Extravaganza is still going on?  We try not to pester, but you can vote once per day for another week or so!  Click Here to vote!  Mine is the bright purple Crumb-Topped Huckleberry Pie, and Kate's is the creamy Banana Pudding with Salted Caramel.  When you vote, you automatically get a coupon for ice cream- yum!  (And thanks!)