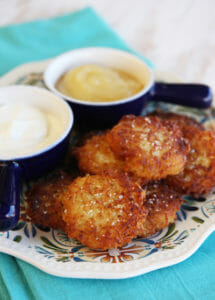 I really wanted to name this post, "When Mormons Make Latkes" but I figured if we offend people when we put glitter on the lawn, talk about long lines at the grocery store, or use food coloring, then silly religious references are certain to get lost in translation for someone somewhere in the world.  But I still like it 🙂  So, every year around this time I have written on my blog calendar "something Hanukkah-ish"  and every year December comes and goes without anything "Hanukkah-ish" ever making an appearance.  This is due in part to the fact that I always have about 47 more Christmas related posts than I actually have time for (as you can see by the obsessive posting over the last week!), and I obviously default to the things I'm celebrating/eating/crafting at home with my own family.  But the other reason is that I never could really figure out what to make, seeing as I'm not an expert in Jewish cuisine and I didn't want to look like an idiot.  Basically.  So I was so happy to get connected with a new blogging friend recently; Tori from The Shiksa in the Kitchen. Tori is a convert to Judaism and I loved reading her story; especially how her journey of faith is so intertwined with a love of the history and culture of Jewish cuisine.
By taking a journey into the heart of Jewish cuisine, I uncovered something hidden deep inside of me. I now understand that I've always had a Jewish spirit. I am drawn to many of the traditional aspects of Judaism — the holidays, the observance of Shabbat, the empowerment of prayer. It's extremely comforting to know that I've joined a larger family and community. By becoming Jewish, I've acknowledged my responsibility to others, and I've dedicated myself to learning and growing within the faith.  -Tori Avey
Although our religions may have some major doctrinal differences, at the core, I think all people of faith are much more alike than we are different.  We are all bound together by a love of and faith in our Creator.  I feel a commonality to those of any faith who seek Him, and I respect the commitment others have to God in whatever way they choose to worship.  I think it's especially wonderful when the Christmas and Hanukkah holidays overlap and we all celebrate the beauty of our faiths at the same time.  It's an amazing thing when you think about it!   So to all of our  Jewish friends out in the blogosphere, we wish you a very happy Hanukkah!
I asked Tori for some ideas and told her I've always wanted to make latkes, so I was thrilled when she sent me this recipe.  These are basic latkes, made with few ingredients and they're little bites of heaven.  (These don't require any flour or matzo, so they're gluten free too!)  Latkes are basically just potato pancakes, so although we're making these in honor of Hanukkah, they would be fantastic for breakfast (think hashbrowns!) or an appetizer.  I think what makes a good latke (you know, since I'm such an expert now) are the little tricks and tips, so pay attention to those.  You'll love these!
Start by peeling and shredding your potatoes.  It's important to use a fine hole cheese grater, or the fine hole attachment on your food processor to get nice thin shreds that can cook quickly.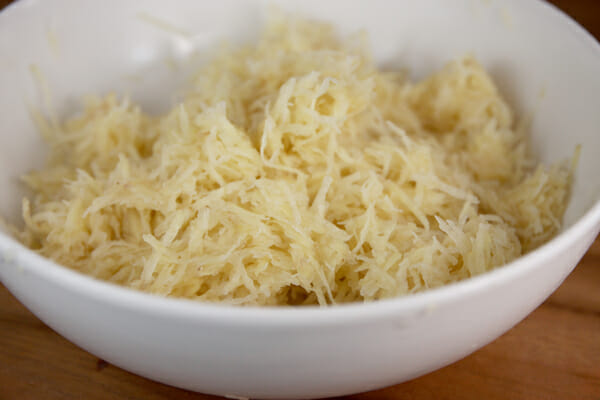 Place the potatoes immediately in a bowl of cold water and then shred your onion with the same fine-hole grater.  I grated my potatoes by hand and found that it wasn't quite strong enough for my onion and was just basically juicing it, so I just pulsed it in my food processor instead.  I knew I needed it super fine for the quick fry so I went ahead and processed it really well.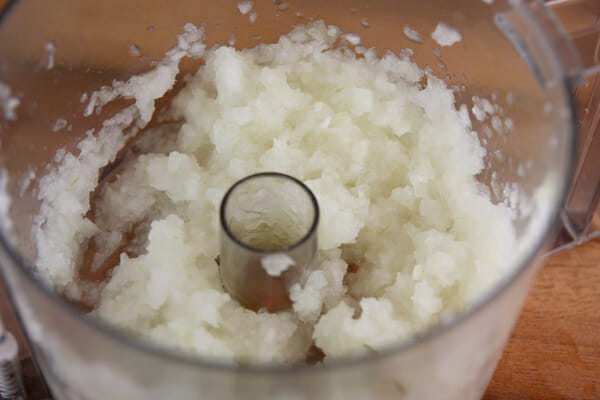 Drain your potato shreds and place both the potatoes and the onions in a tea towel or a few layers of cheese cloth.  One of the tricks to good, tender latkes is to remove as much moisture as you can.  So just squeeze the heck out of that towel; you'll be surprised at how much liquid comes out.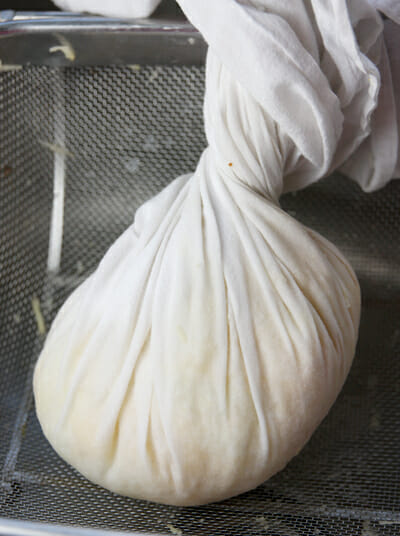 After the moisture is squeezed out, place the potato and onion mixture back in your bowl and add the beaten eggs and salt and pepper.  Tori's recipe calls for white pepper but I was out so that's why you see black flecks in there 🙂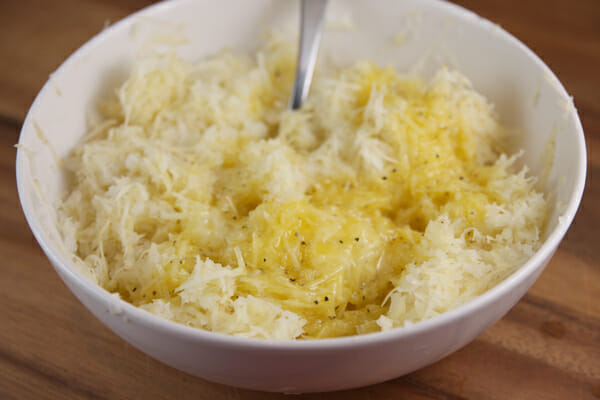 These are bite-size latkes so you just need a rounded tablespoon of potato mixture.  to get nice even amounts, I just used my cookie scoop.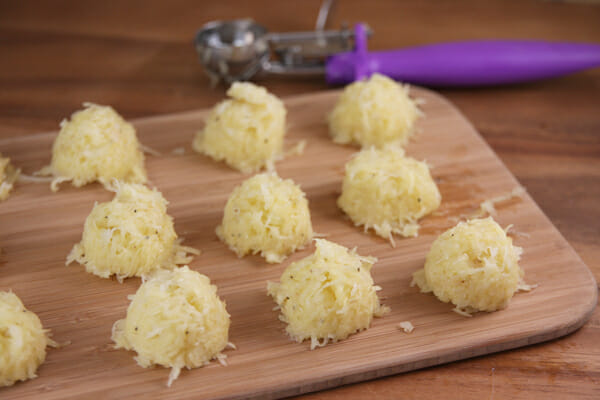 You'll want to grab each little ball and squeeze it again in your hand to let any extra moisture drip off again.  Then just shape into a little disk and place in a pan of hot oil.  You only need about 1/8 inch of oil, so this isn't a huge deep frying adventure (if you're the kind of person that hesitant to embark upon huge deep frying adventures).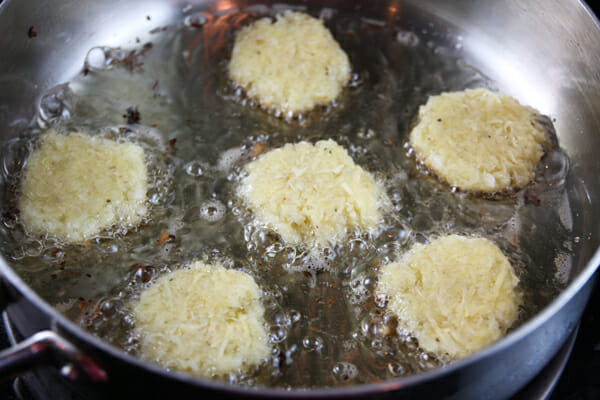 Keeping the oil at the right temperature is another important step.  If it's too hot, the outsides will cook up and get overdone while the insides aren't cooked.  And if it's not hot enough, the latkes will just absorb the oil and come out heavy and greasy.  I made a couple of both of those mistakes before I figured out where I needed the oil.  You might want to test just one at a time until you get it perfect.  You need it just right so they cook up nice and crispy and golden brown on the outside and cooked and creamy on the inside.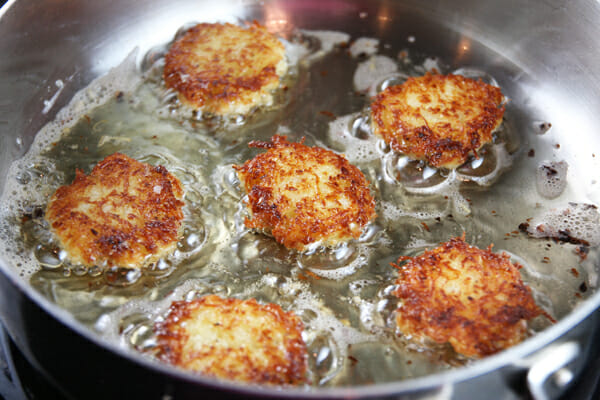 After cooking for a few minutes on each side, place them on a cooling rack with some paper towels underneath.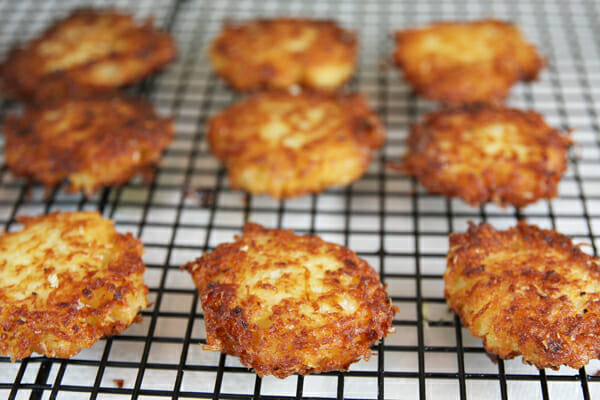 You can add extra salt at this point.  I sprinkled mine with coarse kosher salt and they were perfect!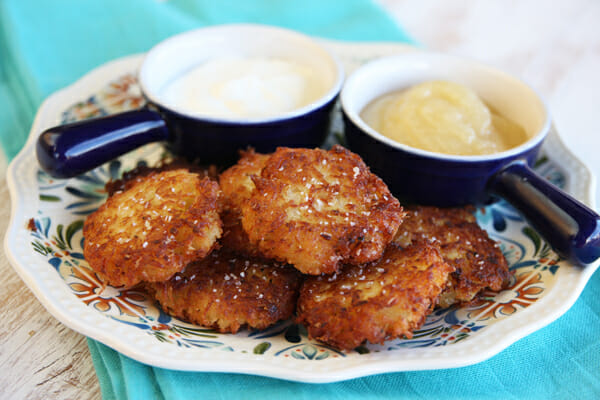 Crispy and crunchy on the outside and warm and tender on the inside.  I love how the onion is so fine that you're not biting into chunks of it, the flavors just melt into each other.  Serve them the traditional way for Hanukkah with apple sauce and/or sour cream or if you don't celebrate Hanukkah, you could treat them more like a hashbrown and pair them with scrambled eggs and dipped in ketchup or salsa.  Or eat them like my three year old did dipped in ranch dressing.  We're talking fried potatoes here people, can't go wrong.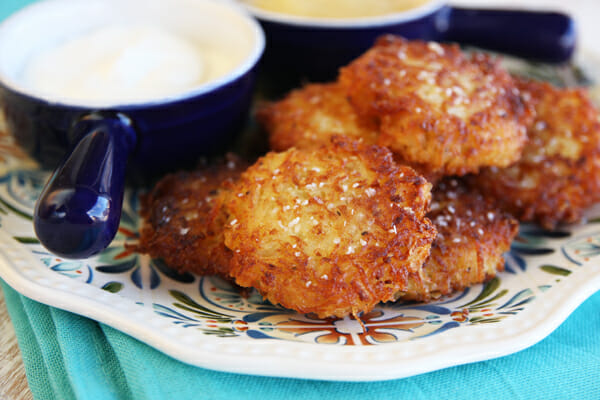 So who makes latkes?  How do you like yours?  I've seen recipes for apple-cheddar ones that I'm dying to try.  I think that might be my new Hanukkah blogging tradition; a different latke every year!
Crispy Yukon Gold Latkes
Recipe by Tori Avey of Shiksa in the Kitchen  
Ingredients
2 lbs Yukon Gold potatoes, peeled
2 medium onions
2 eggs, lightly beaten
3/4 teaspoon salt
1/2 teaspoon white pepper
peanut oil for frying
Shred potatoes using the fine-hole side of a hand grater or food processor.  Place in a bowl of cold water and set aside.  Meanwhile shred onion using same fine hole grater, or pulse in food processor until very finely chopped.
Drain potato shreds and rinse and dry the bowl that was used and set aside.  Place potato shreds and grated onion in the center of a tea towel or several layers of cheese cloth.   Twist loose material to secure the bundle, and squeeze firmly to remove excess liquid from the shreds.
Pour peanut oil into skillet to a depth of 1/8 inch. Heat slowly over medium to about 365 degrees F.  While oil is heating, use the fork to stir the beaten egg, salt, and pepper into the potato shreds. Take care to make sure the egg and seasonings are fully mixed throughout the potato shreds.  Scoop up a rounded tablespoon of potato batter and squeeze it firmly in your palm over an empty dish to remove excess liquid.   Shape batter into a rough disk.  Place it gently into the hot oil. Use a metal spatula to gently press down on the latke to flatten it.
The oil should sizzle but not pop when the batter hits it.  If the oil jumps wildly or smokes; it's too hot.  If it only bubbles weakly, the oil is not hot enough.  Continue shaping the latkes, using only a rounded tablespoon for each one.  Fry in batches of 5 or 6 at a time for 2-3 minutes per side until brown and crispy.  Remove latkes from pan using metal spatula and place on a wire cooling rack to drain.
Latkes are best when served immediately.  If you need to make them ahead, fry them 4 hours or less before serving.  After letting them drain on the cooling rack, place them on an ungreased, unlined cookie sheet.  Leave at room temp till ready to reheat.  Place in a 375 degree oven for about 10 minutes, until heated through, just prior to serving.