T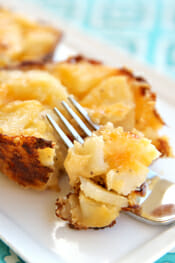 he fact that this recipe title includes the words cheesy, crispy, and potatoes, should give you all the confidence you need to put every one of these ingredients on your grocery list, like, now.  Everyone knows the best part of a baked cheesy potato dish is the outside edge, where the cheese kind of sticks to the edge of the pan and you get to scrape off those browned crispy bits.  This recipe is genius because these cheesy little cups are made in butter and breadcrumb coated servings to every bite is surrounded in those browned crispy bits.  The inside is full of tender potatoes and super creamy sauce.  It would be a perfect side dish for the Orange and Brown Sugar Glazed Ham Kate posted earlier this week!
To get the buttery crisp edge, you'll coat muffin cups with butter, and then with ground panko bread crumbs.  One piece of advice I have is to take the time to really butter and coat each cup well, making sure there are no open spaces where the cheesy potato mixture can stick.  If they're well coated, they'll pop right out when they're done.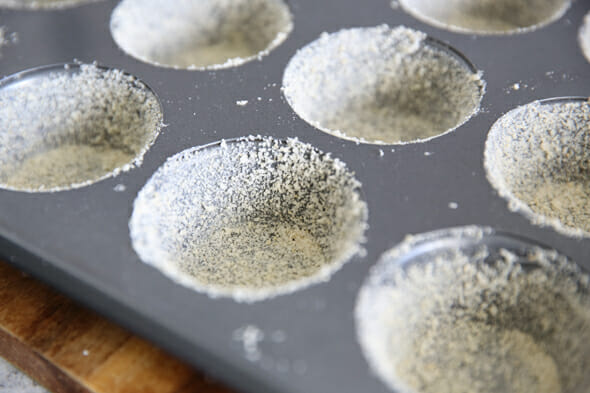 Set that pan aside and prep your potatoes.  When you read the directions of how to slice up your potatoes, use this as a visual: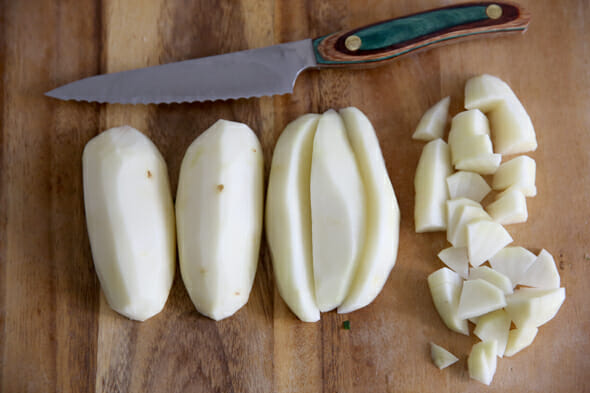 Put those cute little slices in a microwave-safe bowl and add some half and half,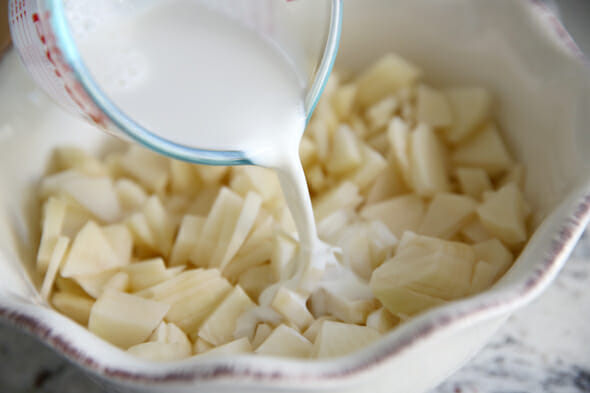 and some salt and pepper.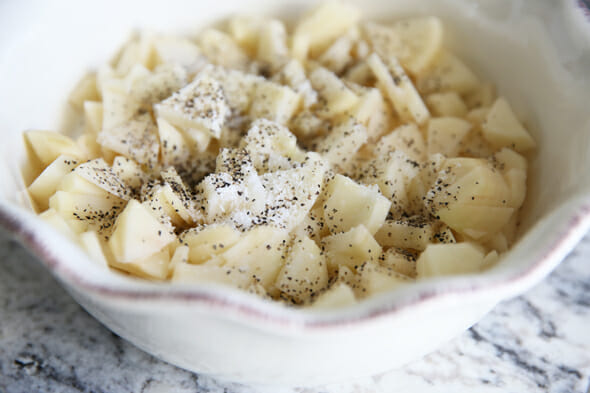 Heating this mixture in the microwave gives the potatoes a head start so they cook in time when placed in the hot oven.  While they're heating up, grate some cheese and toss it with a little cornstarch.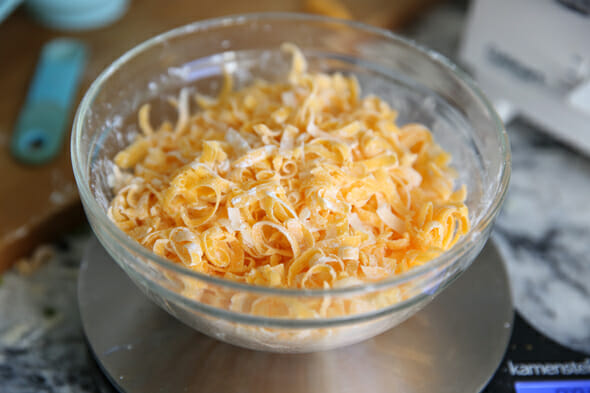 Once the potatoes are done in the microwave, combine with the cheese and watch it melt into the mixture like creamy, cheesy deliciousness.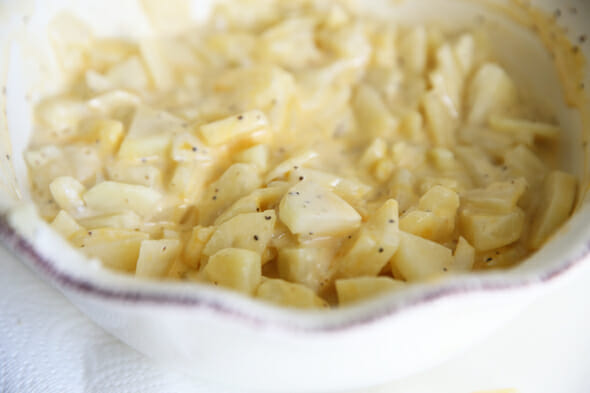 As they cook, the little bit of cornstarch will thicken the cheesy sauce, the edges will brown and crisp, and the tops will melt.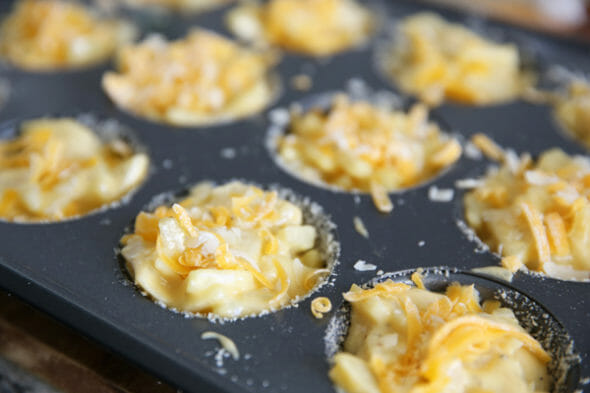 It's everything a potato dish should be and more.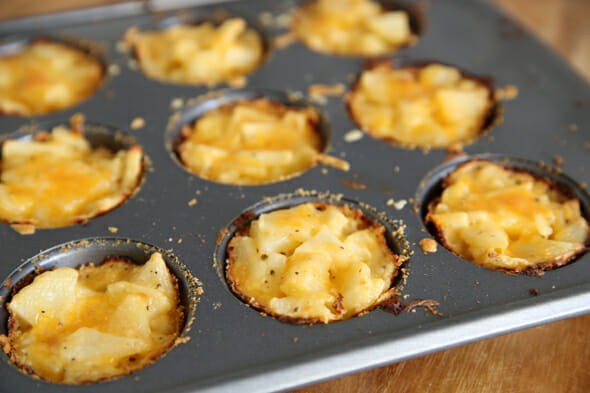 This would be an awesome side dish for a classic steakhouse dinner, or fittingly- along side a holiday ham!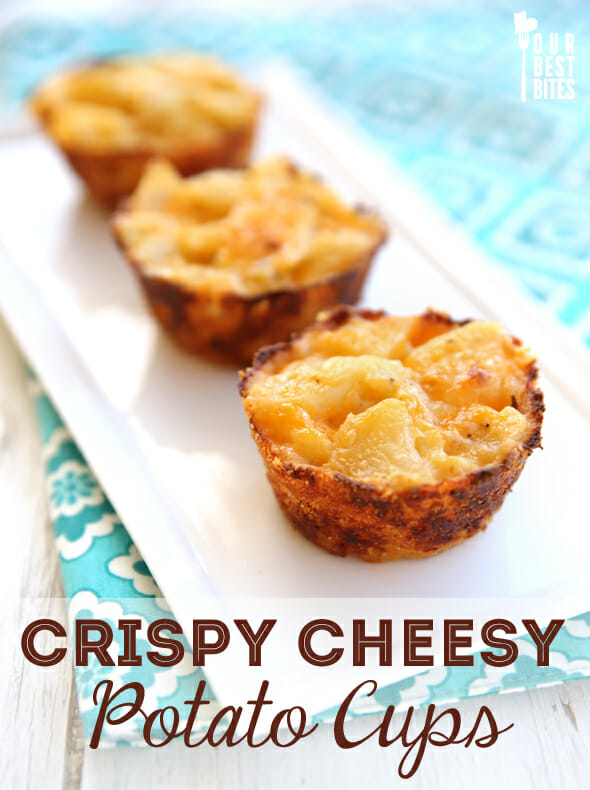 Cheesy Potato Cups
Recipe from Cook's Country
Notes:  Do not use pre-shredded cheese in this recipe.  Do use a non-stick 12 cup standard muffin pan.
Ingredients
1/2 cup panko bread crumbs
1 tablespoon unsalted butter, softened
2 lbs russet potatoes, peeled
1 1/4 cups half-and-half
1 1/4 teaspoons salt
3/4 teaspoon pepper
5 1/2 ounces sharp cheddar cheese, shredded (1 1/3 cups)
1 1/4 ounces Parmesan cheese, grated (2/3 cup)
2 teaspoons cornstarch
1.  Adjust oven rack to lowest position and heat oven to 425 degrees.  Pulse panko in food processor until finely ground, about 5 pulses.  Evenly coat each muffin cup with softened butter and then with ground panko.  Cut each potato in half lengthwise, then cut each half into 3 wedges.  Cut each wedge crosswise into 1/4-inch-thick slices.  Combine potatoes, half and half, salt, and pepper in a large bowl and microwave, covered, until just tender, 12-15 minutes, stirring once.
2. Meanwhile, toss cheddar, Parmesan, and cornstarch together in a bowl; reserve 1/3 cup for topping.  Add remaining cheese mixture to hot potato mixture, stirring until smooth.  Divide potato-cheese mixture evenly among muffin cups and smooth.  Sprinkle cups with reserved cheese.
3.  Cover muffin tin with aluminum foil sprayed with vegetable oil spray and bake for 10 minutes.  Discard foil and continue to bake until golden brown, 13-15 minutes.  Run paring knife around perimeter of muffin cups.  Let potato cups cool in muffin tin on wire rack for 5 minutes.  Place rimmed baking sheet on top of muffin tin and invert potato cups, tapping on muffin tin to release cups.  invert cups onto wire rack and let cool for 5 minutes.  Serve.
Christmas is almost here!  You have a few more days to order from our Shop to ensure Christmas delivery.  Get your orders in by Friday!  Our most popular gift items this season have been our 2-pack gift boxes, (shown in the photo below, that looks SO cute with these *free* holiday tags!) our fabulous Dipping Oil, and our Blood Orange Olive Oil and Raspberry Balsamic combo.  Our 4-pack Sampler Box is always a top-seller year round and it comes in a great box all ready for gifting.  Also, we just got boxes in for our 3-pack Bundle.  As in, like, as I'm writing this post!  These boxes make such great gifts, all you need is a cute ribbon and you're set!
We'll work hard to get all of your orders out- you  just get them in!