It was the Pioneer Woman, Ree Drummond, who started the craze of Crash Hot Potatoes in the US, but Ree herself credits Australian food writer Jill Dupleix with this brilliant creation.  Essentially, they are small potatoes that are cooked, smashed, and then roasted in the oven with oil.  The result is an amazing combination of an almost crispy french fry or potato chip on the outside and a fluffy, creamy potato on the inside.  These make an awesome side dish to go along with just about anything you would normally eat with potatoes.  In our family, we love them smashed extra thin and cooked extra crispy.  You can pick them up with your hands!  I once made these in my Instagram stories and I have been getting DM's ever since for the recipe so I'm sharing how I make them here on Our Best Bites so you can always find it!  Kate has previously shared an awesome Cheesy Pesto version, which you can find here.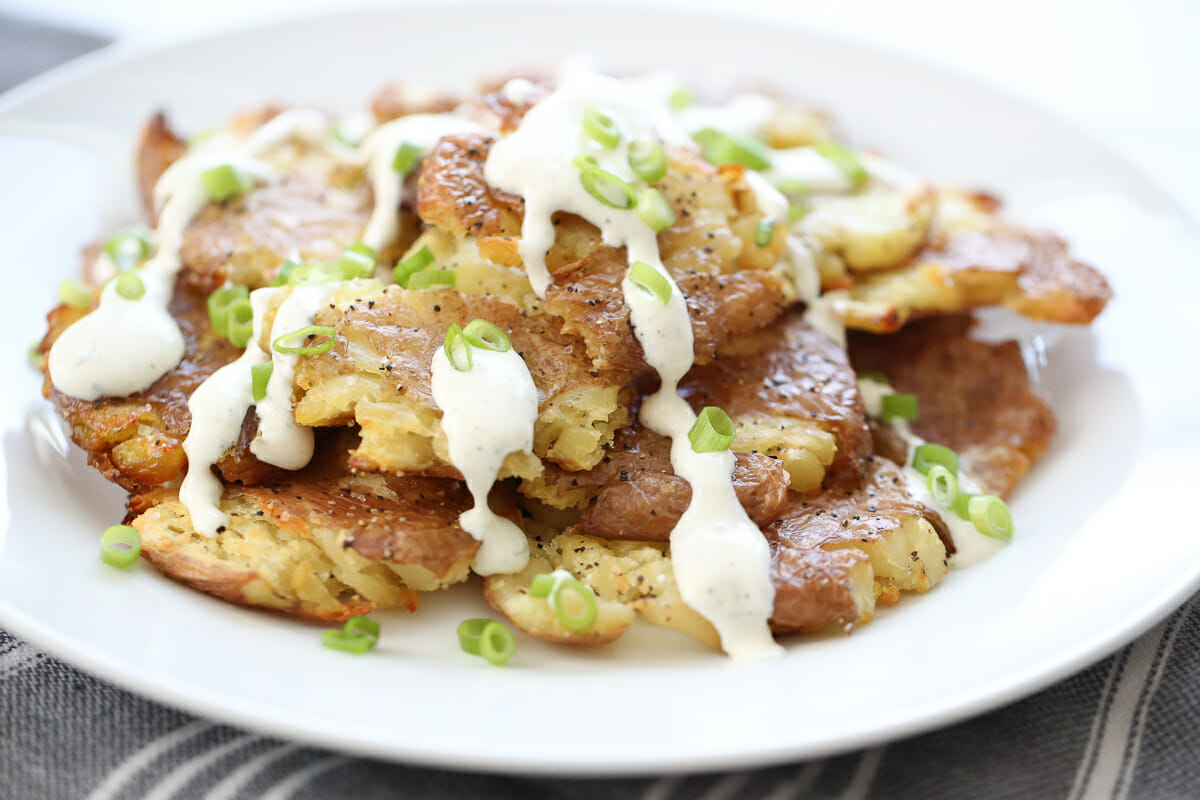 What kind of Potatoes should I use?
I love the flexibility of this recipe because you can really use any variety of small, round potato.  I usually buy the little bags of red new potatoes.  The little yellow potatoes are fantastic, too.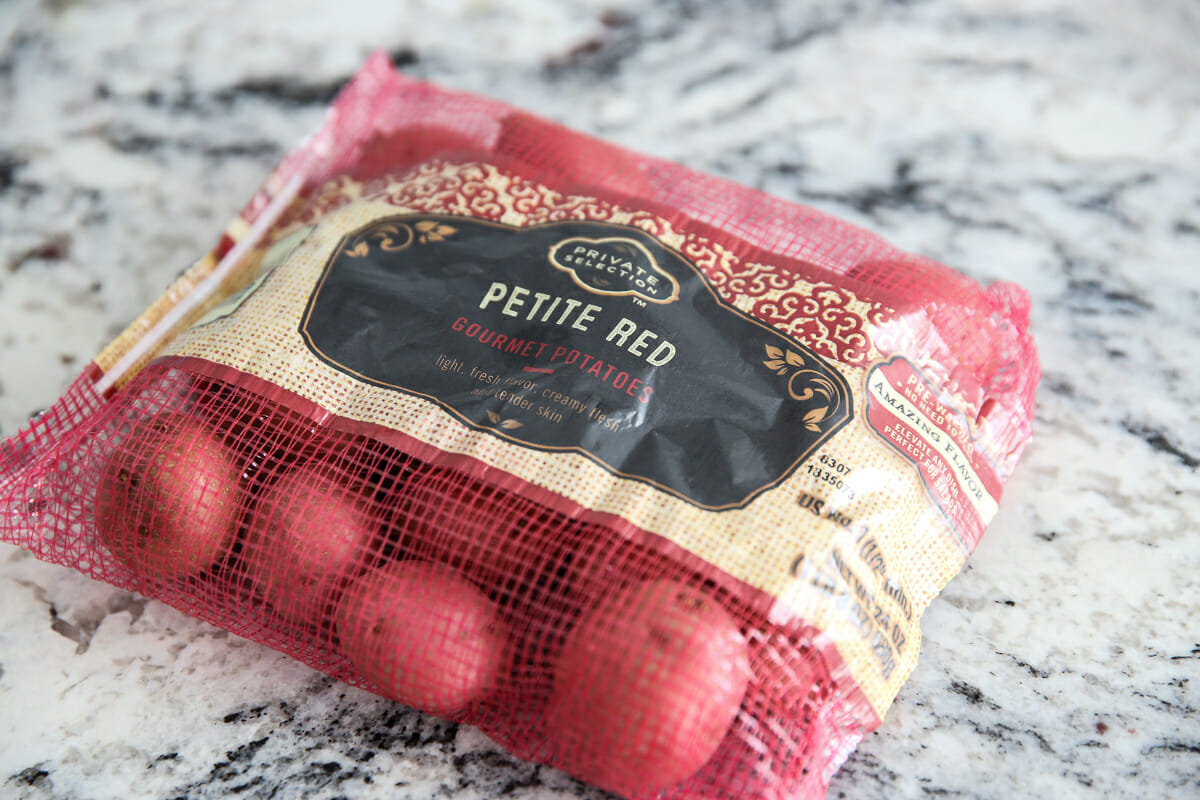 How to Cook the Potatoes
I just pop mine in simmering water until tender, but you can use an instant pot if you prefer, or steam them.  You just want them fork tender.
Smash the Potatoes!
This is the best part.  After the potatoes are tender, remove them from the water.  I usually just strain them and then lay them out on a clean towel.  Cover a baking sheet with oil- olive oil works great, but you can use an oil of choice.  I don't line my pan with foil because I've found they have a tendency to stick, and they also crisp better when directly on the pan.
Place potatoes on the baking sheet and roll them around a little so they are coated with oil.  Then take a clean glass, or a flat-bottomed measuring cup and smash them.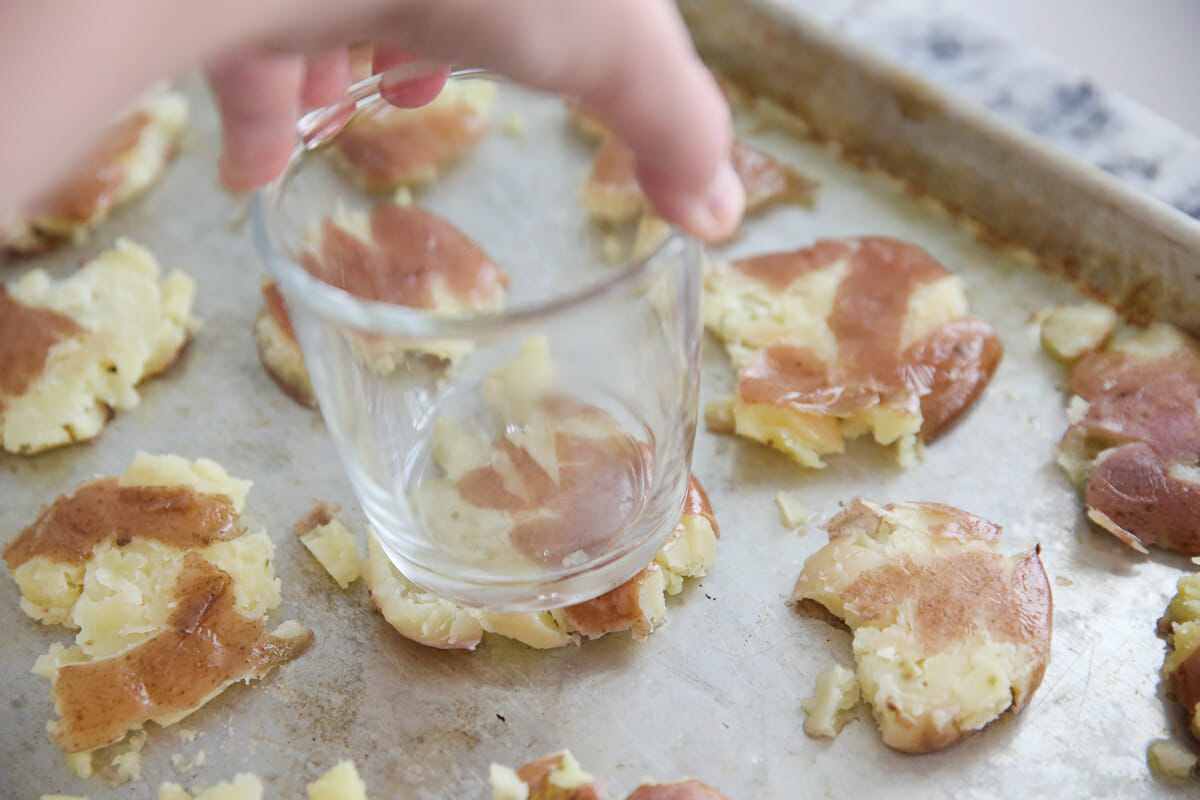 Bake the Potatoes
Once they are all smashed, drizzle or brush a little more oil on top of each one, sprinkle with salt and pepper and pop them into the oven to bake until they are golden brown and crisp on the edges.  If you have a convection mode on your oven, I recommend using it to really brown the outside!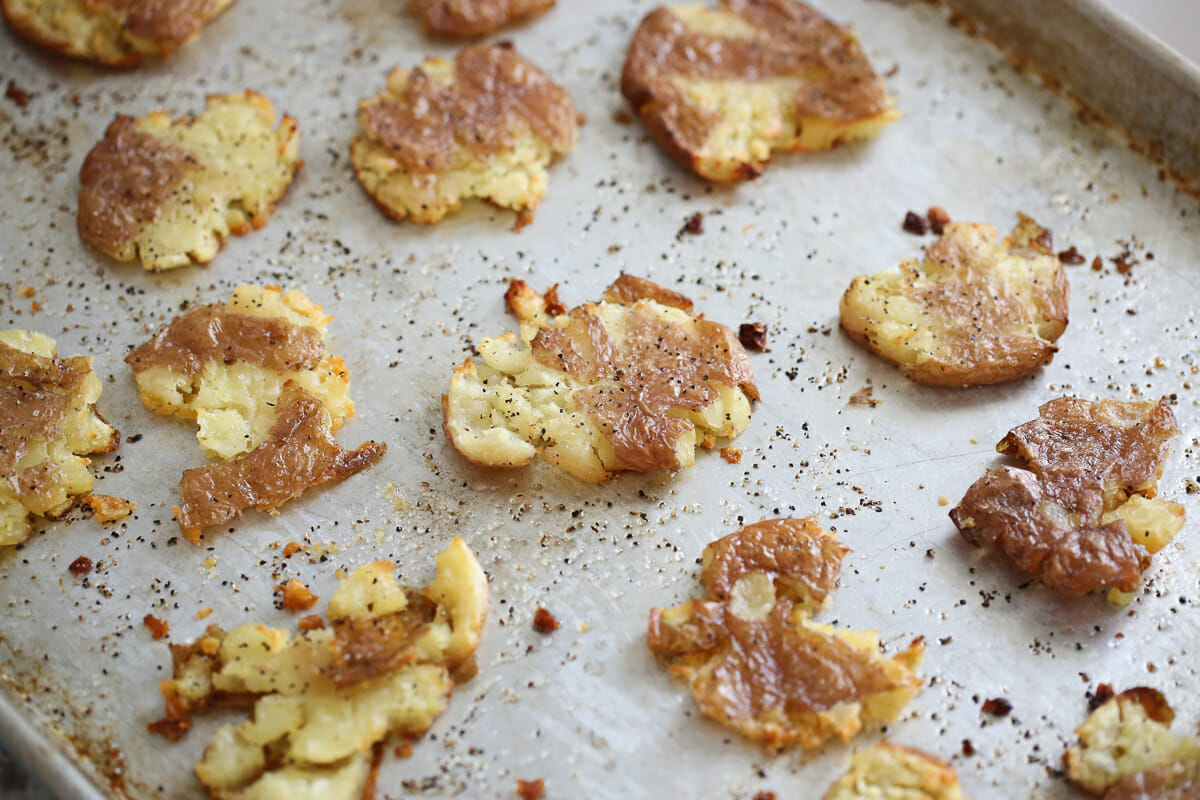 How to Serve Crash Hot Potatoes
Our favorite way to serve these is with homemade Buttermilk Ranch Dressing.  But feel free to sprinkle fresh herbs on top at the end or give them a dollop of sour cream or even butter.  You can press them down thin and bake them long so they are like giant french fries that you eat with your hands, or leave them a little thicker and eat with a knife and fork like a fancy baked potato.  They make a great side dish for beef dishes, like our Pepperoncini Beef, or a simple steak.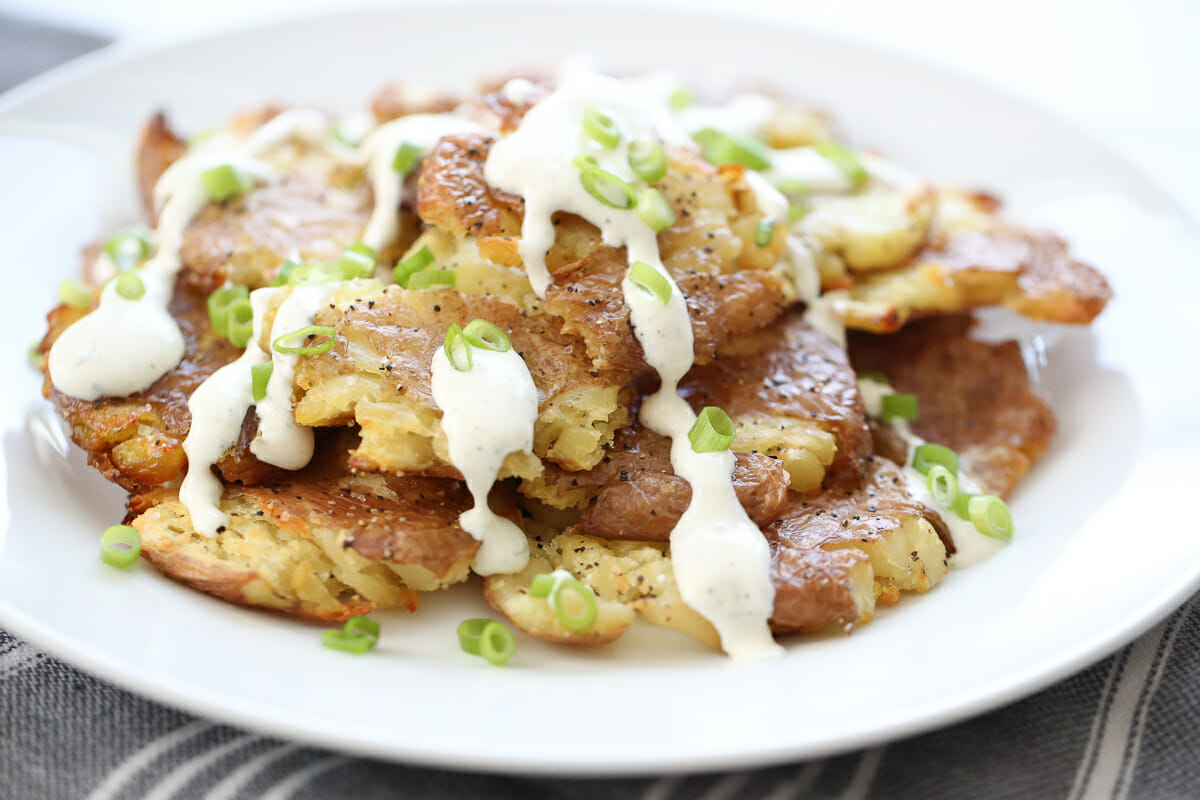 Print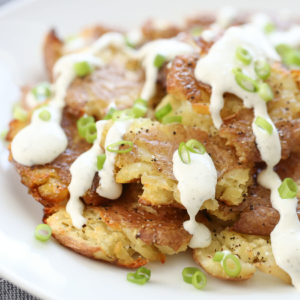 ---
Description
boiled, smashed, and then baked potatoes that boast a crispy exterior and creamy interior. Fun as a side dish, or even snack food!
---
1 1/2 lbs baby/small red or yellow potatoes
3–4 tablespoons olive oil
kosher salt
black pepper
---
Instructions
Preheat oven to 475 degrees.
Boil, steam, or pressure cook potatoes until fork tender, drain, and then lay on a clean towel to dry.
Drizzle a rimmed baking sheet generously with oil (2-3 tablespoons) and place potatoes on it.  Roll them around a bit to coat with oil and then distribute them evenly around pan.  Use the bottom of a sturdy drinking glass or measuring cup to smash each potato. Tip:  To avoid sticking, it helps to spray the glass with non-stick spray or brush with oil occasionally.
Drizzle the tops of the potatoes with more oil and sprinkle with kosher salt and pepper.
Bake for about 10 minutes or until crispy golden brown on the outside.  Thicker /larger potatoes will take longer and thinner smaller ones will cook more quickly. I like to use convection mode to get the outsides extra crispy!
Serve alone or with a dollop of sour cream or a drizzle of Buttermilk Ranch Dressing.
---