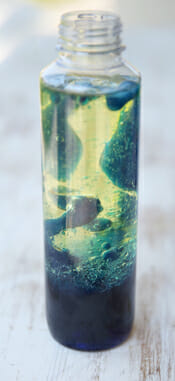 I cannot believe August is here already. Mostly because I'm realizing all of the many things I set out to do this summer and completely failed at. You know, things like making my kids do homework, organizing all of our closets, having a functioning chore chart, and completing a multitude of enriching educational activities with my offspring. Mostly we went on some fun vacations, played lots of video games, stayed in our pajamas until noon, and spent time at the pool. Pretty solid summer if you ask me. My kids do love arts, crafts and science experiments, but I'm not the kind of person that has 10 hours to craft a fully functioning PVC pipe car wash for trikes and other ridiculous things you see on Pinterest. I'm all about the quick and easy projects that I don't feel bad about trashing after 10 minutes when my kids suddenly lose interest. So I thought I'd share a few I have in my arsenal.
You only need 3 things for this little project; and I'll bet many people already have this stuff in the house. Liquid food coloring, effervescent antacid tablets (Alka-Seltzer), and oil of some sort. I'm using baby oil at first, but you'll see vegetable oil in the post as well and I'll tell you more about that later.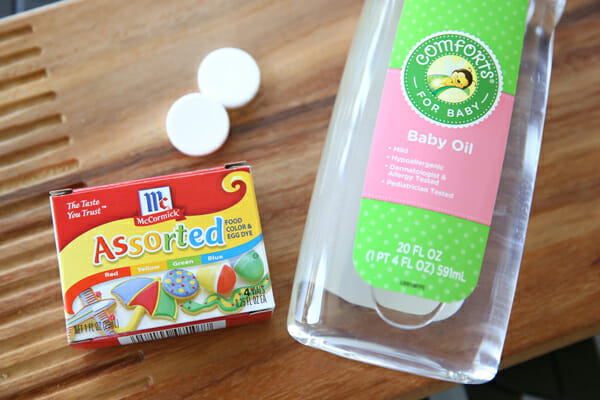 Start by filling up some water bottles or jars about 1/3 of the way with water (just a little less than half), and then the rest of the way with oil. No need to be exact.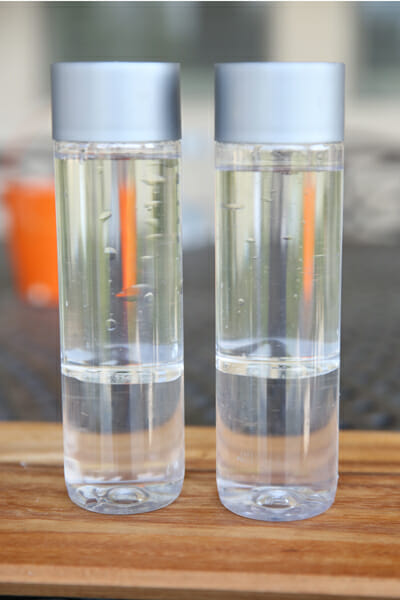 Then let the kids have fun with this part. Drop a few drops of food coloring into the bottles. Since the coloring has to make its way through the oil, it stays in little globular droplets.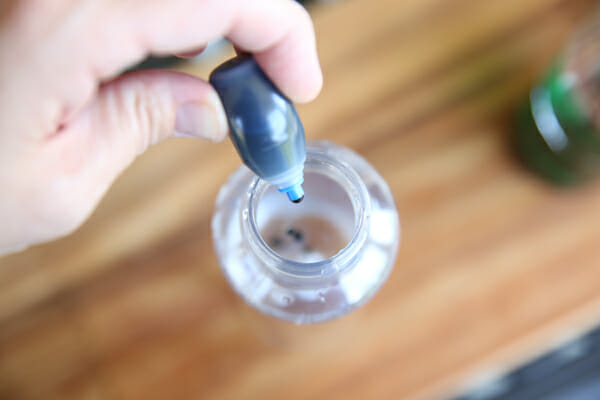 They sink down and sit on top of the layer of water for a few moments until they suddenly pop through and burst into ribbons of color.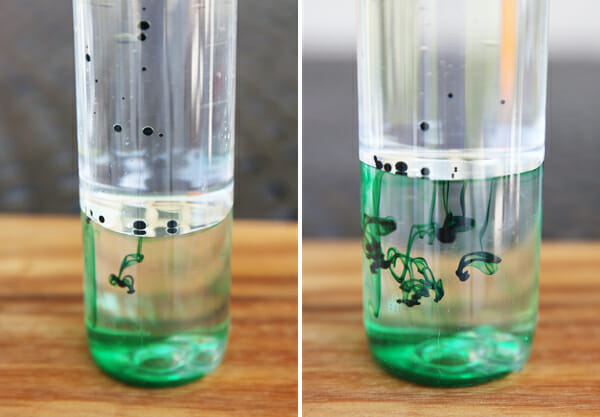 Different types of oil will react differently at this point. The colors will sink and pop very quickly in a thin oil like baby oil, but in vegetable oil, they take longer; the suspense and then surprise of the bursting colors kept my kids wild with anticipation and then awe. Take your time. Drag it out.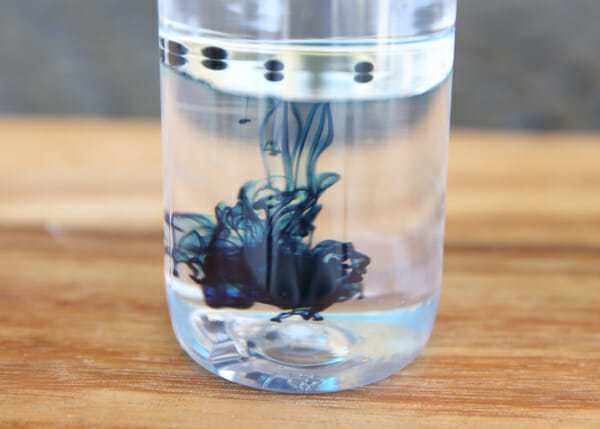 Even I loved watching the amazing colorful designs as the food coloring practically danced through the water.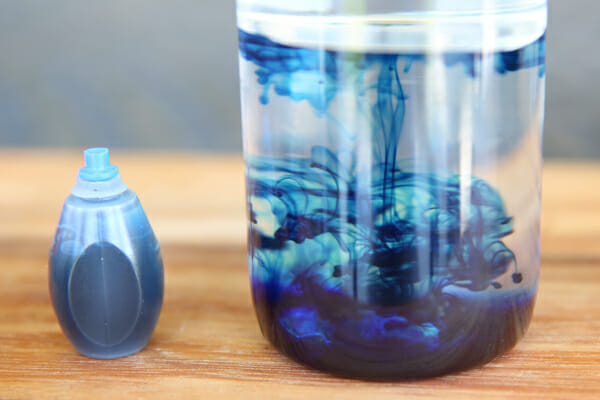 If you tightly secure the lid, you can rock the bottle back and forth and watch the layers wave and bubble. It's a fun time to explain the oil vs water concept to kiddos.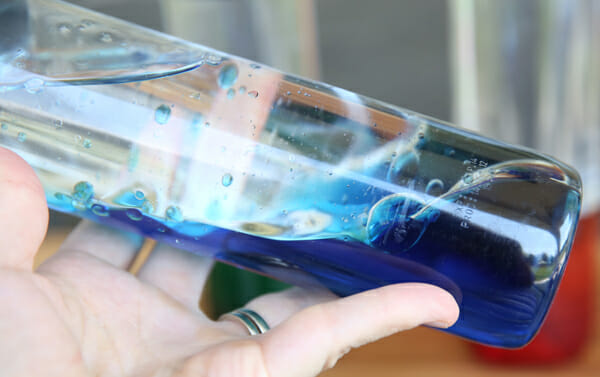 I mentioned the different behaviors of oils a minute ago and you'll see I'm switching to vegetable oil in my photos now. The clear oils are fun to play with in the bottles, but I found that you get a much better bubbly affect from the antacids with vegetable oil.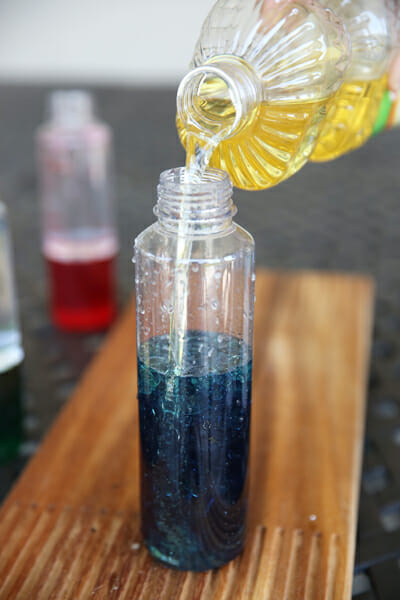 The layers behave a little differently as well. My kids liked shaking up the bottles and watching them slowly settle again.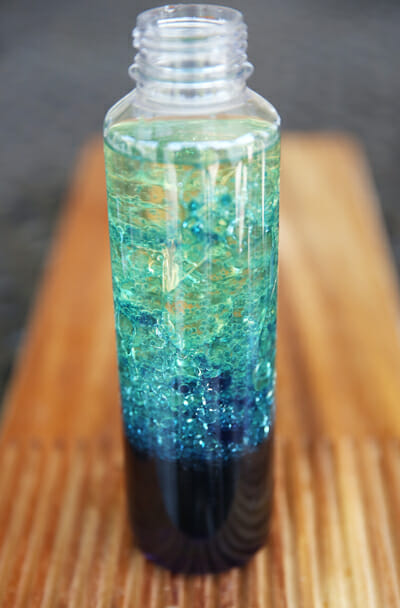 With the layers separated, now is the time to pop in one of those tablets. Try different amounts and see how the bubbles change. As the antacid releases gas, the bubbles of colored water float to the top through the oil and then back down again.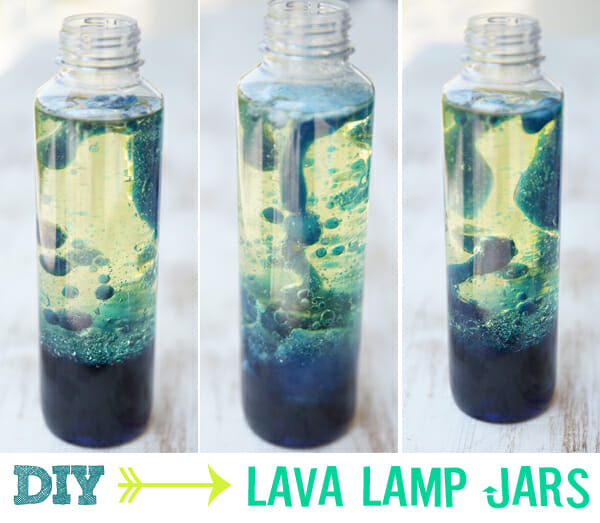 Oooh, guess what?? Thanks to our techy friend Amanda, and our smarty-pants IT man, we have an awesome new feature on the site. You know when you go to Pin something to Pinterest and a million images come up and you're not sure which one you want, or which one is the right size, etc? Now you can just hover your mouse over any image in our posts to pin it. Seriously, try it on that one above, hover your mouse over it and see how the pin button shows up in the corner? Just click that and you're set!
Okay, back to lava. When it's done fizzing, you can do it over and over again until it gets too murky. It's at least good for a decent chunk of play time, and since everything is cheap, you don't have to feel bad about tossing it all in the garbage or recycling when you're all done-hooray!
Want to see this in action? Check out this rad video the hubster put together!
---
Description
I made these in 6th grade science class! More recently I've seen then pop up in Family Fun magazine and other science sources. A great way to spend a summer afternoon with the kids!
---
Empty water bottles or jars
Oil
Liquid food coloring
Effervescent antacid tablets
---
Instructions
Fill a water bottle 1/3 full with water and the rest of the way with oil.
Add several drops of liquid food coloring.
When the color is settled at the bottom, drop in an antacid tablet and watch the colored bubbles rise to the top.
---
Notes
Important Note
Be sure to supervise when in use by children and discard or put out of reach when finished. You don't want a small child to mistake the bottle for juice.
Hey- did you know you can vote every day in the Private Selection Ice Cream event?? Read all about it by clicking the graphic below, or click here to go straight to the voting page! You can vote for one flavor, once a day, for several more weeks!