Since you all have so fully embraced my salad jars from earlier this week, I assume you've been staying on track and enjoying your healthy lunches, therefore saving lots of extra calories for some weekend binge-baking. Or at least that's how I roll. We're all about balance around here.
There's a million chocolate chip cookie recipes out in the world and we've shared several here on the blog. I love these Chewy Chocolate Chip Cookies, and Kate has shared her favorites as well. I even have one more that I love and haven't ever shared here. I think it's good to have a few because they're all a little different, and this one is no exception. I probably wouldn't have tried this recipe had I just stumbled upon it on the internet. I'm always leery of recipes that claim to be copycats because let's face it- they're never just like the original. However I somehow came upon photos of these cookies from another food blogger and I couldn't stop staring. They looked amazing. So I made them. And they're delicious. It's been ages since I've stayed at a DoubleTree Hotel, so I honestly can't say how they compare on that regard, I'm just sharing these because they're darn good cookies. Now let me tell you- I wasn't going to share these at first. I made the dough, but left out the nuts in the recipe because I wasn't feelin' them. I whipped up the dough and popped some in the oven right away. Of course they were good (what's not to love about butter, sugar, flour, and chocolate?) but nothing to rave about. So I tucked the dough in the fridge to chill, like the recipe suggests. I also decided at that point to just mix in some toasted pecans. Eight hours later I came back and baked another batch and it was like night and day. They were awesome. Moral of the story: just follow the directions.
The dry ingredients are your normal cast of characters, with a little addition of cinnamon.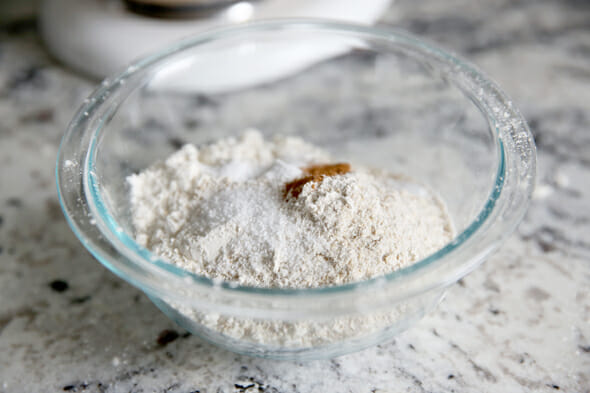 Another interesting ingredient are oats, but you'll blend them up in a blender or food processor first (my Blendtec is amazing). It adds a really unique flavor and texture to the cookies. It's not like an oatmeal cookie, it's just a chocolate chip cookie with a little more oomph.
And also a large amount of mini chocolate chips. I love using mini chips in recipes because they become so well distributed.
Did you spy that lemon in the background? There's even a tiny squeeze of lemon. I have no idea why, just do it.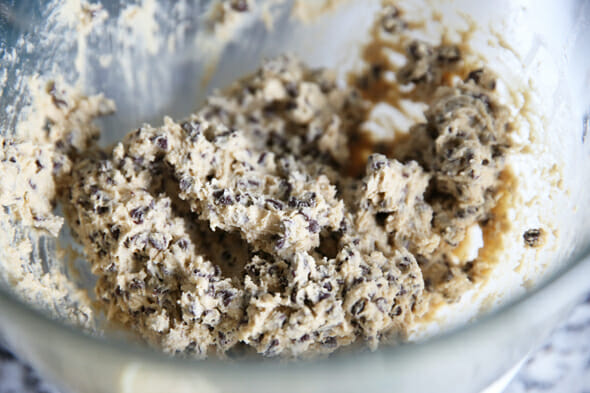 Chill that dough before baking and then cook them up.
They're lightly crisp around the edges, with soft, chewy centers.
You can see I don't have giant chunks of nuts in there either, they're finely chopped, so the combination of the nuts and the oats and the chocolate chips make an incredible texture combination.
These are the kind of cookies that beg for a glass of milk.
Enjoy them this weekend, and then you can go back to salad jars on Monday 😉
Copycat DoubleTree Hotel Chocolate Chip Cookies
---
1/2 cup

rolled oats

2

–

1/4

cup all-purpose flour

1

–

1/2

tsp. baking soda

1 tsp

. salt

1/4 tsp

. cinnamon

1 cup

butter, softened

3/4 cup

brown sugar, packed

3/4 cup

granulated sugar

1

–

1/2

tsp. vanilla

1/2 tsp

. lemon juice

2

eggs

3 cups

semi-sweet, chocolate chips

1

–

1/2

cup finely chopped pecans, toasted (original recipe calls for walnuts, I say pecans)
---
Instructions
Grind oats in a food processor or blender until fine. Combine the ground oats with the flour, baking soda, salt and cinnamon in a medium bowl.
Cream together the butter, sugars, vanilla, and lemon juice in another medium bowl with an electric mixer. Add the eggs and mix until smooth. Stir the dry mixture into the wet mixture and blend well. Add the chocolate chips and nuts to the dough and mix until ingredients are well blended.
For the best results, chill the dough in the refrigerator before baking the cookies for 6-8 hours or longer.
Spoon rounded portions onto an ungreased cookie sheet. Place the scoops about 2 inches apart. Bake in a 350°F oven for 12-15 minutes or until cookies are light brown and soft in the middle. Store in a sealed container when cool to keep soft.
---