I think I mentioned recently that we moved to Louisiana 4 years ago in January. What I didn't tell you was that our move here was part of a much bigger life transition, both in ways that we expected (we meant it when we said we'd go just about anywhere when my husband graduated from college) and ways that we didn't expect (the months leading up to his graduation were much more tumultuous and stressful than we ever anticipated). On top of that, there were so many general unknowns: the economy was crashing and my husband and I had no idea how that would affect us (other than the fact that one day we were qualified for a home loan and a week later we weren't because the housing market had fallen apart). Once we'd had a few months to get settled in our new location, reality started setting in: we were far from our friends and family. Real life was expensive. We had a baby and a toddler in a completely unfamiliar place. The economy was getting worse. I felt so lost.
Sara and I had talked about starting a cooking blog for awhile. Cooking blogs were in their very baby stages and we had very modest expectations for what we hoped it would be–mostly a place to organize our recipes for ourselves and share our recipes with our friends and families. A fun hobby. Something to keep us busy. So four years ago tomorrow, we launched our humble little blog with a few of our favorite recipes and hoped that maybe someone would come and read them.
Imagine our surprise when, after a month or so, we started getting comments from people we didn't know. It was kind of terrifying and exhilarating and fun all at once. We changed our look, we changed our name, we changed our look a few more times. We learned as we went along and suddenly…we had all these readers, all these friends, people who actually kind of cared about our recipes and our stories and the things we were sharing. And, slowly, I started finding myself again.
We get lots of emails and comments that bring us so much happiness (don't get me wrong, we get a lot that make us want to write a book about crazy people, too!), from the little things like finally showing up your mother-in-law with your homemade dinner rolls to stories so emotional and personal that we feel like it's an undeserved honor to be considered a part of them. But we rarely get to genuinely thank you guys for what you've done for us. We could take pictures and write recipes until we went crazy, but if there was no one reading them, there wouldn't be any point in it. Thank you for taking this wild ride with us, for letting us tell you our stories and for helping us re-discover who we are. I think I can speak for both of us when I say that this has been one of the greatest, most unexpected blessings in our lives in so many ways and we don't have the words to thank you.
So I'll try to do it with pie. Naughty, naughty pie that should only be eaten once a year.
You'll need a packaged chocolate cookie crust (think a graham cracker crust, only made with Oreos), bananas, sweetened condensed milk, whipping cream, brown sugar, powdered sugar, cream cheese, and toffee chocolate bars (like Heath) or chocolate-covered toffee bits.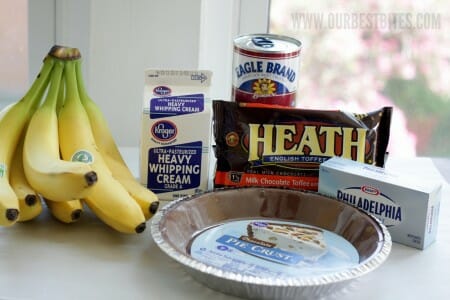 Using one can of sweetened condensed milk,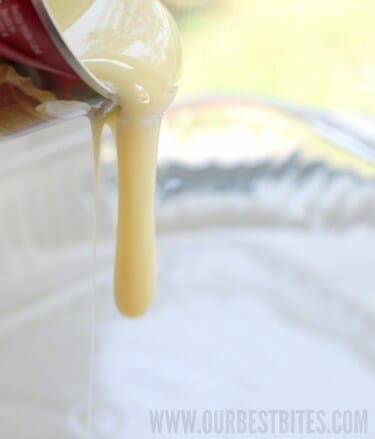 prepare the Dulce de Leche according to these directions.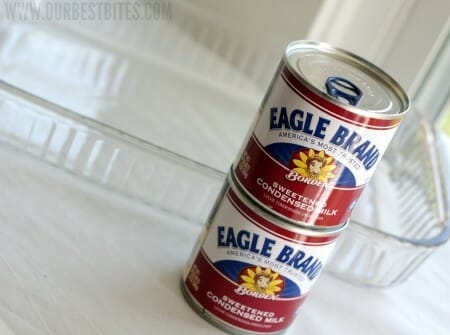 Yes, I know this picture has two cans–although math was never my subject, I am a fairly competent counter. But I doubled the recipe for evil purposes.
When the Dulce de Leche has cooked, remove it from the oven and allow it to cool slightly. Spread it over the bottom and up the sides of the cookie crust.
If my Dulce de Leche looks a little…clumpy, that's because it is. When you look at the instructions and they say that it takes about an hour for the Dulce de Leche to cook, it may not be in your best interest to use that hour to take a nap, even though you're six months pregnant and tired and you were up half the night with allergy-ridden children. It's okay. It was hidden under layers of awesomeness and still tasted fabulous.
Cut your bananas into 1/4″ slices and lay them on top of the Dulce de Leche…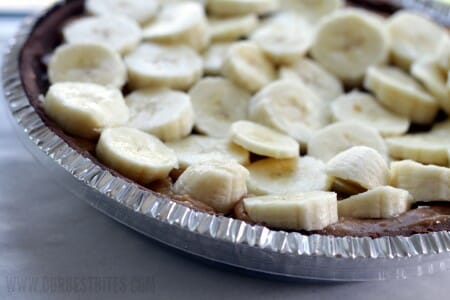 Sprinkle about 1/2 cup of crushed chocolate toffee bits on top of the bananas and set it aside.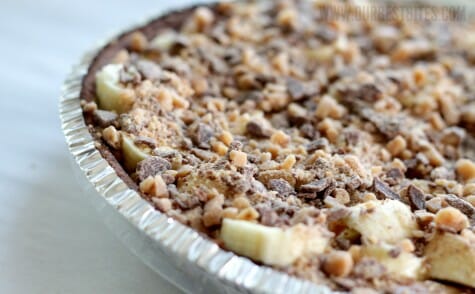 In a medium bowl with electric beaters, mix together the cream cheese and brown sugar until light and fluffy. In a large bowl, beat the whipping cream and powdered sugar together until medium peaks form. Add the cream cheese and mix until well-combined, light, and fluffy.
Gently spread the whipped cream mixture over the toffee bits and then sprinkle with the remaining 1/2 cup of toffee bits. Chill for several hours before serving.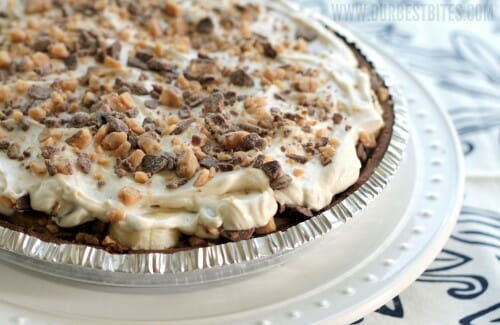 Edited to add: Apparently, everyone else in the world calls this Banoffee Pie. That's what I get for living under a rock. 🙂
Dulce de Leche Banana Toffee Pie
Recipe by Our Best Bites
Ingredients:
1 8-serving chocolate cookie pie crust
1 14-ounce can sweetened condensed milk
2 bananas
1 cup crushed chocolate-covered toffee bars or Heath bits
1 cup heavy whipping cream
1/4 cup powdered sugar
8 ounces cream cheese (light is fine)
1/4 cup brown sugar
Instructions:
Prepare Dulce de Leche according to these instructions. When done, allow to cool slightly and then spread onto the bottom and up the sides of the cookie crust.
Cut the bananas into 1/4″ slices. Lay the slices over the Dulce de Leche. Sprinkle with about 1/2 of the toffee bits and set aside.
In a large bowl, combine the powdered sugar and heavy whipping cream. Beat with electric beaters until medium peaks form. In a medium bowl, beat the softened cream cheese and the brown sugar with the electric mixer until light and fluffy. Add the whipped cream and mix with the electric mixer until fluffy and combined. Gently spread over the toffee bits and then sprinkle with remaining toffee bits. Chill for several hours before serving. Serves 8-10.