When I got engaged one of the first things I did was pick out my china.  My Mom has a beautiful antique china cabinet displaying her heirloom dishes.  It was always SO special to get to eat on those plates with the fancy gold-rimmed goblets and the gorgeous silver, and all of the accompanying trinkets that only got pulled out on major holidays like Christmas, Easter, Thanksgiving, etc.  We sat on upholstered white chairs which sat on top of white carpet (seriously, she's a mother of four- what was she thinking?!)  in the fancy dining room where we only ate on those occasions.  In fact, when we go home for major holidays we still do this, and I love it.  I love that it causes people to be just a little more polite, and maybe take just a few more minutes to chew their food and sit around the table to chat.  It reminds me that there's something special about that day.
Now…next week I will be celebrating my 7th wedding anniversary.  Ask me how many times I've had a fancy dinner on my fancy China.  Zero.  It's wrapped up safely in boxes in my garage like it has been since it was given to us at our wedding reception.  My husband reminds regularly that he thinks the whole idea of fancy china is lame.  I DO intend to use it.  In fact, I'm super excited for when I have room in my house for a beautiful hutch to display it in, and kids old enough to appreciate it.  I really look forward to those days.  But that's going to have to wait until I don't have 3 boys under the age of 5.  Or the age of 10.  Or who knows when really.  For now, we stick to adorable paper paper plates from Target- because if I'm going to slave away on food all day, the dishes should at least be easy, right?  When my boys are old enough for me to trust them to wash my china, maybe we'll eat on it 🙂
So in the spirit of cute and easy holiday table decor- you've got to know how to make carrot napkins.  They're a classic!  And they seem to be everywhere these days.  I love how a lot of these cute old-time classic crafts are popping up again on blogs.  If you're having a casual pot-luck type meal, these are perfect- AND I've even done them on a formal table with real silverware and they look super cute sitting on each plate.  Even better- the kids can put them together!
Here's what you'll need:
– Orange napkins (the large sized napkins)
– Green plastic cutlery
– Ties: ribbon, twine, twist ties, pipe cleaners, etc.
Hit a party supply store for a good selection of colored cutlery and napkins, or the Walmart party supply section is usually well stocked as well.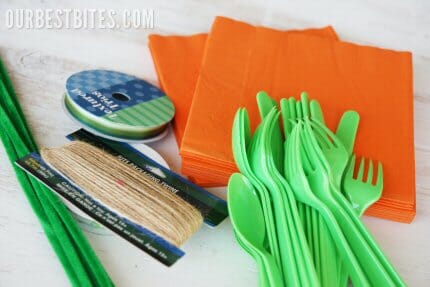 Open up your napkin and lay it flat on the table with the fold opening at the top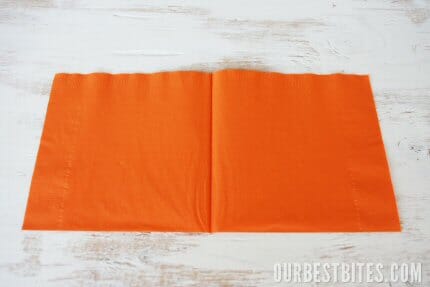 Take the bottom right hand corner and fold it up to the middle of the napkin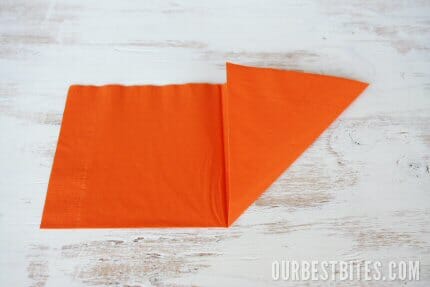 Place your cutlery on the opposite side.  I always put the knife in back, and the fork on top of the spoon.  Partially because the fork sits in the spoon nicely, and partly because I like that the fork looks the most like a carrot top 🙂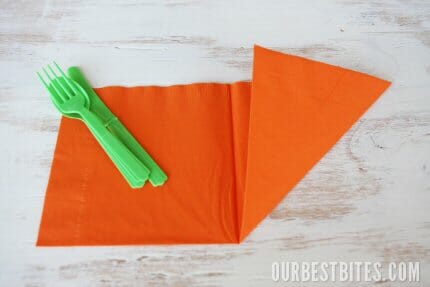 Start rolling from the left-hand side and roll the cutlery right up to the middle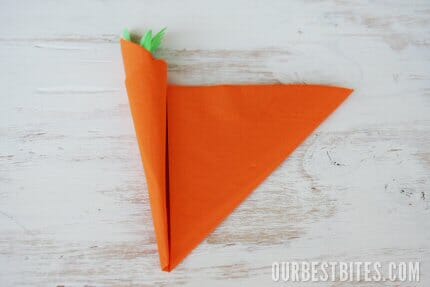 Then grab the other side of the triangle and roll it the rest of the way around so you have a nice little carrot shaped bundle: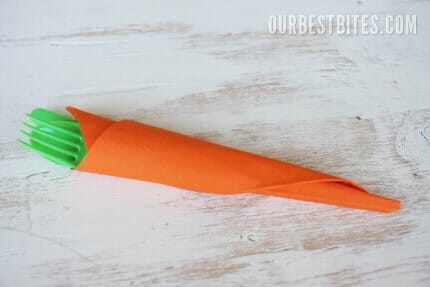 I like to tie them with a little green ribbon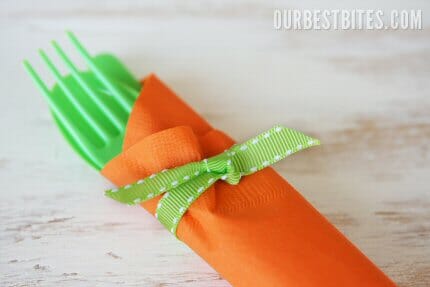 But twine looks cute too, or if you want to go the super quick and easy route you can use pipe cleaners or even twist ties!  That last option is definitely the best if kids are putting these together.  I've used all 3 and they all look cute.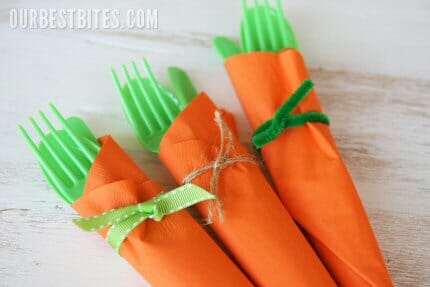 Lay them together in a basket and it doubles as adorable Easter decor on the table!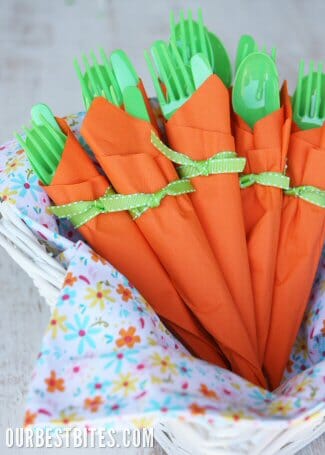 I've also used these as place cards before and they look great on both formal dinnerware (with real silverware) and disposable plates.  If you are doing something formal, I love these cute bunny napkins from Martha Stewart.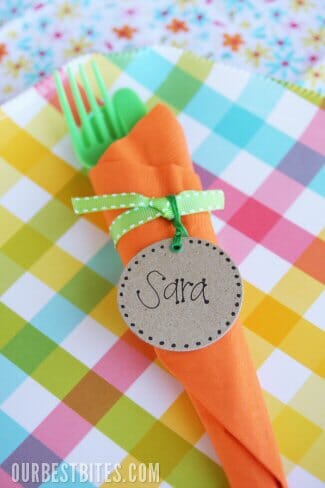 Isn't it cool that target designed this whole line of dinnerware to match our blog?? They're so nice.
Lastly, I'm going to leave you with this video.
You'll have to tell us if it's any good because Kate and I are both too weirded out watching ourselves to make it all the way through!  I do know you can hear lots of fun stuff like when I stabbed my own foot with a huge knife.
Good times people, good times!