So. School has started. After school activities have started. My oldest and youngest are in a local production of The Little Mermaid (and the oldest is Flounder, so he's at every rehearsal.) And I'm just so. freaking. tired. All the time. We're hitting up the drive-thru more than we should and I think all of us have just been craving something hearty and healthy and homemade. Something with vegetables that are not French fries. I had a fridge and freezer full of good intentions that needed to be used up, so I started throwing stuff into this Easy Hamburger Vegetable Soup and it turned out to be exactly what we needed.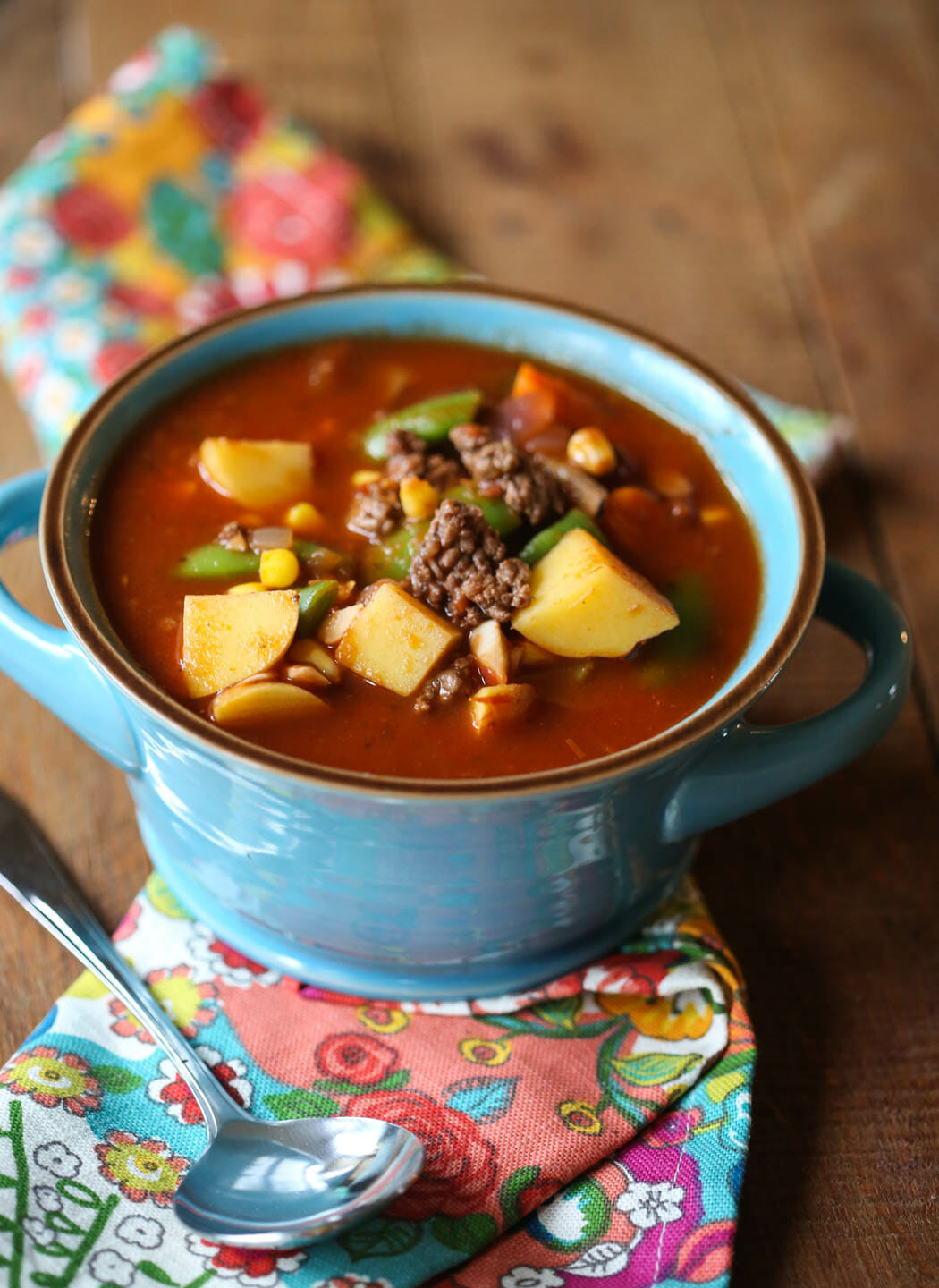 We all felt better (physically AND emotionally!) after eating this. And the beauty of this recipe is that you can customize it depending on your preferences and what you need to use up. Need to use up some ground beef or have it waiting in your freezer?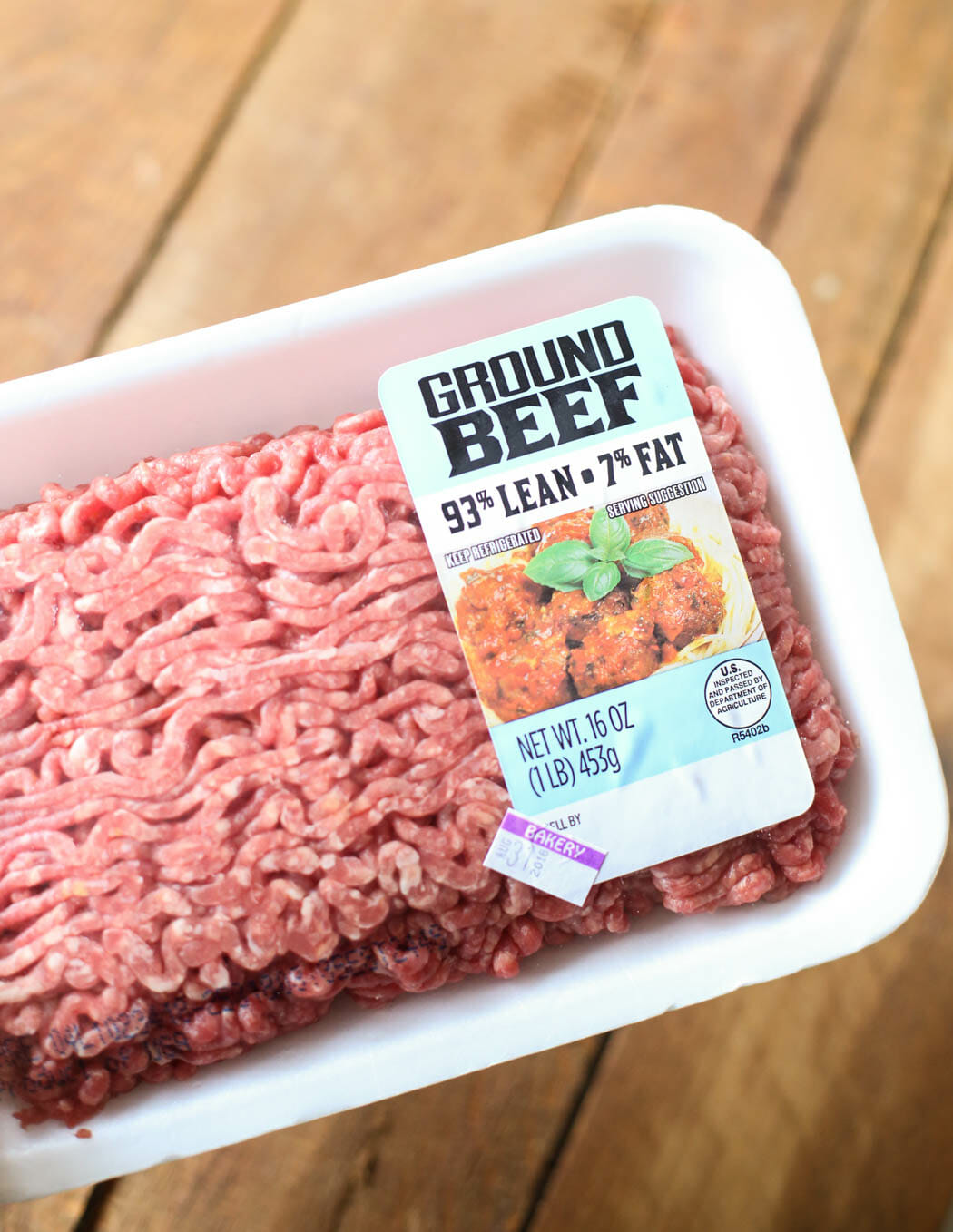 Use that! Have some leftover pot roast? Use that instead of hamburger! Zucchini? Yellow squash? Bell peppers? Celery? Spinach? Use them!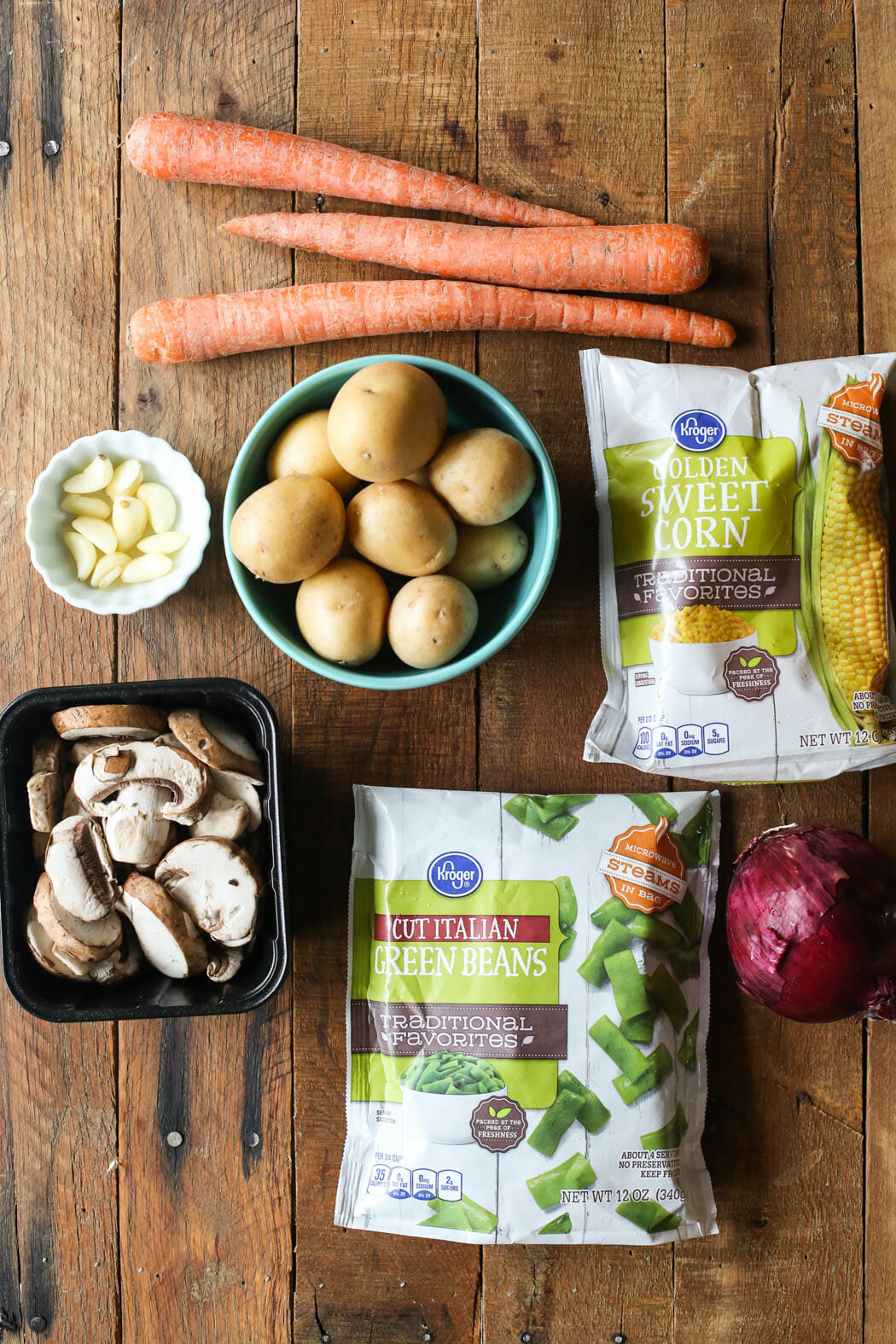 It freezes beautifully and tastes even better the next day. And before you ask, yes, that is 1/4 cup of chopped garlic. It will be bring you nothing but happiness.
Another great thing about this recipe is that you can make it on the stovetop (about 45 minutes start to finish), in the Crock Pot, or in the Instant Pot, whatever is most convenient for you! ALSO. It only has 4 Weight Watchers Freestyle Points!
Print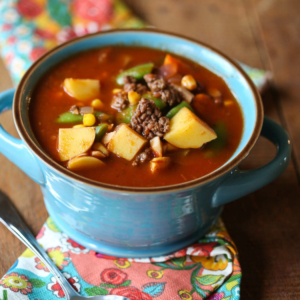 ---
Description
A healthy, comforting beef vegetable soup that can be easily made on weeknights! To make things even more convenient, you can either make it in the Crock Pot or the Instant Pot!
---
1 pound extra-lean ground beef (90% or leaner)*
1 large onion, minced
1/4 cup minced garlic
3–4 medium carrots, peeled and chopped
8 ounces sliced mushrooms (you can chop half or all of them to hide them)
1 1/2 tablespoons Italian seasoning
Salt & pepper to taste
2 tablespoons Worcestershire sauce
1/2 + teaspoon Tabasco sauce
1 teaspoon sugar (optional)
1 28-ounce can crushed tomatoes
1 16-ounce can tomato sauce
1 cup water**
1–2 tablespoons red wine vinegar (start with 1 and add more if your soup needs a little more kick)**
1 box (4 cups; 2 cans) of beef broth
1 pound baby potatoes, cut into bite-sized pieces
1 12-ounce package frozen cut green beans
1 12-ounce package frozen corn
*You can substitute 1 pound leftover, chopped pot roast for the hamburger if you'd like. Sauté the onions, garlic, carrots, and mushrooms, but you don't need to sauté the meat.
**If  you enjoy cooking with wine, you can replace the water and red wine vinegar with 1 cup of red wine. Don't use cooking wine–it's too salty.
---
Instructions
Heat 1 tablespoon of olive oil in a large pot or Dutch oven over medium heat. When hot, add onions, garlic, and carrots and sauté for 1-2 minutes or until the onions are fragrant and begin to soften. Add the ground beef and cook, breaking down the meat, until the meat is about halfway cooked. Add mushrooms, Italian seasoning, Worcestershire Sauce, Tabasco Sauce, and season with salt and pepper.
When the beef is done cooking, turn heat up to medium-high and allow the juices to cook off. Add the water and vinegar (or red wine, if you prefer) and stir to combine. Add crushed tomatoes, tomato sauce, beef broth, and potatoes. Bring to a boil, then reduce heat to medium and cook for about 10 minutes. Add the corn and beans and then continue to simmer until the potatoes are fork tender. Season with salt and pepper (you may need to add quite a bit of salt if you use reduced sodium beef broth.) Serve with rolls or bread.
---
Notes
CROCK POT INSTRUCTIONS
Prepare the recipe as directed through browning the meat. Transfer to a crockpot and add all remaining ingredients except beans and peas. Cook on high for 4-5 hours or low for 8-10 hours. 1-2 hours before serving, add the beans and peas and allow to cook through.
INSTANT POT Instructions
Using the sauté setting on your instant pot, prepare the ingredients through the sauté step. Add ALL remaining ingredients and use the manual setting to cook for 5 minutes. Season to taste.