All of the soups, tomato soup will always be my favorite.  One of my earliest, and most frequent childhood memories is eating Campbell's canned tomato rice soup with my Mom.  I must have been just a toddler, probably the age my little 3 year old is now, and I remember sitting down at the kitchen table, just the two of us, and dipping my almost-burnt grilled cheese crusts into the soup.  Now that I'm a grown-up (almost 40 and it still feels weird to say that) my heart skips a beat when I see a restaurant has a creamy tomato soup on the menu.  I created this Easy Pressure Cooker Tomato Soup because I wanted something super quick and simple, that produced homemade, restaurant-quality soup on a busy weeknight.  And this is it!  Don't worry, if you don't have a pressure cooker, I'll include stove-top and slowcooker instructions as well!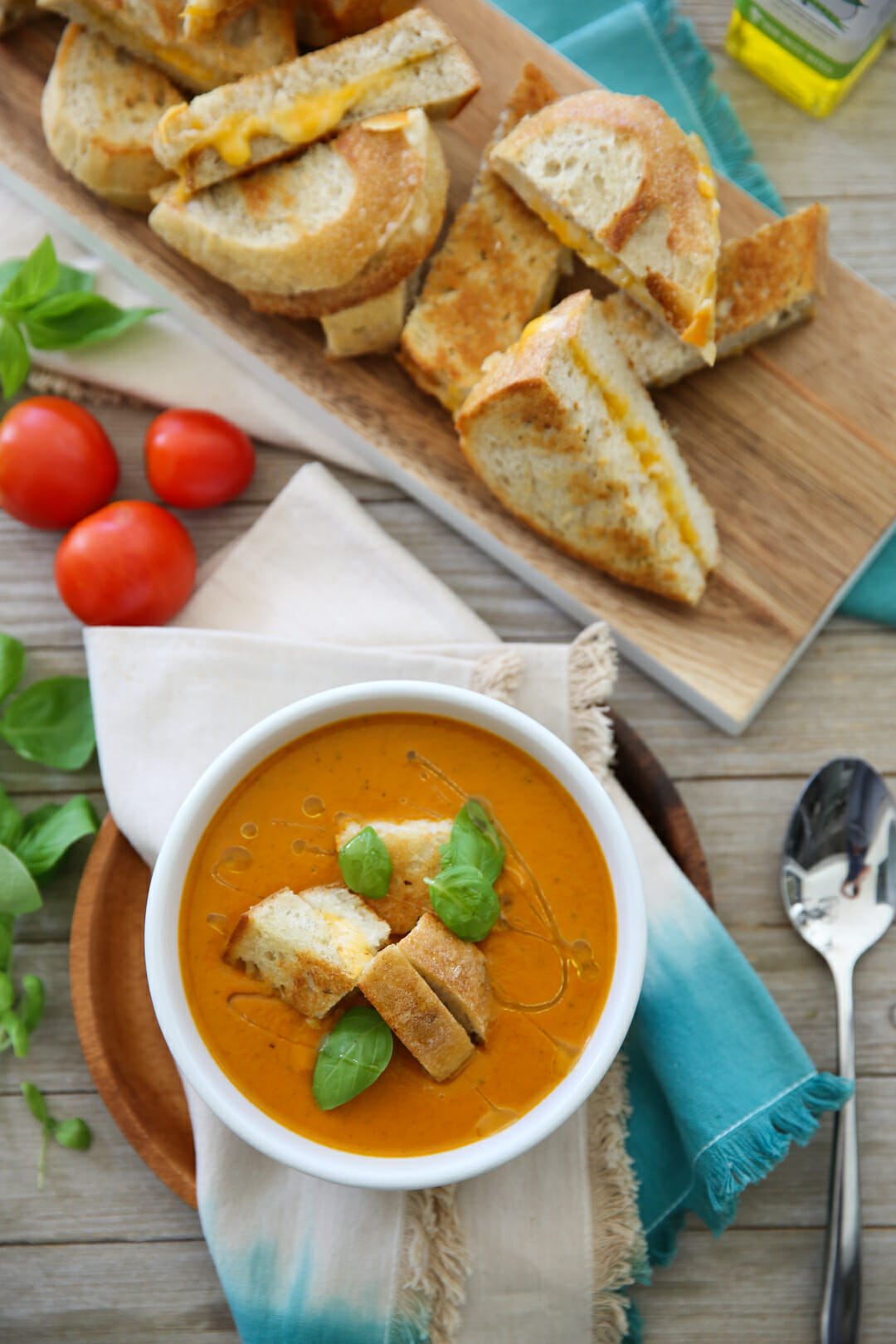 You'll start by turning on the saute feature on the pressure cooker.  Toss in a few diced carrots and an onion and saute them with a little olive oil or butter until they start to soften.  This step both deepens the flavor and gives your veggies a head-start cooking so take the few minutes to stir them around.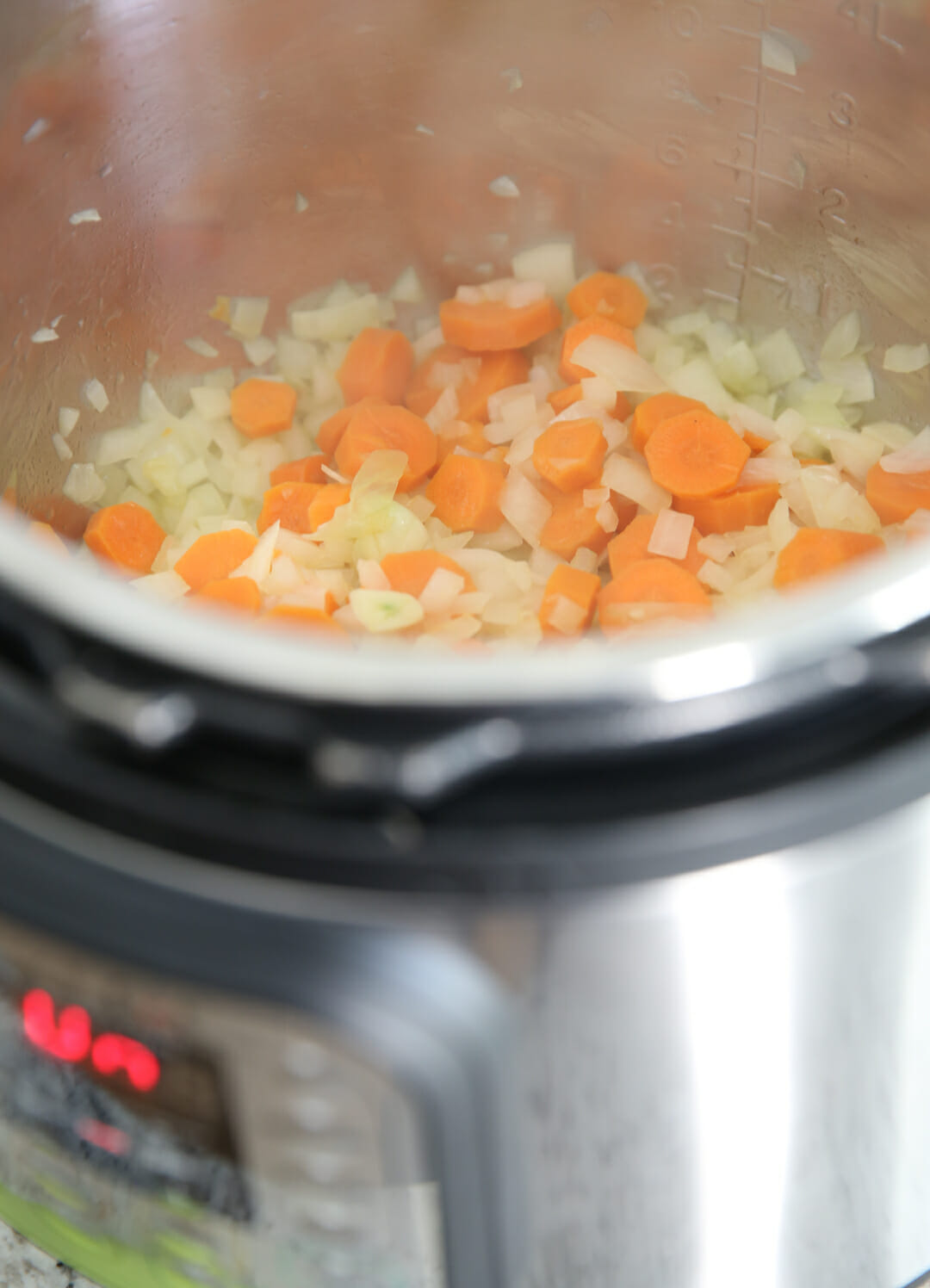 Then you'll add 2 big cans of canned tomatoes.  Now any kind of canned tomato will work.  If your store carries San Marzano tomatoes, I always recommend getting those- they're from Italy and have fantastic flavor.  But any brand will work, and you can use diced or whole, it really doesn't matter.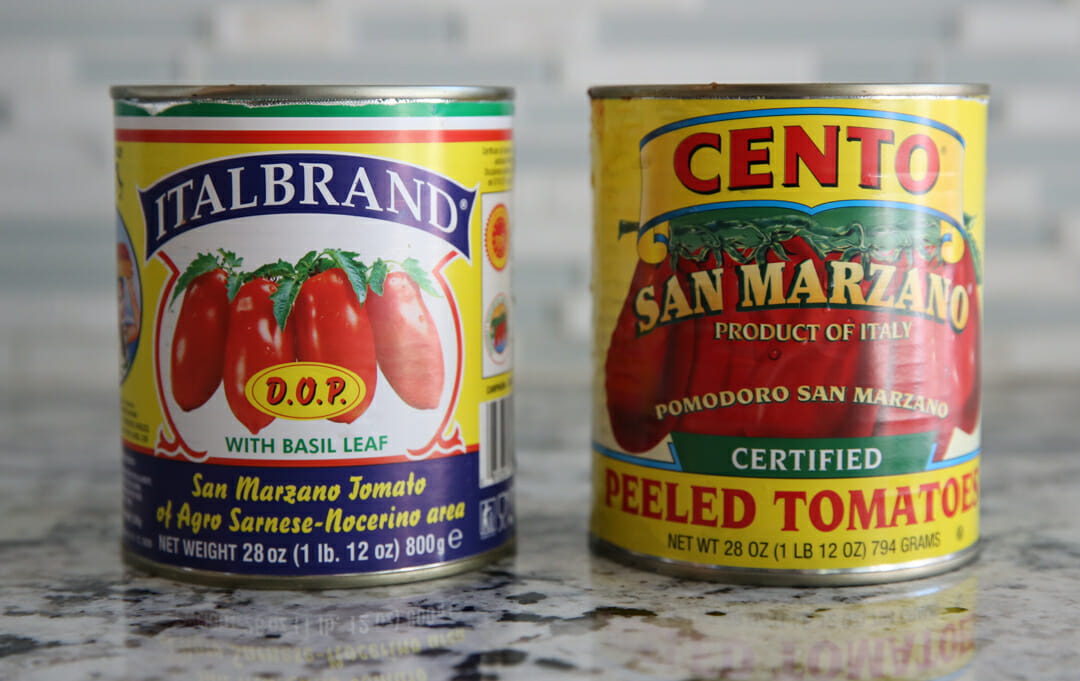 You'll also add broth- I always use chicken broth because that's what I usually have around, but vegetable broth, or even beef broth is totally fine.  It won't make your soup taste like chicken or beef!  For the seasoning, I purposely kept it simple.  If you start adding lots of Italian seasoning, your soup starts tasting like marina sauce. I simply use salt and pepper, and basil.  If you're using fresh basil, you'll add it at the very end after cooking, and if you're using dried basil it goes in before cooking.
After you add your canned ingredients, pop a lid on that pressure cooker and set a timer for 10 minutes.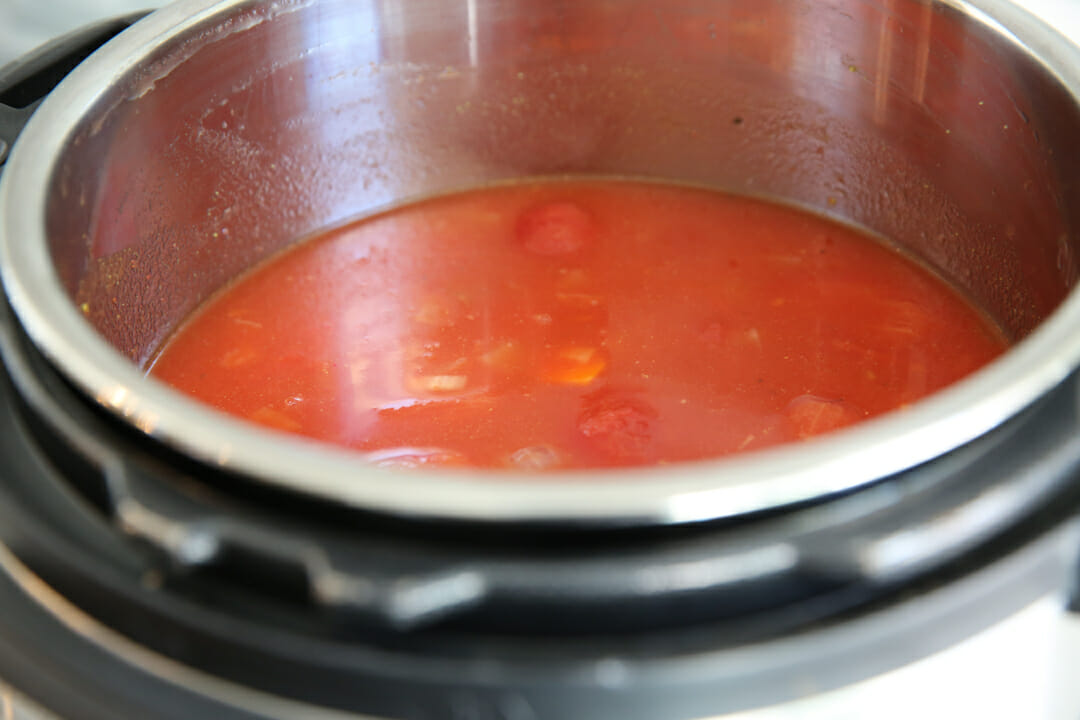 After it's done cooking you can either use an immersion blender, which will leave your soup a little chunky, or transfer to a blender (in batches if necessary) and process until completely smooth.
Once it's pureed, add a little cream.  Of course you can leave the cream out, but guys- it's so much better with cream.  Doesn't take all that much to elevate the flavor and texture.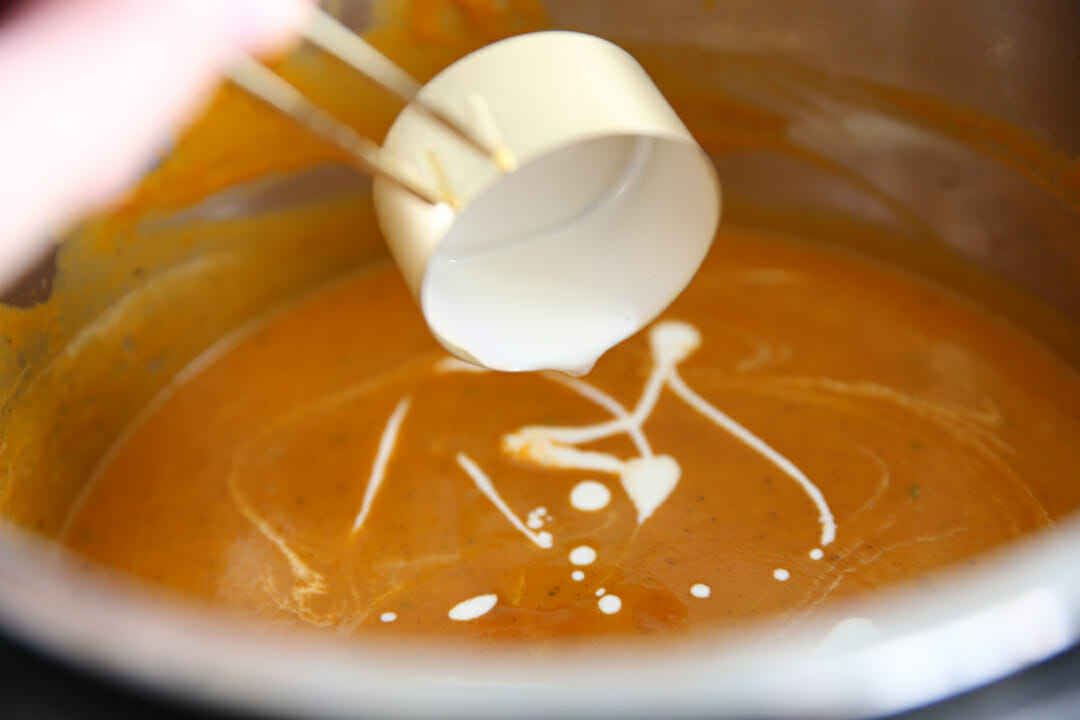 My favorite way to serve is of course with grilled cheese!  I like to chop up chunks of sandwiches on rustic bread and make Grilled Cheese Croutons.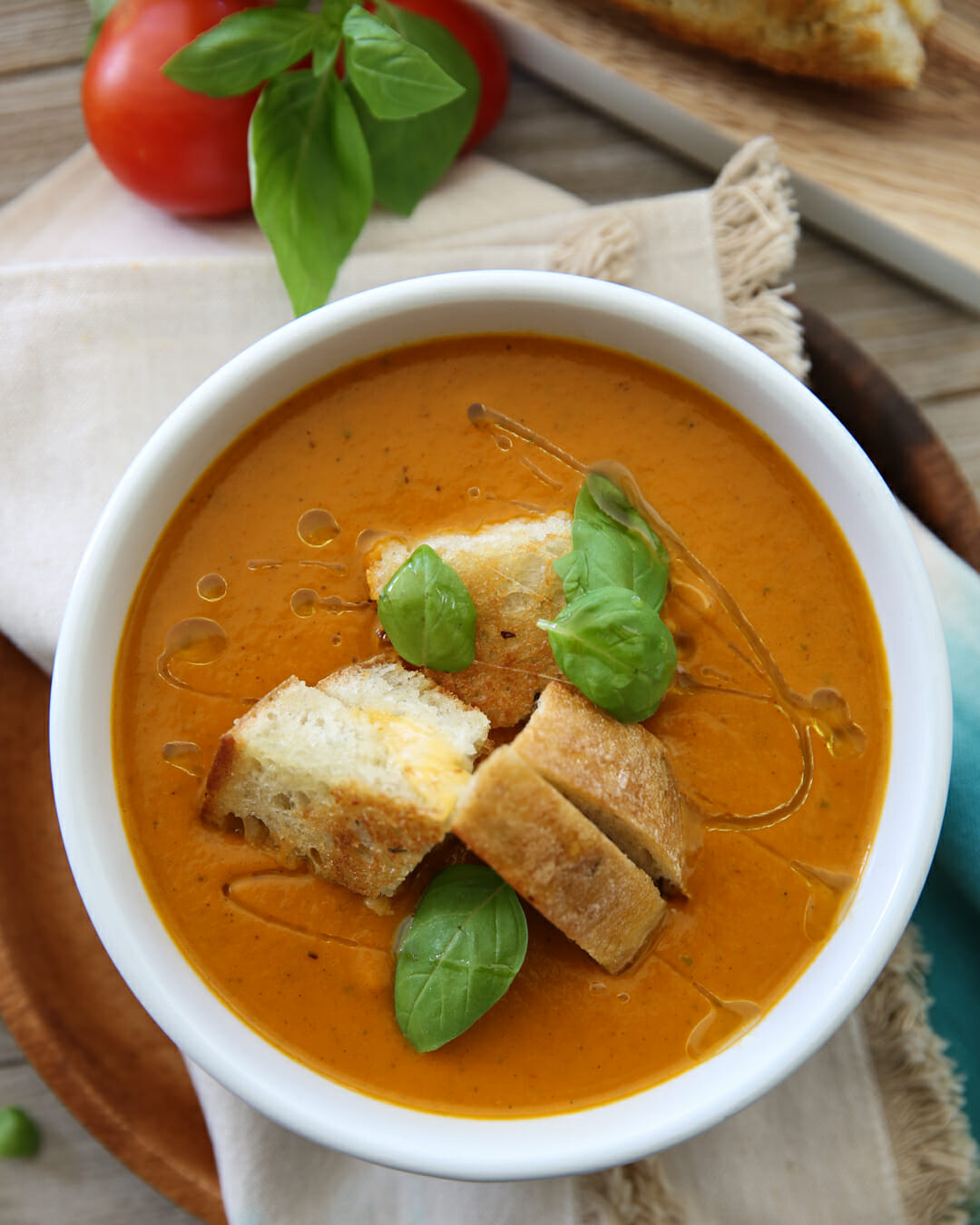 And that drizzle you see on top is our Rosemary Olive Oil.  Trust me- it's SO good with just a little drizzle on top!  You can find that oil in our shop right here– it's my all time favorite of all the herb flavors.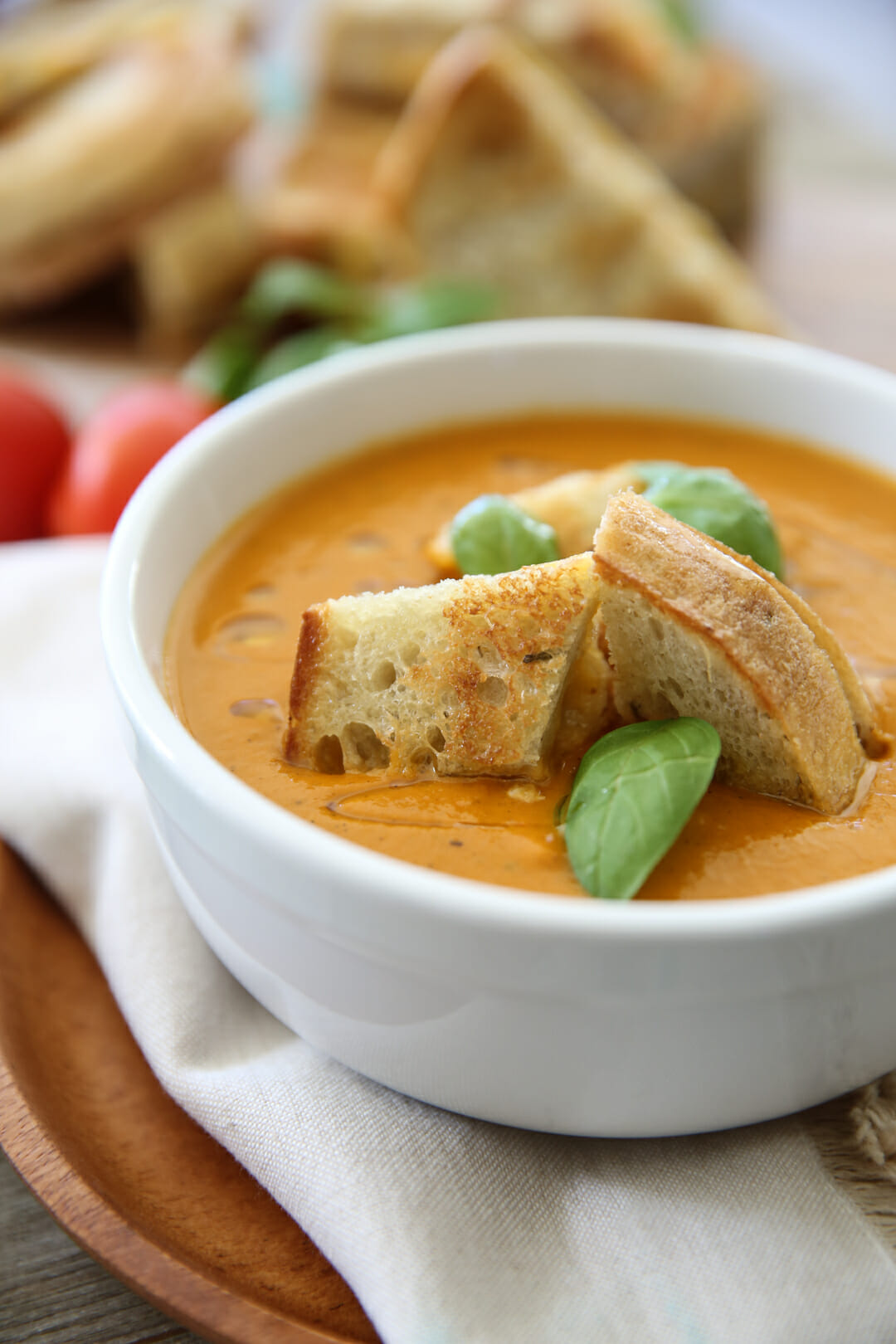 This soup stores well and freezes well.  I've been making a batch and keeping it in the fridge for lunch all week lately.  Try it out and make it at home, I'd love to hear what you think!
Print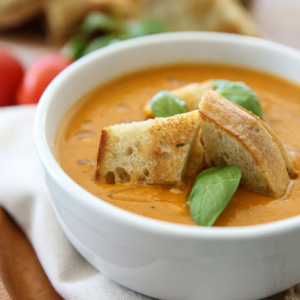 Easy Pressure Cooker Tomato Soup
---
Description
Quick and easy recipe using pantry ingredients to produce a fantastically flavorful tomato soup!
---
1 tablespoon olive oil or butter
1 large onion, diced (about 2 cups)
3 medium carrots, thinly sliced (about 1 heaping cup)
2 28-oz cans whole or diced tomatoes (San Marzano if you have them)
2 14-oz cans chicken broth (or vegetable or even beef)
1 1/2 teaspoons kosher salt
1/4 teaspoon pepper
heaping 1/2 cup fresh basil leaves
1/2 cup cream (more if desired)
---
Instructions
Turn pressure cooker to saute.  Add butter or olive oil, onion, and carrot and saute, until starting to soften, 3-4 minutes.  Add in tomatoes (juices and all), broth, salt and pepper.
Secure lid on pressure cooker and set to high pressure for 10 minutes.  You can immediately release pressure when done, or let it come down naturally if you have time.  Use an immersion blender or an actual blender to puree.
Add fresh basil and pulse again to blend.  Finally add cream and blend together.
---
Notes
If using dried basil, add 2 tablespoons before cooking.
For stovetop, make as directed, only simmer on stovetop about 30 minutes, or until carrots are tender.
For slow cooker, saute carrots and onions in a pan and then add to slow cooker with other ingredients.  Cook on low for 4-6 hours.