I'm not going to beat around the bush here.  This easy pressure cooker tortilla soup is a recipe that I make probably about once a week and let me tell you why it's amazing.  It revolves around 2 main ingredients and aside from those it's very customizable depending on what you have sitting around in your fridge, pantry, and freezer.  It involves zero cutting, chopping, or really even measuring.  You can toss this stuff, including frozen, unseasoned chicken breasts straight from the freezer, into your Instant Pot and have a great meal in about 30 minutes.
Are you sold already??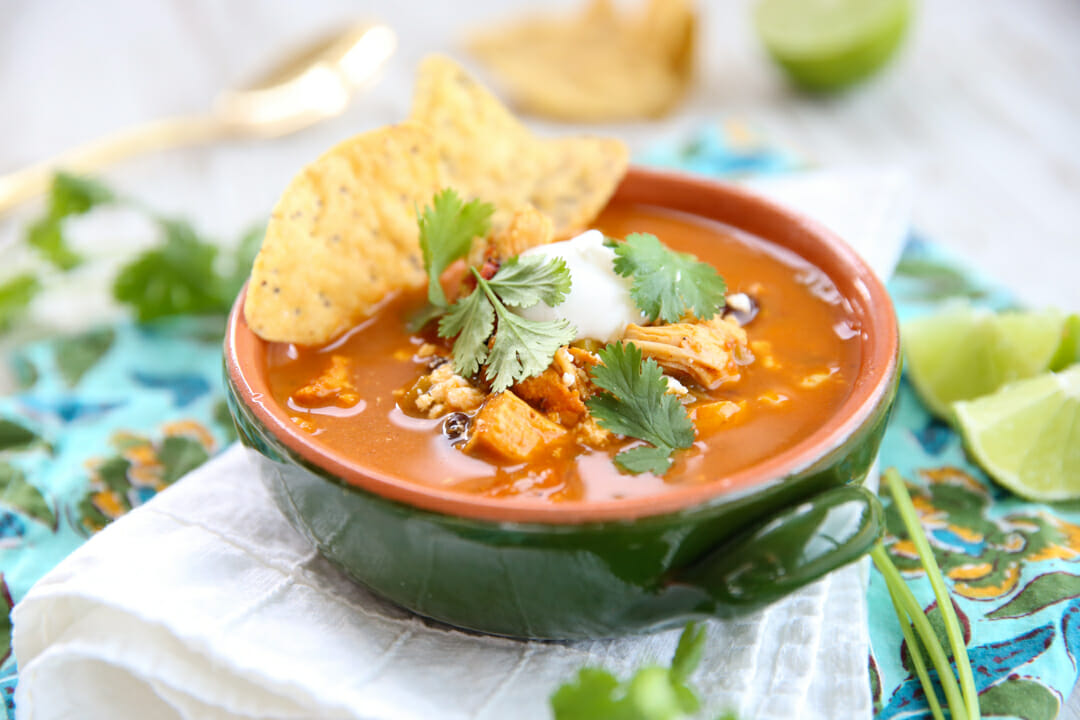 the secret ingredients
Okay seriously.  Look at these; I didn't rinse them or anything- straight from the big frozen Costco bag and into the pressure cooker.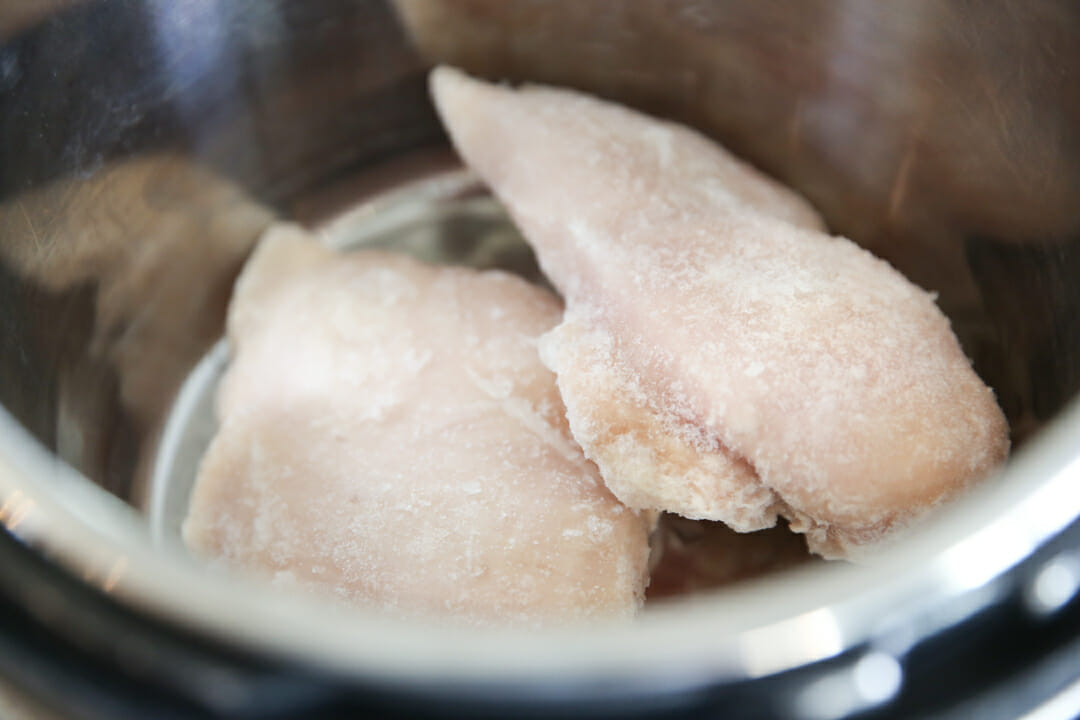 This is kind of the secret ingredient.  I shared a whole bunch of my go-to Costco purchases on my Instagram recently and I mentioned I buy this Pacific Roasted Red Pepper and Tomato Soup by the case-ful.  I use it in SO many things.  This isn't sponsored, I just love it and use it a lot.  It easily adapts to transform frozen chicken into a great soup, frozen burritos into enchiladas, and more.  It's thick and creamy, with a great neutral, yet flavorful flavor.  If you don't find it at Costco, look for it in the soup aisle of your grocery store.  At my local Kroger/Fred Meyer, it's stocked in the healthy/organic food section. So I just dump a whole carton over that frozen chicken.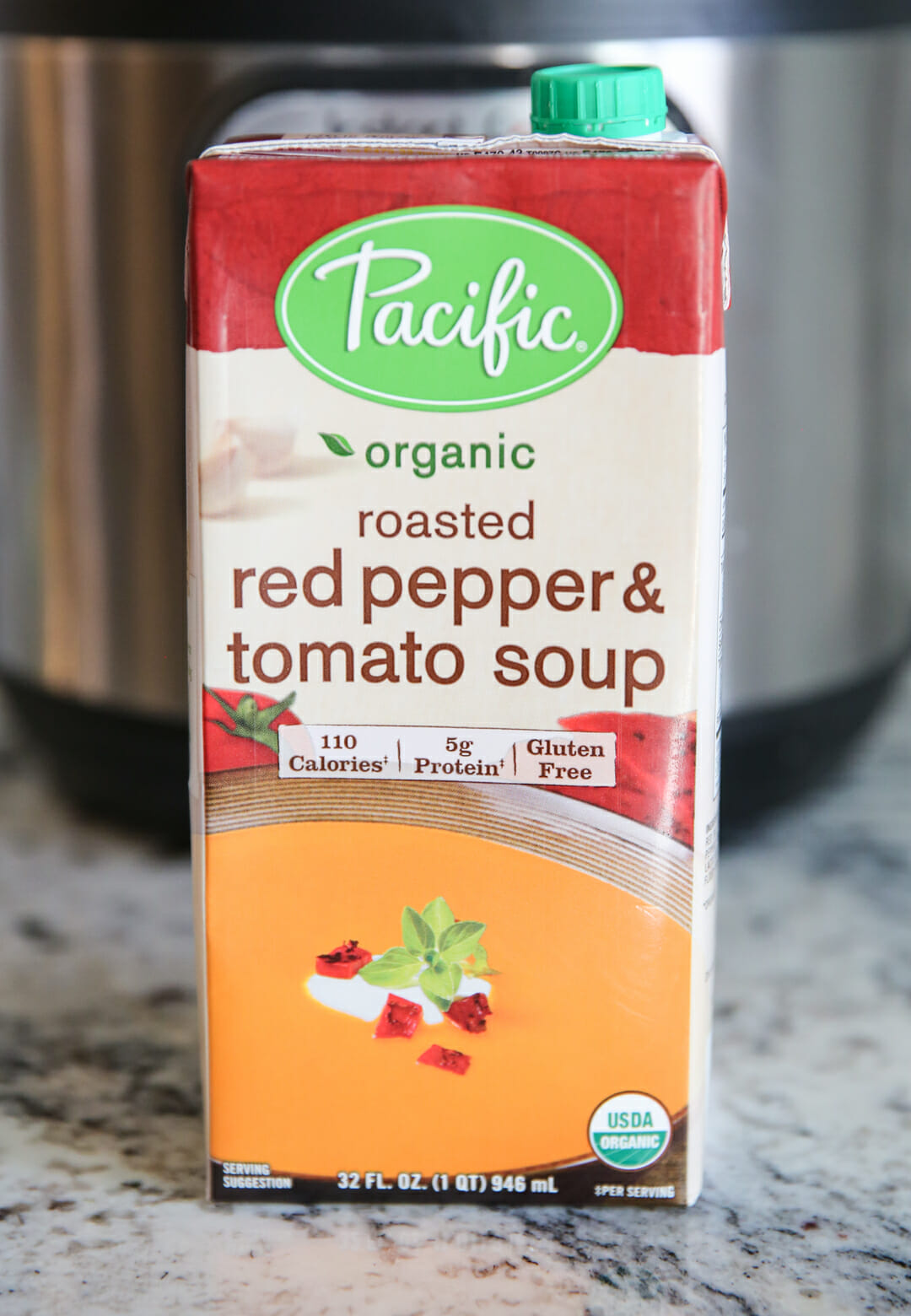 other pantry staples
From here on out you can really customize depending on what you have laying around.  I almost always have a can of mild green chilis in my pantry so I usually toss one of those in there.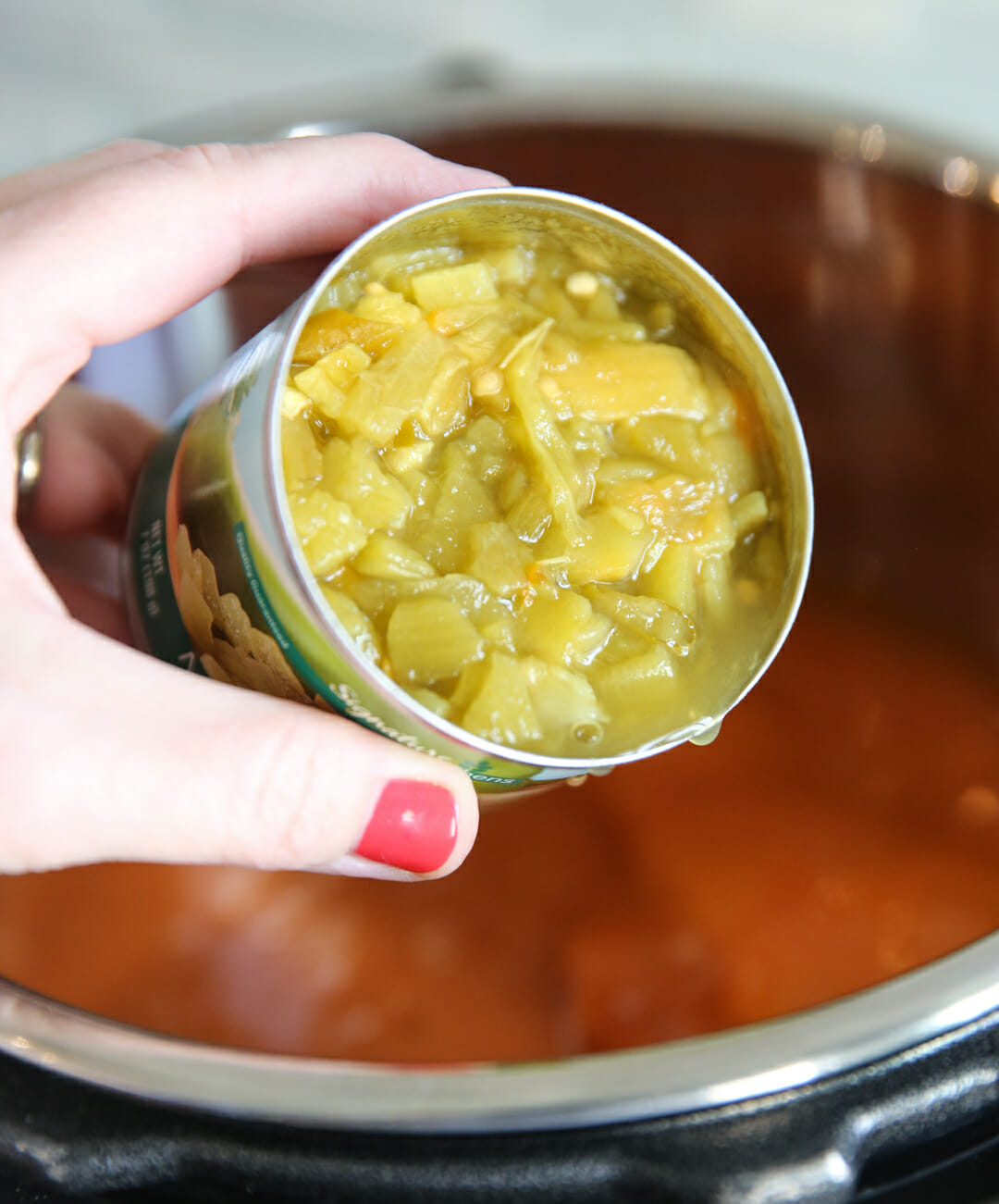 Another thing I always have in my pantry is fire roasted canned tomatoes.  Dump that whole can in there too.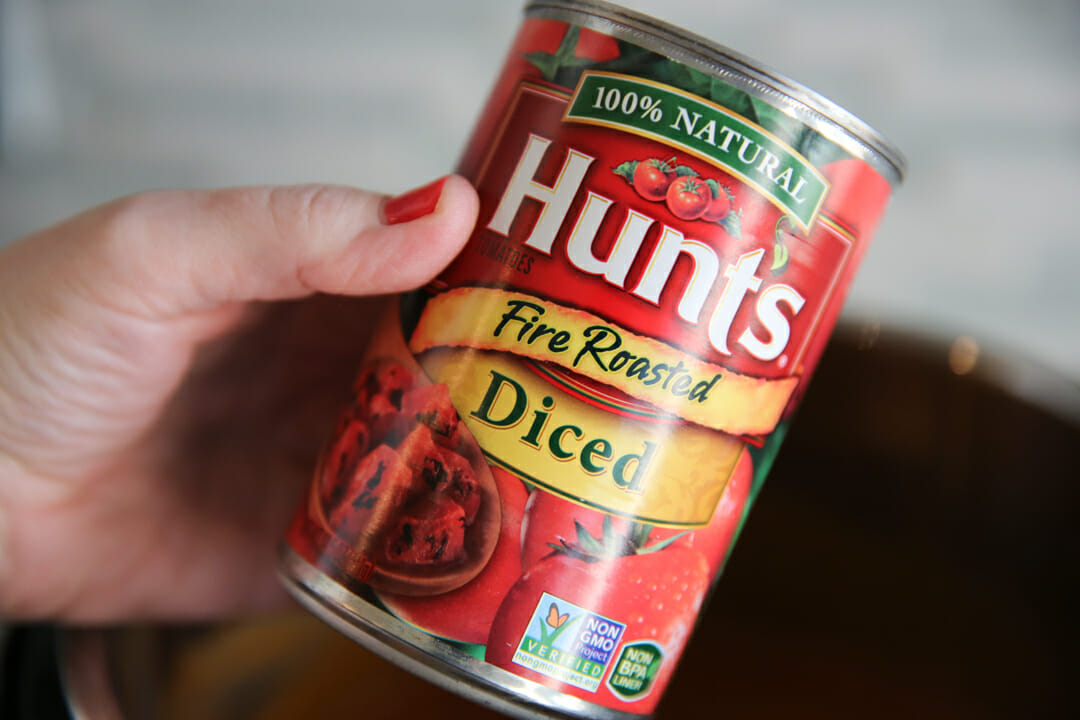 Next is seasonings.  I literally never ever measure anything, but I did this time for you!  You can skip this whole part and just toss in a packet of taco seasoning instead, I think the quantity would work out just fine.  I usually throw in chili powder, cumin, oregano, salt, pepper, and a chicken bullion cube.  But feel free to adapt here if you like.
The other thing I love and always have is True Lime.  If you've been reading this blog for a even a little while you know how much I love and use this (and also the lemon). It's 100% crystalized lime, real lime.  I always have it on hand because then it doesn't matter if you didn't grab fresh limes at the grocery store.  I just buy it on Amazon in a shaker jar.  If you have a fresh lime you can totally use that!
pressure cooker simplicity
That's it for the pressure cooker.  If you don't have the canned stuff, you can totally just do the soup, chicken, and some seasonings and call it good.  Cook it on high pressure (manual) for 15 minutes.  If your chicken is thawed, set your timer for just 8 minutes.  With frozen chicken it will take longer to come to pressure just because it's colder in there but it should still be done in about 30 minutes total so that's a win for me.
After the pressure cooking is done, I remove the lid and add in some frozen corn and canned black beans.  You don't have to simmer it or anything, they just need to be warmed through and that happens pretty fast.
The result is a super flavorful soup that's hearty, healthy and delicious!  I usually buy a few bags of healthier tortilla chips (these ones are by Late-July) and keep them up hidden on the top shelf of our pantry where no one knows about them.  That way we always have them for meals like this and they don't get eaten as snacks.  We love it with a dollop of plain Greek yogurt or light sour cream and any other toppings you like.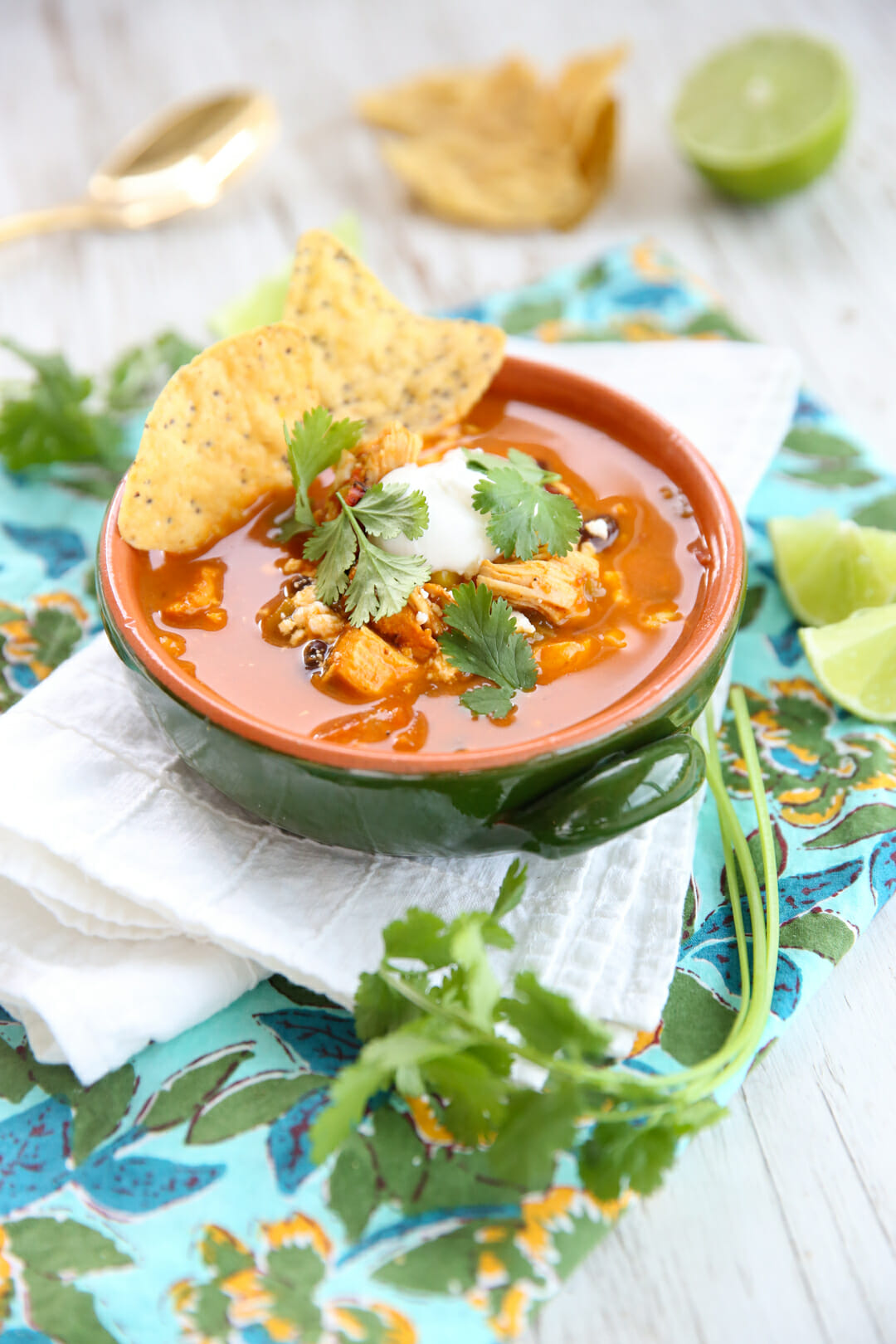 So make this a time or two and get used to adapting the recipe depending on what you have around; it will be a go-to in no time for you, too!
Want more pressure cooker recipes?  Just click here.  New to pressure cooker or interested?  Click here.
Print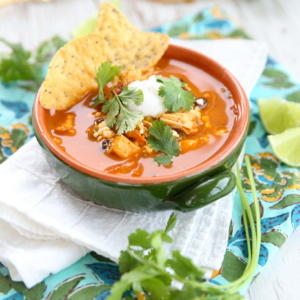 Quick and Easy Pressure Cooker Tortilla Soup
Author:

Sara Wells

Prep Time:

5 minutes

Cook Time:

25 minutes

Total Time:

30 minutes

Yield:

About 8 cups soup

Category:

Soup

Method:

Instant Pot

Cuisine:

Mexican
---
Description
A very easy soup that can be made with just a handful of pantry ingredients.  No chopping or dicing or anything, just dump and cook!  Be sure to read notes for ideas on customizing the recipe depending on what you have on hand.
---
2

medium sized chicken breast (frozen or raw)

1

carton Pacific Foods Roasted Red Pepper and Tomato Soup

1

can fire-roasted tomatoes

1

4 oz or

7oz

can mild green chilis

2 teaspoons

chili powder

2 teaspoons

cumin

1 teaspoon

oregano

1 teaspoon

kosher salt
couple cracks black pepper

1 teaspoon

true lime or

1

–

2

Tablespoons Lime Juice*

1

chicken bullion cube

1 cup

frozen corn

1

can black beans (or any beans) drained and rinsed
Toppings as desired::
sour cream or plain Greek yogurt
tortilla chips
crumbled or shredded cheese
avocado
---
Instructions
Place all ingredients  EXCEPT corn, beans, and lime in pressure cooker.  Close pressure cooker and cook on high pressure for 15 minutes if using frozen chicken and for 8 minutes if thawed.
You can do a quick pressure release if you're in a hurry, or let it naturally release for about 10 and then release the rest.  Open pressure cooker and remove chicken and place on cutting board.  Add corn and beans and stir to heat through.  Shred chicken and then add back into pot.  If using fresh lime, add lime juice.  Taste and add salt and pepper (or other seasonings) to taste.  If for some reason you've over-seasoned, just add a little chicken broth, more tomato soup, or water!
---
Notes
If you are using powdered Lime, add it before cooking, if you are using fresh lime juice, add it in at the very end.
The canned chilis are optional, and even the canned tomatoes are!  You can adjust seasonings as you like, or even use a packet of taco seasoning in place of the seasonings.  Feel free to add any vegetables or beans you like.  When you start with the combination of the chicken and the soup and you know the cooking time, you can customize the soup according to what you have on hand.  Just remember to stir in tender veggies like corn and beans at the end that just need to be heated through, and veggies that need to be cooked (like diced onions or peppers) before cooking.
Keywords: chicken tortilla soup, instant pot chicken tortilla soup, instant pot soup recipe