I actually had a whole post of super easy Christmas themed snacks like these cute little Reindeer cookies I made for my kindergartener's holiday party today, but I ran out of time this year and decided to save them for 2012!  But I just shared this picture on our Facebook page and several people asked if I could post it on the blog so they could pin it to Pinterest.  So here y'all go- pin away!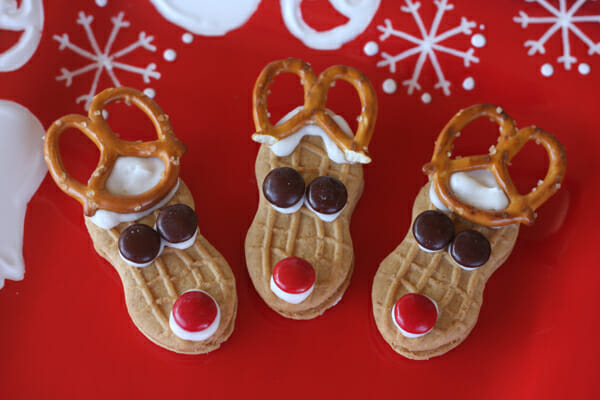 You just need Nutter Butter cookies, pretzels (you can break off the center piece as seen in the middle photo or leave it on) and M&M's.  Attach everything with frosting- even the store bought stuff.  If you're doing this with kids, it works really well to put a little frosting in a heavy duty zip lock bag and cut a tiny corner off.  Use a twist tie and tie the bag right at the top of where the frosting sits to keep it in place for little hands.  Have fun!
If you like this idea- Pin it!