This Catalina Chicken recipe is so flavorful and crazy easy.  It only requires chicken and 3 other ingredients for a really flavorful sweet and sour sauce.  We love this served over rice with a veggie on the side. And right now I need easy.
Since we're keepin' it real around here this week, let me give you a little peek into my life right now.  Remember when I showed you my office last week?
Well here's the view out my master bedroom: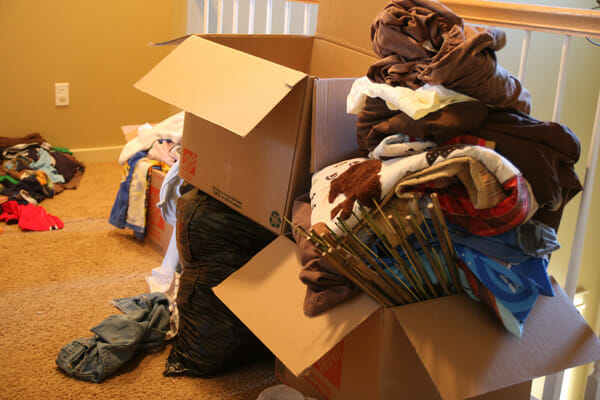 And my super stylish entry (I swear there's not a body in that bag.)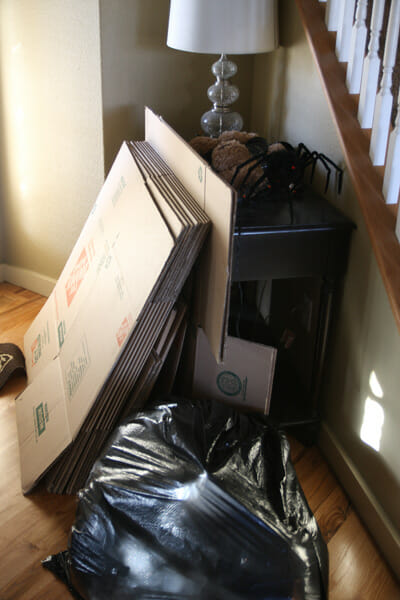 Annnnd don't forget the kitchen.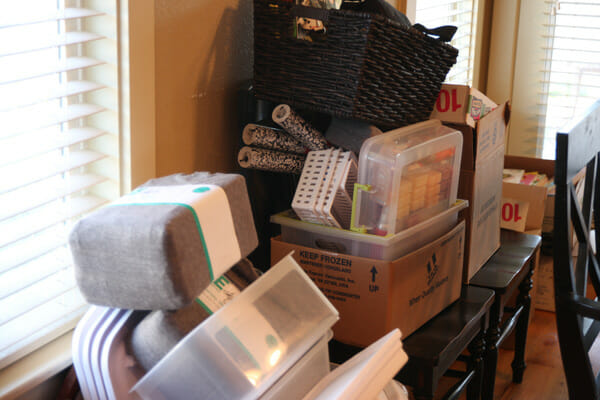 We're moving.  Well, in the process of moving.  And life is chaotic.  The other day my 4 year old actually said, "Hey Mom, weeemember the time you made us chicken wif sawad for dinner?  Can you do that again?"  Um yeah.  We've been in a cereal/pizza/fend for yourself kind of mode for a couple of weeks now.   Which happens to be the perfect time to pull out some of the crazy-easy-totally-not-fancy-but-hot-yummy-and-homemade recipes I like.  The kind of recipes we don't always post on our blog because the foodies out there tell us they're not foodie enough.  Luckily we've never claimed to be fancy-foodies.  We're realists.  So here's a realist recipe.  It's one of those old-school iconic chicken dishes that's been around forever.  And yes, it uses pretty much all pre-packaged store-bought ingredients, but sometimes that's exactly what you need!  I have bunch of recipes like this up my sleeve so you may get a few more in coming weeks as I try to pack my life up, unpack it again, and try to not live completely off of Happy Meals.
For this you'll only need a few basic pantry items.  I always keep this stuff around because it will last forever in the pantry and then it's always available when I need a quick, last-minute meal.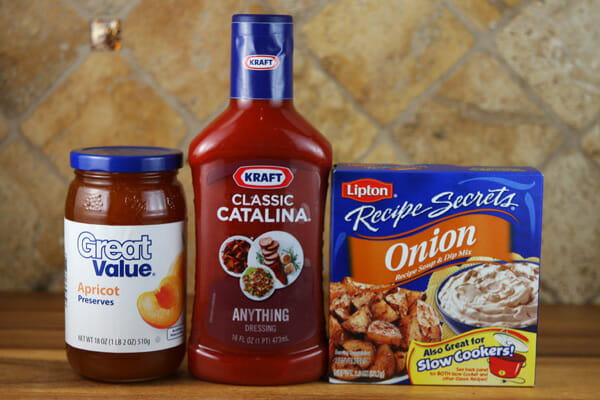 Apricot jam is pretty standard, but I use Apricot-Pineapple a lot, and even peach.   They're all great.  There's another version that uses a can of whole cranberry sauce instead, and that one is good too.  Catalina or Russian dressing works here, too and you can make this with pretty much any cut of chicken you want.  See?  Easy peasy!
Start by putting your jam in a bowl and adding the Catalina dressing.  If your jam is particularly jamm-y, it helps to heat it up a little in the microwave to make it easier to stir.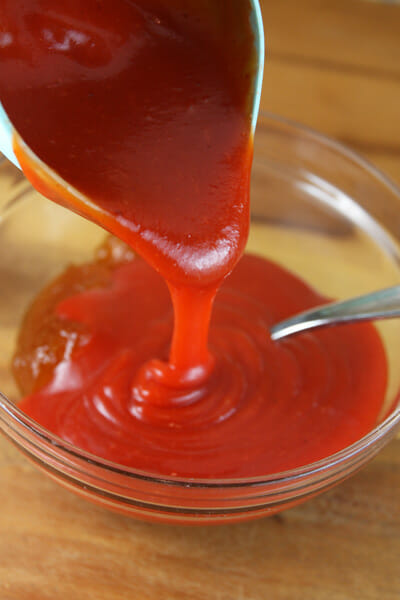 Most recipes don't call for this next ingredient, but I always add a little apple cider vinegar to cut the sweetness and balance the flavors.  Just a half teaspoon does it.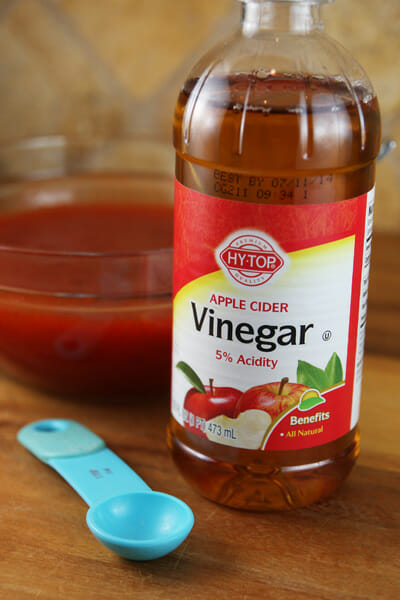 Next bust open that packet of soup mix.  You're not making soup- just using the dry mix here.  Add half of it to the sauce (that's about 1 1/2 tablespoons, but you can just eyeball it.)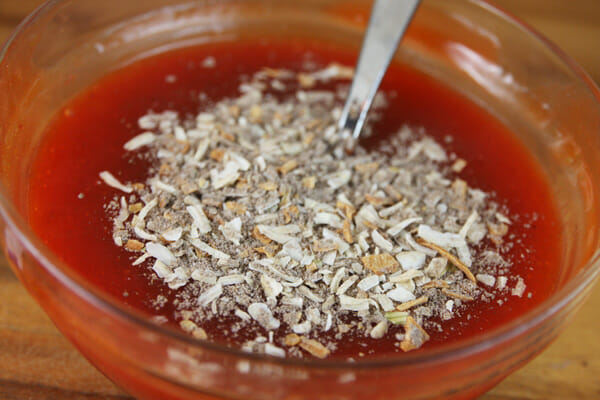 This is also something I do a little different.  I use the remaining half of the soup mix to season the chicken itself.  You can definitely just throw all of the ingredients in a pan and pop it in the oven like I know a lot of people do, but I find that seasoning the chicken pieces, and then searing them in a hot pan first develops flavor, adds depth, and results in juicier chicken and a thicker sauce.  So just just sprinkle the rest of the soup mix on your chicken and rub it in with your hands to evenly coat.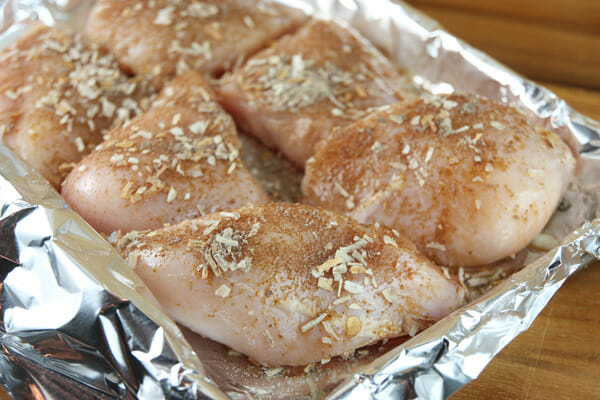 If you're using really large chicken breasts like I am, you might want to just cut them in half for easier cooking and serving.
Heat up a large skillet, dutch oven, or other oven-proof pan.  When it's nice and hot, drizzle in a little olive oil and swirl to coat the bottom.  Place your chicken pieces in the pan and sear them for 2 minutes on each side, they should be slightly golden brown.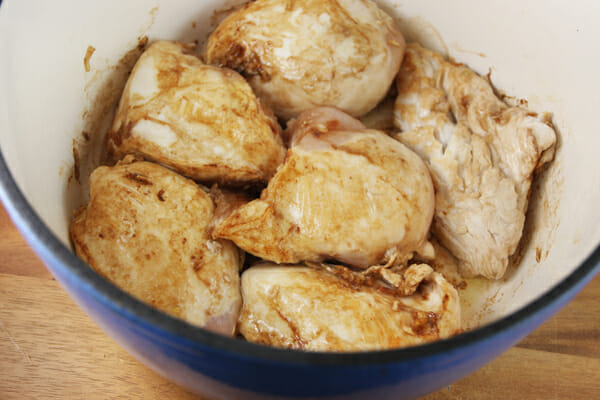 If you're using an oven-safe pot already, just pour the sauce on top and spread it out.  Otherwise, you can transfer your chicken pieces to a baking dish and pour the sauce on there.  If you have little brown bits on your skillet, I'd pour some of the sauce in there and heat it to a simmer while scraping those bits off and add those to the baking dish too.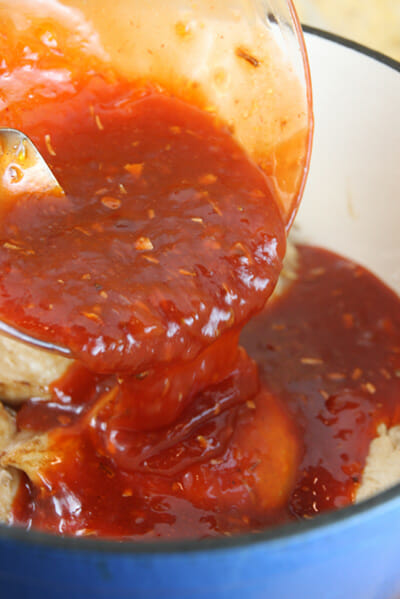 Depending on what type of chicken pieces you're using, baking time will vary.  The very best method of baking chicken is to own a good meat thermometer.  Then you'll always end up with perfectly cooked meat.  Cook until the thickest portion reaches 165 degrees.  For boneless, skinless breasts it will probably only take about 20-30 minutes.
When you take it out of the oven, let it cool for 10-15 minutes and then serve chicken, ladled with sauce, over hot white rice.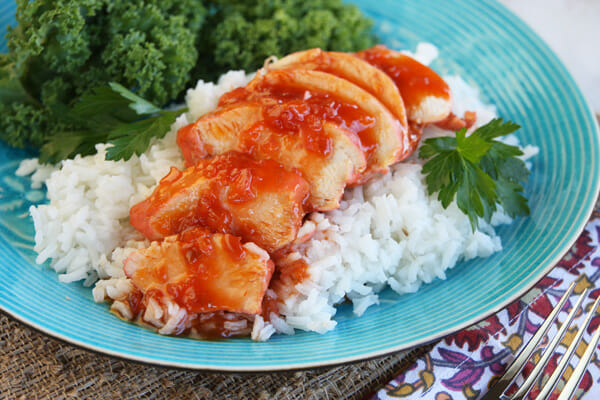 The sauce will be substantially thinner than when you poured it on top (and will thicken the longer it sits)  If you want some of those bits of fruit and onion, just use a slotted spoon and spoon it on top.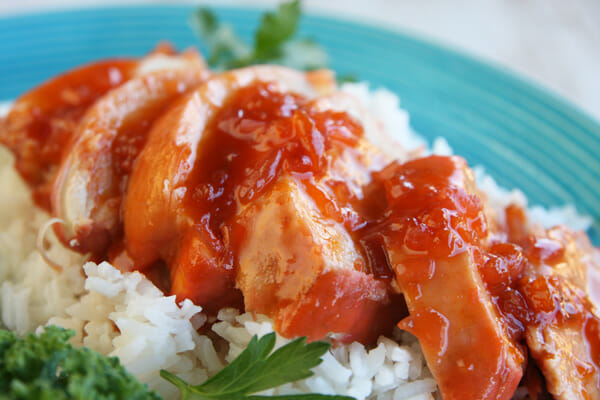 It kind of tastes like a sweet and sour sauce- or my husband is always reminded of Hawaiian food, like Huli Huli Chicken.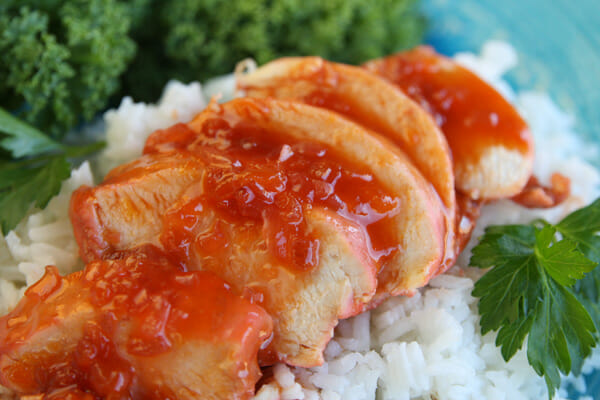 I'm telling you, there's nothing like a great sauce spooned over hot white rice- one of my favorite comfort foods!
Easy Catalina Chicken
Adapted by Our Best Bites
1 cup Apricot or Apricot-Pineapple Jam (Peach is yummy too)
1 cup Catalina Salad Dressing (Russian works too)
1/2 teaspoon apple cider vinegar
1 envelope dry onion soup mix (like Lipton)
3-5  chicken (breasts, bone-in/boneless, thighs, tenders, whatever)*
olive oil
*The amount of chicken you use is very flexible.  If you use less, you'll just have lots of sauce, and if you use more- you'll have less sauce to spoon over rice, but there's plenty to cook that much chicken.
Preheat oven to 350 degrees.  Heat a large oven proof skillet or dutch oven to medium-high heat on the stove top.  If you don't have an oven proof one, you can use any skillet and just transfer your chicken to a baking dish after searing.
While pan is heating, place jam, Catalina dressing, cider vinegar, and 1/2 of the onion soup packet (just eyeball it) in a bowl and stir to combine.  Set sauce aside.  Sprinkle remaining onion soup mix onto chicken pieces and pat on all sides with clean hands.
Drizzle olive oil into hot pan to coat bottom of pan.  Place chicken pieces in and cook without moving for 2 minutes.  Flip chicken to other side and cook for 2 more minutes.  Pour sauce over chicken and spread out evenly over chicken pieces.
Place pan in oven, uncovered and cook until chicken registers 165 on a meat thermometer.  Different parts of the chicken will vary in time so gauge according to what you are using.  boneless skinless breasts usually take about 20-30 minutes.
Remove from oven and let cool at least 10 minutes.  Serve chicken and sauce over hot white rice.  Serving size varies according to how much chicken you make, but serves a bunch!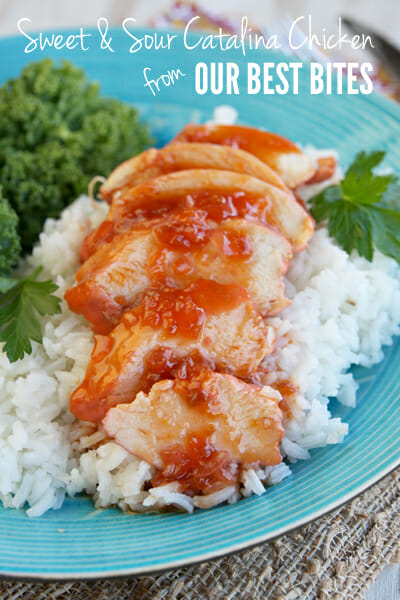 Lastly, if you're stuck in cold, chilly weather and want to dream of tropical paradise (like this)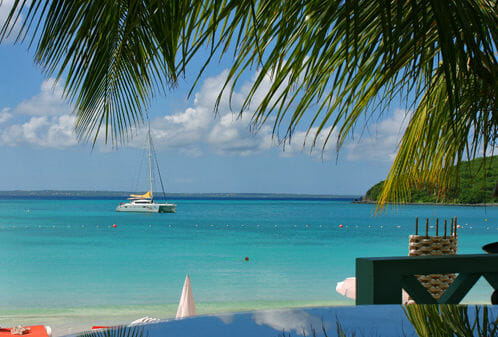 Sea Cuisine is featuring some of my work on the Seafood Spot Blog today!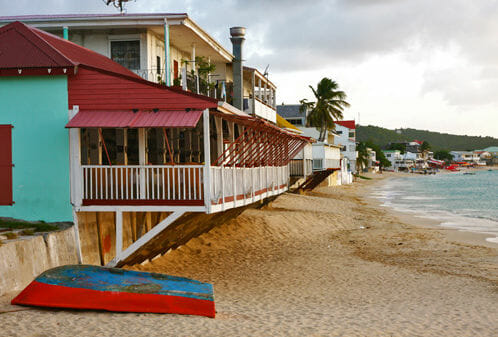 This past June, my husband and I headed to the insanely gorgeous island of Anguilla, to capture photographs and write articles about the amazing food there.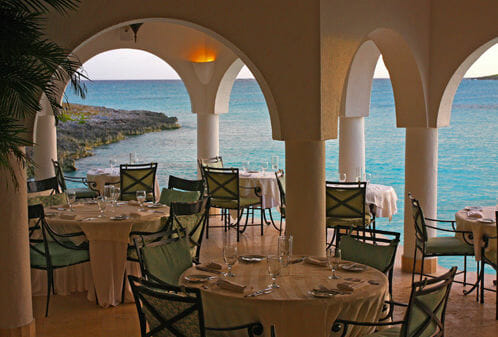 Click over to see photos of our trip, and read about some of the adventurous eating I did!