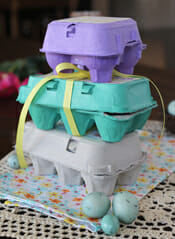 Several years ago I had to transport some mini cupcakes and found they slid all over the cookie sheet I had set them on.  As I was grabbing something out of the fridge, I eyed a carton of eggs and it dawned on me that those little wells were probably the perfect size for my little mini cakes.  Sure enough; a perfect fit.  Every year since then I've thought about doing some sort of Easter printable with that theme and every year I forget until after Easter.  I probably would have forgotten yet again if it wasn't for a trip to World Market recently where I saw a cute little baking kit and remembered my idea!  So I came home and got to work.  Mini cupcakes fit perfectly in egg cartons, and as long as you don't go crazy with the frosting, the lid fits on there just right, too.
You can use just about any type of egg carton.  Some stores sell half-dozen sizes; I've found at most of my local stores, it's just a regular dozen carton cut in half so that's what I'm using here.  I've also found that often times the more expensive, organic brands often come in containers with no printing on the actual container, so you can just peel off the label.  Just check your store and see what you can find.  If you really want to get fancy, you can order plain ones online.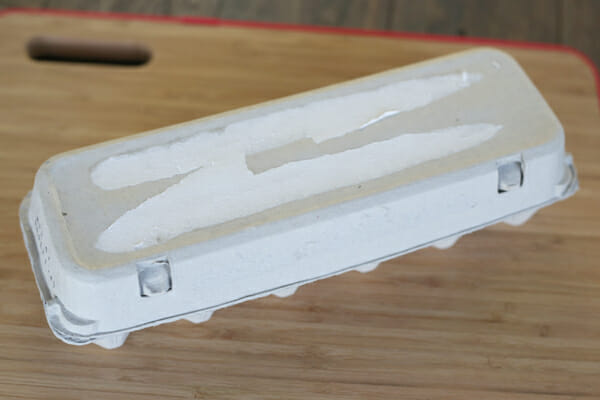 There's also often egg cartons in the Easter candy section, like these cut little purple ones from the Milka Eggs.  (If you need an excuse to purchase chocolate eggs and then consume them so you can re-purpose the packaging, there ya go.  You're welcome.)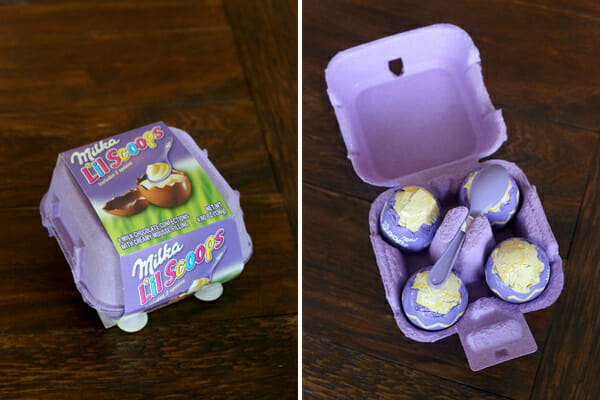 You can leave your cartons plain; even with writing and labels on them I think it adds to the rustic charm.  Or, just grab some craft paint and a cheap sponge brush and give it a cute coat of paint.  This literally took about 90 seconds, so we're not talking about a big ol' craft project here.
If you want something cute to put on top, I've got ya covered.

(and thank you- now I realize it should be "laid" and egg, not "layed"  the label download is correct, just ignore my spelling error in the pictures!)  
I want a magic chicken so bad.
In fact, the only way you could ever, ever get me to be one of those people who raises chickens in their backyard is if it was the kind of chicken that lays cupcakes.
Here's three really quick and easy ideas for Easter and Spring-ish themed cupcakes.  First, my favorite, those cute robin egg cupcakes.
If you use a box mix, just add a little coconut extract to the batter.  Top with toasted coconut and little blue jelly beans, or robin egg candies.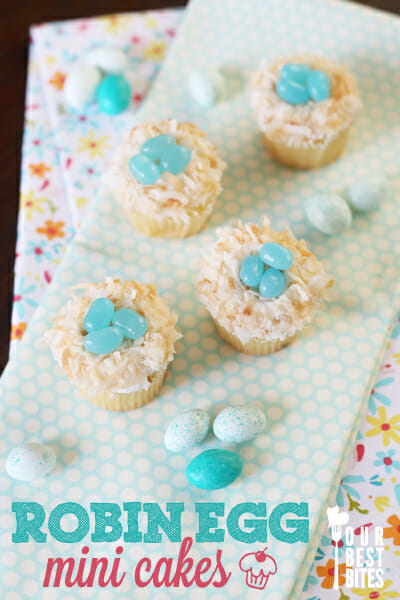 I also love, love, love the speckled egg M&M's out at Easter.  Those are peanut butter ones you can see in my photos and they come in the most gorgeous colors (which I would have photographed, had I not eaten the entire jumbo bag in the time it took me to take about 20 pictures of cupcakes.)  They come in white speckled with teal, teal speckled with white, a fushia/purple, and a lime greenish yellow.
Next up, our super easy Spring Chick Cupcakes, click here for the tutorial.
And lastly, these cute Carrot Patch Cupcakes I posted on Monday.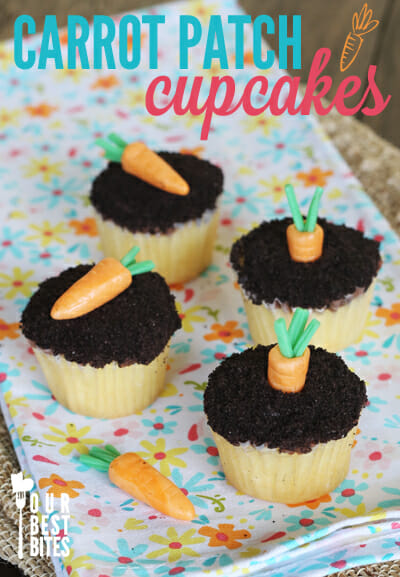 So bake up some cuppy-cakes and save your egg cartons.
And  imagine the surprised looks when people open up these cuties.
How can you not smile at that??
It's like cuteness to the 5-millionth degree.
Happy Baking all y'all.  First person to gift me a magic chicken wins.
(These are updated with the correct spelling of "laid"!)
Click Here to download the half-dozen size Egg Carton Label
Click Here to download the small square label for the purple cartons