This is the third in a series of posts about water safety. To read the post I wrote right after the accident, click here. To read what I had to say a year and a half later, about what drowning really looks like, click here.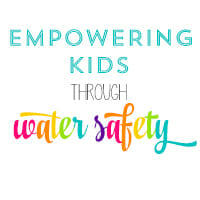 When I was growing up, the water was a huge part of our lives. I literally don't remember a time in my life when I wasn't a good swimmer or when I was scared of the water. I  took several sessions of swimming lessons every summer, mostly because I enjoyed it, but I also spent countless hours in neighborhood pools, community pools, lakes, rivers, and canals. During the 1992 Olympics, I was sure I was going to be an Olympic swimmer and cut my
hair off like Summer Sanders (which I can't even find any pictures of, that's how unfortunate the haircut was–it's like the Internet has been scrubbed). There's nothing like starting out middle school with a bad boyish haircut–it just makes that whole awkward time period even better. We had a river running through my backyard growing up and we would hop into inner tubes there and ride through rocky areas and little rapids and deep water until we reached the end of our neighborhood. Without life jackets, which kind of makes me shudder. While I was (and am) scared of a lot of things (heights…enclosed spaces…my parents leaving me in a public place à la Punky Brewster, waterslides), I wasn't scared of water and, believe it or not, I'm not really scared of water now.
After I wrote this post, I received such a wonderful response from so many people–people who shared similar experiences and also people who expressed thanks as well as concern that maybe I'm still a tiny bit neurotic. The truth is that before Clark's accident and probably until I die, I'll be a tiny bit neurotic. It's just who I am. But, strangely, as cautious as I am, water isn't one of my neuroses, not really–those anxious feelings are rarely triggered by the smell of chlorine or swimming with my kids or visiting a hospital, but they are triggered by the smell of the shampoo I used or certain songs or the feel in the air when the seasons are shifting. Please feel free to psychoanalyze. 🙂 I think part of why I shared our experience in such detail, why I stress again and again the importance of not being blasé around the water, is to express to other parents like me, those who might tend to underestimate the power of water.
But my intent was to never make anyone paralyzed with fear. Cautious, yes. Engaged and aware, maybe a little longer than may seem necessary, absolutely. But I didn't want to freak people out so much that water became their monster, you know?
After Clark's accident, the number one thing we wanted for him regarding the water was to feel empowered. It has taken many hours in the pool, hours in lessons, hours playing, some panicky moments, ups and downs, and it's a work in progress, but I don't want him to ever feel like swimming is something he can't do, because he can. And he does. He has said again and again that he wants to be a swimming teacher and a lifeguard, which makes me unbelievably proud of him.
The biggest thing for us has been establishing rules and expectations. Clark is a rule-oriented kid, so this works well for him. They provide structure and a feeling of security, even when he's in a vulnerable place.
What we do may not work for everyone, but I wanted to address some things that have come up, both on my blog posts and through discussions in everyday life.
For regular everyday pool swimming, we don't use life jackets. This is a fairly divisive issue, but I want my kids to learn (and learning includes practicing by playing in the water) to swim without relying on life vests. This means we have a lot of adult supervision and we also have hard and fast rules that absolutely must be followed or pool time is over.
Some people have asked when I'll let my kids have a little more freedom at the pool. I haven't really discussed this with their swim teacher, but I kind of feel like we'll know when we're there and that we're not there yet. For me, they would have to show both necessary swimming skills as well as good, mature judgment. I think in order for me to send them to, say, a swimming party without me, they would have to have passed the highest level of Red Cross swimming lessons (not necessarily the life saving course because that requires a different set of skills and personality type), which, I hope, would give them the age (early teens), maturity, and skills to keep themselves and others safe in the water.
Throughout this experience, I've come into contact with some amazing people with similar stories. One of these friends has a story that is eerily similar to ours only, unfortunately, ended in them losing their son. Through the past 18 months, we have become wonderful friends and a few months ago, she mentioned the idea of teaming up with other friends with blogs and water-related stories and using our blogs as a way of sharing water safety ideas during the month of May, which is Water Safety month. Along with her swim teacher, we compiled a list of water safety tips, which I've made into a printable (click here for the .pdf version).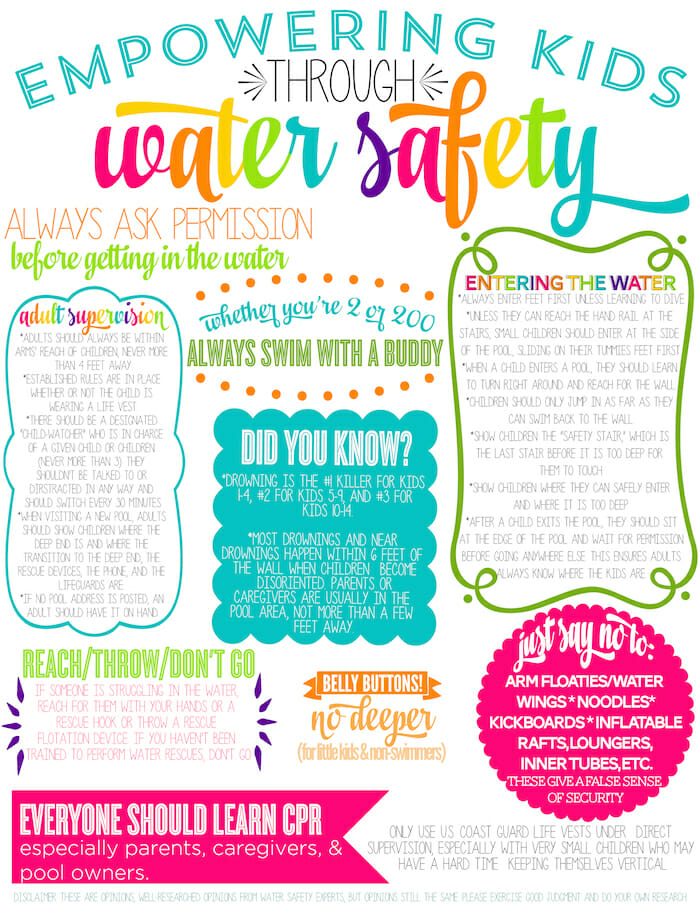 Now. We're not pretending to be the end-all be-alls of the universe when it comes to swim knowledge. And this printable is mostly about pool safety–there's plenty to be said about water safety around the house as well as outdoors. But, generally speaking, these are tools that will help prevent water-related accidents. There are a few that might seem a little weird, so I want to explain them.
The reasoning behind having kids, especially little ones visiting new pools, enter the pool on their tummies rather than the stairs is because when they go down the stairs, they may not fully realize they're entering a new environment until they're in too deep. When they enter at the side of the pool, they're instantly aware that things are different and they're more likely to be aware and cautious.
When I called 911 after Clark's accident, the dispatcher kept asking for the address and I didn't know what it was. I kept telling them the name of the hotel, but they kept asking for the address and I didn't have it. I was so mad about it at the time (like when I was on the phone with them), but we were in a downtown area–what if I had said the wrong Hilton? What if I had the name wrong? There are probably a few Hiltons within a few miles of each other in an urban area, so it would be an an easy mistake to make, but it could have devastating consequences. If you're visiting a pool, make sure the address is posted and if it's not, make sure an adult has it handy so if there is an emergency, you can give them the address as quickly as possible.
Little kids and non-swimmers shouldn't play in water deeper than their belly buttons (swim lessons and one-on-one swimming with an adult are different). This gives them enough room to correct themselves if necessary.
What we're hoping is that you'll share the printable. Not even necessarily the blog post, but we hope that we can get this into the hands of as many parents as possible as we approach the summer months. If you want to, we encourage you to send the file link (or actual fliers) to pediatrician offices, classrooms, gyms, etc.–basically, anywhere with lots of parents.
This is probably the last I'll talk about water safety for the foreseeable future, but I just want to thank you guys so much for all your love and support. It truly means the world to me and I'm so blessed to have such wonderful people in my life, even if I've never met most of you!
If you want to read more about our story, here are the posts:
Right after it happened
1 1/2 years later
And if you want to read about the other families and their stories, here are their blogs:
The Kellys
The Sullengers
The Hebbs
ALSO. If you haven't snagged our Flavor Variety Gift Pack, you'd better hurry–we only have a handful left! We have two new flavors–rosemary and chili–and they would make amazing Mother's Day gifts!