So apparently we are a little breakfast crazy over here at Our Best Bites lately! To be completely honest, I don't know what's going on at Sara's house, but at mine, things have been C-R-A-Z-Y for the last couple of weeks–2 kids, 2 different schools, one all-day, one half-day, church, work, house, blog, friends, soccer practice, homework–you know, everything you guys are doing and somehow keeping it together! And when things get crazy, my fall-back option is breakfast for dinner. My go-to when life gets crazy is breakfast for dinner, so we've been eating a lot of pancakes, a lot of eggs,  a lot of French toast, and these English Muffin Breakfast Pizzas.
I know that breakfast pizzas are/have been/who-even-knows-these-days popular, but you guys know that I have egg issues. I wanted to make a breakfast pizza, but I didn't want to deal with reheating eggs that weren't wrapped in something like a burrito (yes, I know, I'm certifiable). Then I had an idea…with all of the eggs and all of the French toast…to make savory French toast rather than sweet, using English muffins, and then topping them with pizza-like toppings. You still get the protein from the egg, but it's in the muffin rather than on it. Which, as it turns out, I'm way more okay with.
how to make these
You'll need 6 whole English muffins, 4 eggs at room temperature (cold ones are harder to whisk together), hot sauce, cheese, and desired toppings (I'm using ham, mushrooms, green onions, and sliced baby tomatoes).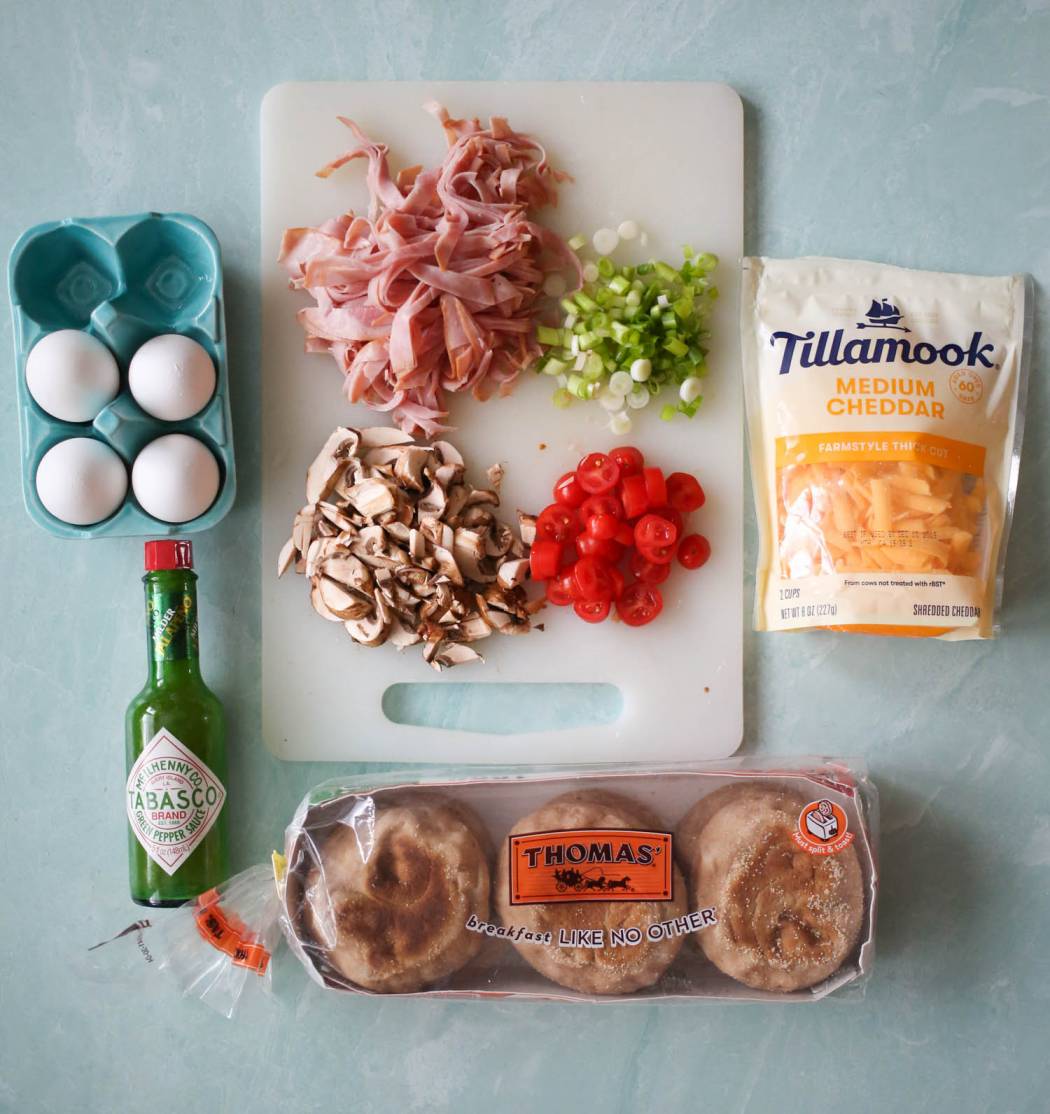 You'll also need some milk, salt, and a shallow dish like a pie plate.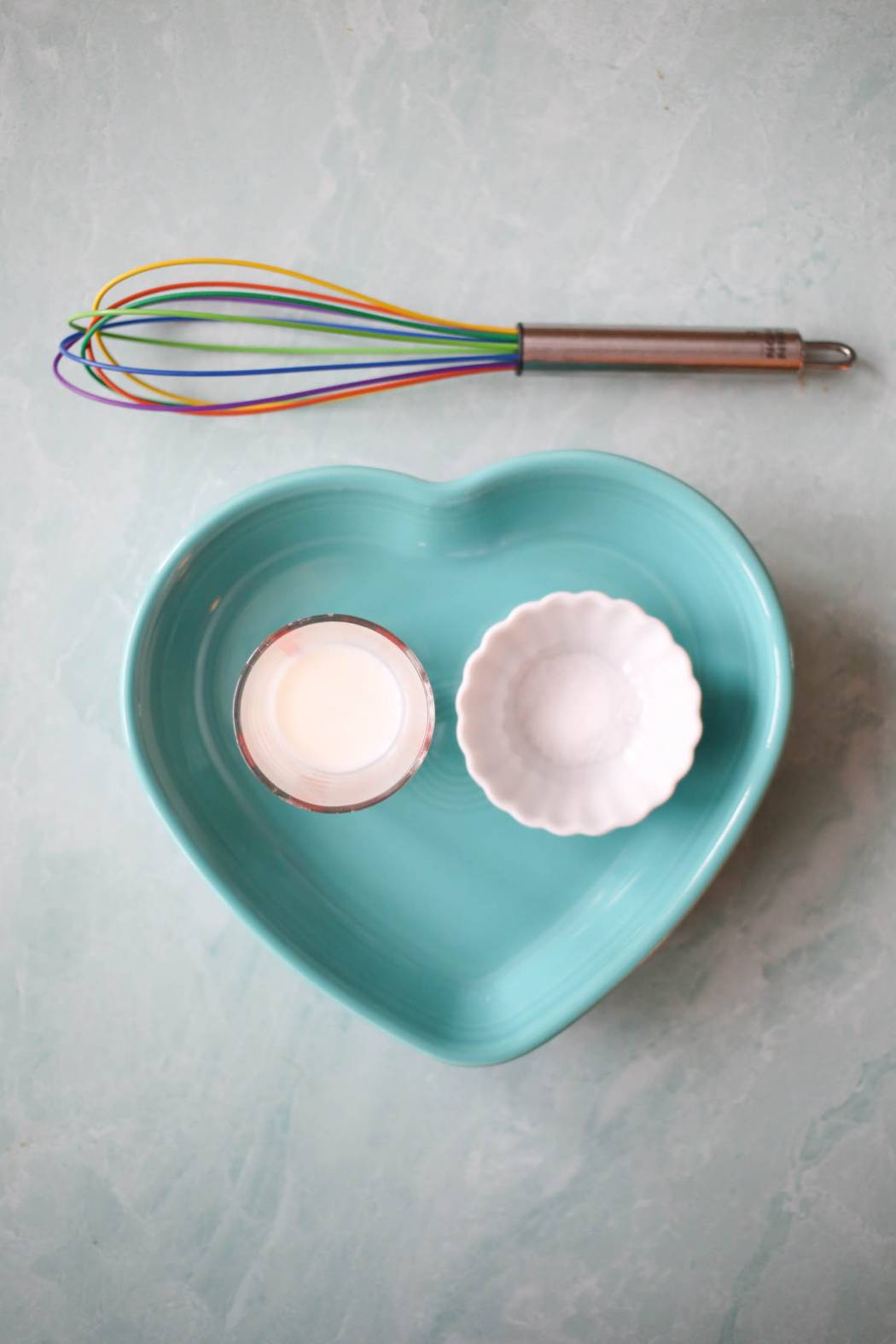 All you do is whisk together the eggs,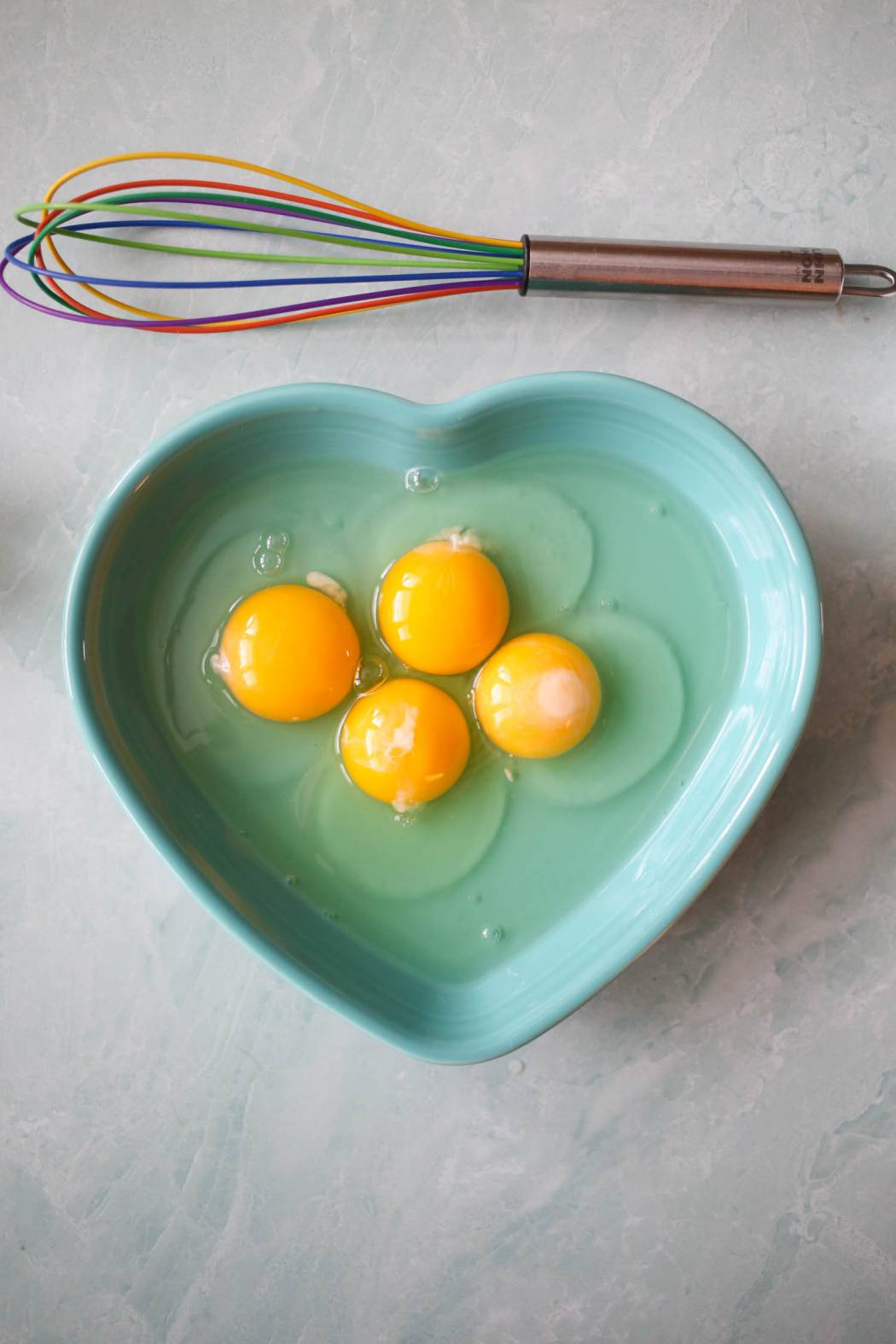 milk,
hot sauce,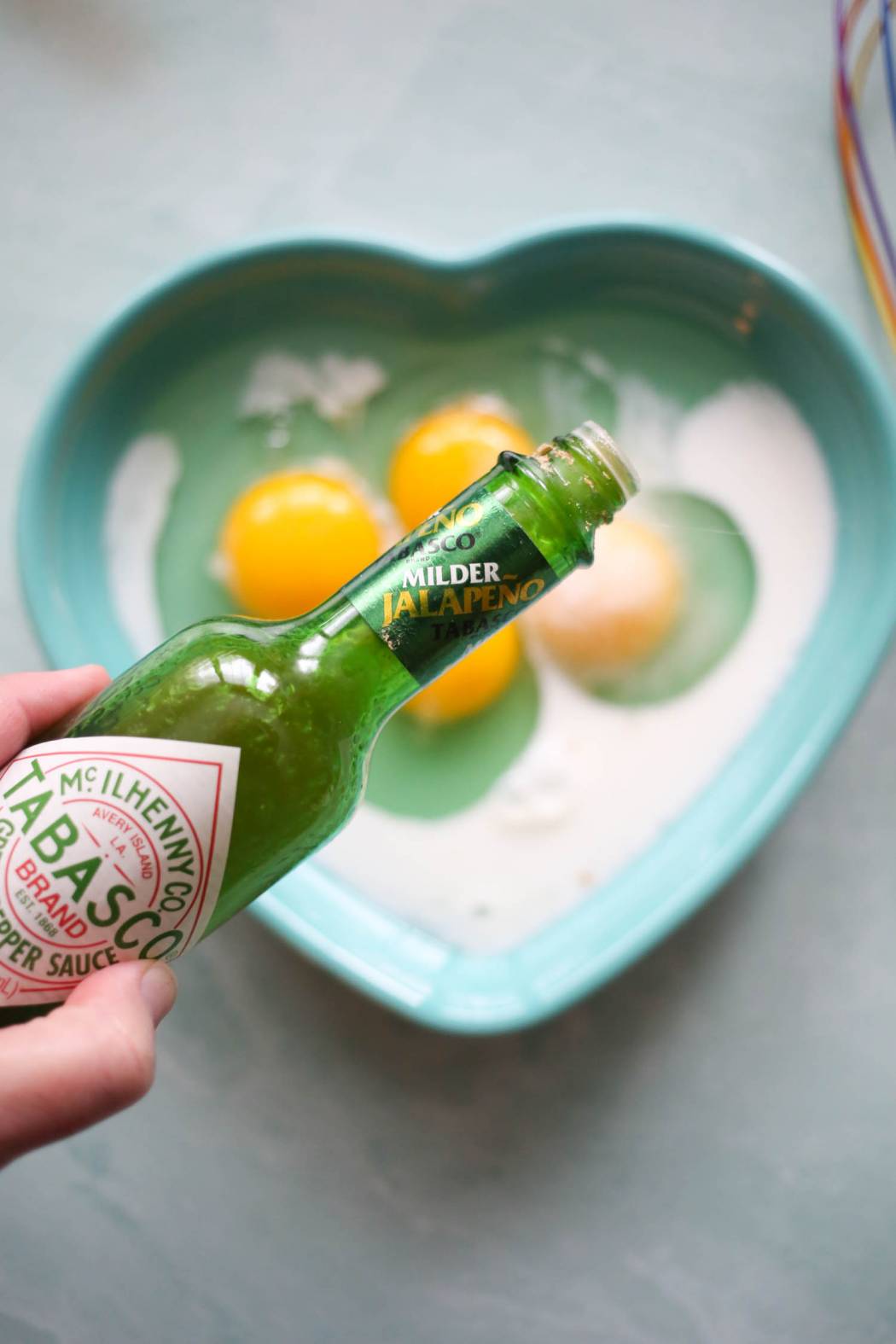 and salt and whisk them together. Then dip the English muffin halves into it like you would for French toast. Then place the muffins, cut side-up, on an oiled, lined baking sheet.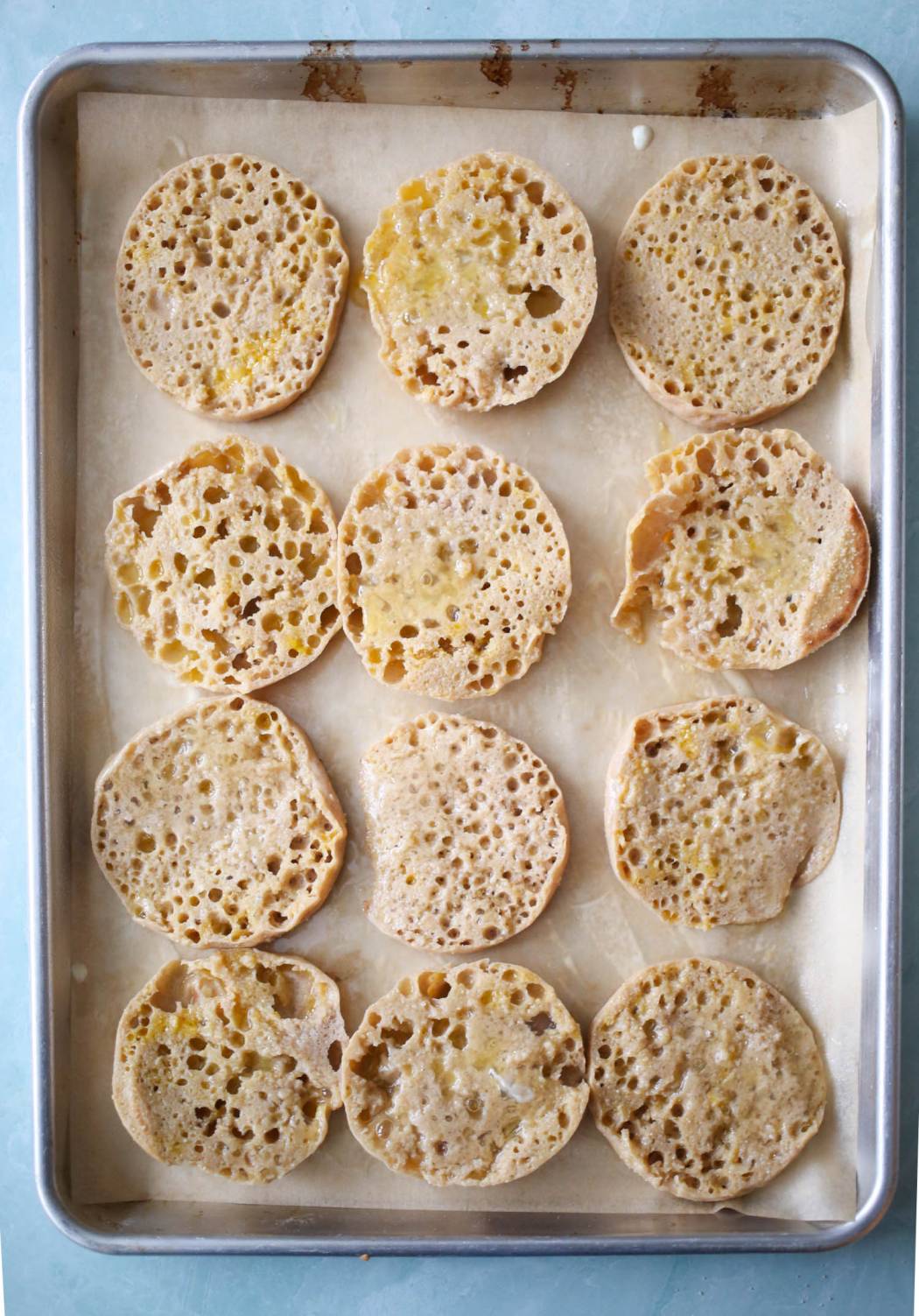 Top them with your desired toppings and cheese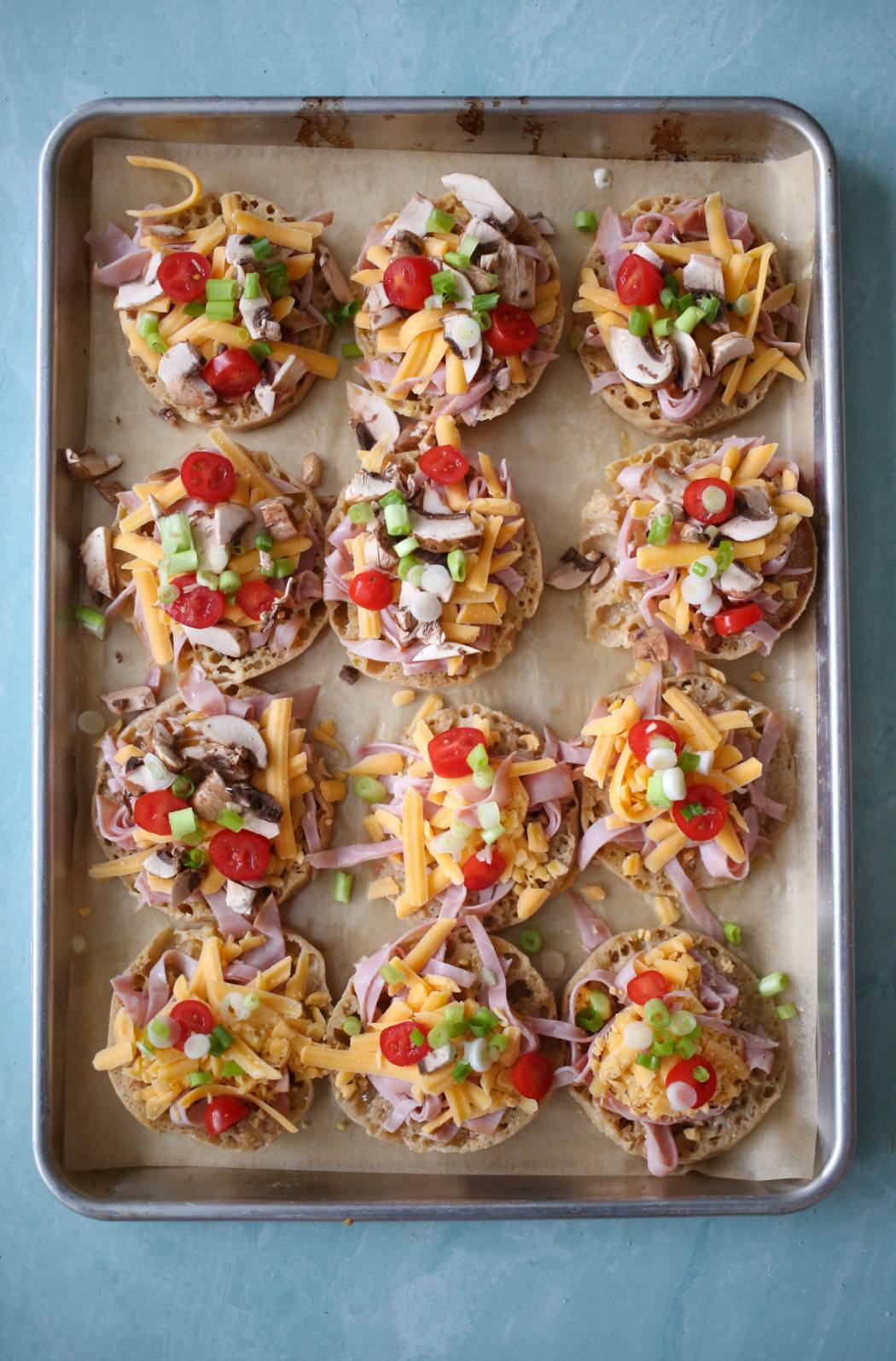 Then just bake them in a 400 degree oven for 15 minutes!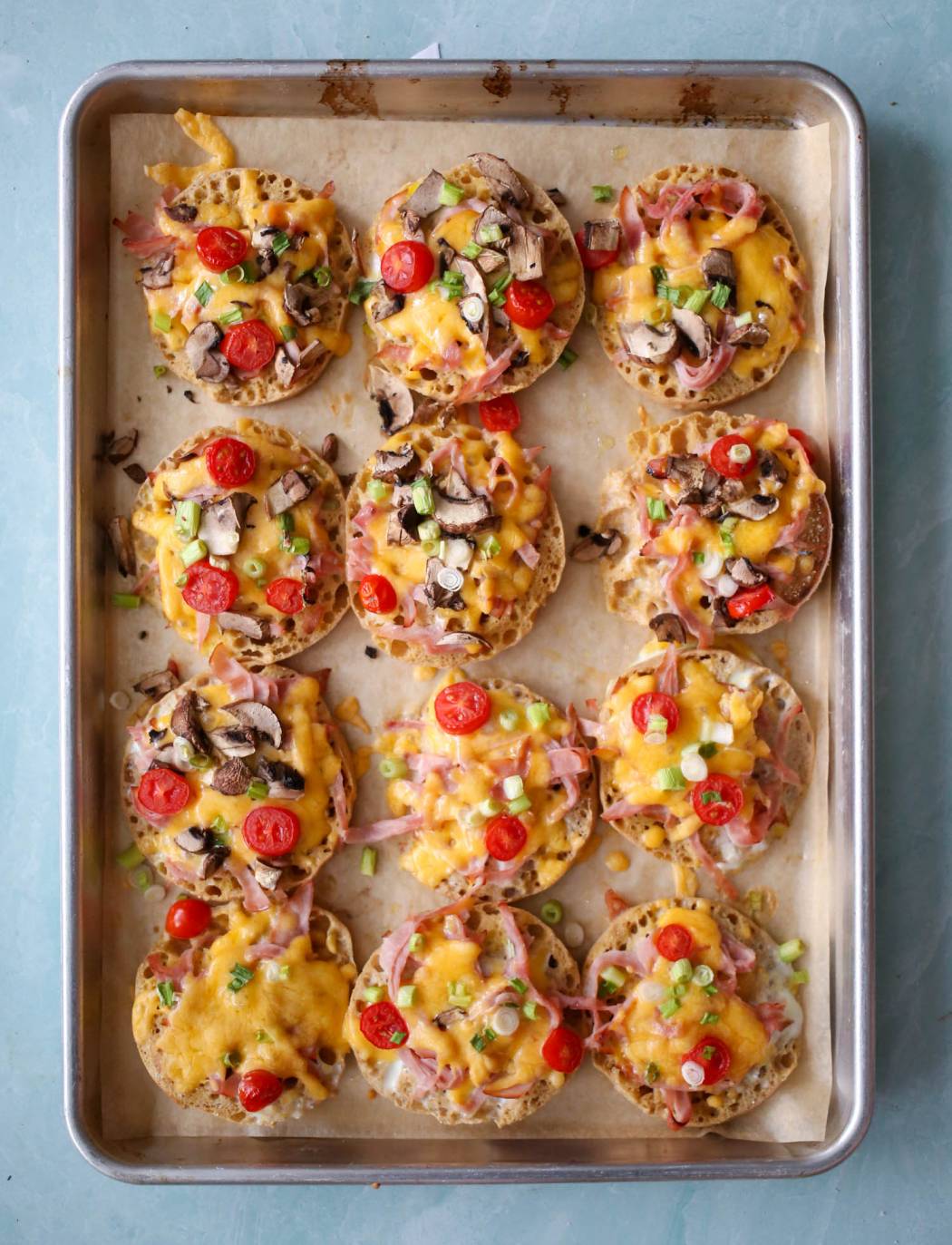 Super fast and easy, PLUS you can freeze them and reheat them on mornings when you're short on time or a quick, healthy lunch!
Print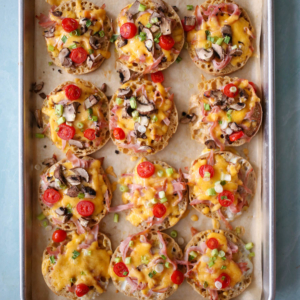 English Muffin Breakfast Pizzas
---
Description
These English Muffin Breakfast Pizzas are made like a savory French toast and then topped with your favorite omelet fillings! These will become a quick family favorite for any meal of the day!
---
6 whole wheat English muffins at room temperature (if possible)
4 eggs, at room temperature (if possible)
2 tablespoons milk
1/4 teaspoon kosher salt
About 10 dashes Tabasco sauce
12 thin deli slices of ham or 10–12 slices of cooked bacon, crumbled
3/4–1 cup shredded cheddar or pepper jack cheese
Optional: Chopped vegetables like green onions, tomatoes, sliced olives, mushrooms, green peppers, etc.
---
Instructions
Preheat oven to 400 degrees. Line a baking sheet with aluminum foil and spray liberally with non-stick cooking spray or brush with oil or melted butter. Set aside.
In a pie plate, whisk together the eggs, milk, salt, and Tabasco sauce. Gently pull apart each English muffin and soak each side (like you would for French toast) in the egg mixture–you want the egg mixture to soak into the bread, but you don't want the English muffin to be completely falling apart. Place the muffin, cut side up, on the baking sheet.
If using ham, slice the ham into thin strips and then place on top of the English muffins. If using bacon, just sprinkle the crumbled bacon on top. Add any additional desired toppings and then sprinkle with shredded cheese. Bake for 15 minutes and serve immediately.
---
Notes
Freezer instructions:
After baking, loosen them from the baking sheet with a spatula and then allow them to cool completely. Transfer the baking sheet to the freezer. When the pizzas are solid, transfer them to a large Ziploc freezer bag. To reheat, place on a plate and microwave for 1 1/2 minutes at a time until the pizza is heated through (actual time will depend on how powerful your microwave is).
Looking for more breakfast for dinner ideas? Check out our Breakfast section (but my personal favorites are the Biscuits and Gravy and the Bacon, Egg, & Cheese Cups!)