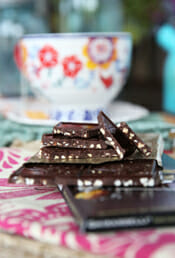 I have lots of secret places in my house.  There's a secret box in my closet where I hide little trinkets leftover from Christmas that I save to bribe my kids with later.  There's a compartment in my freezer where the small ones have still not figured out I hide the good popsicles that I don't share with them.  And then in my pantry there's the fake-out secret candy box that I know my kids sneak into so I put the really good stuff in the secret-secret box 3 shelves up.  Because sometimes, you just have to save the good stuff for yourself.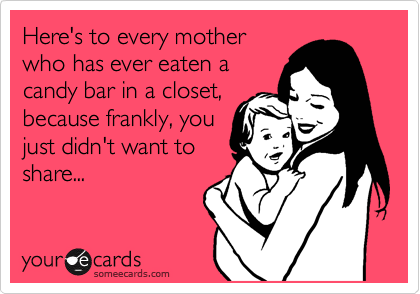 If there's one thing I appreciate in life, it's good chocolate.  I'm talking about quality, melt-in-your-mouth, close-your-eyes-while-you-eat-it chocolate.  That's the kind that goes on the secret-secret shelf in my pantry.  It's not the one I grab on my way out the door to football practice because I didn't eat lunch and a chocolate bar seems like the most acceptable replacement.  It's the one that I wait to pull out until after my kids are all asleep because I earned it simply by making it through the day and I want to enjoy every last second of my decadent reward.  Kate and I both had the really challenging assignment recently of taste-testing all of the amazing flavors of the new Ghirardelli Intense Dark Chocolate; now that's what I'm talking about.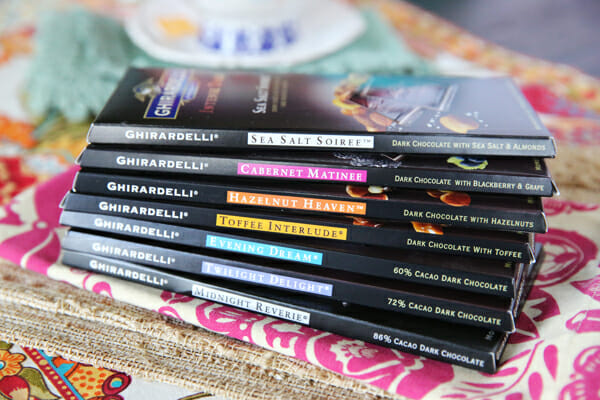 I love that if you click here, you can even get food pairings for things that go well with each flavor, like dried mango or pretzels with the Evening Dream, or fresh figs and biscotti with Hazelnut Heaven. You all know by now I'm a little obsessive about dark chocolate.  For me, the darker the better.  I love straight-up dark, dark chocolate like the "Midnight Reverie" which is 86% cacao.  (That means "really, really dark" in chocolate lingo.)  Another favorite was the Cabernet Matinee, which blends the subtle sweetness of blackberry and grape with smooth dark chocolate.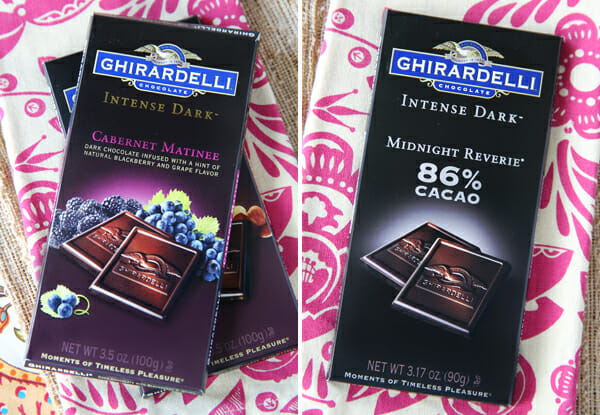 These bars don't just taste good, they're beautifully packaged too, which makes them perfect for a classy little gift.  Because as much as I love hoarding chocolate all to myself, I actually love sharing it, too.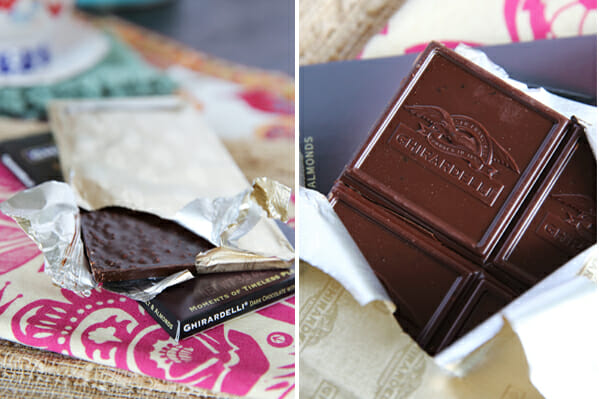 Sometimes you just need something simple to tell someone you appreciate them.  And sometimes you just know that someone else is having an I-need-to-hide-in-a-closet-and-eat-chocolate kind of day.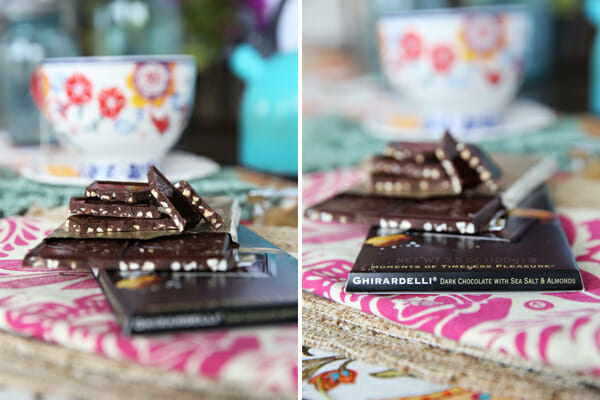 Because once and a while everyone needs to just take a deep breath, relax, and have a little sweet escape, whether it's alone in a closet at 3 in the afternoon, or with their feet kicked up at night after a long, hard day.  That's what good chocolate is for.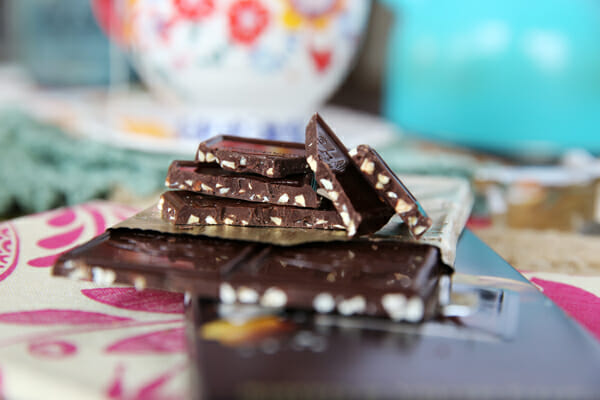 So I made this cute printable you can use to wrap up some chocolate-love and share with someone (including yourself!)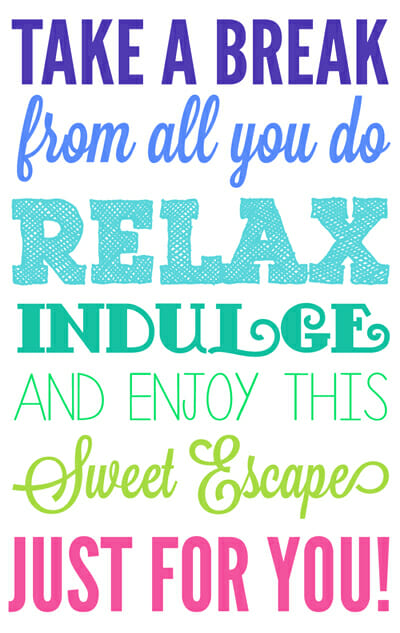 This would be perfect for upcoming Teacher Appreciation Week, too!  I've left the printable border-less so you can cut it to fit exactly how you want it to.  You can cut it shorter to show a peek of what's below,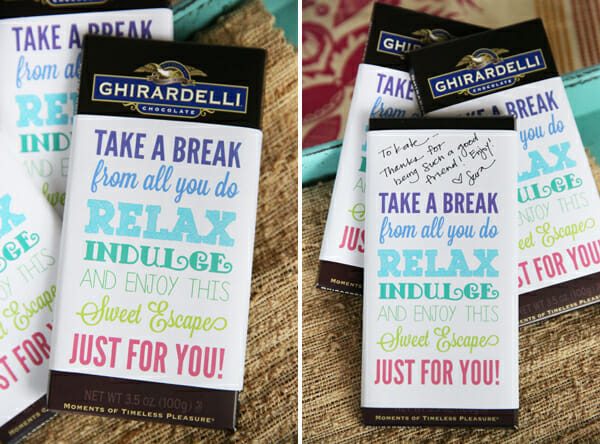 or longer to leave room for a personal note on the top or bottom.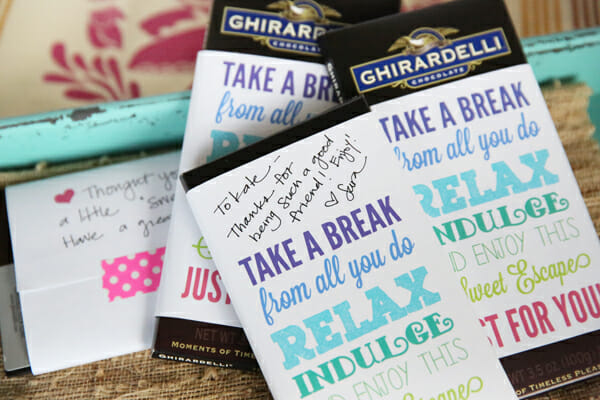 There's even a little heart on the back side for a personal touch there.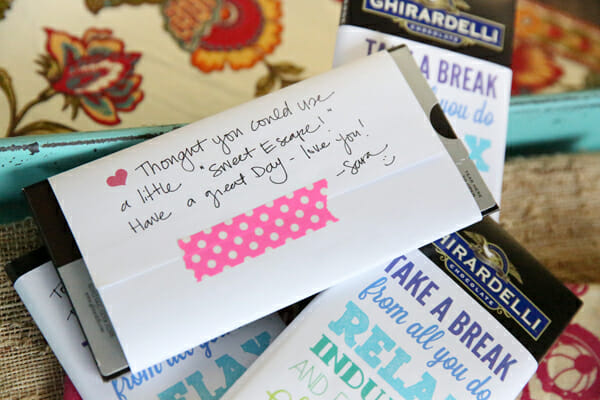 Sneak it into a friend's purse, pass it to your child's school teacher, or leave it on a co-worker's desk.  Anyway you wrap it up, you can't go wrong surprising someone with a little chocolatey escape!
Click Here to Download the Free Printable, and wrap it up!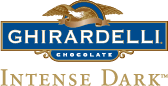 This post was sponsored by Ghirardelli Intense Dark Chocolate.  Create your escape here.