At the beginning of the summer my husband and I, along with our 4 kids (ages 2-11) did a vacation up the East Coast and I shared every day on Instagram stories.  During that time I got LOADS of requests to share our itinerary and more info.  Apparently lots of you have considered doing this same trip.  None of this is sponsored, I'm just sharing tips and info so others can glean from our experience. I also realized after working on this that it is turning out to be the longest blog post in the history of ever, so I'm also going to split it up to make it a little easier to read.  Today in part one I'm sharing our basic travel plan and itinerary, and a few tips for doing a trip like this with younger kids.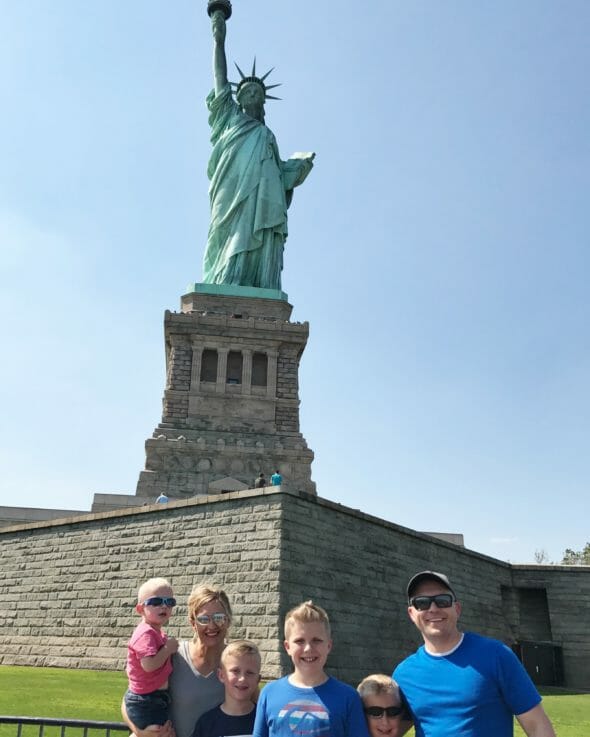 Now, to be honest, I did not think this trip was a good idea at first.  It was something my husband has wanted to do for years, and I thought it would be a better trip for when our kids were a bit older (or at least when we no longer had a toddler.)  But I was heading east on a work trip anyway so it made sense to do it now.  Turns out it was perfect.  It was memorable.  Both the kids and the adults had a blast, and I'm so glad we did it when we did it.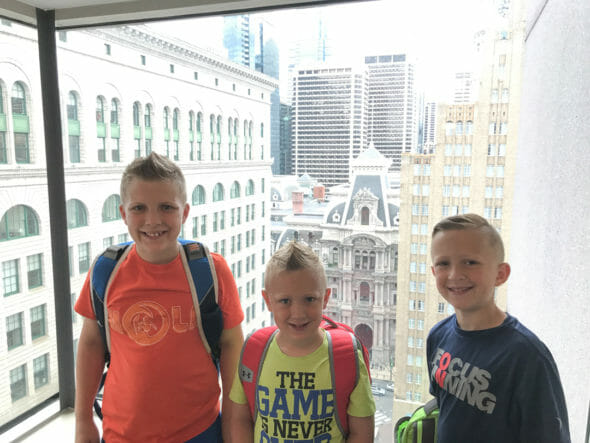 We hit a LOT of places.  You could easily spend a week in every city we went to, but with 4 young kids, we knew we needed to be smart about how we did this trip.  We didn't go with the intension of spending a week in every city, we had on average 1-2 days.  If you're traveling with younger kids, that's a great way to do it.  You get to see all the "highlights" and keep everything within the limits of their attention spans.  We also got a taste and feel for each place and decided what we loved most and what would be a fun follow-up trip to come back to and explore more at some other point in our lives.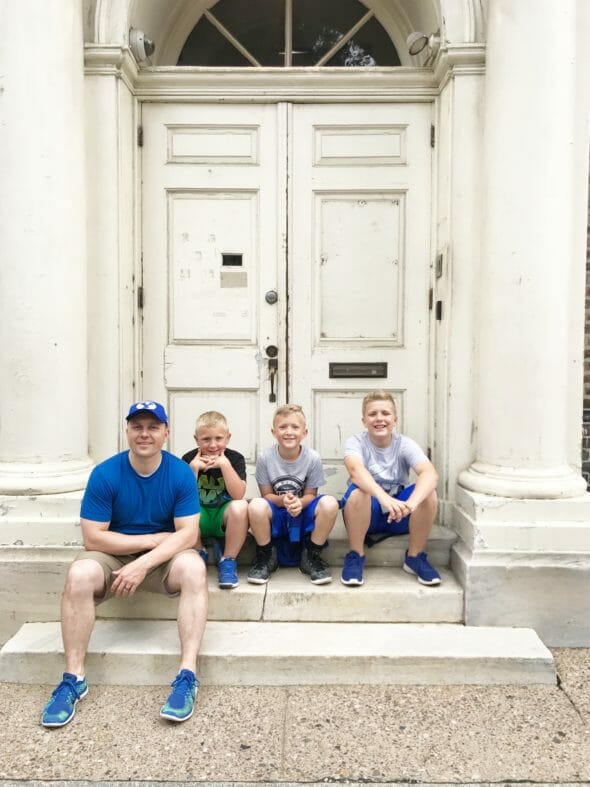 Here is the trip we made. We were focusing on American History, but we also included some early Mormon History sites since there are many in the same areas.  If that's not of interest for you, you can easily remove that portion from this trip and make adjustments.  For those of you who are members of my same faith, this is such a perfect pairing of both US and church history and the locations flow together pretty seamlessly.  That's one really amazing thing about the East coast; so many things are close together.
To start, we flew from Boise, Idaho to Washington DC, where we rented a car and drove the duration of the trip.  We travelled for 13 days and we ended in New York City, where we left our (completely trashed) car and flew back to Boise.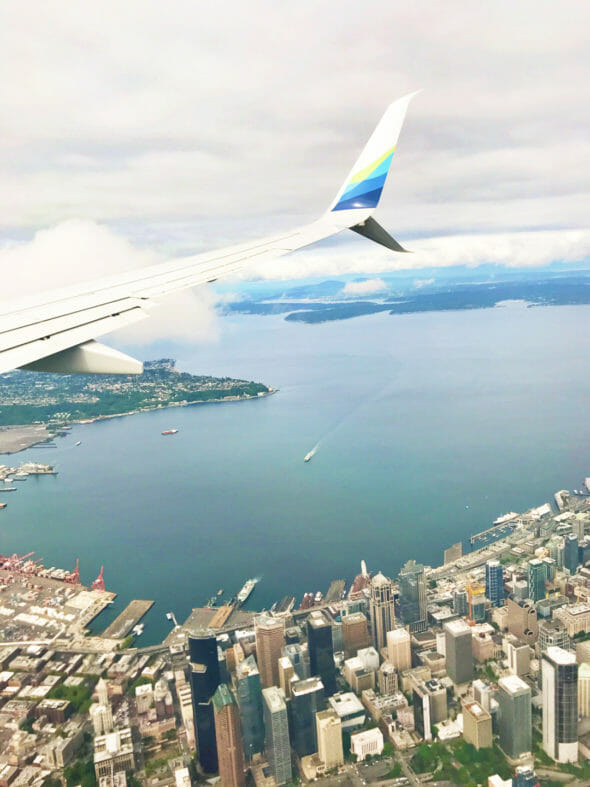 T H E   I T I N E R A R Y
---
Here's the deets on where we went, in the following order: (Mormon history sites are marked with an star.)
Washington DC
Gettysburg, Pennsylvania
Philladephia
*Harmony Pennsylvania
Upstate New York, Watkins Glen State Park
*Rochester New York
Fort Ticonderoga (Adirondacks), NY
*Sharon, Vermont
Boston, Mass
New York City
So, lots of places.  If you plug these into a map in this order, it's a nice doable route.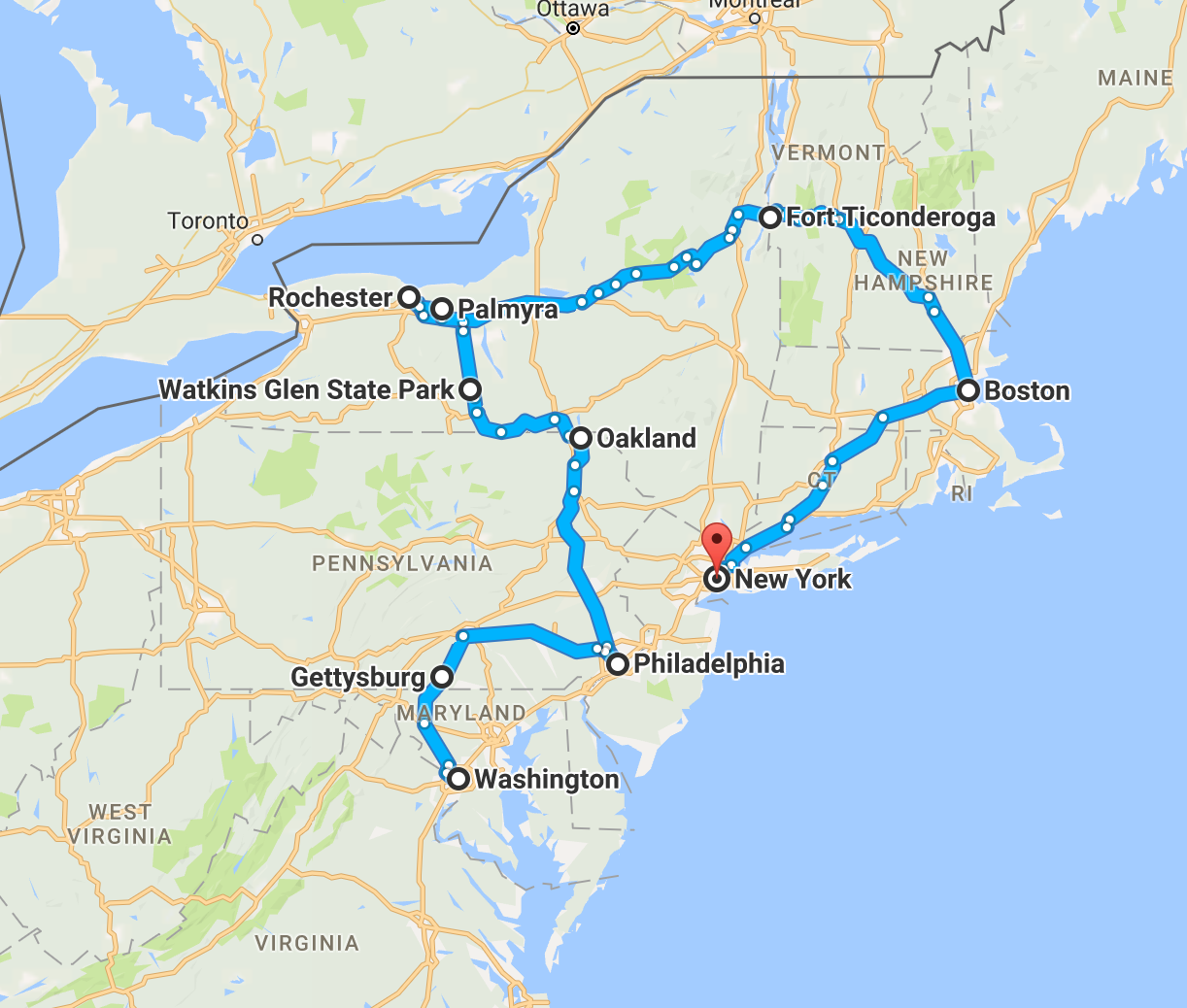 T I P S
---
-Add stops to break up driving time.  The longest drive we had was about 4 hours, but most legs were 1-3.  Do your research and find things along the way to break things up.
-Do age-appropriate activities.  In Washington DC for example, we weren't going to spend 4 hours in an art museum even though people would tell us "You just HAVE to spend an entire day at the art museum!"  Know your audience and plan accordingly.
-Look up some great local stops to hike and play.  It's a great way to break up all of the sight seeing.  You'll see our favorite stop in this category when I show you Upstate NY.  My husband is great about always researching local hikes and parks to explore.  Don't just google travel sites, get on local forums and talk to locals to find the hidden gems.
– Educate.  A trip like this can be overwhelming for kids with info overload.  We started talking about this trip months before we left on it.  We watched movies like National Treasure and point out all the places they'd go.  On the actual trip we'd take a little time on each of our long car rides to talk about where we were going next and the importance of what we'd see there.  It was a great way to make the stops more meaningful  because we had discussed them beforehand.
Take a lightweight umbrella stroller, even if your youngest kid has barely outgrown the stroller.  With all the walking involved in big cities, we loved being able to pile things in the stroller, and we ended up pushing my 7-year old around in it way more often than our 2 1/2 year old!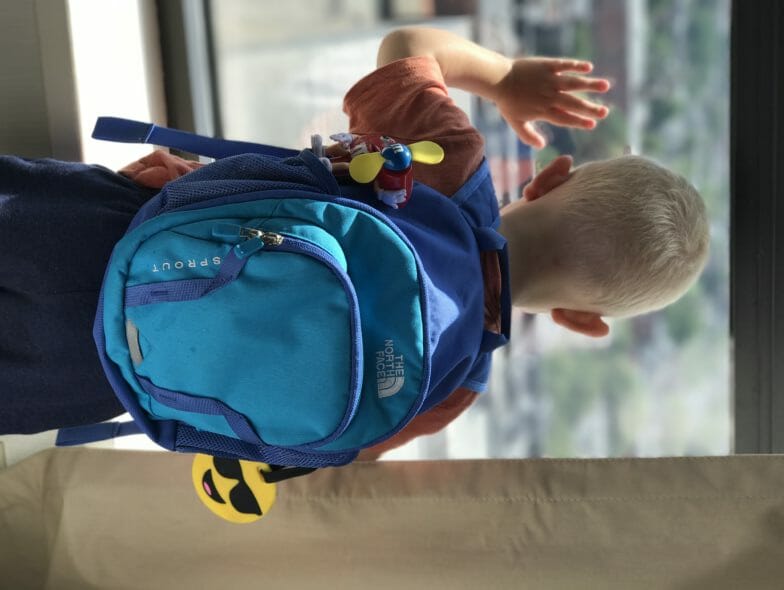 P A C K I N G
---
-When it comes to packing, I was very insistent that each of my children be responsible for their own crap stuff.  Each of us, including all of the kids, had their own back pack.  (Even the toddler had his own tiny backpack). Everyone had an electronic device and a charger with their name on it and it was their job to keep it in their pack.  I also keep a sweatshirt and a pair of flip flops in everyone's bag at all times because it seems we are always looking for shoes to slip on and something to wear.  Everyone had their own snacks in their bags, and another activity of their choice (like a book, game, etc.)
-I always pack plastic garbage bags to use for dirty clothes.  We were gone for almost 2 weeks and I brought 7 changes of clothes for everyone.  Whenever possible we stay at Residence Inn type places that have kitchens, a couple rooms, and a laundry on the floor.  I wash everything as we go until the tail end of the trip when we have enough to last.
-For kids it works well to do outfit bags, or outfit rolls.  I take a pair of shorts, a shirt, a pair of both socks and underwear and layer them on top of each other and roll them up.  You can also put each outfit in a zip-lock bag.  It's much easier for a kiddo to grab an entire outfit roll/bag than it is for them to rummage through their bags trying to locate everything.
Do you have any great travel tips??  To continue to part 2, Click Here!