When you hear the word "preserving" I think a lot of people instantly think of their grandma and long hours slaving over boiling pots and a mountain of mess. Luckily, time has ushered in a new era of preserving that has made holding onto that summer bounty so much more doable!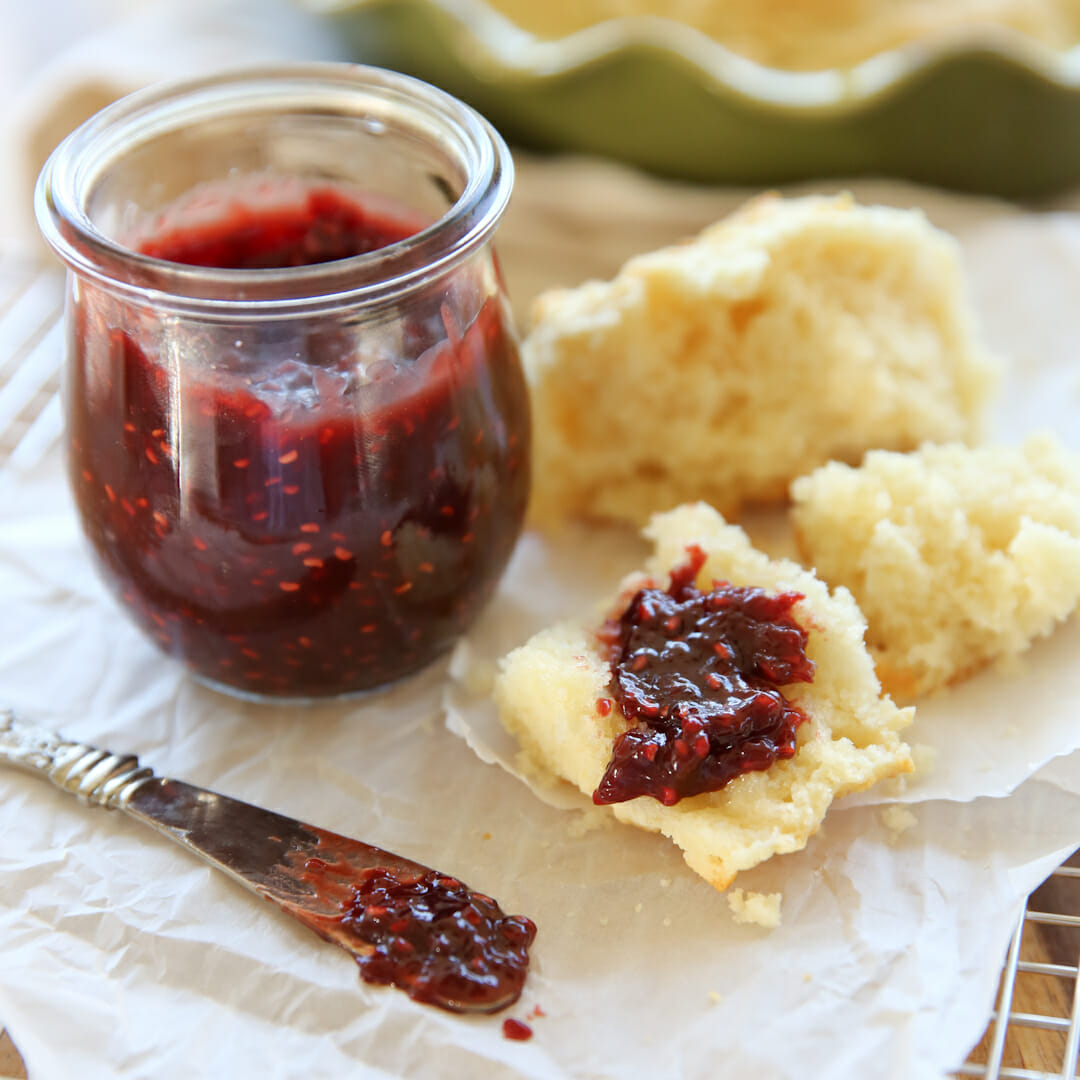 There's something beautiful about capturing bright, fresh produce to enjoy in the cold winter months. I absolutely don't do the hours-slaving-away thing and I've managed to have a pantry, cupboard, and freezer stocked full of awesome things. For me it's figuring out what's easiest and developing a system that works for me. For example, I can salsa. Not 50 pints at a time, but just a few jars here and there when I have a big bowl of tomatoes from the garden, and by the end of the summer, they add up! I make my beloved Roasted Garden Tomato Sauce and Pesto and stock it in the freezer, and I capture fresh fruits like peaches and raspberries from the garden in my Freeze Dryer. You don't have to do it all, but you can certainly do a little. People are often overwhelmed by this topic so I hope some of these things simplify it! I'm sharing all of my favorite things and telling you why I love them, so grab a drink, sit on down and have fun exploring!


I don't want to be too wordy here, so you can read my full post about my Freeze Dryer, here. Note this is not a dehydrator. If you've never checked this thing out, you should read that post, it's pretty fascinating. I mean- you can FREEZE DRY CHEESECAKE into delicious little cookie bites that will stay fresh for 25 years. Enough Said.

If you have been eyeing a Harvest Right Freeze Dryer and thinking about investing in one, right now they are offering $500 off freeze dryers, plus they were kind enough to offer an additional discount to Our Best Bites readers- so if you use the code BESTBITES50, you'll get an additional $50 off on top of the other discount! Yes, these are pricey. So this is a big chunk off for anyone who's been thinking about pulling the trigger on that one. I cannot say enough great things about mine, it's an incredible machine and we've had so much fun with it over the past year or so. Here's links to my favorite things:
Harvest Right Freeze Dryer It also comes in fun colors now, including AQUA!
Harvy Filter– One of the maintenance requirements of a freeze dryer is changing the oil and this Harvy Filter makes that so much easier. It filters the oil and keeps it clean so less changes are required. I started using it a few months ago and have loved it.
Freezing is a terrific option for so many things. Store in nice flat vacuum-sealed bags, and your food will not only stay fresh for months and months, it won't take up too much room, either!
Ball Freezer Trays (1) I love these silicone freezer trays. They'er better than other generic silicone molds you can use (a brownie bite pan, for example) because the wells are deeper and a bit larger, and they come with lids. They are the perfect size so they don't get all floppy and become hard to move around when filled. These work great for freezing herbs in oil, water, or broth, and also leftover portions of things like adobo peppers, tomato paste, buttermilk, cookie dough, baby food, the list goes on and on!
Foodsaver (2) I LOVE my foodsaver. I've been using a Foodsaver for probably 10 years now and still going strong. I use foodsaver bags to freeze my homemade roasted garden sauce and big batches of pesto and it keeps them fresh for over a year. They suck all moisture out of bags and then vacuum-seal them. There is a basic model, and several upgraded options like this one.
InterDesign Storage Containers (3) I am a little obsessed with these. I use them in my fridge, freezer, and pantry. The clear plastic and handy design makes it easy to keep things organized. Sometimes when you freeze a bunch of stuff it just gets stuffed in the freezer and forgotten about. I use these to keep nice flat frozen foodsaver pouches organized and easy to grab.
If you're new to canning, know that it DOESN'T have to be an enormous production. I really only do "small batch" canning, which is super easy. Just a few jars here and there depending on what you have on hand. It doesn't take all day or tons of supplies, and it's actually really fun! Read my post about getting started, here, and find some great canning recipes, here.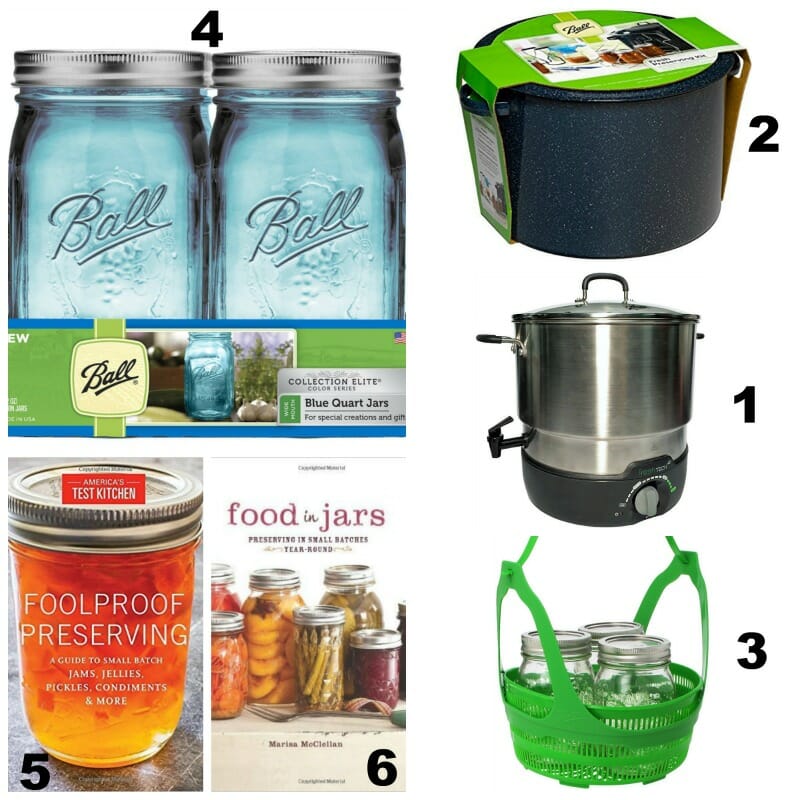 FreshTech Electronic Waterbath Canner (1) I LOVE this thing. It's like a giant slowcooker. (And I mean giant!) It plugs in and heats water electronically so you don't need to leave your stove on for long periods of time. Not only is it a great waterbath canner, but it also functions as a big slowcooker, and the spout for draining water also makes it an awesome warm beverage dispenser. I've used it to serve cider, hot chocolate, and soups at large gatherings.
Enamel Waterbath Pot (2) If you do just want a big pot for the stovetop to try waterbath canning, this big all-purpose pot is very affordable and does the job.
Ball Home Canning Discovery Kit (3) This is for very beginners. It's the first thing I learned to can with! A nice basket with 3 jars, perfect for small batch canning and you can just use a large pot you already own.
Blue Ball Jars (4) I don't actually use these for canning (although you can) but I couldn't not include them. I am always stocked up on these and they make great flower vases, and the perfect container for homemade gifts from the kitchen.
America's Test Kitchen "Fool Proof Preserving" (5) ATK is always an awesome source for fool proof recipes and this book is no exception. It's all small-batch recipes and they range from every "basic" you need to fun twists, like Raspberry Chocolate Jam!
Food In Jars: Preserving in Small Batches Year Round (6) Another favorite book for small batch canning. Marisa has a great way of explaining things and adds tons of great tips along the way. The recipes are charming and delicious.
Weck Jars: This one gets its own photo. I use these a lot in my food photography and people are constantly asking me where the jars are from. If you're not familiar with Weck jars, they come in TONS of shapes and sizes and they are all gorgeous. They can be used for preserving as well. You can find them on amazon or learn more about them on their website. I love them!
Of everything in this post, this is the one thing I don't own! So I turned to you awesome fans on our Facebook page for your opinions. There were two very clear recommendations, and I've listed them below. If you'd like to read more in-depth reviews from users, just hop over to our facebook page!
Well that's a wrap, folks! I hope this inspires you to take advantage of the summer and early fall harvest season. If you've always wanted to try something but never have, treat yourself to something on this list and get learning! Kate and I are always available to answer your questions and give help where we can! I'd sure love to hear what you guys are canning, freezing, freeze-drying, or dehydrating. Did I forget any of YOUR favorites? Let us know in the comments!
*This post contains affiliate links, you can read more about them, here.