Guys, it's Sunday night and I almost forgot completely about writing this post because my mind is so wrapped up in other projects Kate and I are in the middle of. We're so excited to tell you all about them that we can hardly stand it! I'm going to be as totally vague as that annoying acquaintance on Facebook who leaves status updates like "Oh my gosh I can't believe what just happened to me…" But seriously folks. We'll be telling you about lots of exciting things coming soon and in the mean time let's hope we remember to write all of our blog posts.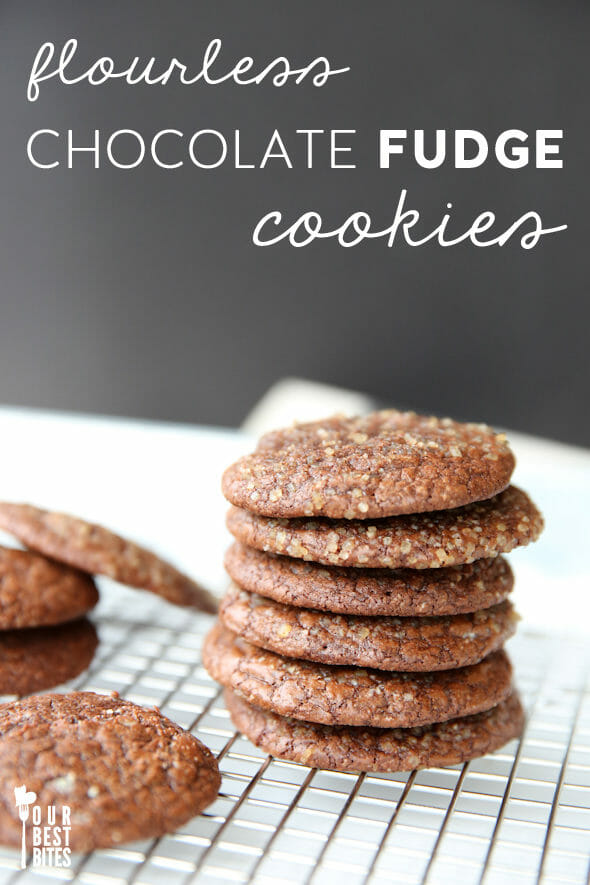 Let's talk about these cookies. If I'm being honest, this isn't a recipe that would normally catch my eye as I'm flipping through a cook book or magazine. Although I think it has been now established that I LOVE chocolate, these almost seemed too simple. However I was taking the time to peek through all of the pages of the most recent Sift Magazine (because I was at the grocery store at 9pm just to get one thing and I had to stretch it out long enough so that my husband would put all of the kids to bed while I was gone, so naturally I read like, 5 magazines) and I was excited to see 2 things. For starters, they are flourless, and although they're completely loaded with chocolate, the fact that they lack flour somehow makes my conscience feel like it's being healthy and doing a service to my body by feeding it cookies. And two, it used almond flour. This is significant because I went through a French macron phase last fall and consequently have an entire freezer full of almond flour. Hooray! They turned out to be quite the little stunners. Rich, fudgy, and intensely chocolate flavored. Kind of like a little mini brownie cookie.
One of the reasons these cookies are so chocolaty, chewy, and fudgy, is because they are full of melted chocolate. I should add here, that I usually melt chocolate in the microwave so that's what I did. But every time I stirred the butter into it, I ended up with seized, ruined, batches. I tried it 3 times! I could NOT figure out what was going on, so in one final attempt, I tried it in a double-boiler instead (just place a glass bowl on top of a pot with a little simmering water underneath) and it worked like a charm. Smooth, glossy melted chocolate. So if in doubt, you may want to start off on that route.
You'll stir butter into your melted chocolate and then add a mixture of eggs, sugar, salt, and vanilla.
You'll stir in the almond flour next, which is simply finely ground almonds. It's much more coarse than normal flour and adds a really great texture to baked goods like this.
I usually find almond meal/flour in the natural foods section of the grocery store. If your store sells Bob's Red Mill products, definitely look there; I buy that brand a lot.
The cookie "dough" won't look like dough at all- it looks more like brownie batter.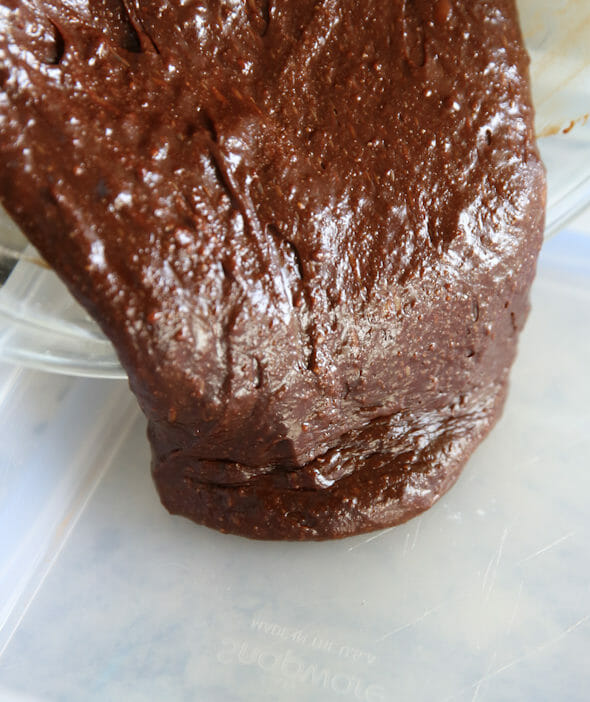 So don't skimp on the chilling time; you'll definitely need to chill it until it's thickened and solidified and almost like a truffle batter.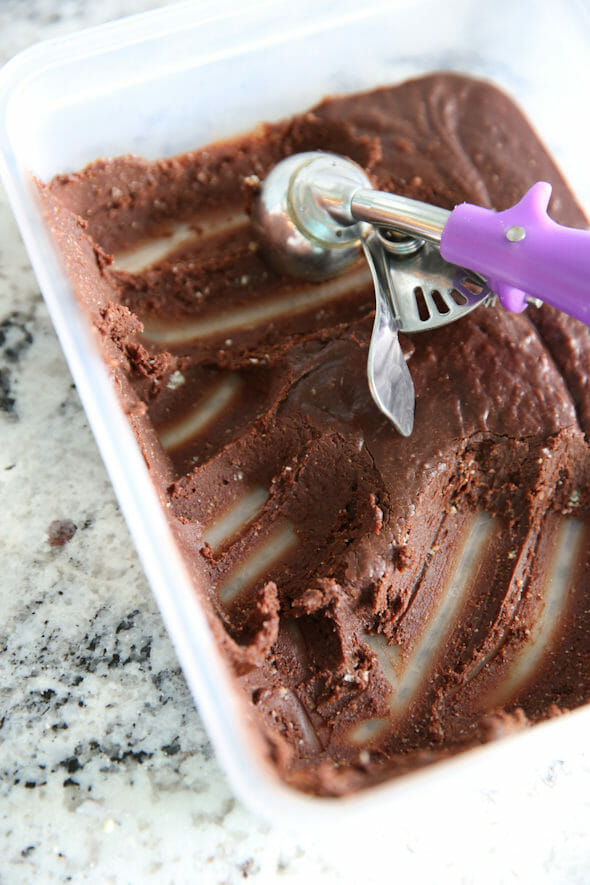 This step isn't in the original recipe, but I thought they'd look pretty with some coarse sugar on top so I dipped the tops and flattened them just ever so slightly.
I liked the contrasting crunch of those sugar granuals on top, but they're totally optional.
These cookies are quite unassuming. Flat, no oozing caramel or chunks of chocolate peeking out, just little rounds of cocoa-colored cookie. But don't let that fool you. Crack one open and it's like biting into a rich, soft, brownie.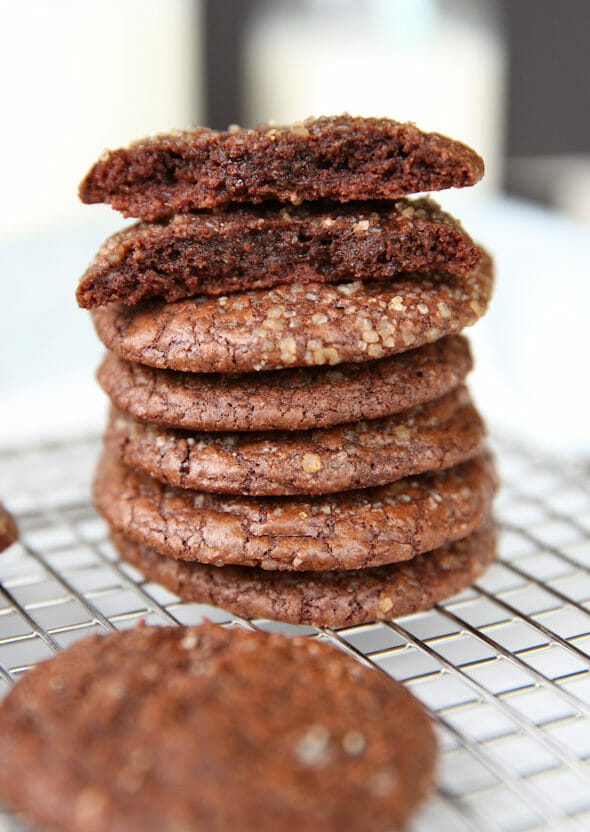 Intensely rich- you'll definitely want a glass of milk nearby.
These would make awesome ice cream sandwiches; that's next on my list to try! Hopefully this will get you through a Monday, my friends.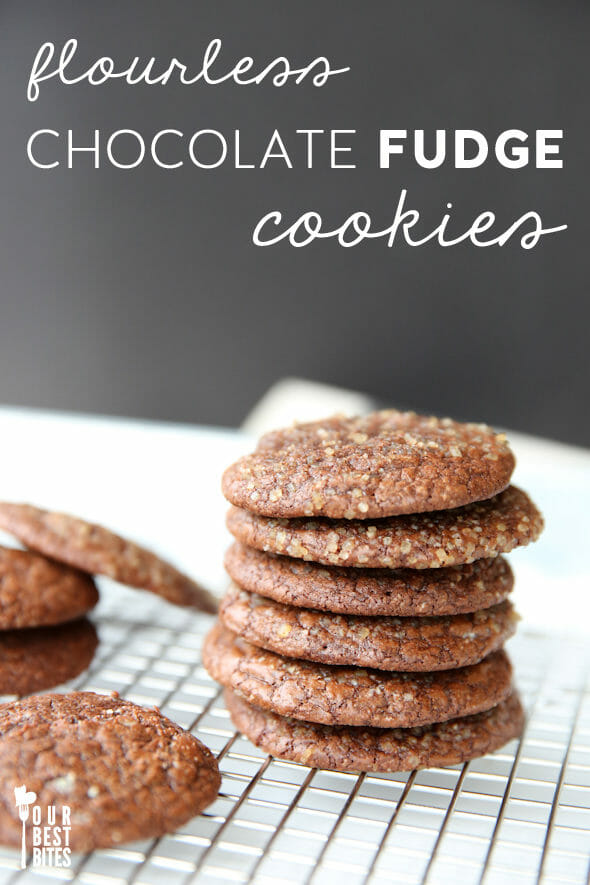 Flourless Chocolate Fudge Cookies
---
1 1/3 cups

(

8 oz

) semisweet or bittersweet chocolate

3 tablespoons

(

1 1/2 oz

) butter, at room temperature

2

large eggs

1/3 cup

(

2 3/8 oz

) sugar

1/4 teaspoon

salt

1 teaspoon

vanilla

3/4 cup

(

2 1/2 oz

) Almond meal/almond flour
---
Instructions
In a double boiler or in the microwave, gently melt the chocolate, stirring frequently to avoid scorching. Remove from heat. Stir in the butter a tablespoon at a time.
In a separate bowl, whip the eggs, sugar, salt and vanilla at high speed for 2 minutes, until thickened and foamy. Fold this mixture into the chocolate-butter mixture, then gently blend in the almond flour. Chill the batter for at least 1-3 hours, or until stiff.
Preheat oven to 325. Lightly grease a baking sheet or line with parchment.
Drop the chilled batter by teaspoonfuls onto the prepared pan, spacing them about 2″ apart. Immediately bake for 10-13 minutes, until the cookies are set, but still soft in center. Remove from oven and cool on pan for a few minutes before moving. Yields about 3 dozen small cookies (or scoop them larger for about 2 dozen)
---
Notes
Optional: If desired, press tops of cookies into coarse sugar and lightly press down dough before baking.