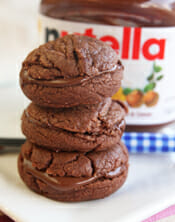 Yep, you got it.  Four.  That's one more than 3 and one less than 5.  I won't lie, usually I'm skeptical about recipes that brag about their lack of ingredients, but this one had me at Nutella.  We have another yummy cookie recipe that involves Nutella, but they're more of a sweet little chocolate cookie with a hint of Nutella.  In fact, you might not know there was Nutella in there unless someone told you.  They're perfectly delicious, but if you're looking for a cookie that undoubtedly tastes like the heavenly hazelnut spread, this is for you.  These little guys come out soft and almost brownie-like in the center with a slightly crunchy crumb around the edges.  The fact that they take only 3 additional ingredients (besides the Nutella), about 90 seconds to prep, and can be in your mouth in about 15 minutes start to finish, is like a gift from above.
You'll need four things for this recipe.  A 13 ounce jar of Nutella (that's the small jar), a large or extra large egg, a couple tablespoons of butter, and flour.  Totally random un-sponsored side-note:  I really like the new branding on Gold Medal flours.  Have you guys noticed those?  They're all in different colored bags with cute fonts and graphics.  If they had a marketing meeting and tried to design packaging to woo middle-aged female consumers to buy their product because of aesthetics, it totally worked.  I've bought who-knows-which-kind twice now simply because the bag is Tiffany-Blue and I can't resist it.  Anyway…more on flour in a minute.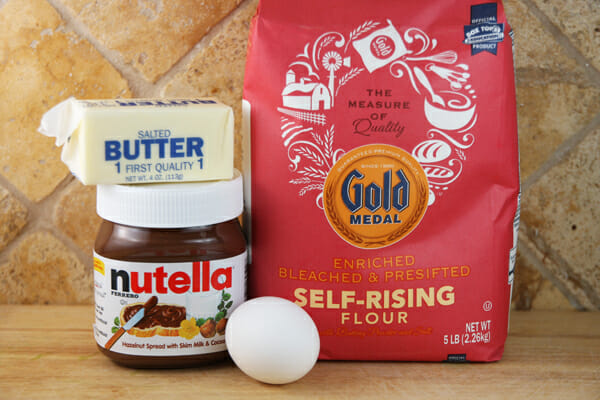 We'll use most of the jar of Nutella in the dough, but save a little for the filling.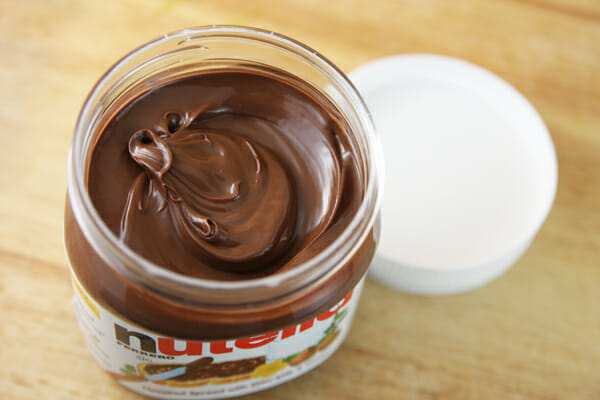 I love that it perfectly uses one whole jar.
Just mix up the Nutella, 2 tablespoons softened butter, and a large or extra large egg.
Beat it up till it's nice and creamy-smooth
And then add the flour.  This recipe calls for self-rising cake flour.  If you have some, or see it at the store, use it.  Sometimes however, it's hard to find cake flour in self-rising.  So if you're stuck with the choice of either buying plain cake flour, or regular self-rising flour, pick the self-rising.  It's working double (or actually triple) duty here since it has both baking powder and salt in it.  *If you want to make your own self-rising flour, see the proportions at the very end of this post all about flour.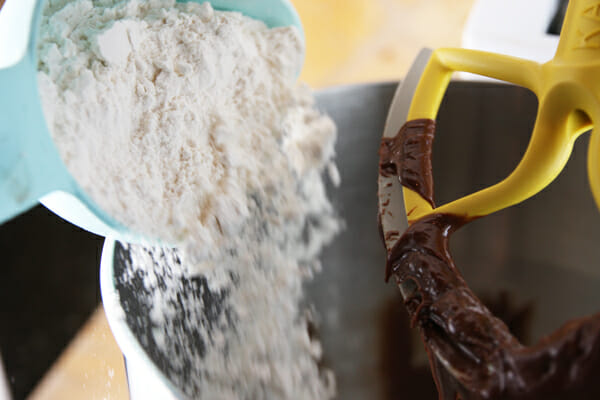 Beat the flour in until you have a soft sticky dough.  Don't add more flour, it's supposed to be sticky.
If you have a cookie scoop, definitely use it.  Otherwise, roll balls by the tablespoon and keep hands dough free by giving them a spritz of non-stick spray or a light dusting of flour.  Place balls on a parchment or silicone-lined baking sheet and bake for about 10 minutes.  They should look puffed up and set all over, but still soft in the center if you touch them.  10 minutes exactly was perfect for mine.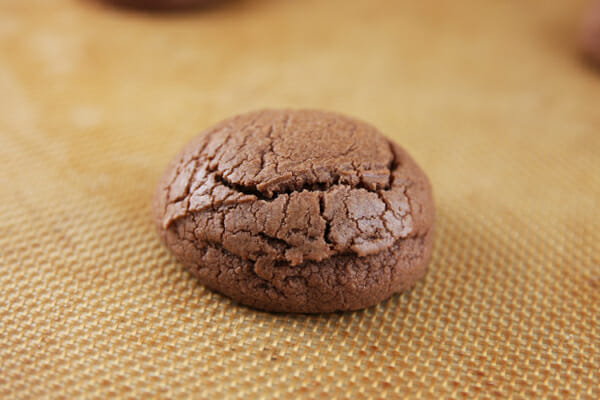 After they've cooled, use a sharp knife to gently cut them in half.  The outside edge will be crumbly so you do have to use a light hand.  I find it easiest to take a sharp serrated knife and gently cut all the way around the circumference of the cookie first and then slice right through.
Then you'll slather a little Nutella right in the middle there.  Since these cookies are so soft and Nutella is kind of sticky, it can help to heat it up just a tiny bit.  Make sure you removed any remnants of the metal covering on your jar and then you can heat the jar for about 10 seconds in the microwave.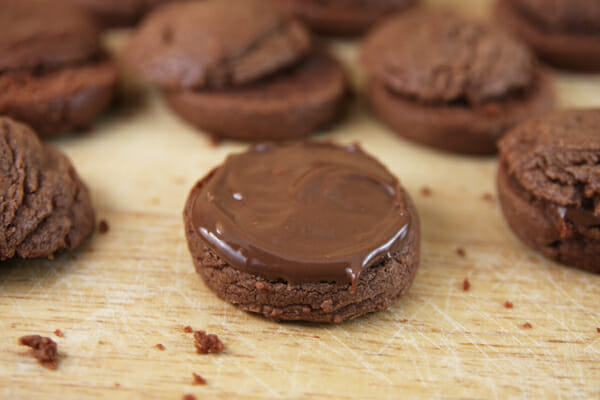 Sandwich those babies together and start popping them in your mouth.
I love how the centers are so soft, but you get a little crunch on the outside.  The extra little kick of Nutella in the center is perfecto.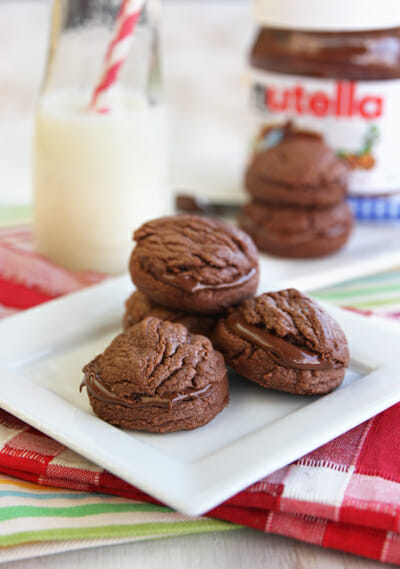 The only downside is that the recipe only makes 16-18 cookies.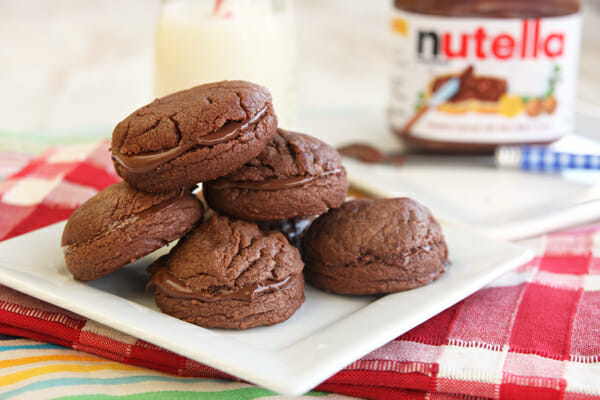 So you should definitely make them when no one else is at home and you can destroy all of the evidence.
4-Ingredient Nutella Sandwich Cookies
Recipe from Radically Simple by Rozanne Gold,
instructions slightly adapted by Our Best Bites
Ingredients
13-ounce jar Nutella
2 tablespoons unsalted butter, softened (not melted)
1 extra large or large egg
1 1/4 cups self-rising cake flour*
*If you can't find self-rising cake flour, just use regular self-rising flour.
Instructions
Preheat the oven to 375 degrees.  Line a rimmed baking sheet with parchment or a silicone baking mat.  Beat together 3/4 cup of the Nutella, butter, and egg.  Slowly add the flour until a wet dough forms.  Dough will be sticky.  Roll dough into balls, or use a cookie scoop, and place about 2 inches apart on the baking sheet.  Bake for about 10 minutes, until puffed and set all over, but still soft in centers.  Remove from oven and cool on baking sheet for 3 minutes.  Transfer cookies to cooking rack and let cool completely.  Using a serrated knife, split each cookie in half horizontally.  Spread each bottom half with 1 teaspoon Nutella.  Replace tops and press lightly together.  Makes 16-18 cookies.
PS:  Want to follow us on Pinterest?  Fine fine fine…you can 🙂