This easy overnight casserole is layered with bread, cheese, crumbled sausage and green chilis, and soaked in a seasoned egg custard overnight.  It couldn't be simpler to put together and the best part is in the morning when your kitchen is clean and your dishes are done and all you have to do is pop it in the oven!  The popular casserole is a staple on many people's holiday tables.  At my house, it's been our Christmas morning breakfast for over 40 years, and we love it on Easter and other special occasions, too.  Wouldn't be a holiday without it!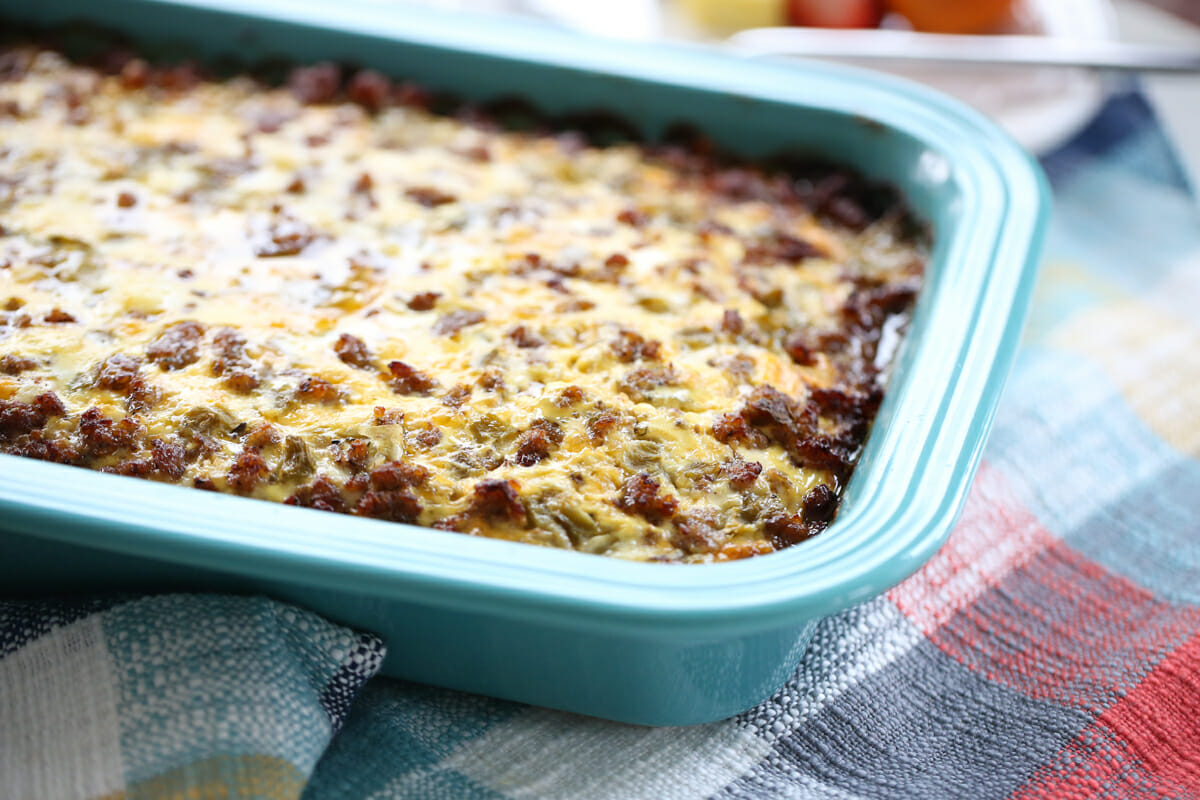 Ingredient Notes
Bread – No need to get fancy. While most similar casseroles call for dried out french bread, I actually recommend basic everyday soft white sandwich bread fresh from the bag.
Cheese – You'll need a lot of cheese!  I call for a mix of Jack and Cheddar.  That's my favorite combination, but in a pinch I've also used Colby Jack, and it would also be great with some pepperjack in there.  Experiment if you'd like to, but the classic way is terrific!  My one tip: I do not recommend pre-shredded cheese in a bag for this recipe.  Shredding directly from a block of cheese will produce better results.
Green Chilis – You find tiny cans these near the jarred salsa at the grocery store. I don't bother draining the tiny can, just use your hands to grab the chilis from the can and sprinkle onto the casserole, the juice that comes with it is just fine.
Sausage – There are always a lot of questions when I have recipes that call for sausage of any kind. It's probably because there are so many different types: breakfast sausage, Italian sausage, sausage in links, sausage in castings, sausage in tubes, sausage in 8 different sections of the supermarket!  You'll find this sausage in the fridge section, usually near the bacon.  Avoid sausages with flavors like maple.  I only use Jimmy Dean because that's what my Mom always used and we like the flavor the best!  It looks like this (you may use their low-sodium/low-fat version if you prefer):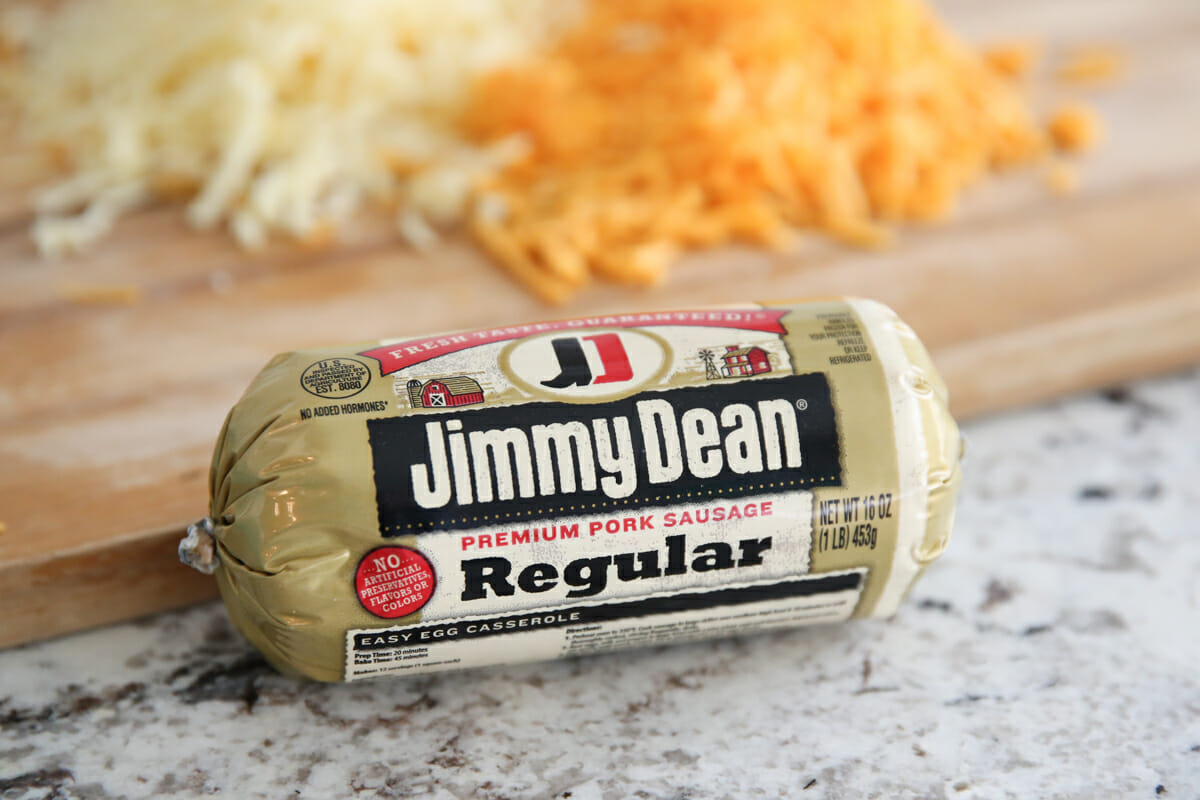 How To Make Overnight Sausage and Egg Casserole
Make sure your sausage is cooked before you begin assembling your casserole. You'll start with the bread. Cut off the crusts, butter one side, and place the pieces butter-side-down in a 9×13 baking dish.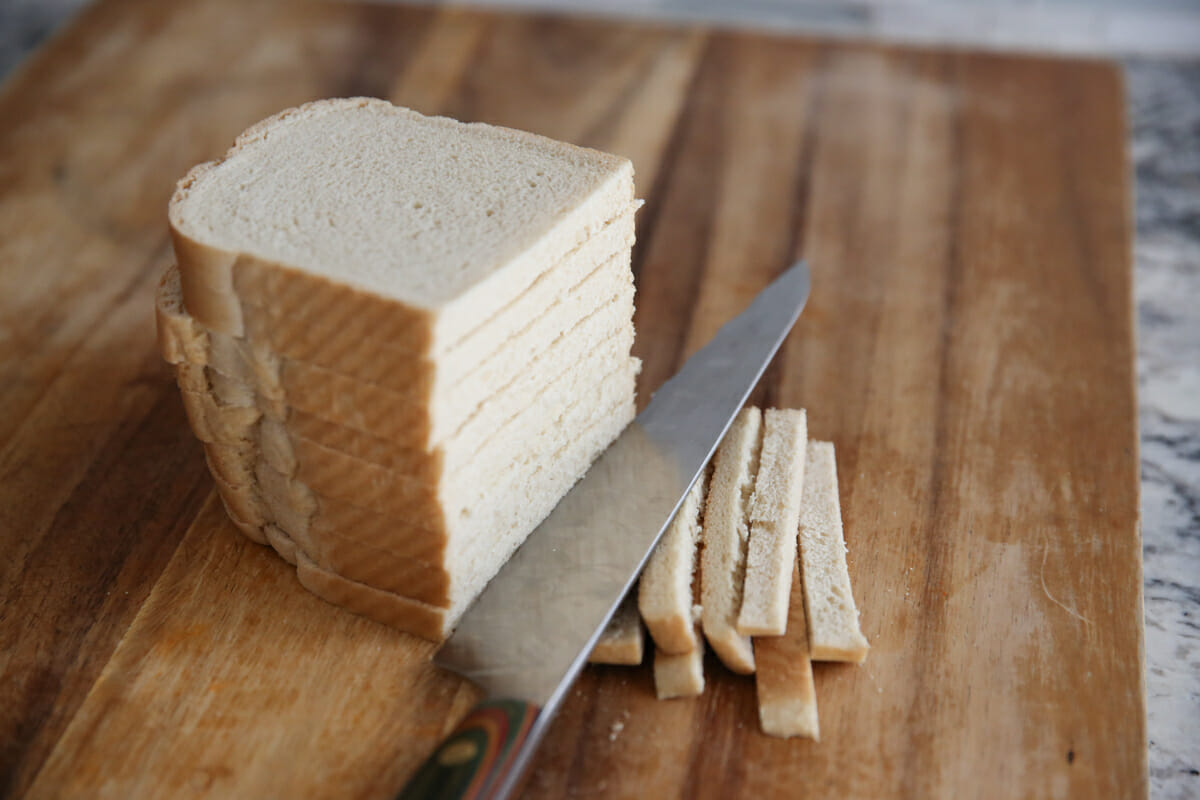 Sprinkle on your shredded cheese, followed by the cooked sausage crumbles, and green chilis (no need to drain).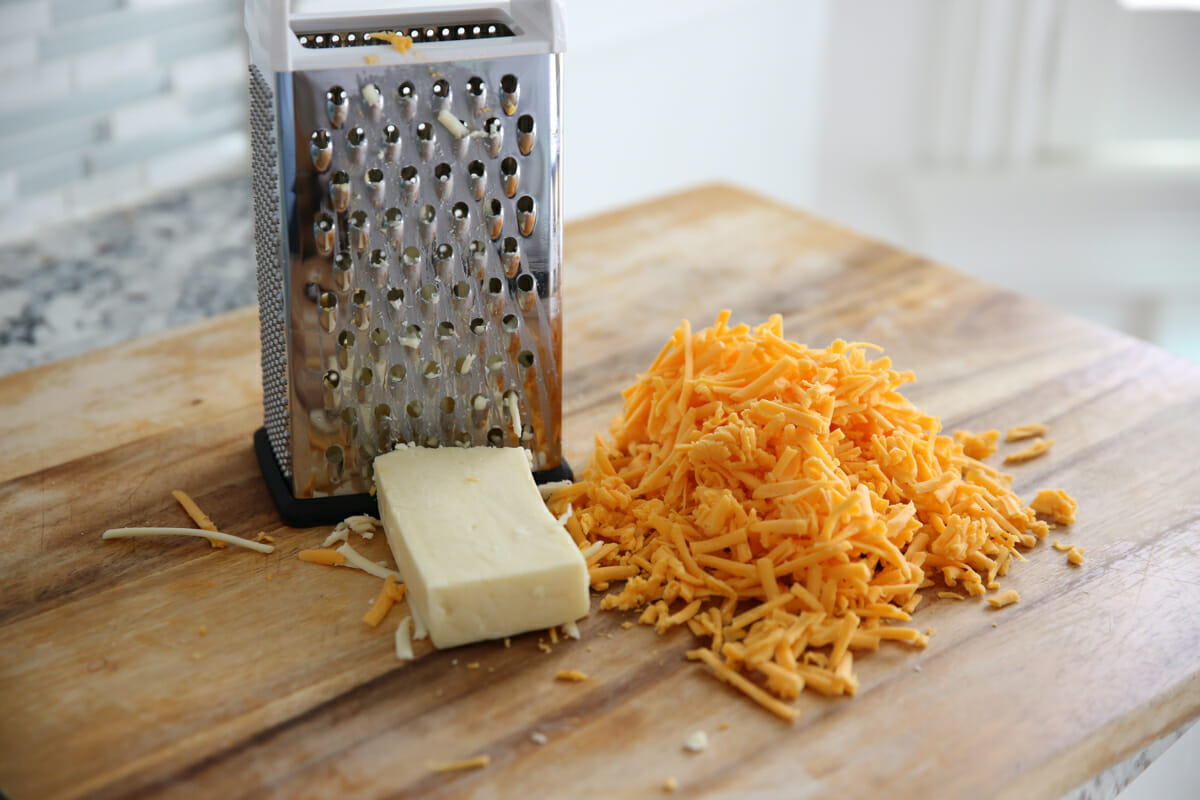 Finally you'll whisk together eggs, milk, and some spices and seasonings.  Stir the egg mixture immediately before pouring on top of the assembled casserole. Otherwise all the spices will all gather in one spot and drop onto one single piece of casserole!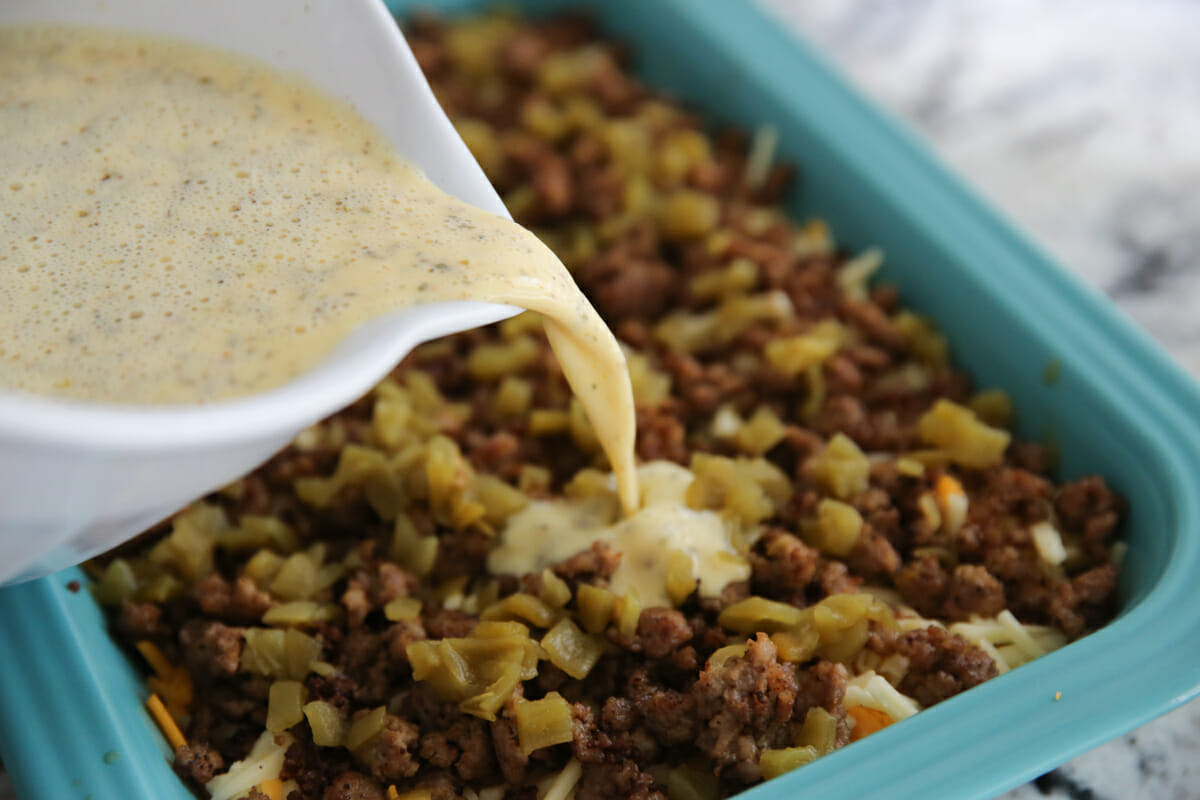 It then goes in the fridge overnight (no, you may not skip this step) and in the morning you just pop it into the oven and have a gorgeous breakfast or bunch in under an hour!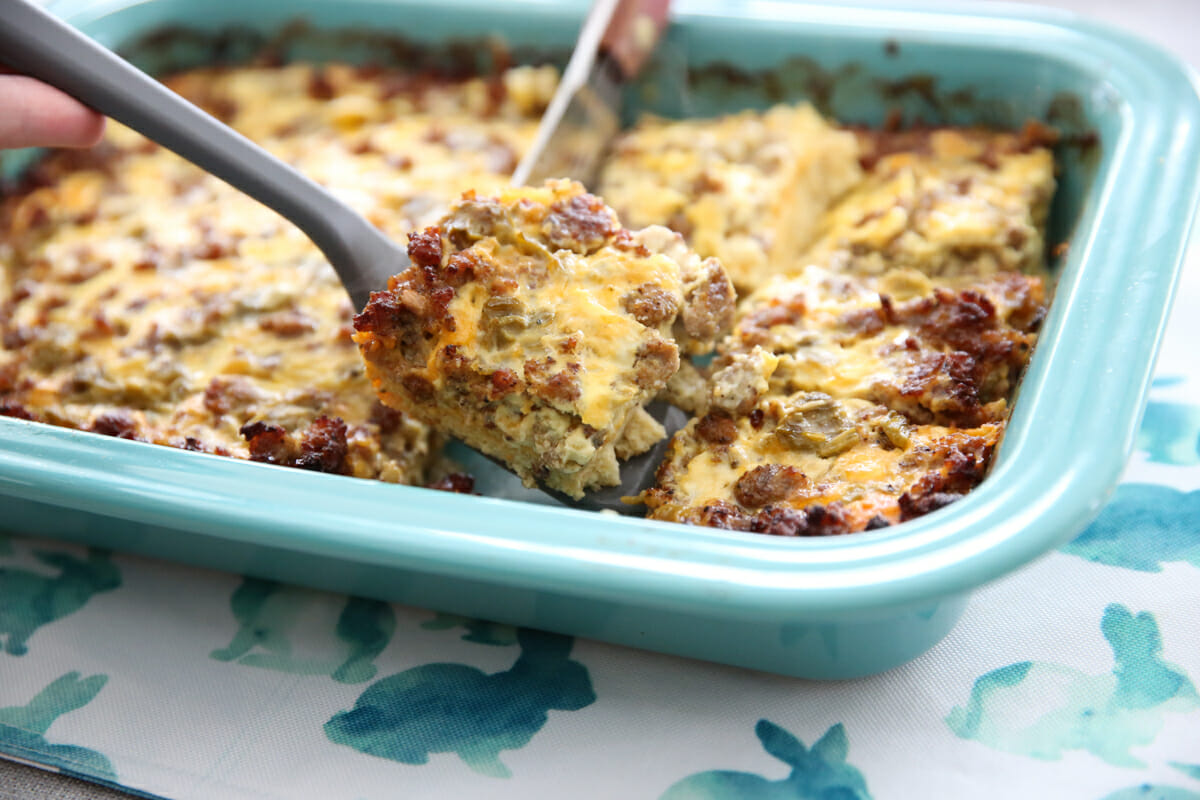 What to Serve With Overnight Sausage and Egg Breakfast Casserole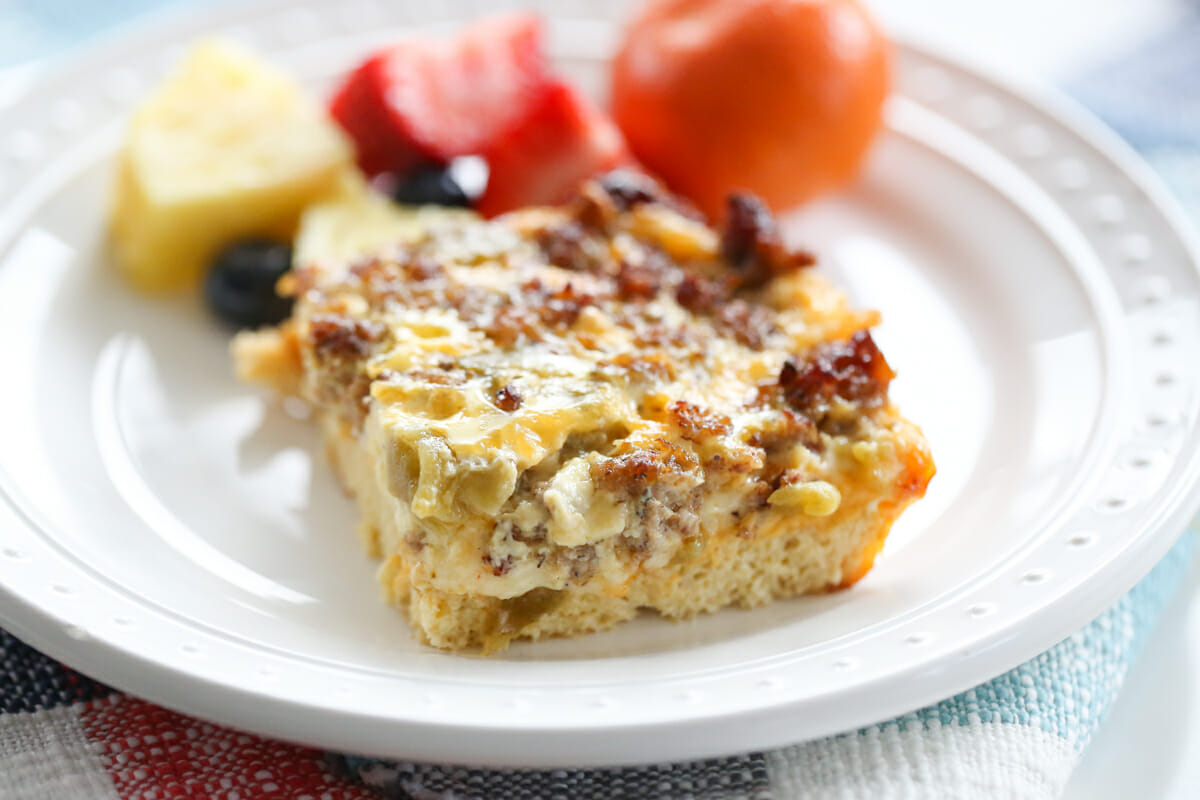 FAQs
How long does this HAVE to sit? How far in advance can I prep this casserole? I would consider 4-6 hours the minimum rest time, and up to 24 hours the max. This doesn't mean it wouldn't still work if left in the fridge beyond that, but I have not tried it.
Did You Make This?
I'd love to hear from you! Snap a picture and tag me on Instagram, then come back and give this recipe a rating!
Print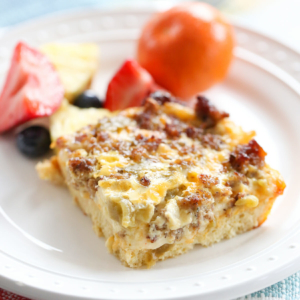 Overnight Sausage and Egg Casserole
---
Description
An easy overnight casserole with crumbled sausage, eggs, and cheese.
---
6–8 slices plain white sandwich bread
Very soft butter for buttering slices
2 cups shredded jack cheese (not pre-shredded from a bag)
2 cups shredded cheddar cheese (not pre-shredded from a bag)
12 oz pork sausage, crumbled and browned (I use Jimmy Dean)
1 4-oz can green chiles
6 large eggs
2 cups milk
1 teaspoon kosher salt
1/2 teaspoon paprika
1 teaspoon oregano
1/2 teaspoon black pepper
1/4 teaspoon garlic powder
1/4 teaspoon dry mustard
---
Instructions
Start by removing the crusts from your bread and lightly buttering one side.
Place bread butter side down in a 9×13 baking dish. You want the bottom of the pan covered with no big gaps, so cut up some pieces like a puzzle to cover the whole pan.
Grate your cheese and sprinkle it evenly over the top of the bread.  Spread the browned sausage on top of that. Open your can of green chilis and use your hands to sprinkle them over the top of the casserole.
In a medium sized mixing bowl whisk eggs. Add milk and then seasonings and whisk to combine well.  Give the mixture a final whisk before immediately pouring evenly on top of the assembled casserole.
Cover well and place in the refridgerator overnight.
In the morning preheat your oven to 350 degrees.  Bake (uncovered) for 50-60 minutes. You'll want the center to be puffed and set and the outside edges to be golden brown. Let cool for about 10 minutes before serving.
Leftovers can be stored in the fridge and reheated in the microwave.
---