Happy Monday! You may have noticed we got a little makeover over the weekend! We can't wait to show you all of the fun new features, but we're still polishing up some final details and making sure everything is working correctly. So for now, just poke around and check out what's new! We hope you love it as much as we do!

Now, let us speak of milkshakes. If you have been following me on Instagram, you will have noticed my current obsession with peaches. Peaches are one of those things that you simply must take advantage of when they're in season and even though it's just the beginning of peach season, I've had some really fantastic ones. A couple weeks ago I was lucky enough to have a visit at home from one of the Chefs for Albertsons. We cooked, and chatted, and then he left me with loads of groceries- among them, this ginormous box of peaches, lots of vanilla ice cream, brown sugar, and a few different kinds of cookies. How could I NOT turn that into a milkshake?? (I also made Peach Caprese Stacks. If you haven't seen that one yet, you better check them out. They're sooooo good.)
I call this a peach pie shake because the warm notes of brown sugar and cinnamon combined with the juicy fresh peaches and creamy vanilla ice cream tastes just like that last spoonful of peach pie ala mode where there's pie scraps mixed in with all of the melted ice cream and it tastes like heaven. Heaven. That's what this milkshake tastes like.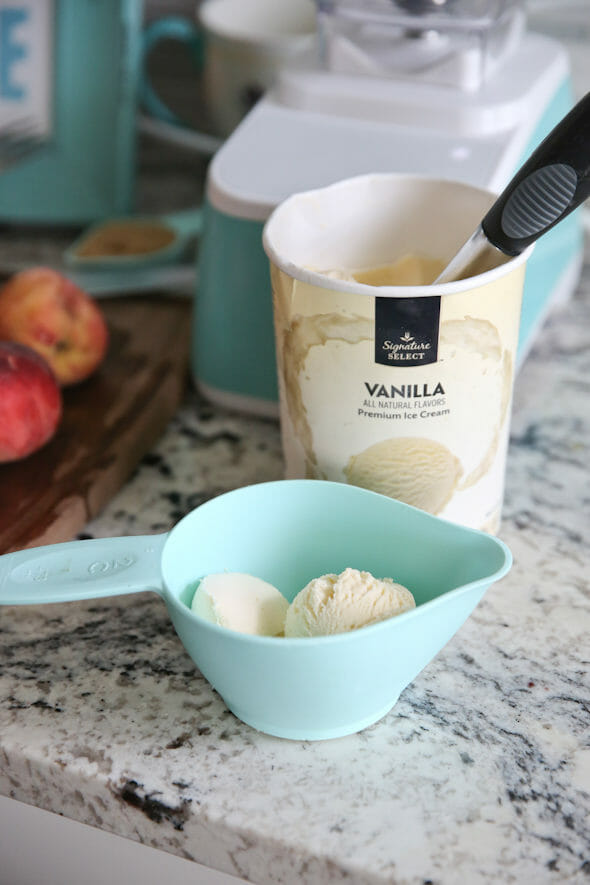 You can use any kind of peach as long as it's ripe and sweet. Don't use tart, under-ripe ones, it's worth the wait for sweet! I don't peel my peaches either; I love the little flecks of color and texture from the skins. We're going for super quick and easy here, so just start slicing chunks of fruit off of those beauties. It doesn't have to be pretty since it's all going in a blender!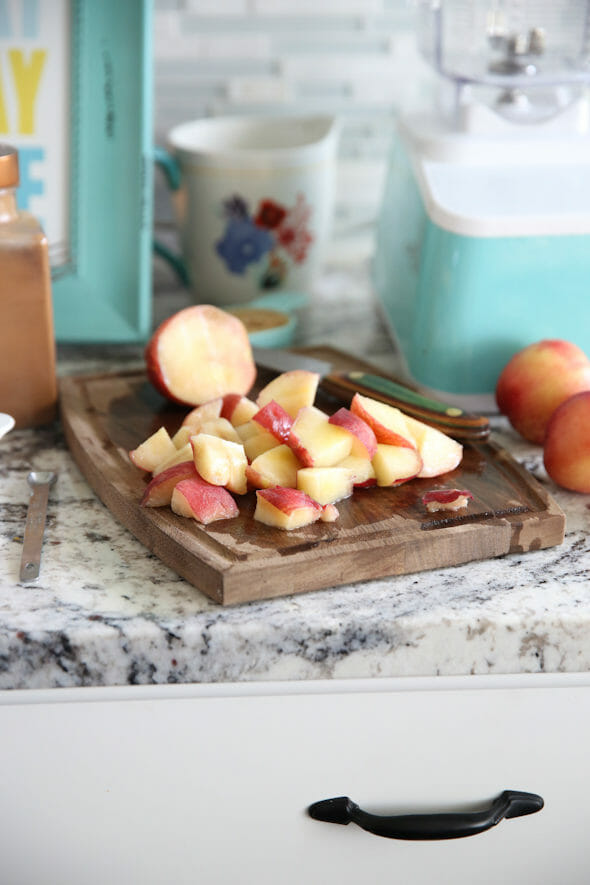 Place your peaches in a blender and add in some brown sugar, cinnamon, and vanilla.
I use a high-powered Blendtec, and the peaches should release plenty of moisture, so that you don't need to add extra liquid, but if you do, just add a little cold milk or cream.
For the finishing touch, I crumbled some gingersnap cookies on top. Nilla wafers would also be good.
Grab an extra-wide straw and sit on a sunny porch to sip up this taste of summer.

These have already been on repeat at our house!
And in case you ever wonder…here's a little behind-the-scenes look into my kitchen. I take almost all of my food shots on this little counter next to my window, and often this is happening as well. Who can focus on crackers when there are milkshakes happening an arms-reach away??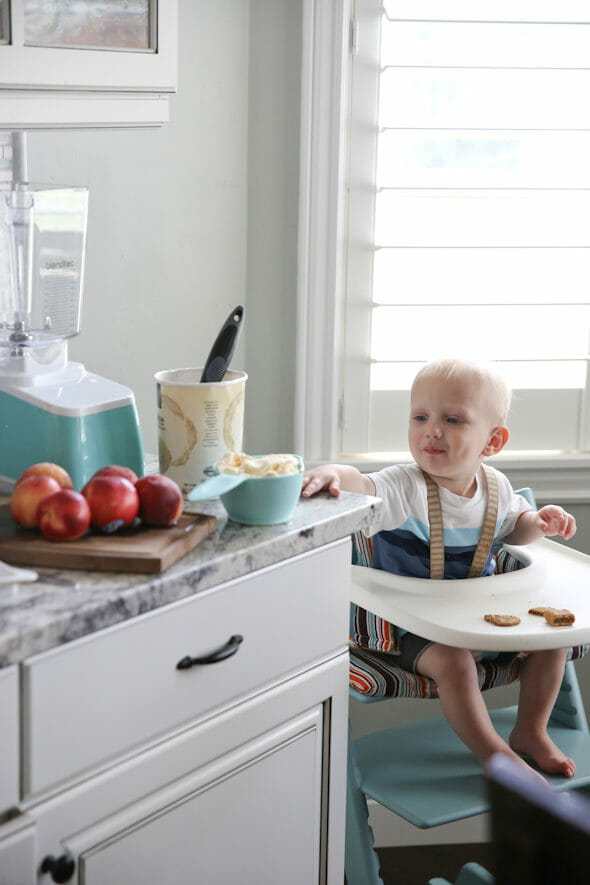 Anyway, enjoy this recipe and leave a comment to let us know what you think of our new look!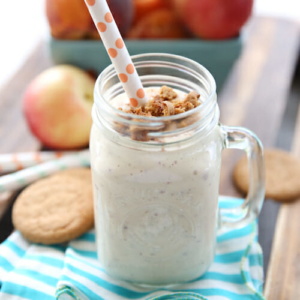 Fresh Peach Pie Milkshakes
---
Description
A perfect milkshake to capture the sweetness of summer, with fresh peaches, brown sugar, and a touch of cinnamon.
---
3 cups

good quality vanilla ice cream

2 cups

diced fresh peaches with skin on (

3

–

4

small,

2

–

3

large)

4 tablespoons

brown sugar

1/2 teaspoon

cinnamon

1/2 teaspoon

vanilla extract
---
Instructions
Place peaches in blender and then add remaining ingredients. If needed, add a little cream or milk until you reach your desired consistency.
---