Fresh herbs are one of my favorite things about having a home garden, but they're also one of the hardest things for me to keep up with.  They need quite a bit of trimming and pinching back to really stay viable and they can get out of control really quickly.  I use a lot of fresh herbs in my cooking, and I still can't keep up with my own plants.  I started making these little frozen herb cubes years ago, (long before the idea went viral on Pinterest!) and thought it was about time I shared it here because it's a great way to preserve the fresh flavors of summer and then enjoy them all year long in lots of different recipes.  It's so quick and easy, you can feel really productive with your preserving skills.  And I'm all about easy things that make me feel productive!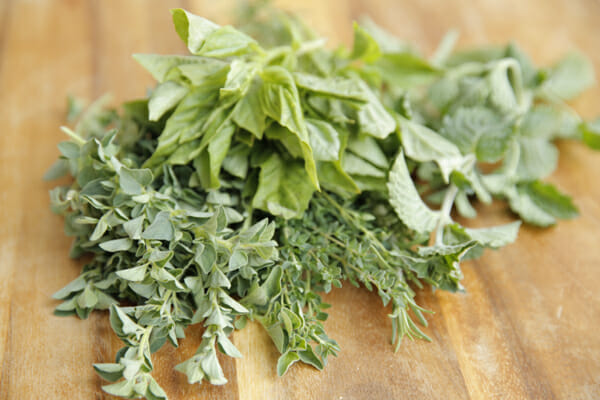 I've always used ice cube trays to make these, or these silicone baking trays (which work, but they're floppy, so you need to set them in a larger pan and then place it in the freezer.  They also have rather small capacity per square).  A few weeks ago I ran to the store to stock up on more ice cube trays and ironically, they were on the same aisle as the canning and preserving stuff and I noticed these Frozen Herb Starter Trays.  I had no idea they even made these, so I bought some and they work awesome.  I love how deep the squares are, the silicone makes it so they pop out really easily, and I like that they have a lid.  You can order them on Amazon, or just use a ice cube tray lined in plastic wrap for this recipe.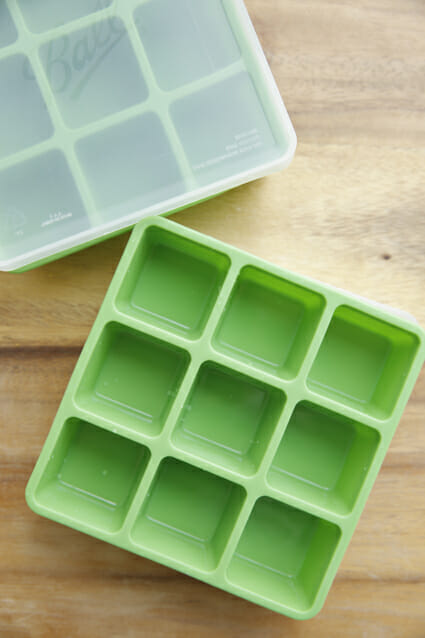 Start with any herb, or combination of herbs you like.  Make sure they're washed and cleaned, and then snip them up.  I tend to use the same combo in most of my recipes, so I just mixed fresh basil, oregano, and rosemary together.
You can use herbs alone, or add other flavor components.  My favorite combination with fresh herbs is garlic and lemon, so I'm adding fresh minced garlic, and some fresh zest from the lemon.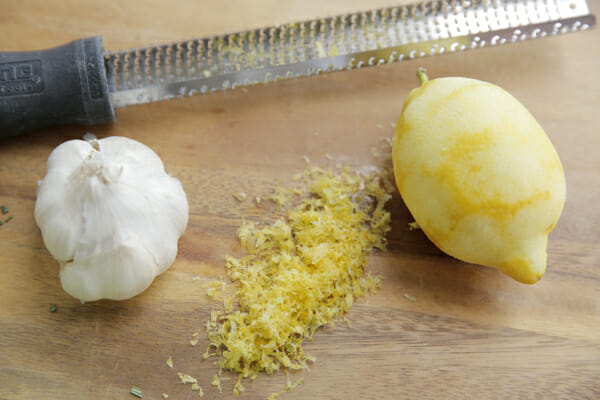 You can actually stuff quite a large quantity of herbs into a small space, so you can make these as full as you like.  Just remember that 1 teaspoon of a dried herb equals 1 tablespoon of the fresh one, so you can go heavy handed on the fresh when you think about using them in your favorite recipes.  They're not as strong as dried herbs.  I just toss in a little garlic and lemon right on top.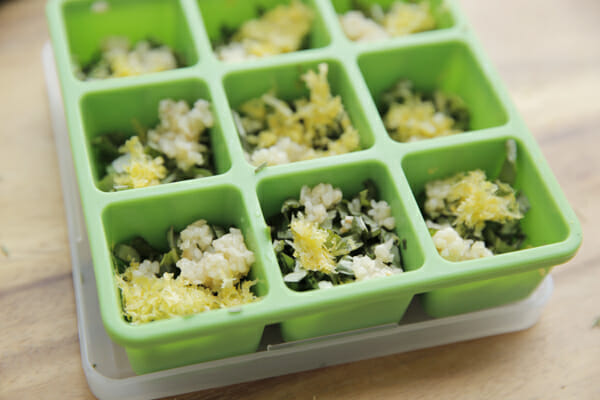 The next step is to encase the herbs in a cooking liquid, and you can use one of 4 things.  Aside from water, you can use broth, melted butter, or olive oil.  All of them work well, and are well suited for different purposes when they're all finished.
After your cubes are filled, add in your desired liquid  You don't have to be adding copious amounts of butter or oil.  If you stuff the cubes with herbs and flavorings, you really only need a couple of teaspoons of liquid, which is a great amount for most recipes.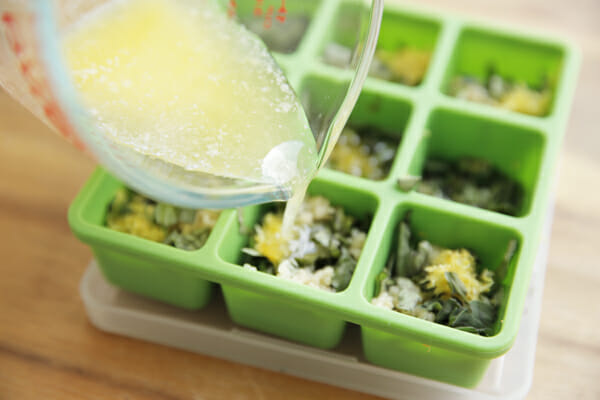 I'm using rosemary olive oil in this batch.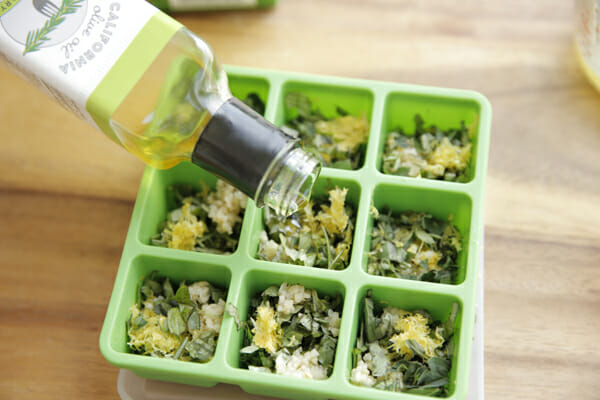 Pour a little in, and then gently press herbs down so they're all submerged.
After freezing you can pop them in freezer containers or bags,
and them use them straight from the freezer for fresh herb flavor all year long.
Some of my favorite uses:
– Melt a cube in a saute pan before scrambling eggs or making an omelet
– Use them to saute fresh vegetables
– Rub on top of hot corn on the cob
– Slice pats on top of grilled steak
– Saute chicken or fish on the stovetop
– Drop in a pot of homemade soup
– Add to pasta sauces
– Toss a couple with fresh hot pasta or ravioli
– Soften and spread on french bread and broil until golden brown
– Melt on hot baked potatoes
– Toss with roasted vegetables, either pre or post roasting
Print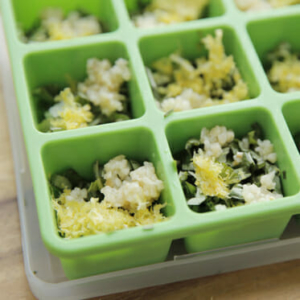 Frozen Fresh Herb Starters
---
Fresh herbs
Cooking liquid: olive oil, melted butter, broth, or water
Optional flavor agents: minced garlic, lemon zest, chili flakes, etc.
---
Instructions
Wash and dry any variety of fresh herbs. Chop finely and fill silicone trays or an ice cube tray that has been lined with plastic wrap. Add flavorings as desired (fresh citrus zest, garlic, chili flakes, etc.). Add cooking liquid and gently press herbs down until just barely submerged. Freeze until solid and then store in freezer safe container.
---
If you're a fan of canning and preserving, then make a note that this Saturday August 16, Jarden Home Brands (Ball brand) will host the first annual International Can-It-Forward Day.  You can connect via a variety of online and in-person activities, including participation in a live webcast on www.frespreserving.com, taking place on ground in Brooklyn Borough Hall Farmers Market, where viewer questions will be answered in real-time by Top Chef's Judge- Chef Acheson.   Twenty five farmers markets across the country will also be hosting Can-It-Forward Day celebrations, so check it out near where you live!  Also, don't miss The Scoop tomorrow, because I'll be giving away lots of goodies!