So do any of you remember the Thanksgiving episode of Friends where Monica is cooking dinner and Chandler is feigning an interest in football, but all he really wants to do is eat and watch the Macy's Thanksgiving Day Parade? Welcome to my life. In high school, I loved going to football games, but once I got to college, I just lost interest.
However.
I get it. I also get the party aspect of things. And since I am all for hanging out with friends and eating yummy food, I happily go along with the football game watching.
This recipe has quickly become a favorite among my friends here in Louisiana, so much so that I've been asked to make it twice within the last week (and asked for the recipe more times than I can count). Since college football season is here, I figured there couldn't be a better to share this dip!
This dip is actually a variation of the Jalapeno Popper Dip that I posted back in January for the Super Bowl. Same bones–mayonnaise, cream cheese, and freshly grated Parmesan cheese–but then I swapped the peppers out for artichoke hearts and added a whole bunch of garlic. Like to the point where someone asked me the other day if I was making garlic bread. And THAT is what makes it so awesome.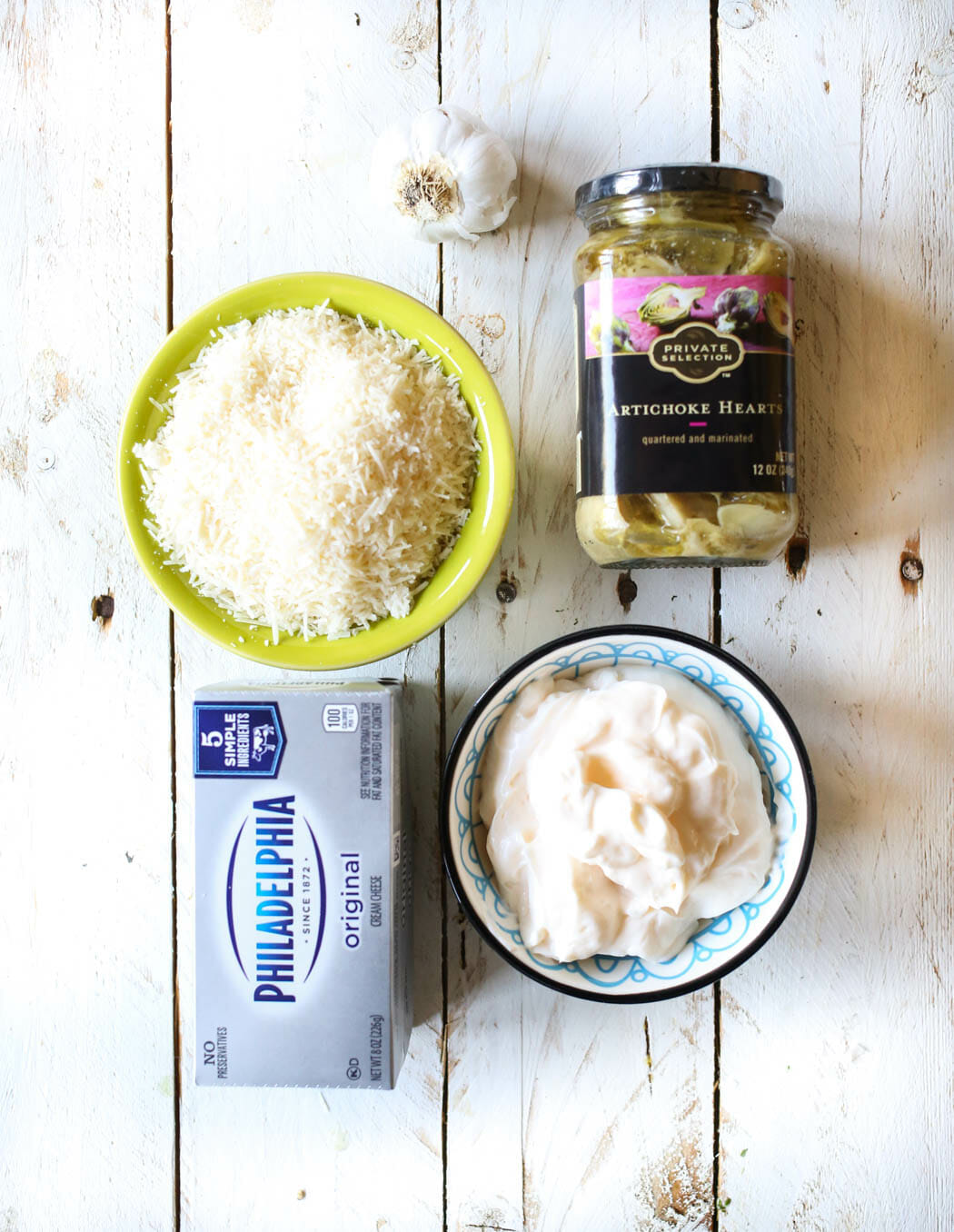 Putting it together is super easy–just chop up the garlic and drain and chop those artichokes…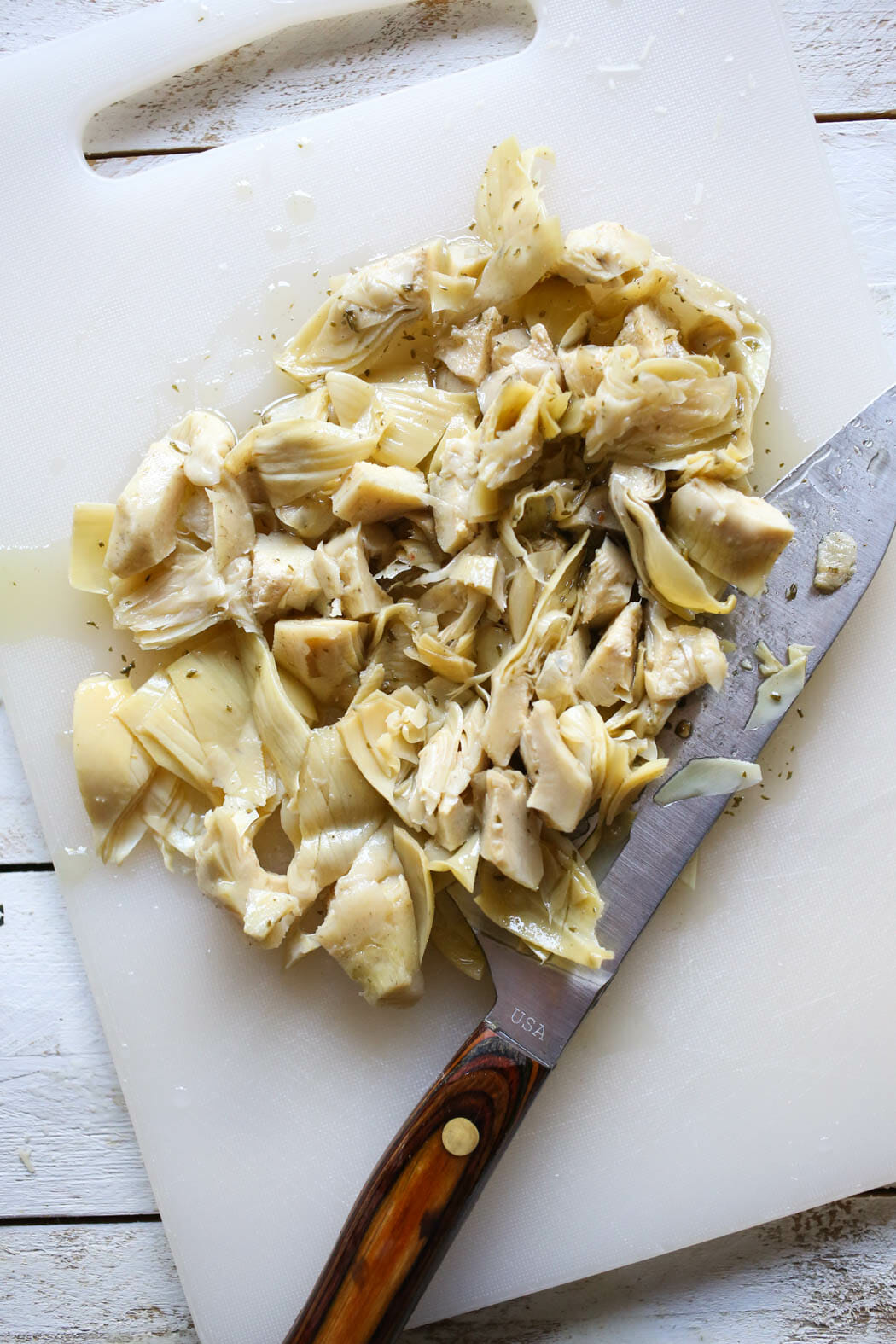 And then mix them up with the cream cheese, mayonnaise, and Parmesan cheese.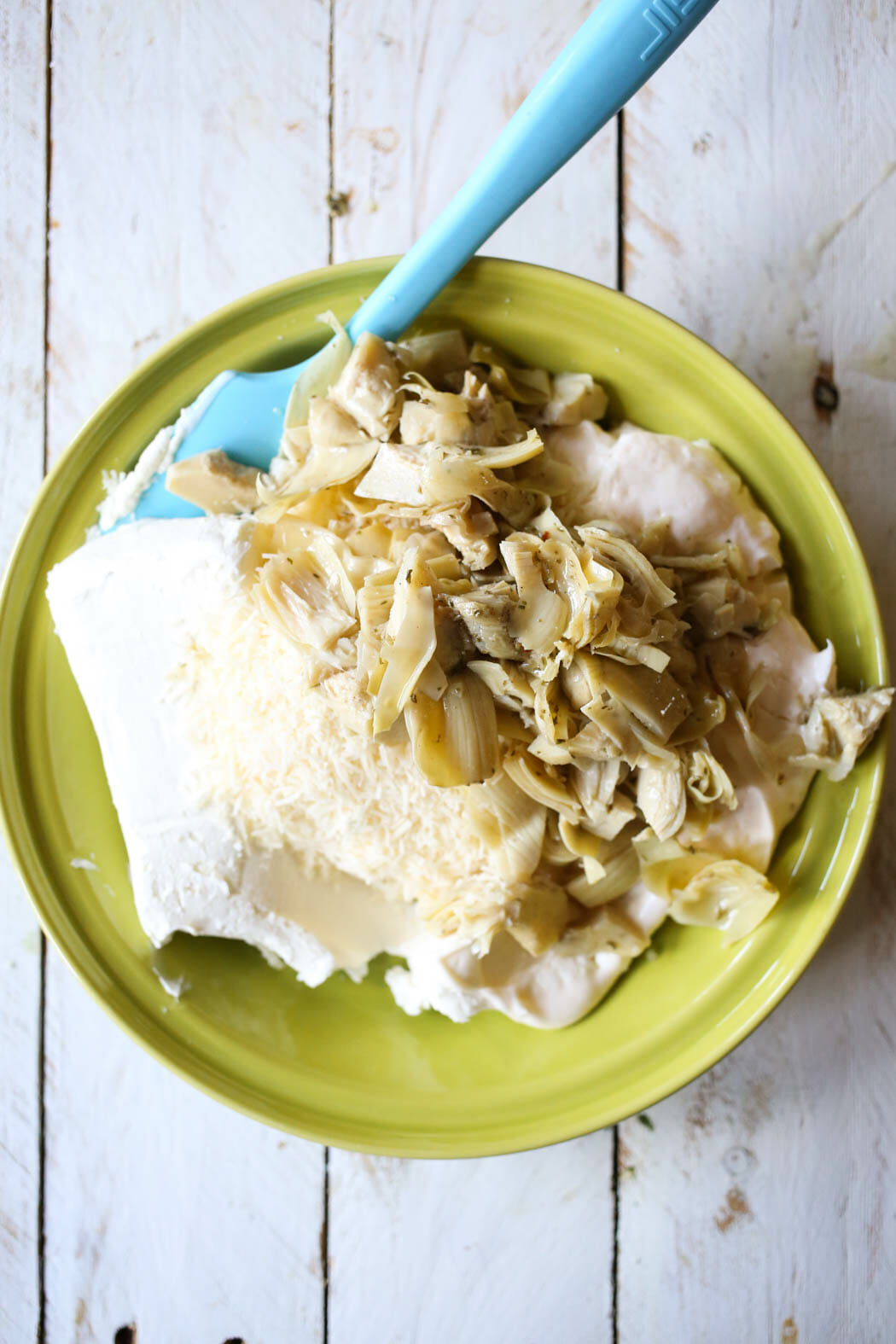 Spread it in your baking dish…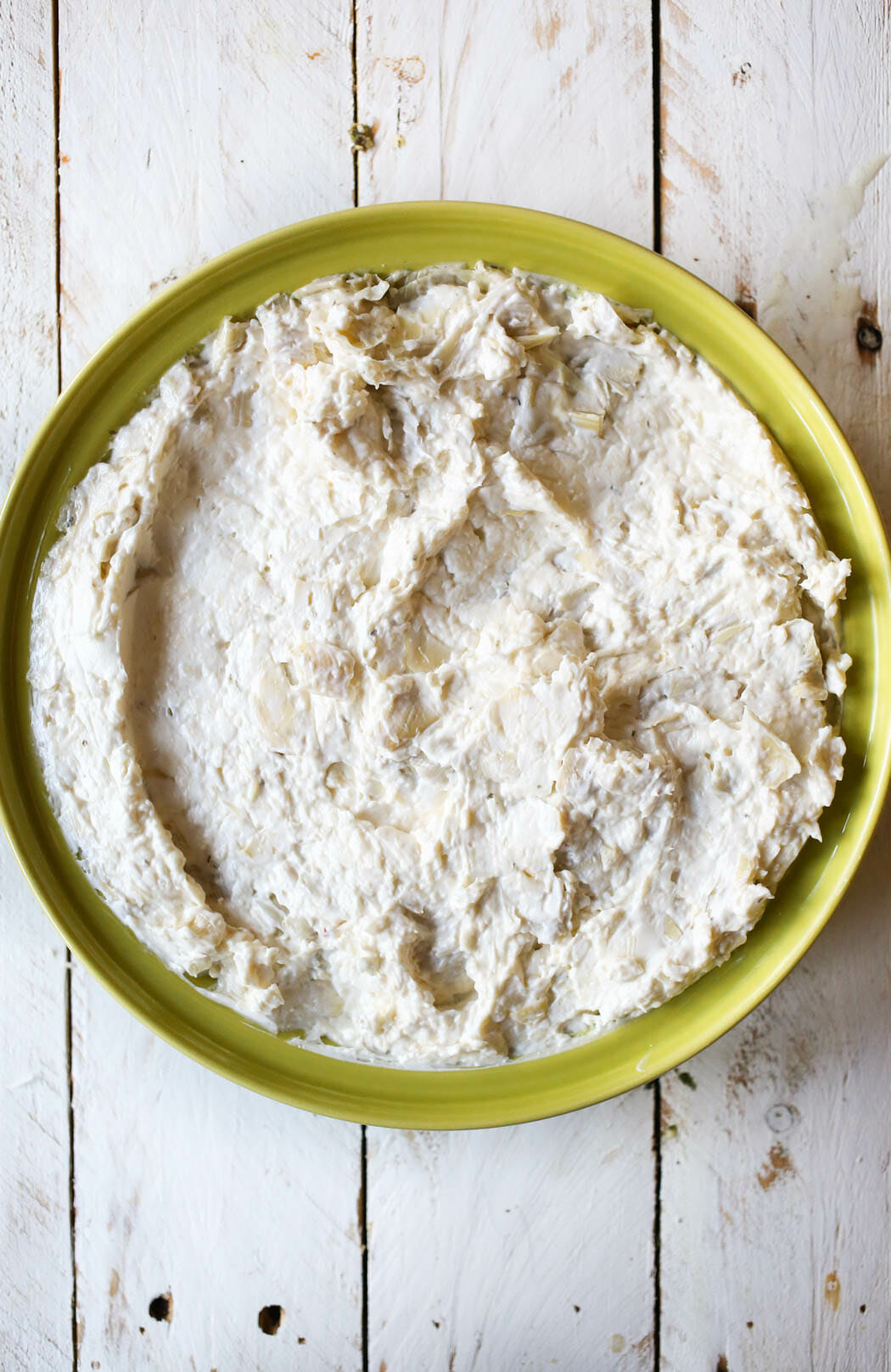 and bake it at 350 for 25 minutes or so, and voila—cheesy, garlicky awesomeness.
I love, love, love it with slices of bread (sourdough baguette, in particular), but others swear by tortilla chips. I've even spread it on a mini bagel for a little snack before. Try serving it with a variety of breads, chips, flatbreads, and sturdy veggies like sugar snap peas and baby peppers.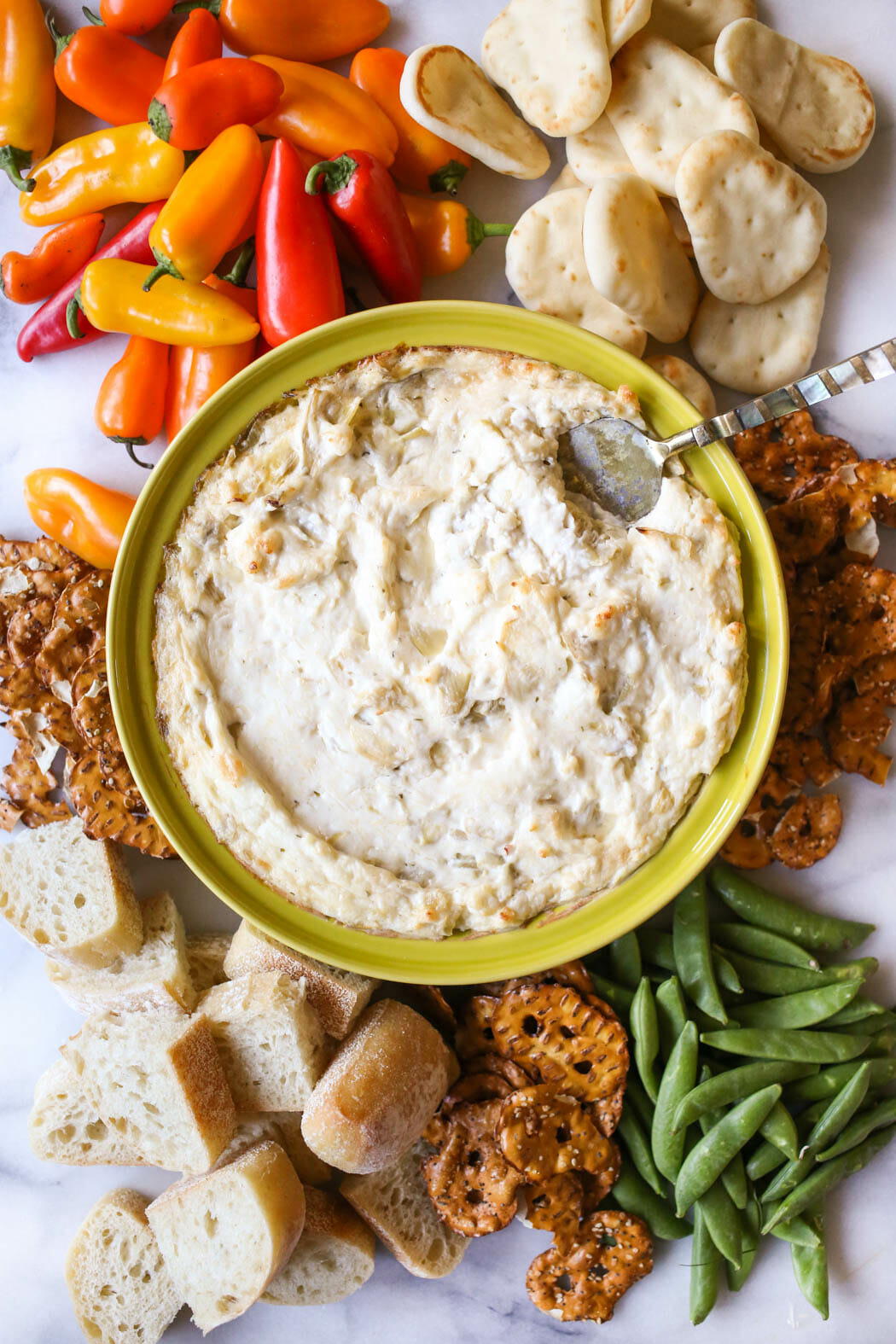 Y'all. It doesn't get better than this.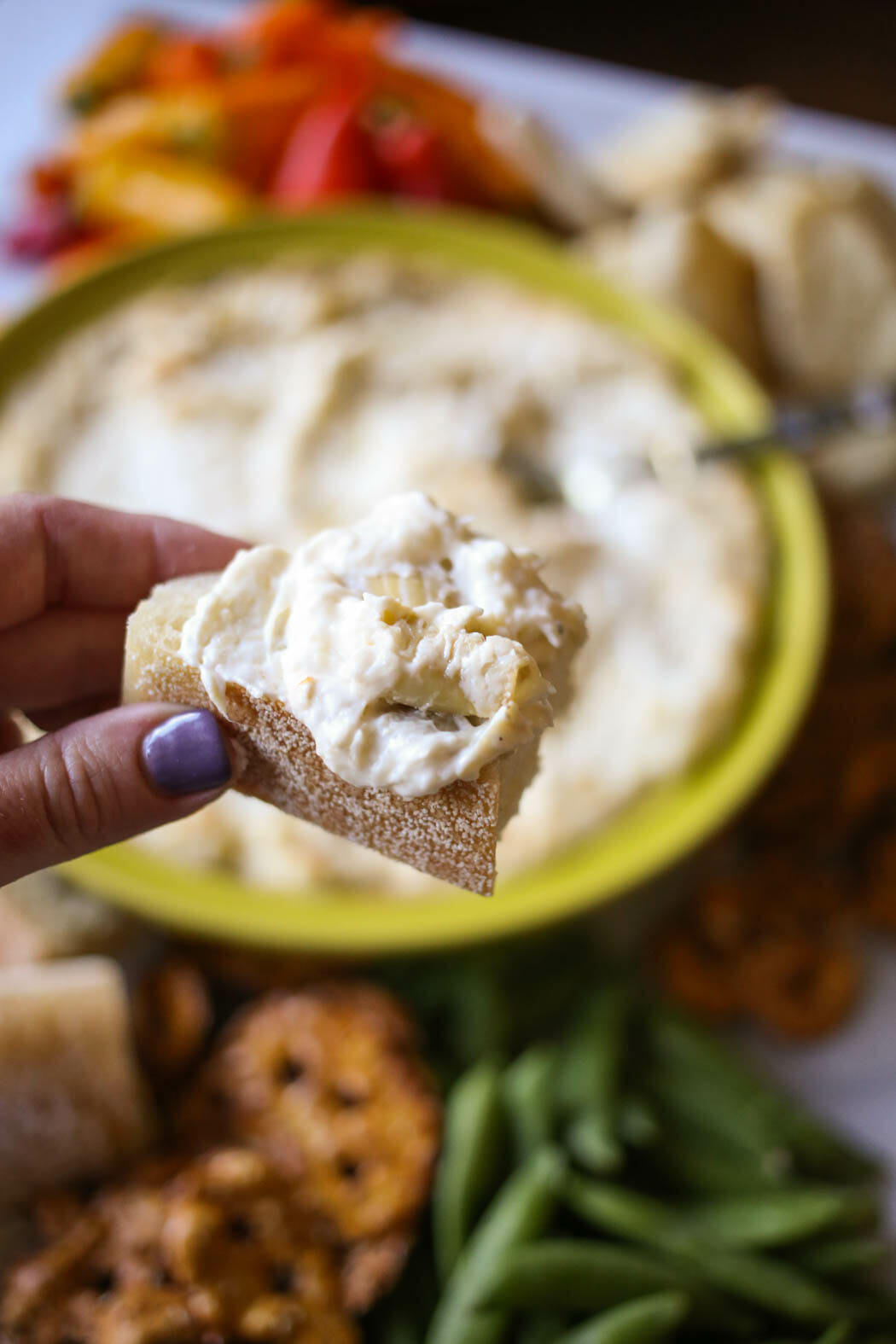 Print
---
Description
This cheesy, creamy, hot, melty Garlic Artichoke Dip is highly addictive and perfect for parties and also for watching Netflix in your yoga pants.
---
2 8-ounce packages cream cheese (light works great), softened
1 cup mayonnaise (no Miracle Whip or fat free mayonnaise, low-fat mayo is okay)
1 cup (packed) shredded Parmesan cheese (try to get a wedge and grate it yourself; the pre-shredded stuff in a bag doesn't melt well)
1 12-ounce jar marinated artichoke hearts, drained and chopped
6–7 cloves garlic, minced
1/2 teaspoon coarsely ground black pepper (optional)
Artisan bread (like baguette or ciabatta), tortilla chips, mini naan, and/or fresh vegetables like baby peppers and sugar snap peas, for serving
---
Instructions
Preheat oven to 350 degrees F. In a large bowl or the pie plate you're baking this in, mix the softened cream cheese with the mayonnaise and shredded Parmesan cheese. Gently add in the chopped artichoke hearts and minced garlic. Place the mixture into a 9″ pie plate and bake for 25-30 minutes or until it's lightly browned and bubbly on top. Serve hot with slices of artisan bread, tortilla chips, mini naan, and/or fresh vegetables like baby peppers and sugar snap peas, for serving.
---