Since Dad's day is coming up I thought I'd post this cookie recipe that is so big and so loaded and so awesome, it's totally man-approved. I saw these on Instagram a while back and the image stuck in my head until I could make them. And then I made them again. And then maybe one more time that same weekend. I have always found it difficult to make a really good bakery style cookie at home. Know what I mean? A cookie that is huge, but hearty. Chewy, but totally soft in the middle. This cookie stood up to the standard without blinking an eye. They're possibly my new favorite.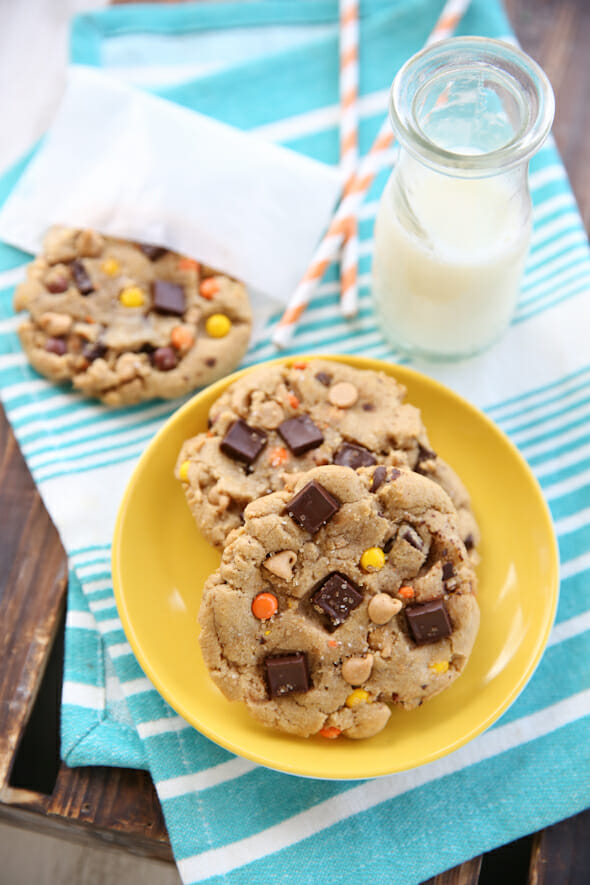 This dough has peanut butter in it, but not so much that it's an overwhelming peanut butter cookie. It feels more like a chewy chocolate chip cookie that happens to have some peanut butter in it.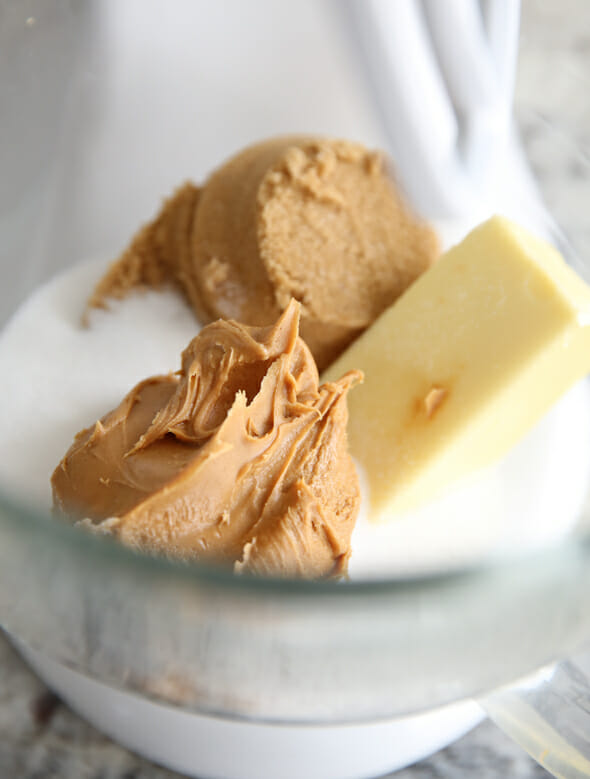 It's just enough to make them incredibly soft and chewy.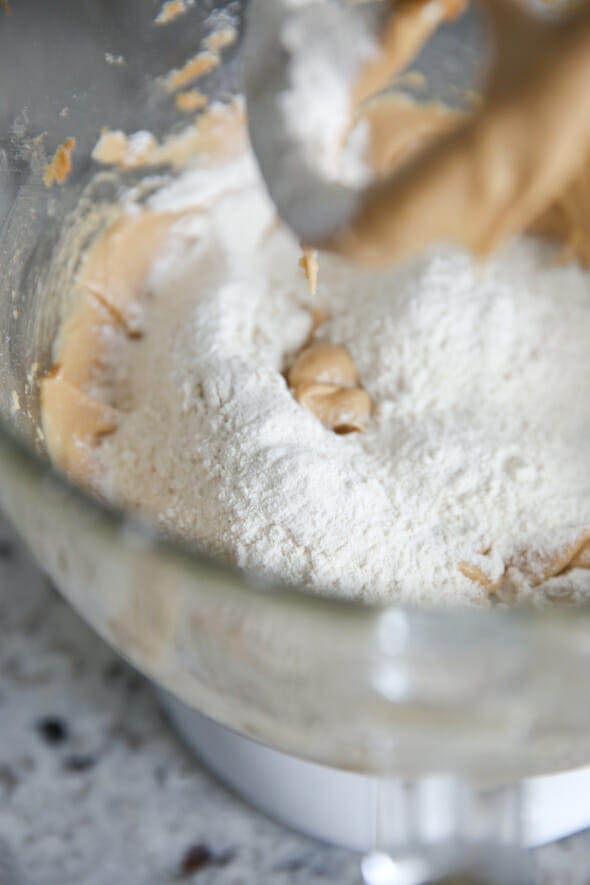 There's something about using chocolate chunks in cookies (as opposed to chips) that makes them extra bakery-ish and kinda fancy and special. I love these by Private Selection (available at Kroger stores, for me that's Fred Meyer), but if you can't find chunks in this or another brand, you can always chop up bar chocolate or just use chocolate chips.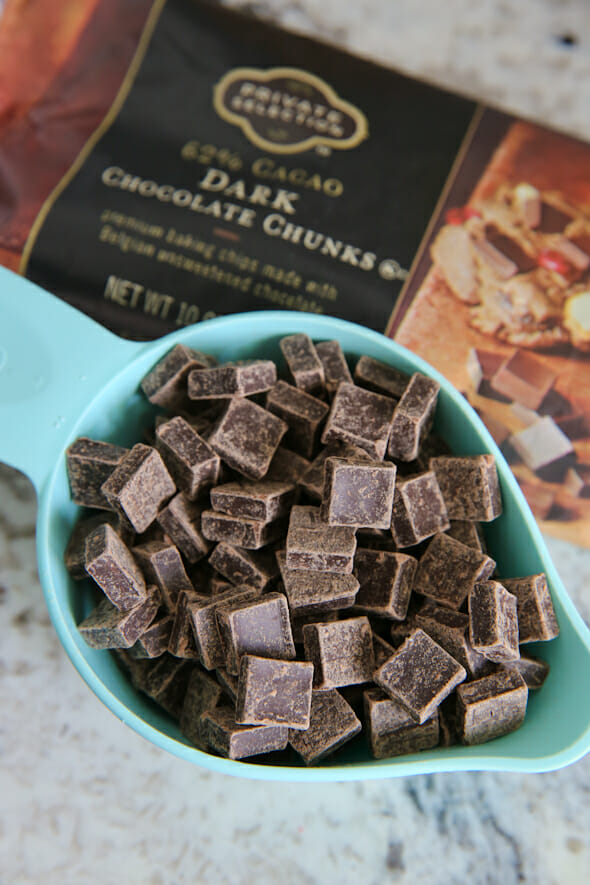 And just to make sure we cover all of our bases here, you'll also dump in some peanut butter chips, and some mini Reeses Pieces, too. Oh yes.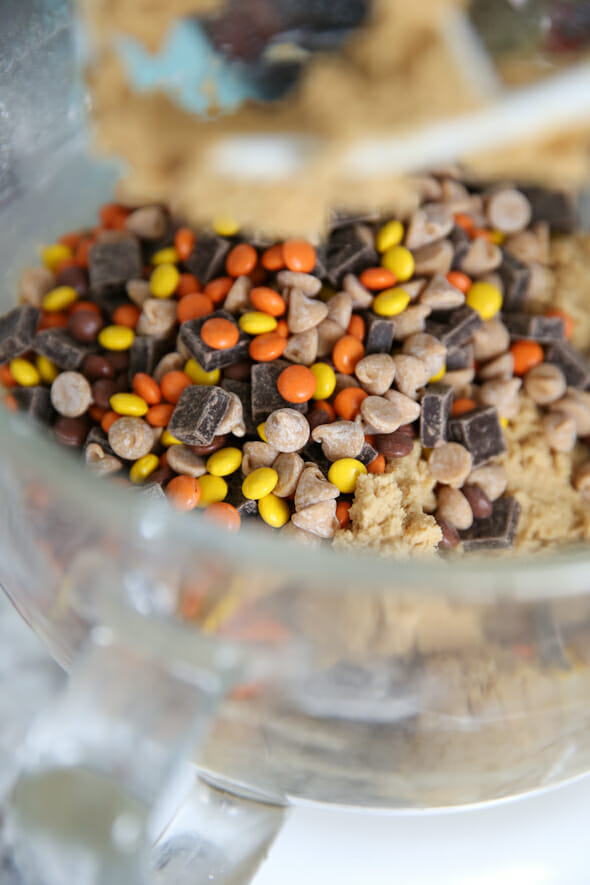 Totally optional, but I love to sprinkle both a little coarse, turbinado sugar, and also a little coarse salt on top. It adds a little crunchy texture and sparkle to the tops of the baked cookies and makes them taste extra amazing. Don't skimp on the cookie size here. Making these cookies extra large with 1/4 cup of dough allows the edges to crisp while maintaining a soft center.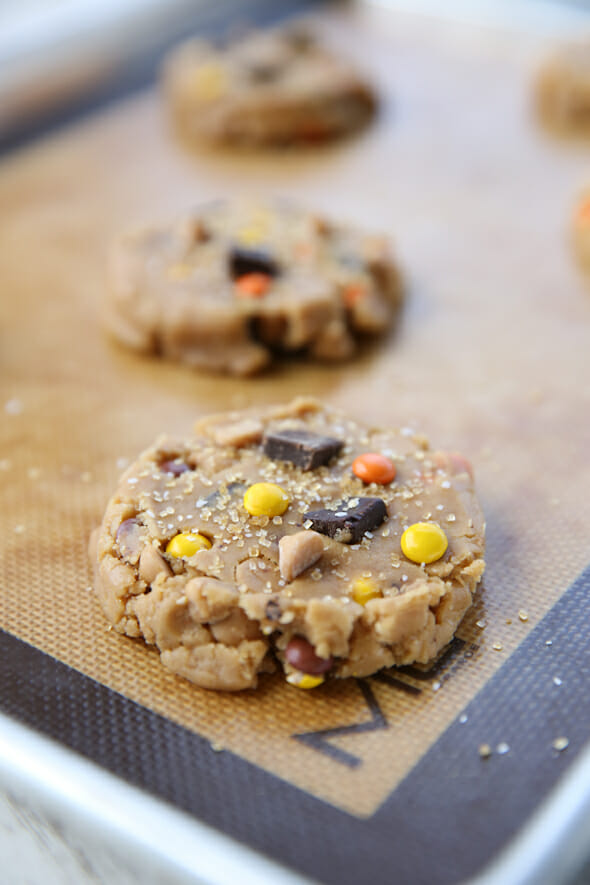 Another trick to get your cookies to look like they belong in a bakery store window is to place a few extra "pieces" after your cookies have been rolled and pressed. You'll notice in the photo above that I've pressed in a few Reese's, a couple chunks of chocolate, and a few PB chips. Those didn't just plop out that way; I actually dropped a few extra goodies on top. That way, as the cookies spread and bake, all of the tops show all of the ingredients.
I underbake just a little bit and then let them cool completely. The result are giant, soft, chewy, chocolate-y, peanut buttery, dreamy cookies.
They pretty much beg for cold milk.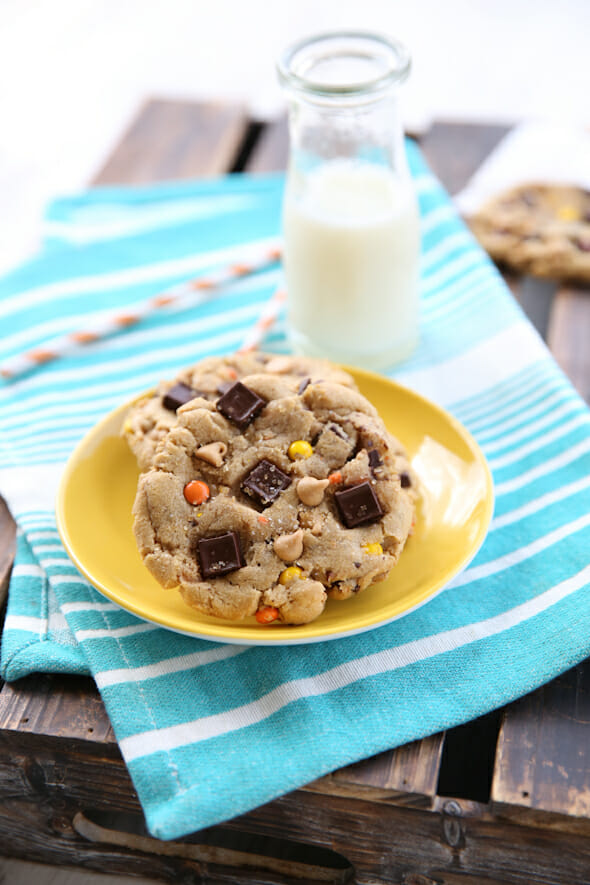 You'll want to Pin this one!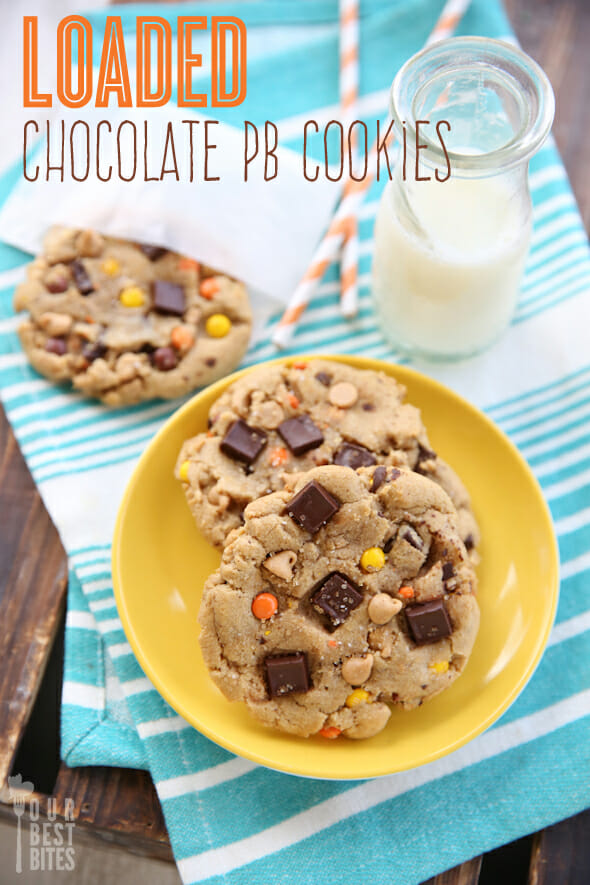 Giant Loaded Chocolate Peanut Butter Cookies
---
Description
Jumbo Bakery-style cookies with chewy edges and soft centers. Loaded with 2 kinds of chips AND Reese's, these cookies are a knock-out hit.
---
3 cups

all-purpose flour

1 1/2 teaspoons

baking soda

3/4 teaspoons

salt

1

stick (1/2 cup) real butter, at room temperature

1/2 cup

creamy peanut butter

1 cup

packed light brown sugar

3/4 cup

granulated sugar

2

large eggs

1 tablespoon

milk

1 tablespoon

vanilla extract

1 cup

semisweet chocolate chips or chocolate chunks

1 cup

peanut butter chips

1 cup

Reese's Pieces
optional: turbinado sugar
optional: sea salt or kosher salt
---
Instructions
Preheat oven to 350 degrees. Line baking sheets with parchment or silicone baking mats.
In a medium bowl combine flour, baking soda and salt.
In the bowl of an electric mixer, beat the butter, peanut butter, brown sugar, and granulated sugar on medium-high speed until very well combined, about 2 minutes.
Add the eggs, milk, and vanilla and beat until combined. On low speed gradually add the flour mixture and beat until just combined. Add the chocolate chips, peanut butter chips, and Reese's Pieces and beat until combined. You may need to do this by hand with a spatula if your mixer isn't strong enough.
Roll the dough into 1/4-cup balls and place on the prepared baking sheets. Flatten the dough balls into 1/2-inch thick disks. (If desired, press a few extra chips onto top of dough to make pretty cookies and sprinkle with a little turbinado sugar) Bake for 12-15 minutes, or until the cookies are light golden brown at the edges. Be careful not to overbake. When they come out of the oven, sprinkle very lightly with salt if desired. Place the baking sheets on cooling racks and let cool completely. Store the cookies in an airtight container at room temperature.
---