Lemon bars are one of those things like Lost and Oprah that I know, in theory, I should love, but when it comes down to it, there's something about them that I struggle with.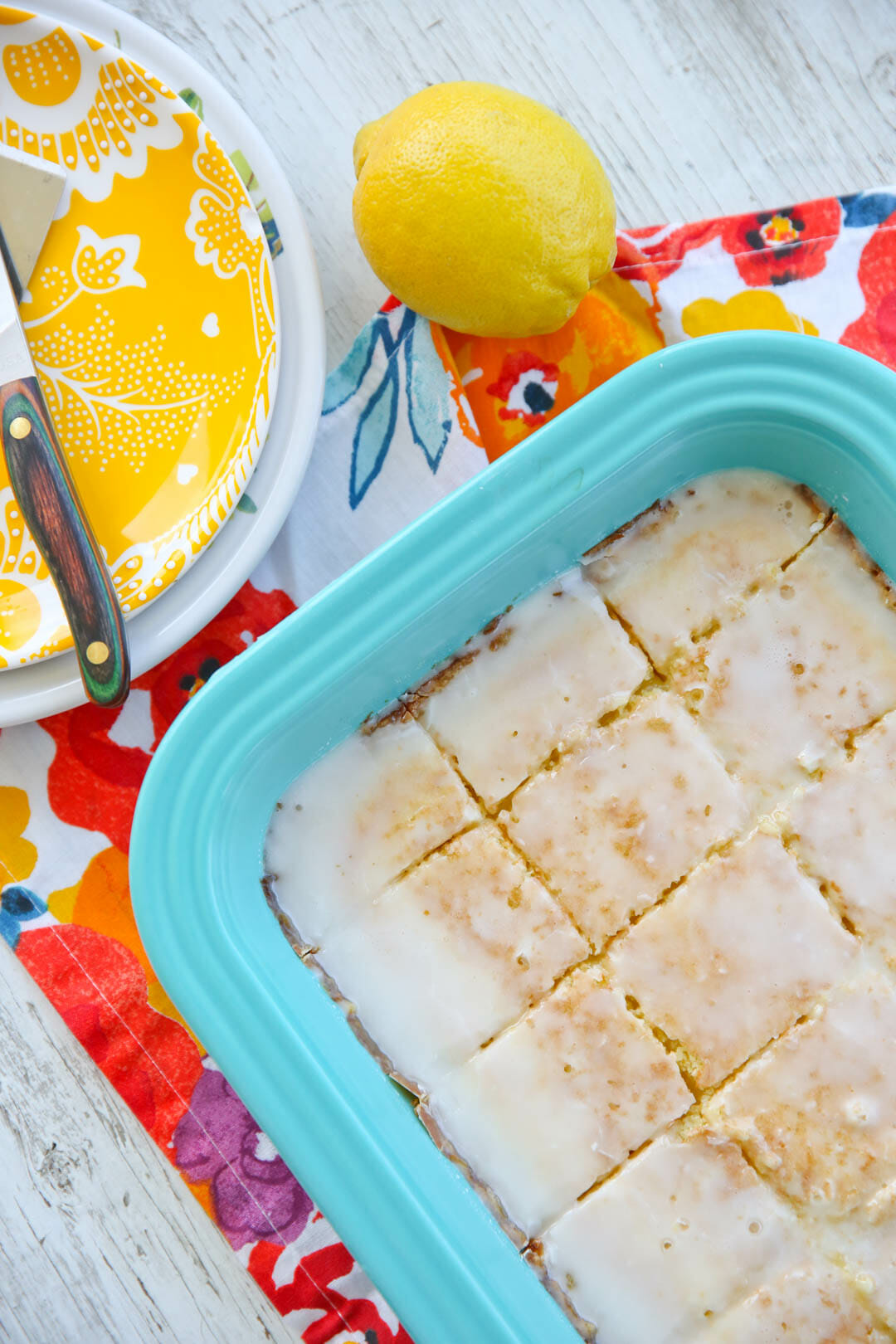 And it doesn't totally make sense–shortbread? Good. Lemon? Good. Powdered sugar? Good. But my problem is those stupid eggs. I've mentioned it again and again, but I really don't like anything with any overly eggy flavor and that seems to be why I don't love most lemon bars (or lemon meringue pie, for that matter). I do love, love, love Sara's Creamy Lemon Bars because I think the cream cheese helps with the egginess, but regular lemon bars usually just make my throat close up.
Except for this recipe.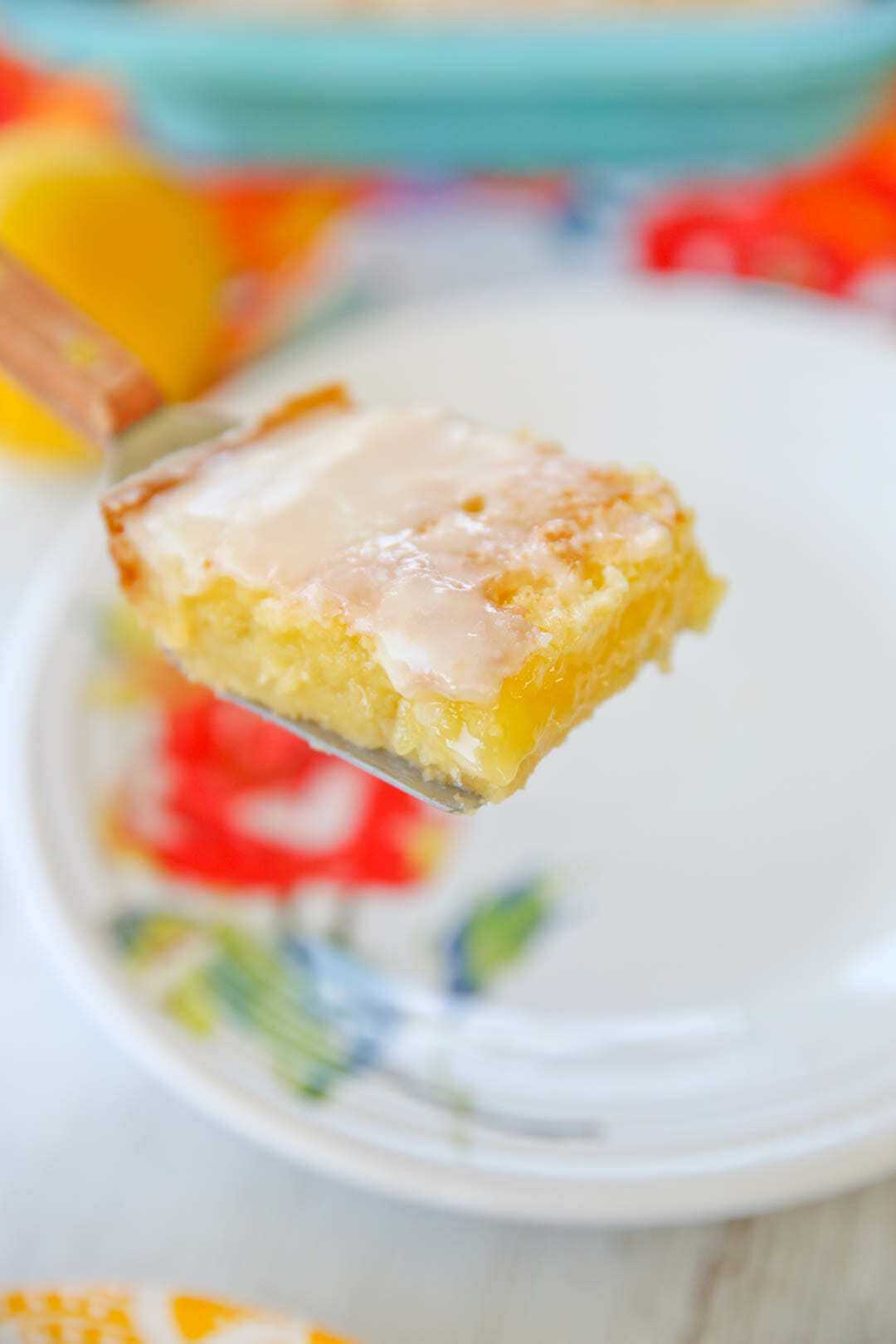 I don't know if it's the sweet, lemony glaze or if the proportions are just different enough from other lemon bar recipes or if the baking time is just a little shorter (thus avoiding the horror of overcooked eggs–seriously, stuff nightmares are made of!), but these are not only my favorite classic lemon bars, but the only classic lemon bars that I'll eat. And I will eat way more of them than I need to, so if my local friends and neighbors suddenly find lemon bars on their doorsteps, you know where they came from!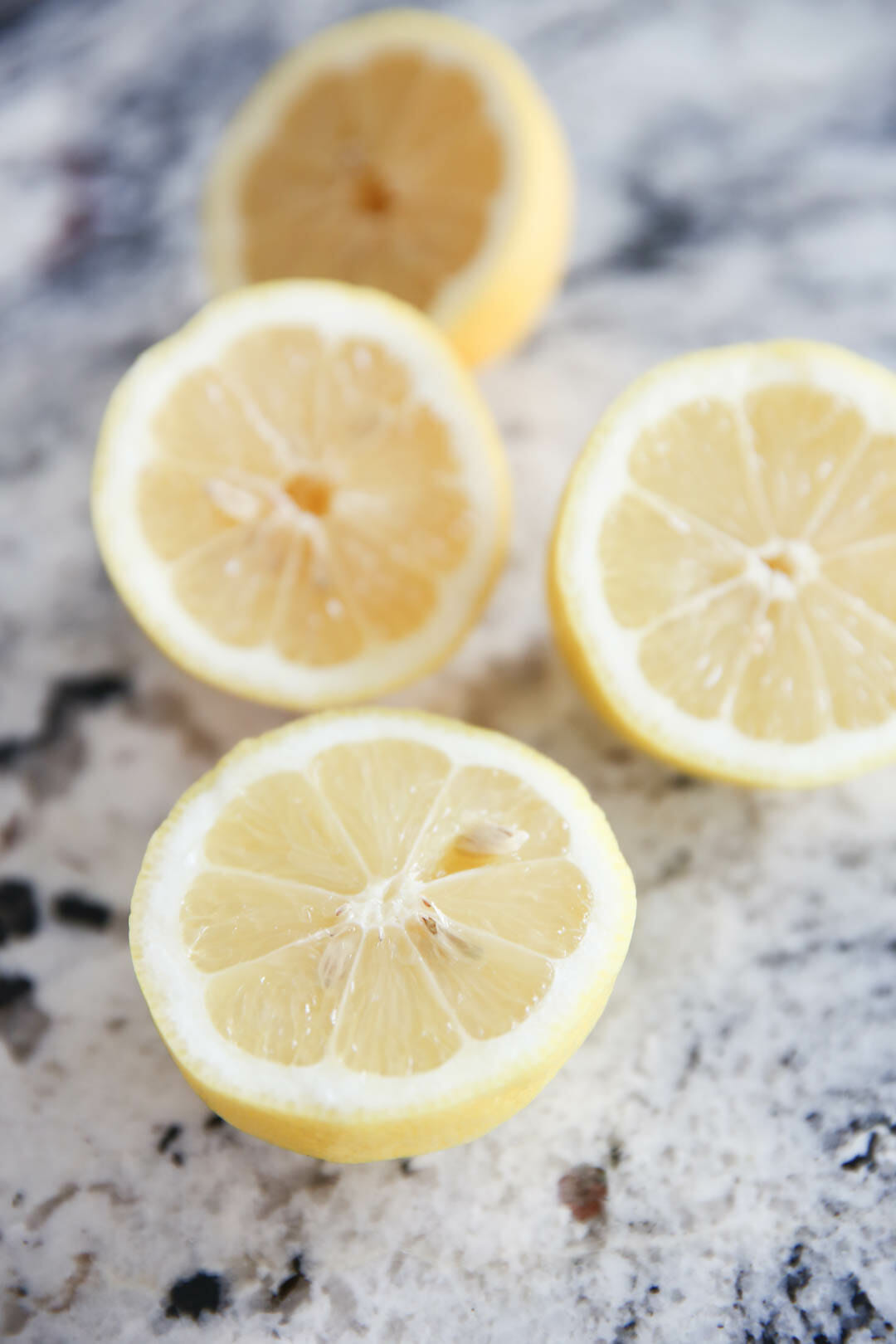 First, you need to preheat the oven to 350. Then, for the shortbread crust, you'll just need flour, powdered sugar, and butter. You'll whisk your flour and powdered sugar together and then cut in the butter. A quick shortcut is to use a cheese grater to grate a very cold stick of butter right into your flour.  Then it's super easy to mix it up with your fingers!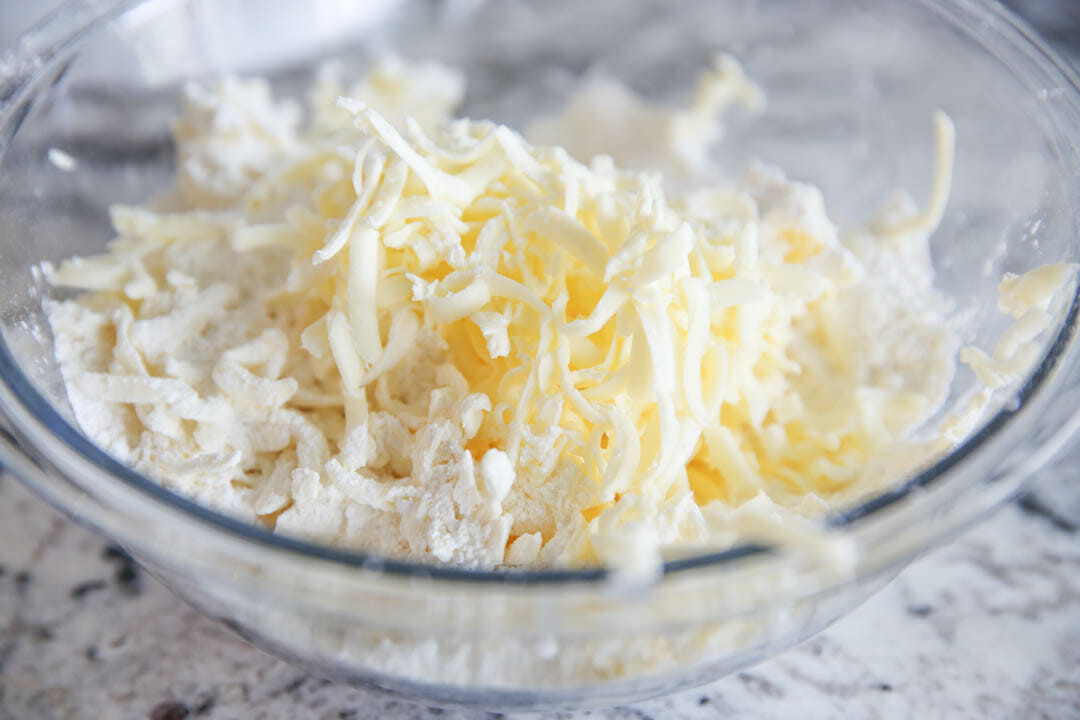 And then transfer the mixture to a 9×13″ pan lightly coated with cooking spray.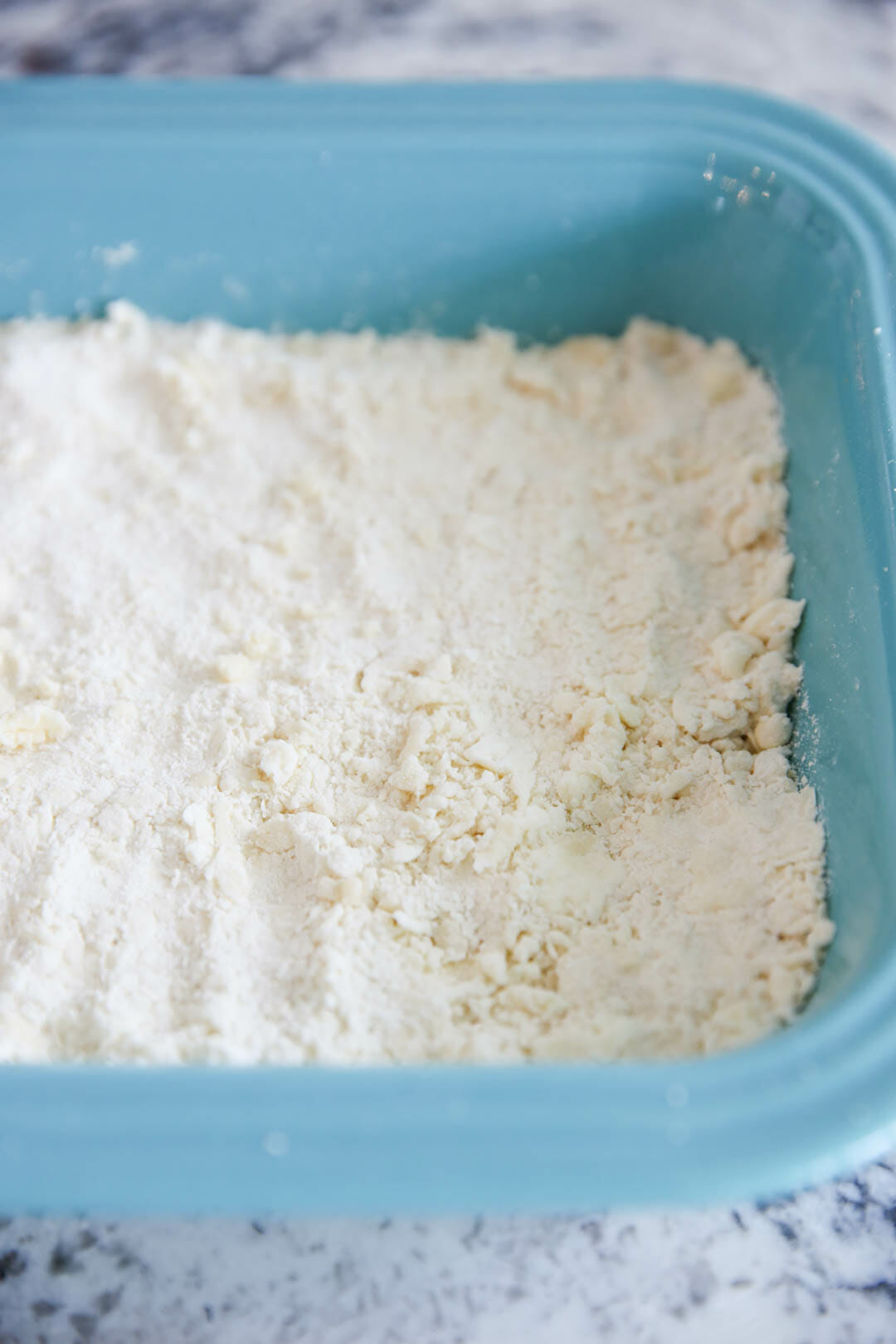 Gently press the mixture into the pan so it's even, and then bake it for 15-20 minutes or until the crust is light golden around the edges.
While the crust is in its last few minutes in the oven, use an electric mixer on high speed to mix together the filling ingredients: eggs, sugar, strained lemon juice, a little flour, and some baking powder.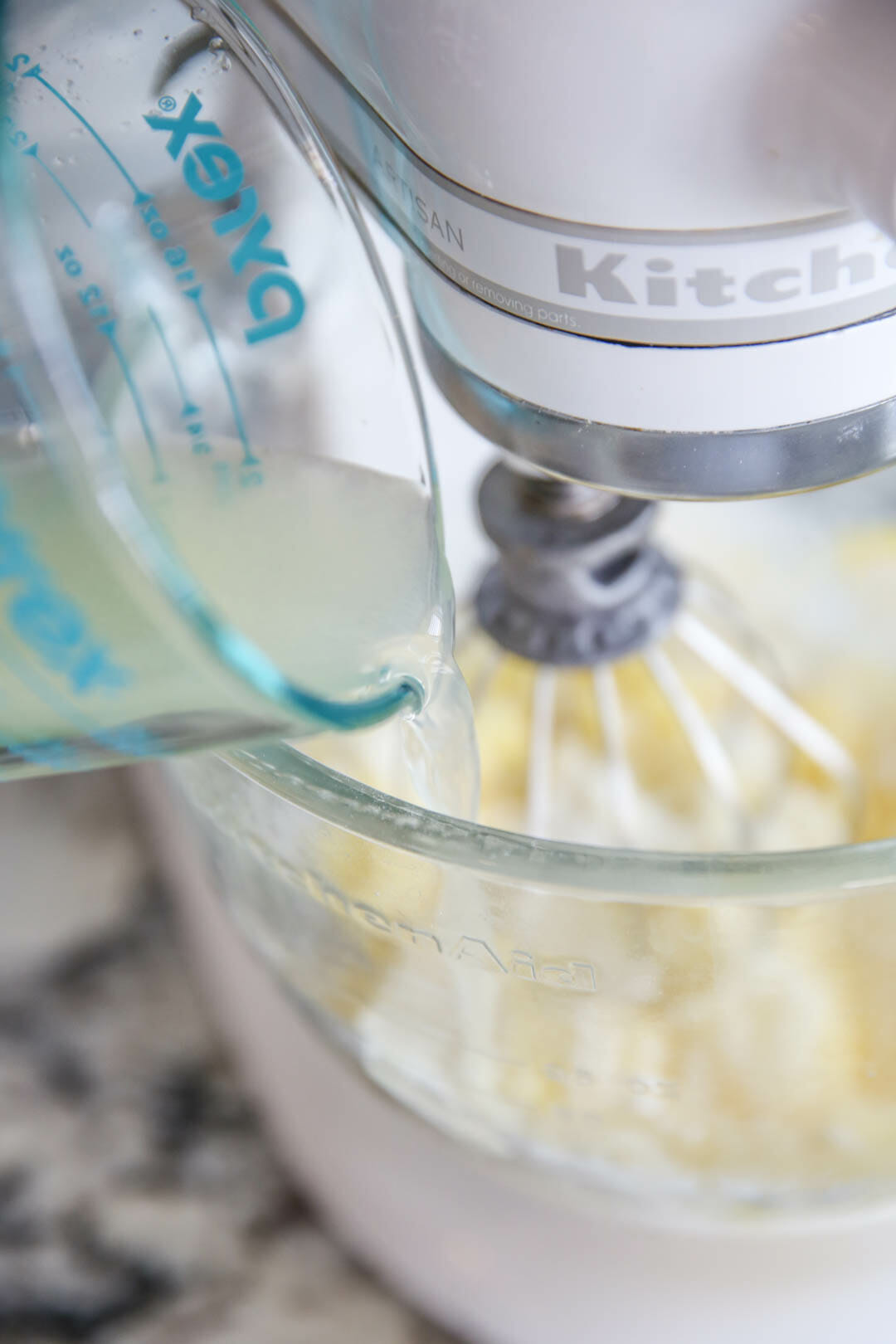 Mix it for about 3 minutes or until it's very, very pale yellow. Then pour the mixture over the warm crust…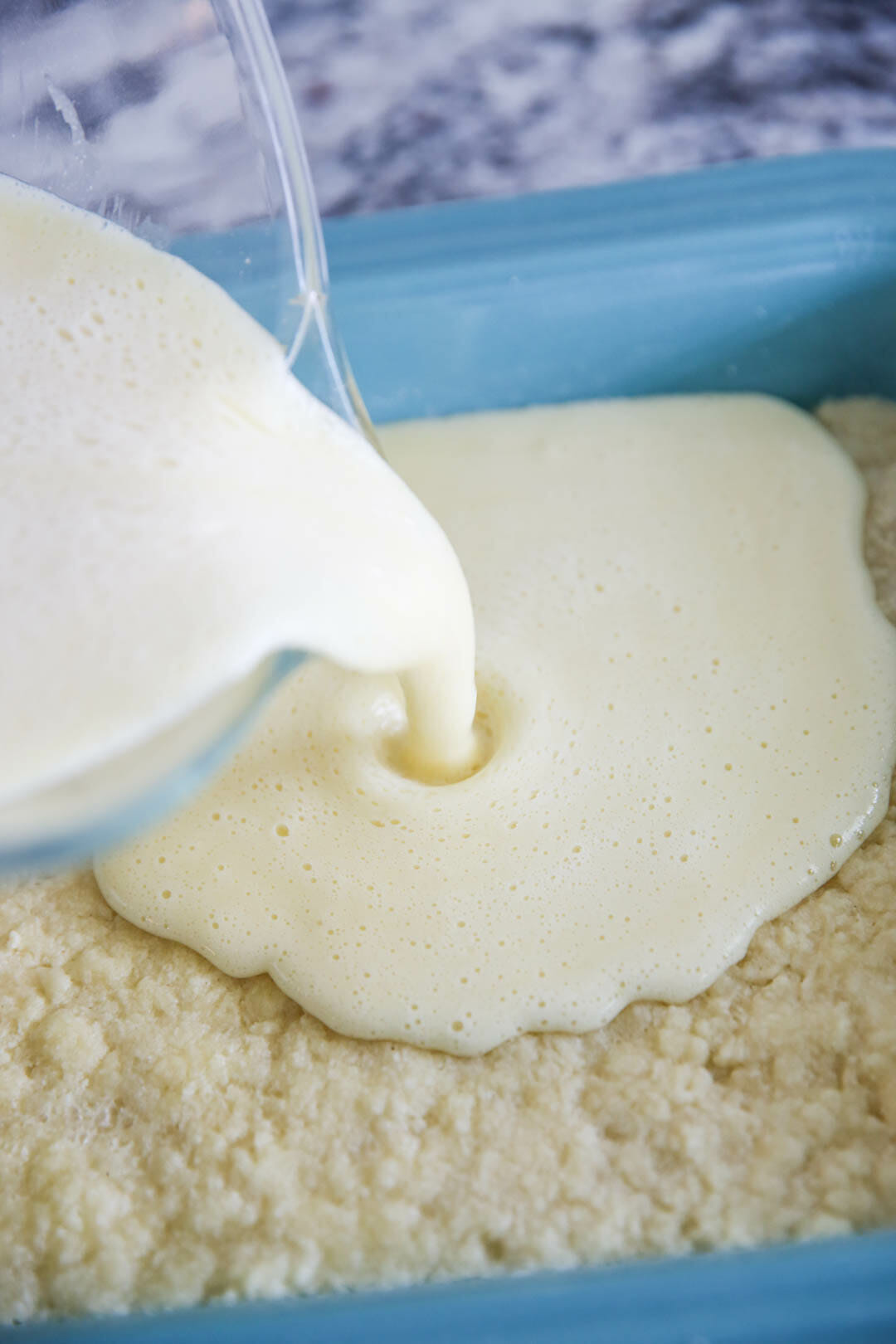 Pop that baby back into the oven for 20-25 minutes or until the top is very light golden brown. Remove it from the oven and allow it to cool completely.
When the bars are completely cool, whisk together a cup of powdered sugar with a few tablespoons of freshly squeezed lemon juice and then spread it over the cooled bars.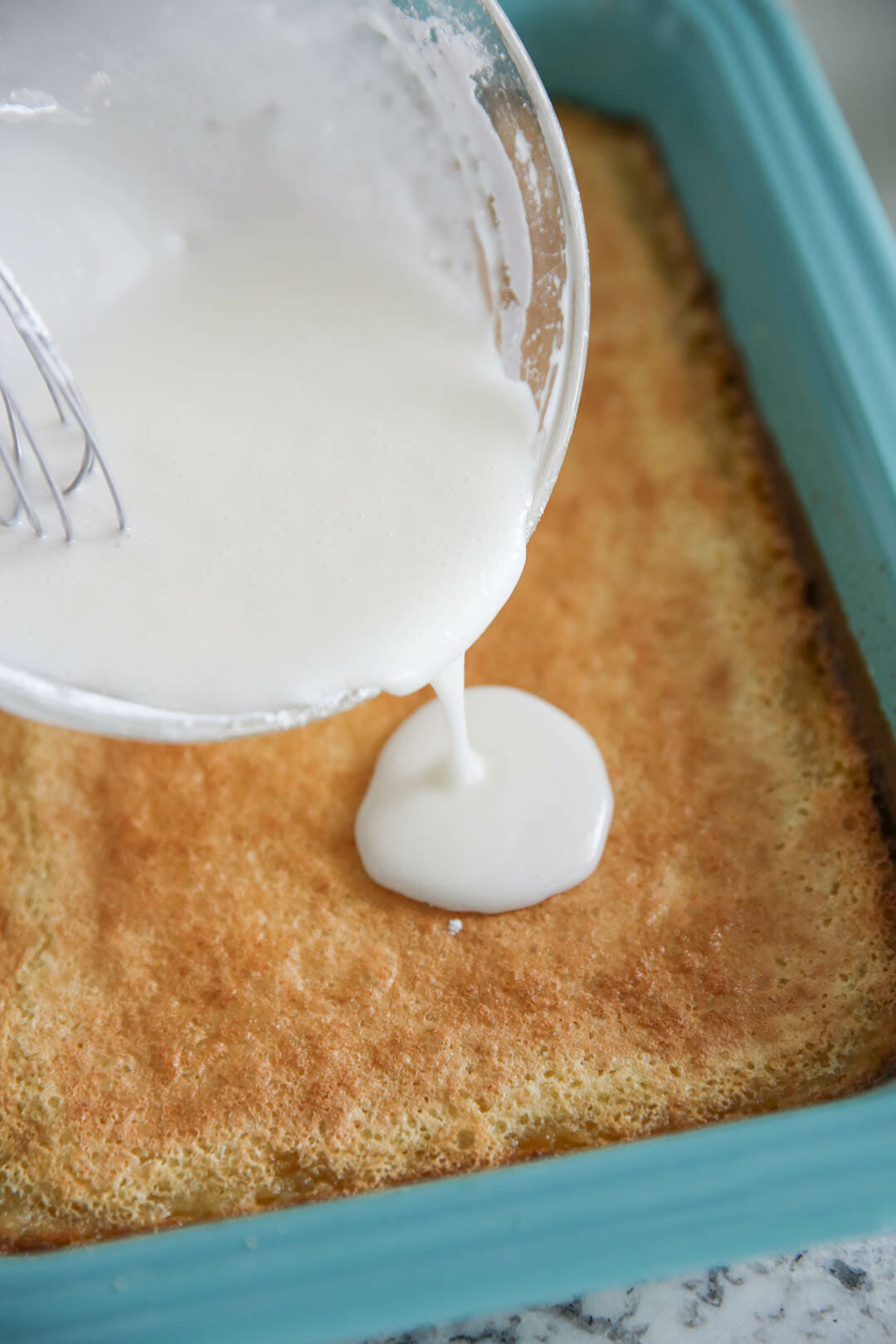 Cover and refrigerate for at least 2 hours. When ready to serve, cut into squares, rectangles, or triangles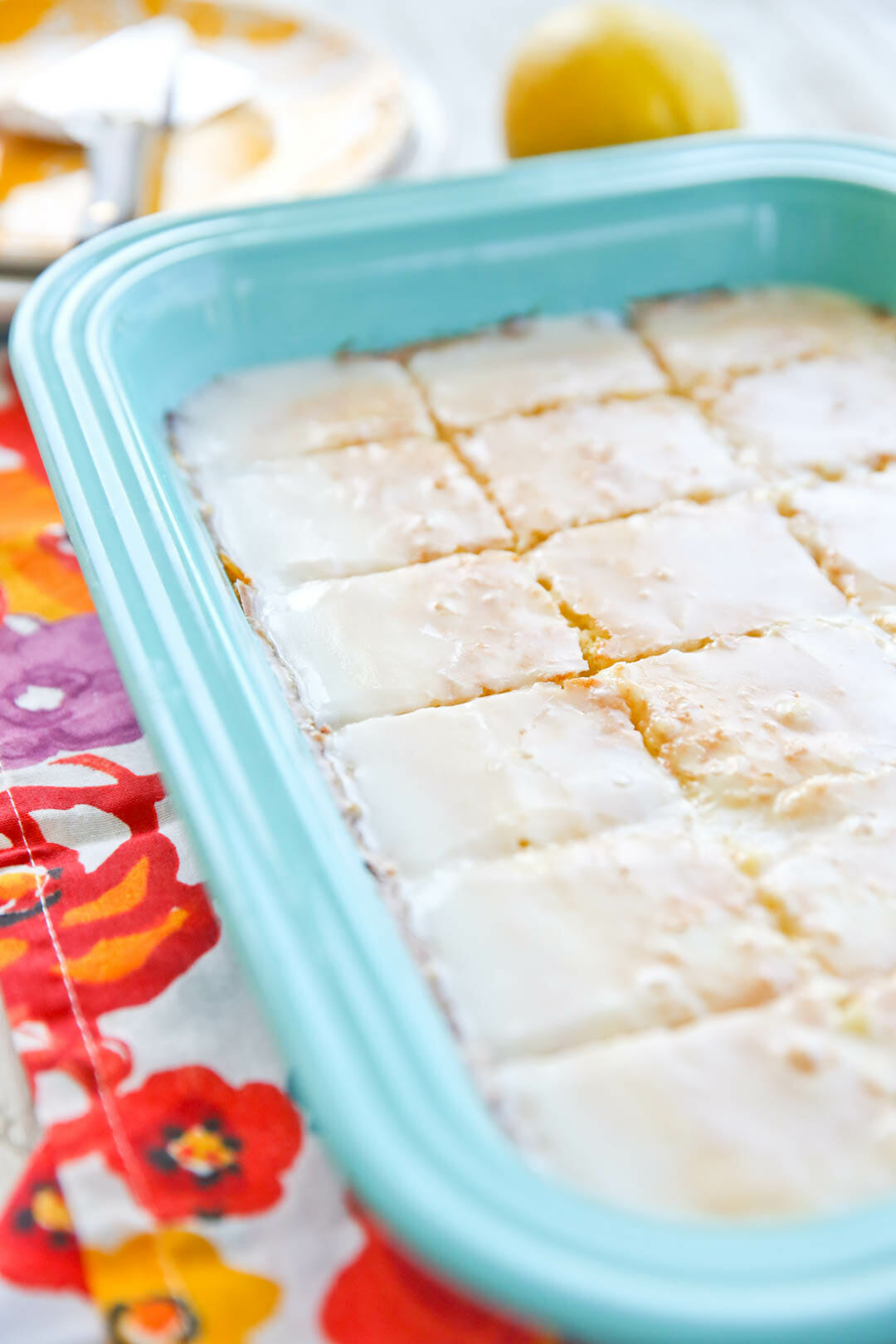 (or hey, circles, parallelograms, or octagons if you're feeling adventurous–who am I to stop you?!) You can sprinkle grated lemon zest or additional powdered sugar on top of the bars (although these are quite sweet already and more powdered sugar might be overkill). Prepare yourself for lots of love and compliments, even from people who claim to not love lemon (like my husband) or lemon bars (like me).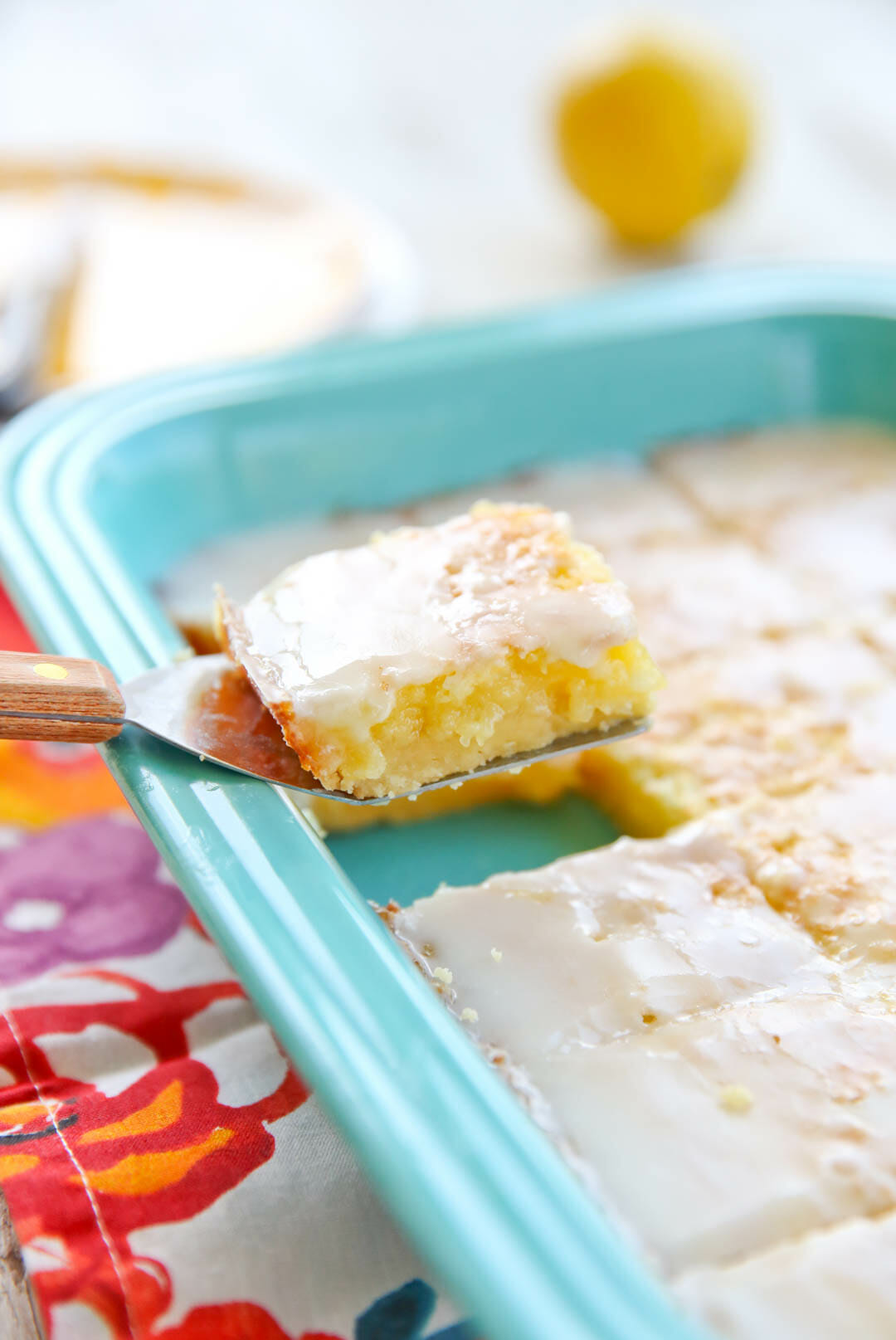 Glazed Lemon Bars

Recipe lightly adapted by Our Best Bites from The Pillsbury Complete Book of Baking
Crust
2 c. all-purpose flour (lightly spooned into the measuring cup and leveled with a knife)
1/2 c. powdered sugar
1 c. (2 sticks) butter, softened to room temperature
Filling
4 large eggs at room temperature
1/4 c. freshly-squeezed lemon juice, strained of pulp and seeds
1 tsp. baking powder
1/4 c. all-purpose flour
2 c. white sugar
Glaze
1 c. powdered sugar
3 tablespoons strained freshly squeezed lemon juice
Preheat oven to 350. Lightly spray a 9×13″ pan with non-stick cooking spray and set aside. Whisk together the flour and powdered sugar and then cut in the butter with a pastry blender or two knives until the mixture is crumbly. Lightly press into the pan and bake for 15-20 minutes or until light golden around the edges. Remove from oven.
During the last few minutes of the shortbread's baking time, mix the eggs, lemon juice, flour, sugar, and baking powder in a large bowl with an electric mixer on high speed for three minutes. The mixture should be frothy and very, very pale yellow. Pour the mixture over the warm crust and then return the pan to the oven for another 20-25 minutes or until lightly golden brown on top. You might want to check the bars at 17-18 minutes to make sure the top isn't getting too dark.
Remove the pan from the oven and allow to cool completely. When the bars are cool, whisk together the glaze ingredients until smooth and then gently spread over the bars. Refrigerate for at least two hours and then cut into squares before serving. Makes about 36 bars.
*This post contains affiliate links.  Read more about them, here!