Remember this post back in February, when I showed you photos of my house being turned into a filming studio?  And photos of these amazing Blueberry Lemon Ricotta Cheesecake Bars?
Well I'm still getting asked about this recipe, and now 5 months later, I'm finally delivering!  First, grab some popcorn and press play on this little video below, then we'll talk dessert.  (Or breakfast, or midnight snack.  This is a no-judge zone.)
If you've never had an Italian style ricotta cheesecake, it's different than a traditional cream cheese style one.  Ricotta has a natural texture to it; a little bit of graininess, and pureeing it with sugar until it's glossy and smooth really helps with the overall texture of these bars, but know that it's supposed to be different than a normal cheesecake.   Look at the difference though, comparing what ricotta looks like straight out of the container: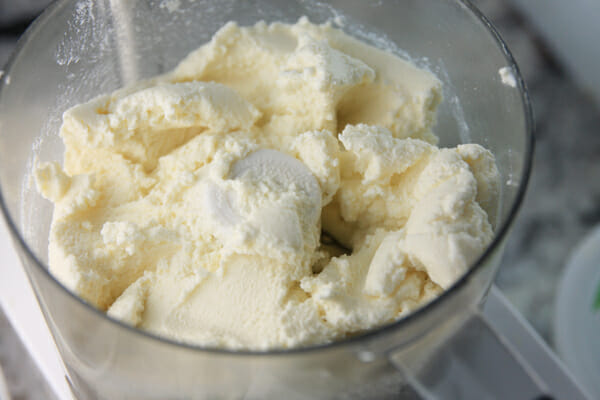 and then after pureeing in in the food processor with some sugar: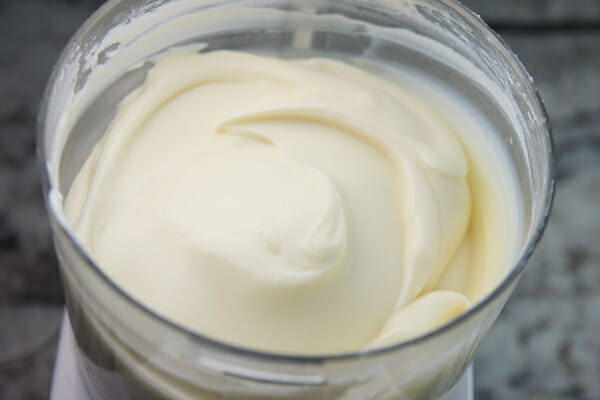 gorgeous, isn't it?
I love this because it's a little bit different, and is still creamy and rich without feeling really heavy.  Here's a couple of tips though, if you've never baked ricotta cheesecake:
1.  Do not over-bake.  If anything, under-bake just a little bit.  Over-baking will instantly dry out the cheesecake and cause it to be grainy and crumbly.
2.  Don't cheat on the chilling.  Chill overnight for the best possible texture.  Since it should be baked super soft, it needs a thorough chilling to not only hold everything together, but to give all of the flavors a chance to marry together.  And boy do they marry.
I made this recipe using products from the Simple Truth brand available at Kroger stores (and all stores within the Kroger family; where I live, that's Fred Meyer.)  I really love Simple Truth products and have been using them long before I partnered up for a few videos, so this was really fun for me.  You can keep up with Simple Truth on Facebook, and check out the great product line at a Kroger store near you!
Blueberry-Lemon Ricotta Cheesecake Bars
Recipe by Our Best Bites
Crust and Topping Layers
1/2 cup sugar
1 1/2 cups flour
1/4 teaspoon salt
1/4 teaspoon baking powder
1/2 cup (1 stick) butter, very cold
1 large egg, separated
1 Tablespoon lemon zest
Cheesecake Layer
15 ounce container ricotta
1/2 cup sugar
3 tablespoons flour
1 1/2 teaspoons vanilla extract
2 eggs, plus one egg white
4 tablespoons fresh lemon juice
¾ cup frozen blueberries
Quick Blueberry Sauce
1 ¼ cups frozen blueberries
1 tablespoon lemon juice
1 tablespoon water
3 tablespoons sugar
Instructions
Preheat oven to 350 degrees.  Spray an 8×8 baking dish with nonstick spray and set aside.
To prepare crust and topping, combine sugar, flour, salt, and baking powder in a medium sized mixing bowl and stir to combine.  Use a large-hole cheese grater to grate butter into flour mixture, or alternately cut butter into small chunks and add to flour mixture.  Use clean hands to break up butter and flour mixture until it resembles large crumbs.  Add egg yolk from separated egg (reserve egg white for the next step) and add to crumb mixture.  Quickly toss to incorporate egg yolk into crumbs.  Remove half of crumb mixture (about 1 ½ cups) and lightly press into the bottom of prepared baking dish.  Bake for 10 minutes and then remove from oven.  Add lemon zest to the remaining crumb mixture, stir to combine, and set aside.
To prepare filling, place ricotta and sugar in a food processor and process until smooth and creamy (about 1-2 minutes), scraping down sides as necessary.  Place mixture in a mixing bowl and stir in flour, vanilla, eggs, plus the reserved egg white from the first step, and lemon juice.  Whisk to combine and pour mixture over crust in pan.  Sprinkle ¾ cup blueberries over the top of filling and then top with the reserved crumb mixture.  Bake for 40-50 minutes.  Bars should be just golden on top and slightly jiggly in center when shaken.  Remove and let cool completely.  Cover, and Place in fridge overnight to chill.  When ready to serve, slice into bars.
For Sauce:  Combine all ingredients.  Bring to a simmer and cook for 3-5 minutes, smashing berries with a fork.  Cool.  Sauce will thicken once cooled and chilled, adjust consistency by adding water until desired consistency is reached.