Chocolate bark is one of our favorite holiday treats because it's so easy to make and perfect for gifting (or snacking!) . We recently hosted a holiday contest with AMERICAN HERITAGE ® Chocolate to find the best toppings for gourmet chocolate bark and boy did you guys come through! You submitted hundreds of fantastic ideas and we narrowed them down to our very favorites. We had one grand prize winner and 3 runner-ups because there were several recipes that were just too good not to share! I personally made all of these amazing bark recipes and can attest to the fact that they are not only beautiful, but absolutely delicious. I'm going to share all the winning ideas with you!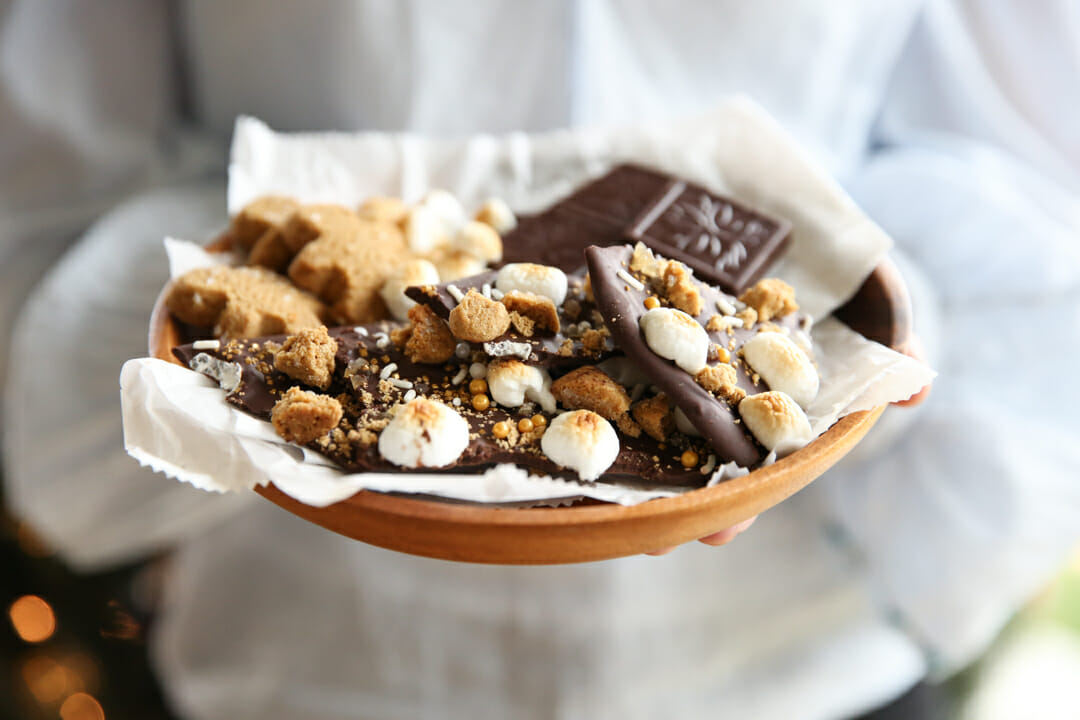 Our third runner up was Cary Wood, who suggested a creamy caramel swirl and chunks of buttery shortbread, with a sprinkling of flaky sea salt. To make this bark, I simply melted a few soft caramels in the microwave until they were smooth. After spreading out the melted chocolate, I drizzled on the caramel and then used a knife to swirl it around a bit. It worked beautifully!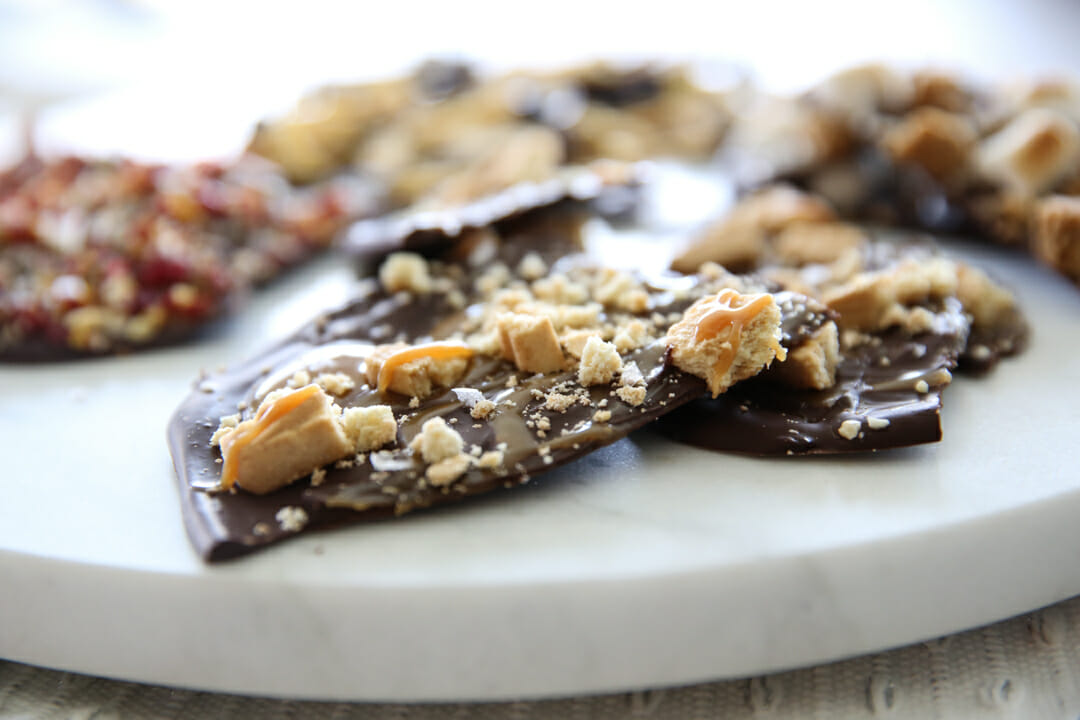 Our next runner up was an out-of-the-box idea from Claire Roach. Claire combined two of her most favorite foods into this bark: Chocolate Covered Almonds, and Chinese Chicken Salad! Don't worry, there's no chicken involved! Haha! This combination of toasted almonds, crunchy Asian noodles, dried mandarin oranges, tart sweet cherries, and toasted sesame seeds was a surprising delight. We loved the combination of flavors and textures!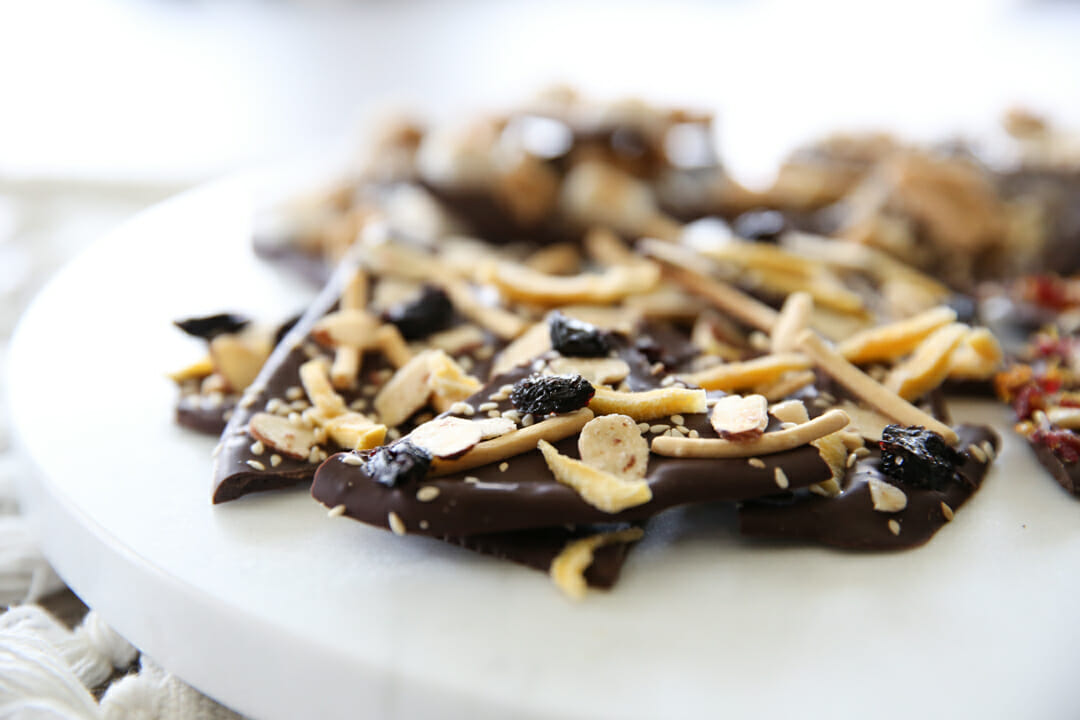 This next idea from Lisa Van Langen was one of my personal favorites. I could not stop eating it! Lisa suggested adding a bit of pure orange extract to the AMERICAN HERITAGE Chocolate and then topping it with a finely chopped mixture of almonds, candied orange (or orange zest, like I used), cranberries, and a sprinkle of flaky sea salt. I loved how the mixture was finely chopped so all the flavors perfectly married together and simply melt in your mouth. It was out of this world!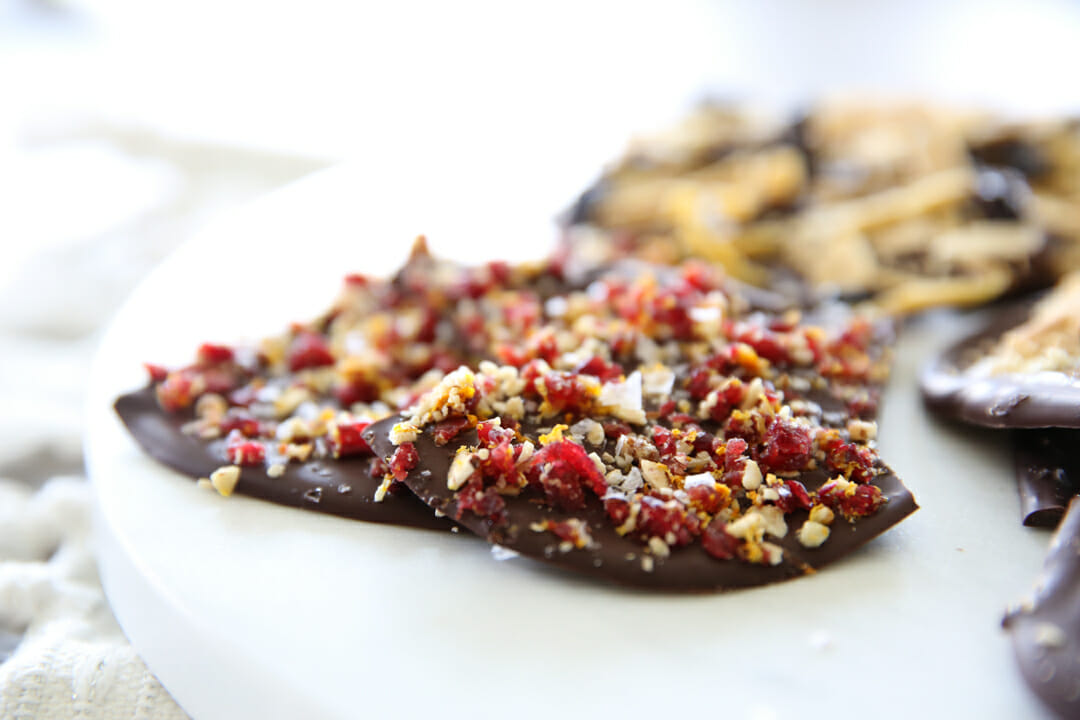 Now for our winning recipe, which came to us from Carly Tomas! Carly went with her favorite holiday flavor, Gingerbread, as a theme for this festive holiday bark. I'm going to show you how to make this!
How to Make Gourmet Chocolate Bark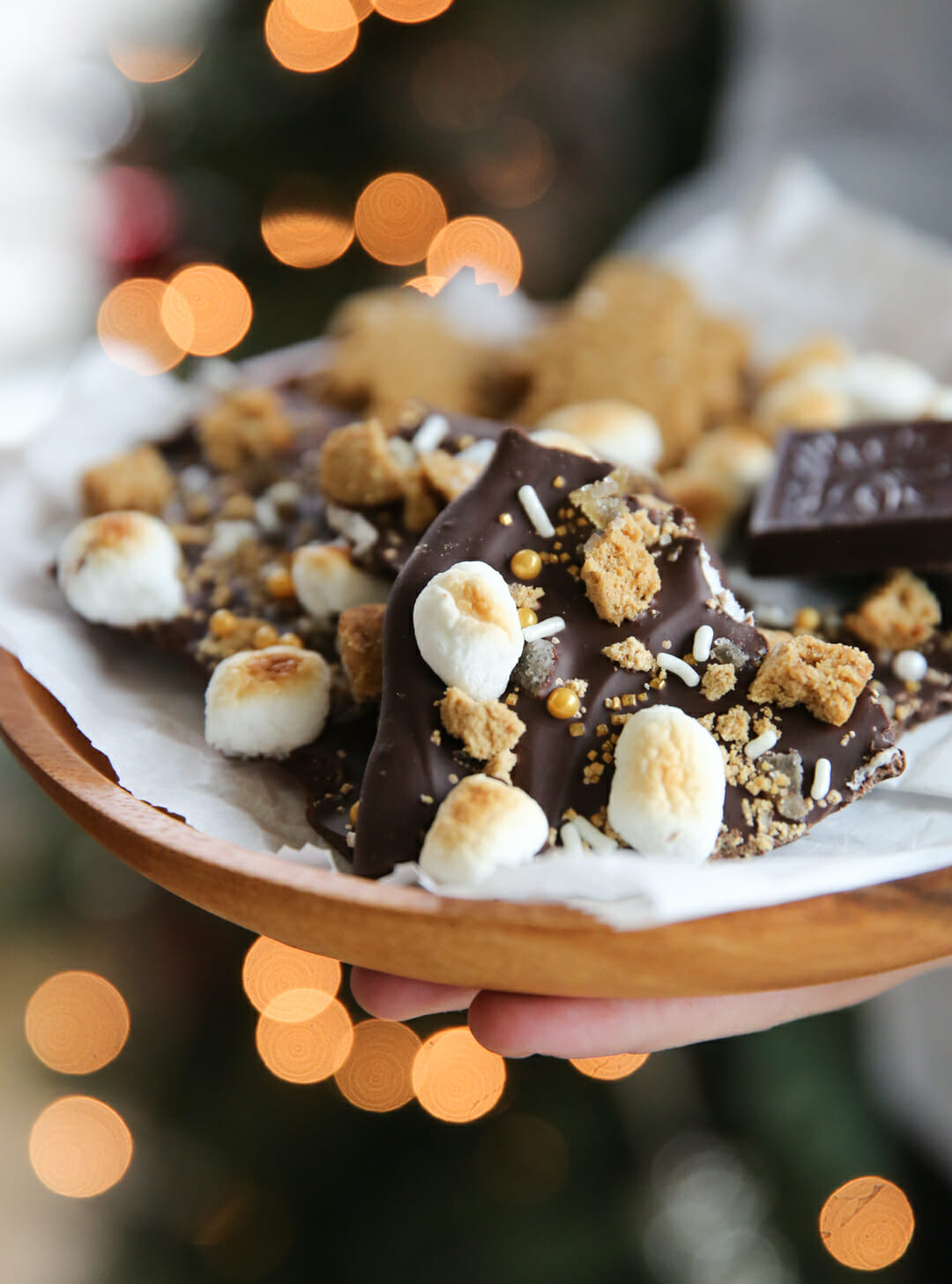 Step 1: Melt Your Chocolate
We start by melting our chocolate. We love AMERICAN HERITAGE Chocolate because of the unique flavor profile. It's a dark chocolate with hints of vanilla, orange, cinnamon, and just a hint of hot pepper! For a long time you have only been able to buy this chocolate in American History Sites and from their website, but as of very recently, it's available on Amazon as well! We're so excited about this. They have these tablet bars in a big big box available, which are nice to chop up in cookies and other baked goods- or melted for bark!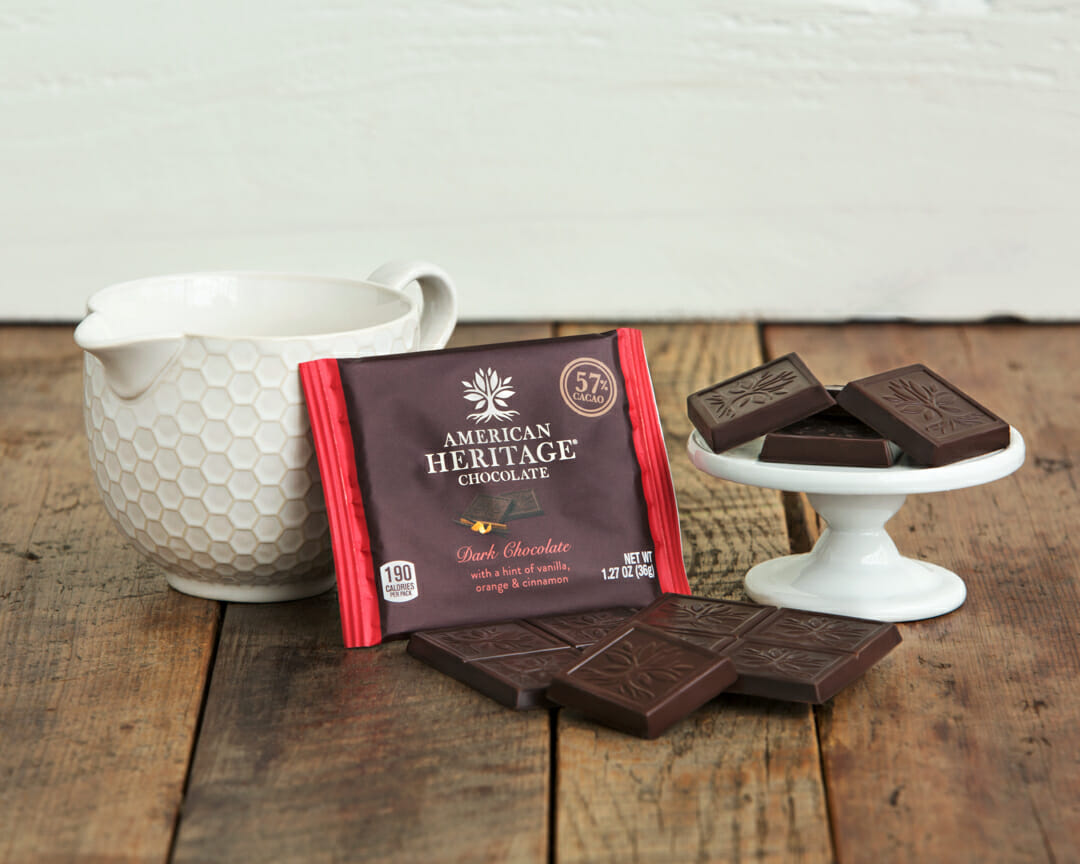 I'm using their Finely Grated Chocolate because it melts so quickly. I just place a glass bowl over a pot of simmering water and it gently melts the chocolate and keeps it warm.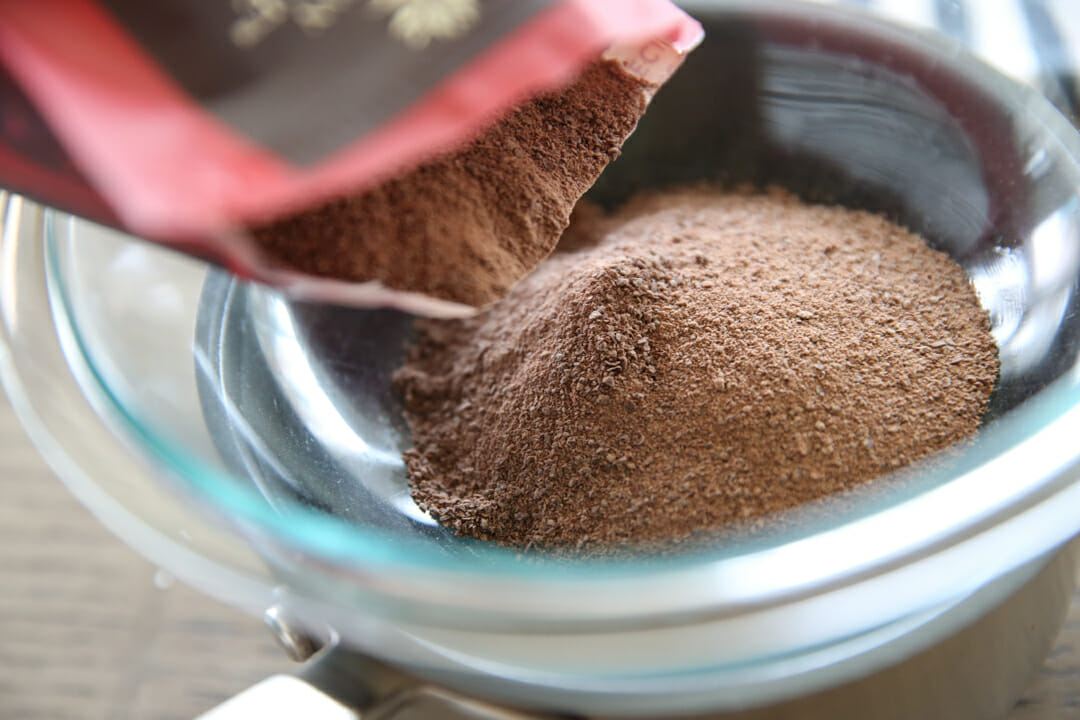 Topping Gourmet Chocolate Bark
For the toppings, we start with ginger cookies! Pick one with both good flavor and texture. I found these ginger spice shortbread and they worked beautifully.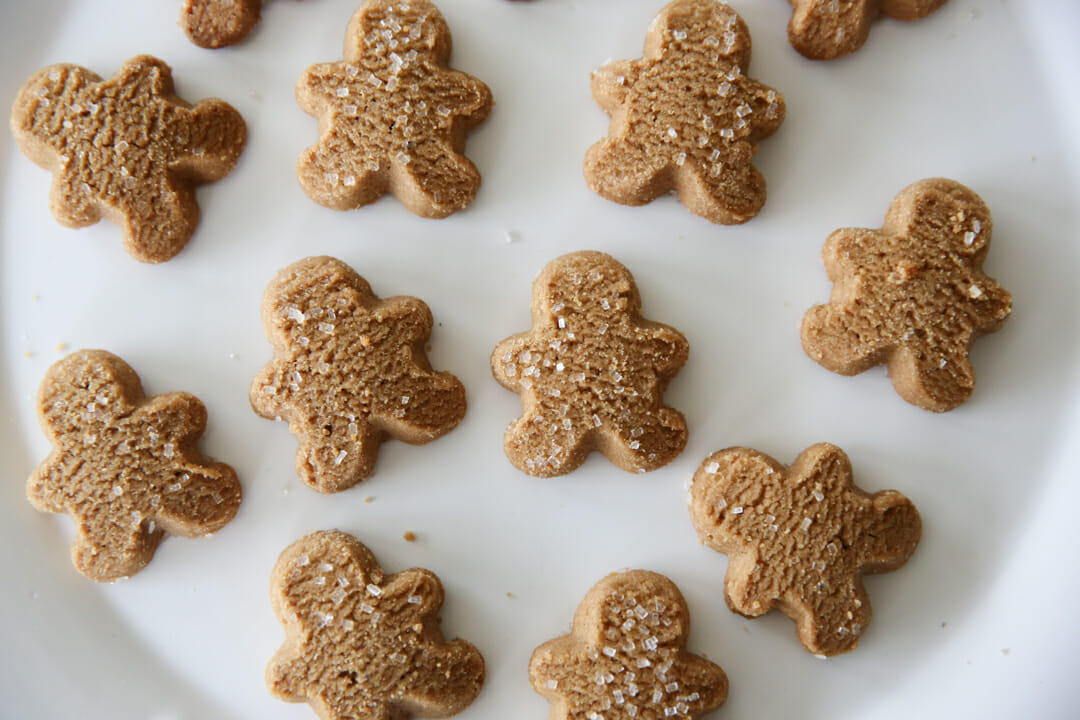 If you'd like to elevate the flavor even more, grab a little candied ginger. If you've never used it, it kind of looks like a dried pineapple chunk. I find it in the bulk bin section of my grocery store near the dried fruit. Chop it into really fine pieces and it will add the most amazing flavor burst to this chocolate bark. There was one other person who suggested a ginger cookie topping and that was Kari Ebbers. Kari suggested mixing in candied ginger so that's what inspired this addition when I was making this one!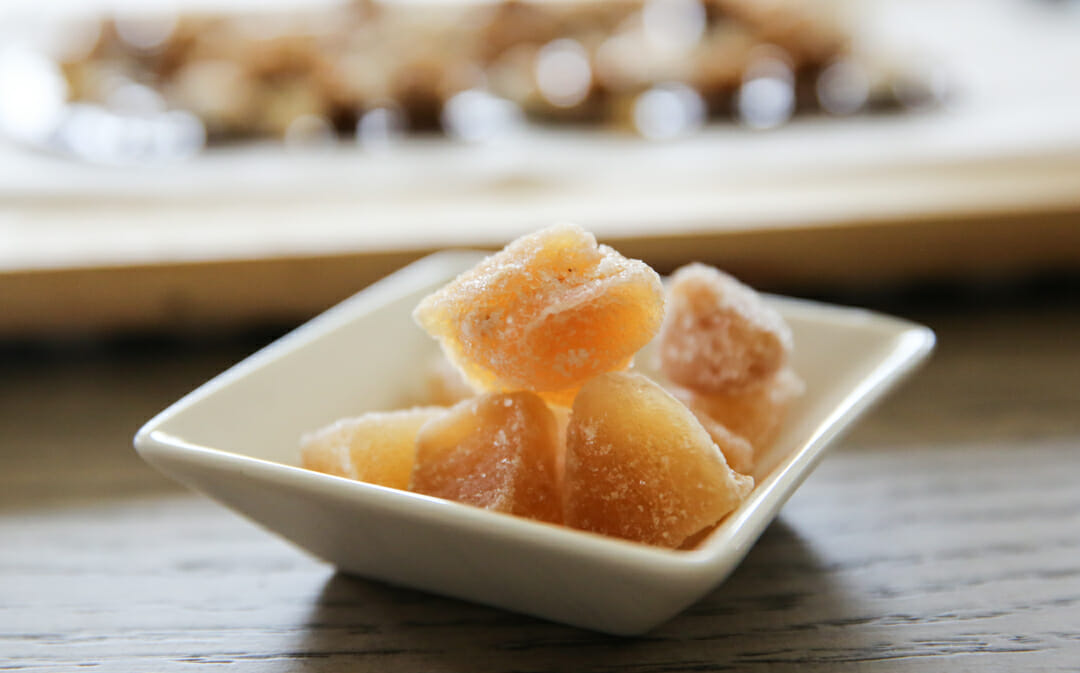 One of my favorite components of the winning recipe was not only marshmallows- but specifically toasted marshmallows. To make these simply place marshmallows on a baking sheet and pop them under a broiler. You'll want to stand right there and watch and take them out when they are toasty brown. While they're still just barely warm they will pop right off your baking sheet and on your chocolate. If you let them cool all the way they get a little trickier to remove! These add the most amazing chewy-soft texture to this chocolate bark!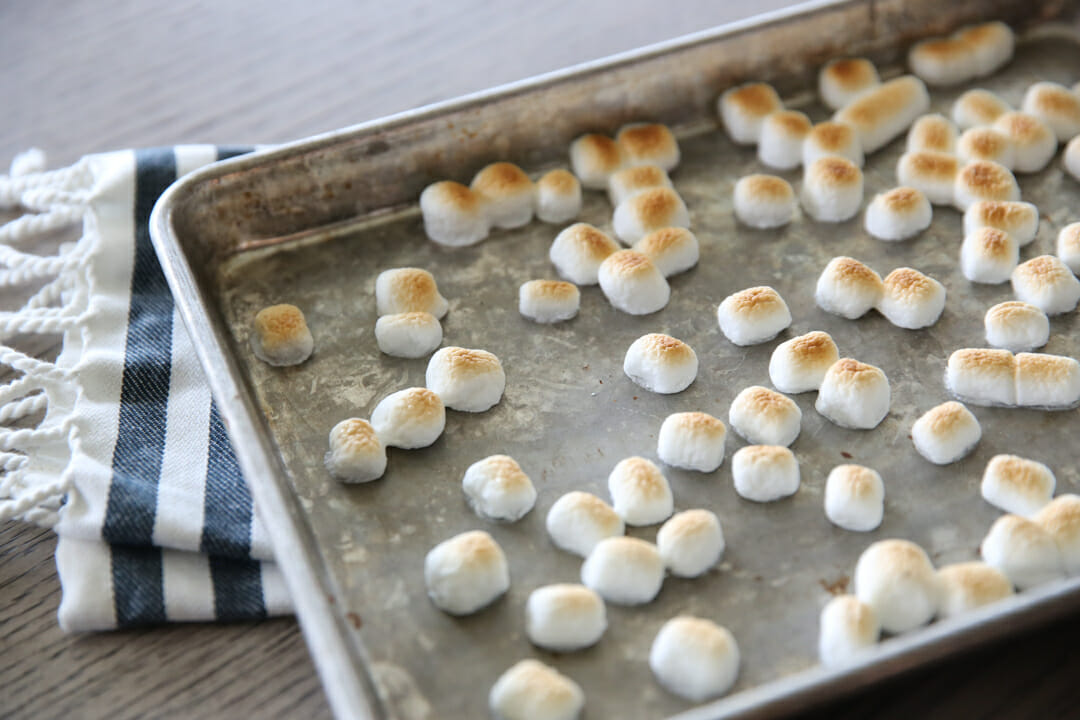 Cool and Break Chocolate Bark
After spreading out your melted chocolate onto a sheet of parchment, simply crumble on your ginger cookies (and candied ginger, if using), place the marshmallows on, and then for an extra festive touch, add a few holiday sprinkles.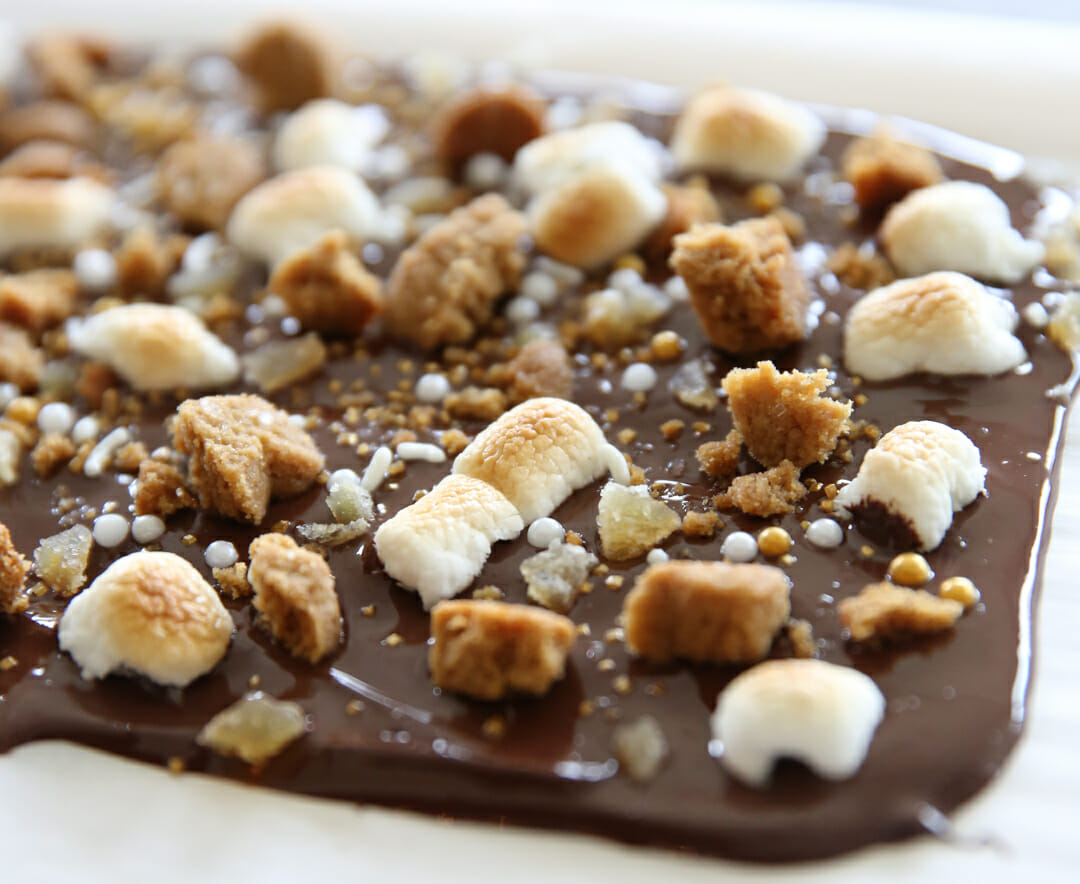 When it's all cooled, gently break into chunks! This reminds me of a really elevated holiday s'more!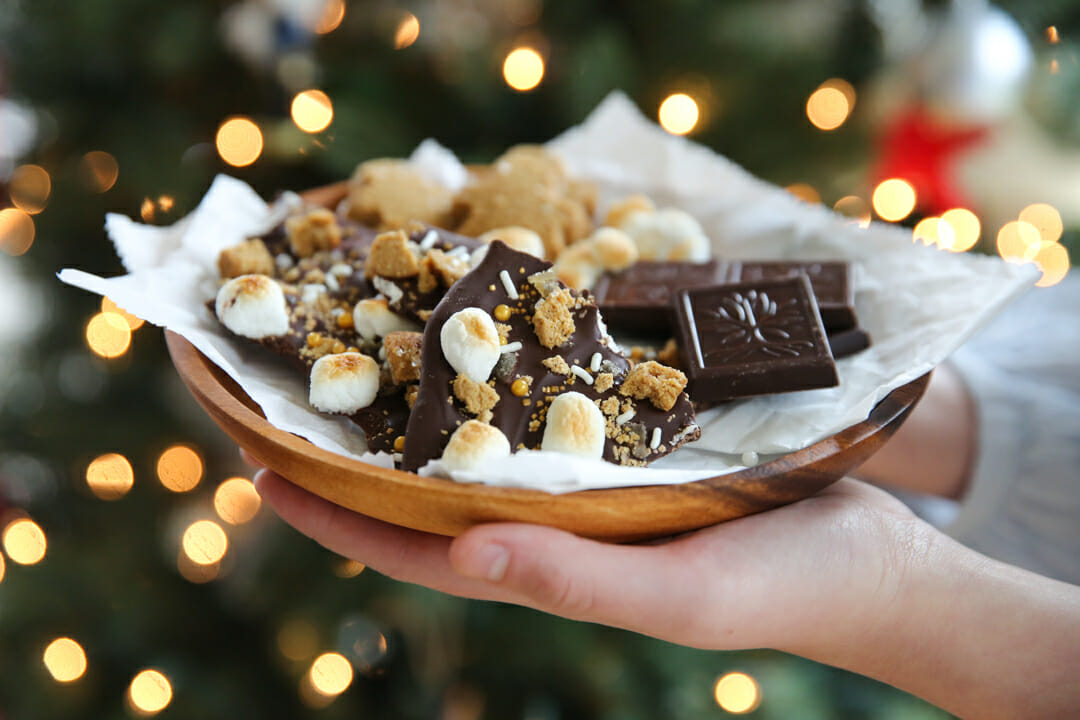 It would make such a festive gift this time of year, I hope you all can try it! If you'd like to see me make this recipe live, and talk about all these amazing winning recipes, just hop over and watch this Facebook Live video! Thanks to AMERICAN HERITAGE Chocolate for co-hosting this fun contest with us and suppling not only our Grand Prize Winner with tons of great prizes, but also sending a little something to our runner's up! If you have a great chocolate recipe, you can submit it to their website for a possible feature there as well!
Print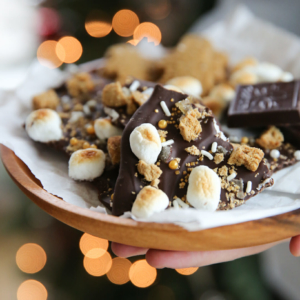 Gingerbread Marshmallow Chocolate Bark
---
Description
This festive holiday chocolate bark is delicious for snacking and festive for gifting! Measurements are approximate, make to your liking.
---
AMERICAN HERITAGE® Chocolate
Crumbled Gingerbread Cookies
Handful of mini marshmallows
2–3 chunks candied ginger, finely chopped (optional)
Holiday Sprinkles
---
Instructions
Place a piece of parchment on a cutting board or cookie sheet and set aside.
Place chocolate in a heavy glass bowl over a pot of gently simmering water and stir occasionally until melted and smooth.
While chocolate is melting, place marshmallows on a separate cookie sheet and place under broiler for just a minute until tops are browned and toasted, remove.
Spread chocolate out onto parchment in an even layer. Sprinkle on cookies and ginger. Place marshmallows evenly over top. Add desired amount of sprinkles.
Let chocolate cool and harden completely (may place in fridge to speed up process) and break into pieces.
---
Notes
Marshmallows will be tricky to pull of the baking sheet if left to cool completely. For best results, remove while still warm!
This post was written in partnership with American Heritage Chocolate, one of our favorite brand partners! All opinions expressed are our own.