We've had a lot of treats around here like Apple Streusel Bars, Funnel Cake and Fried Peaches (!!) So I figured I should be a responsible adult and provide you with something a little more substantial and meal-like  (not saying fried peaches don't make a darn good meal.  That was most definitely dinner that day.)  I've had a lot of questions recently about beef in the pressure cooker, so I came up with this recipe to showcase it.  If you don't have a pressure cooker, no fear!  This is a great recipe for the slowcooker as well. I've included instructions for both in the recipe.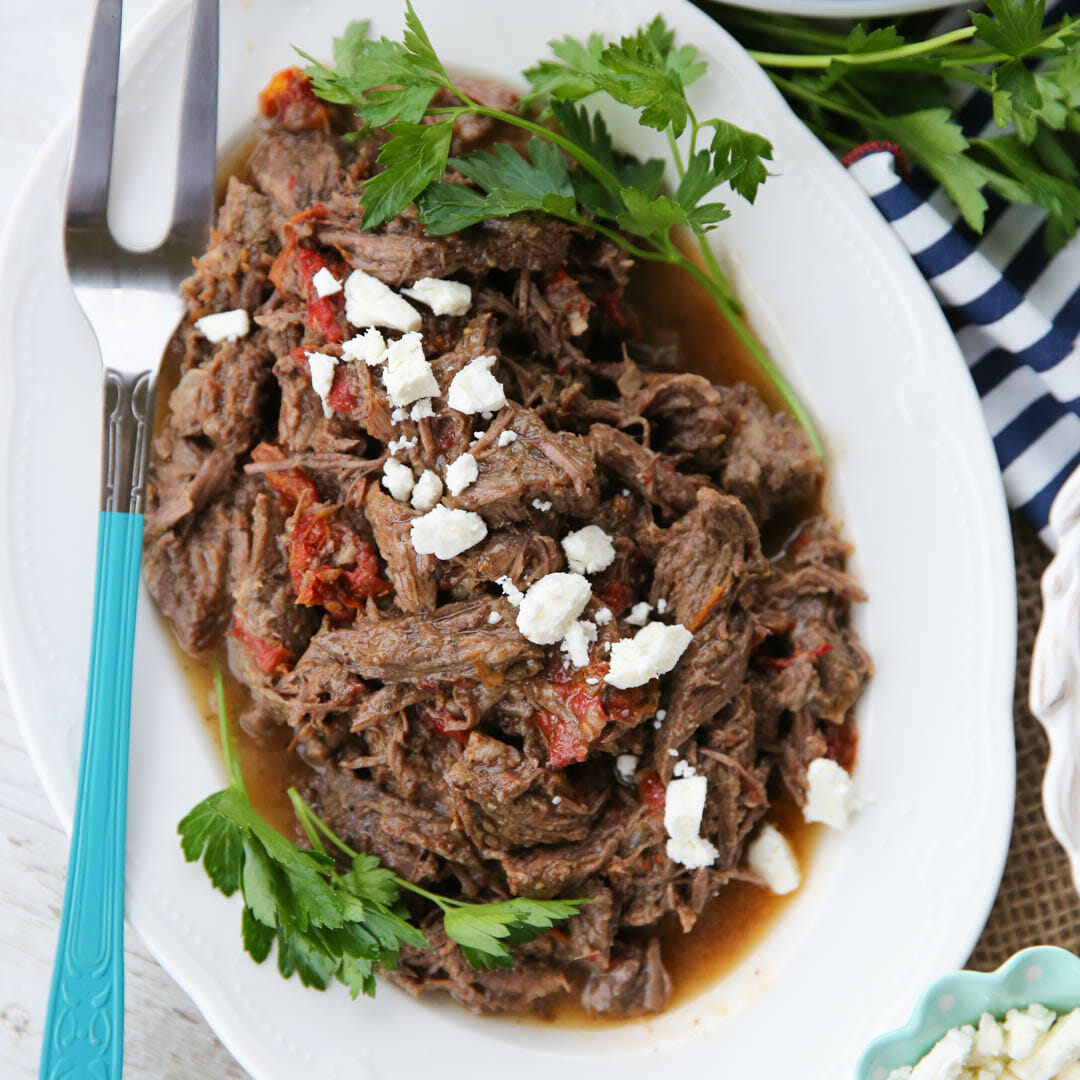 It's a warm, comforting potroast, but with a twist of Greek flavors.  We love these served like Gyros, in warm grilled pita bread, but it's just as great served with rice and vegetables.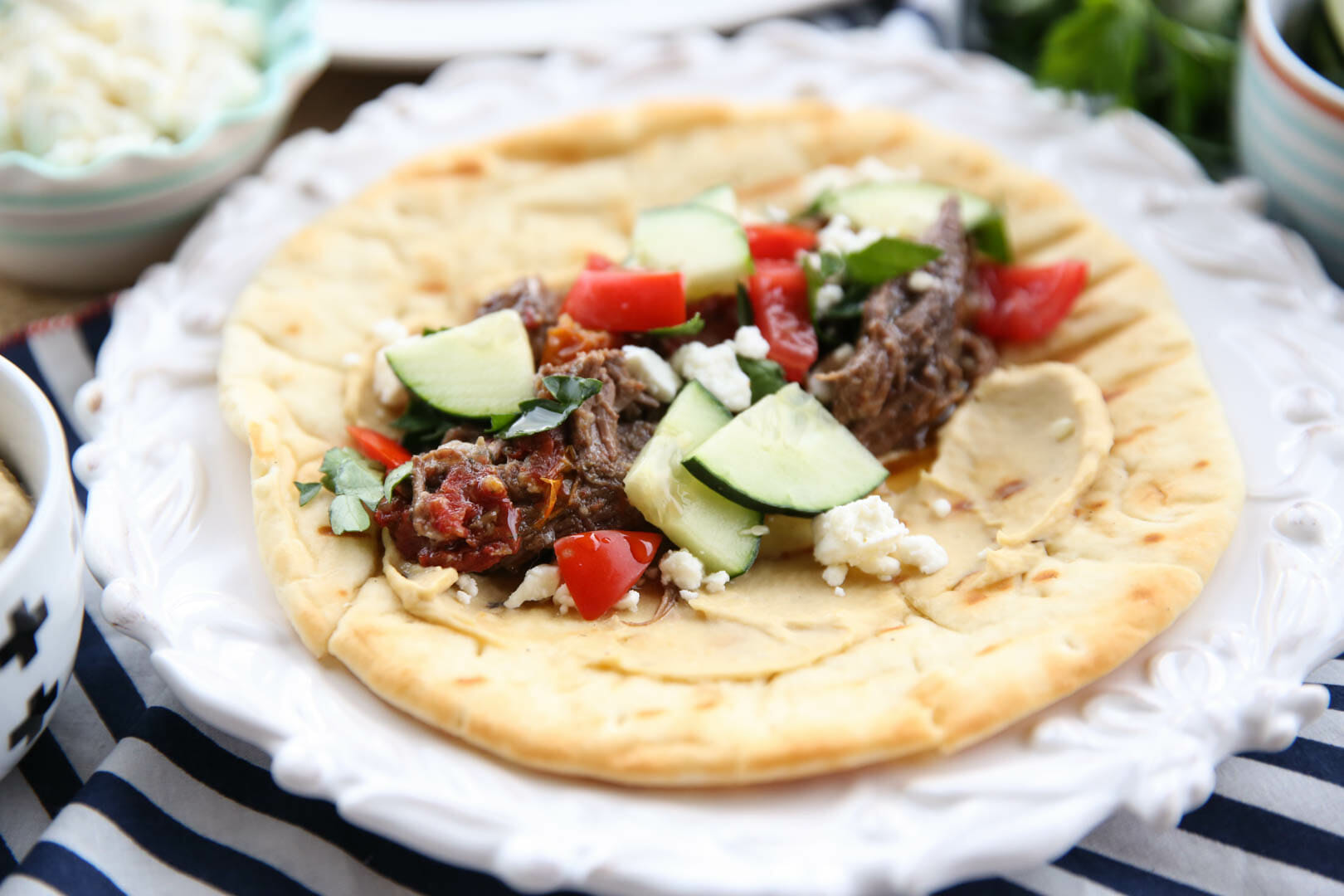 A pressure cooker will cut down the cooking time of a roast considerably, from the normal 8+ hours in a slowcooker down to about an hour.  But if you want it even quicker, like I usually do, the trick is to cut the roast into thick slices.  With this method, it takes 30 minutes cook time, plus a little rest.  Time aside, I actually prefer this method because I feel like the seasonings and flavorings get into the meat better.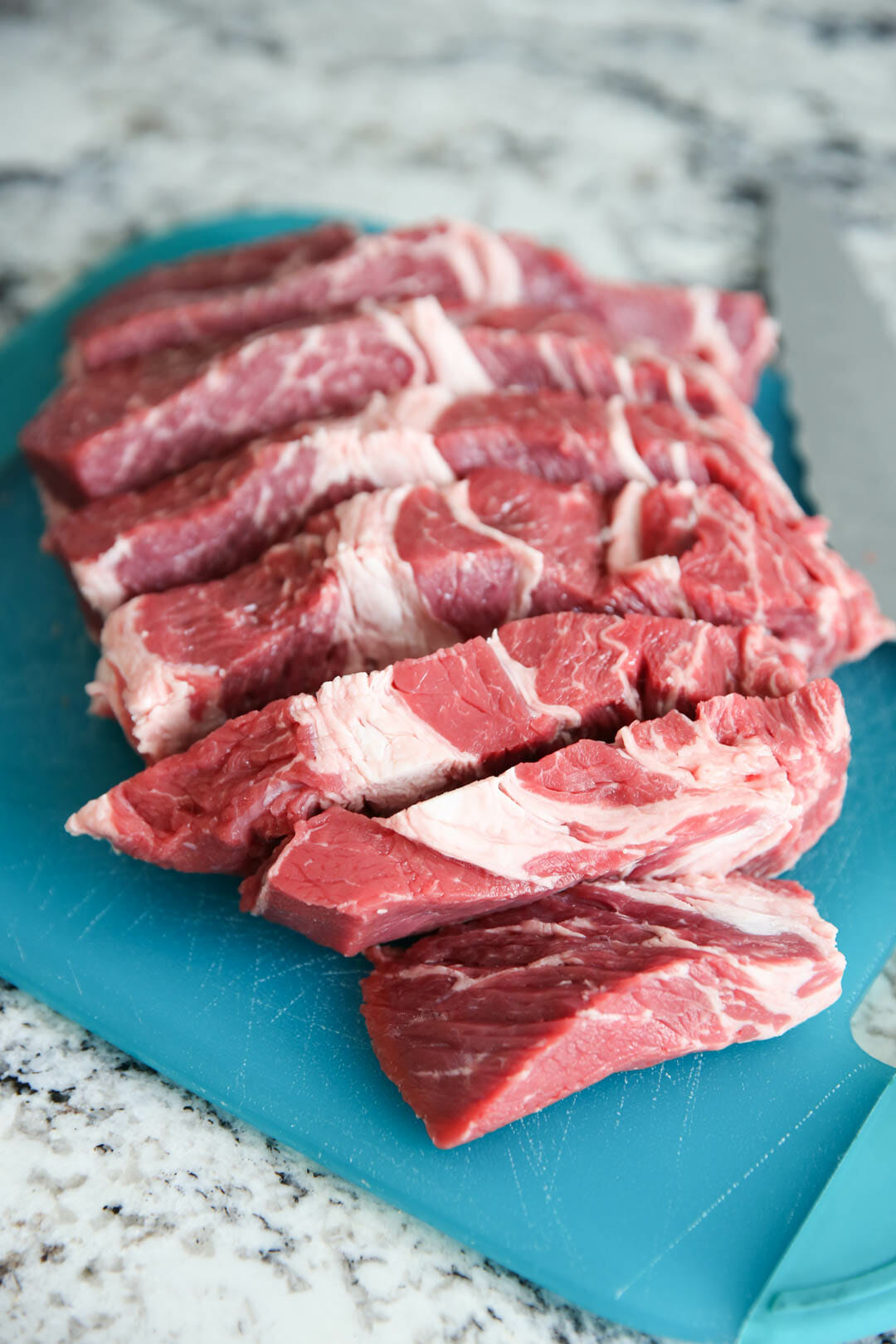 When it comes to the actual meat- I am loyally devoted to the boneless chuck roast.  It's a cut with more marbling, so you'll need to remove some of the fat after it's cooked, but because of that fat, you get a super tender, fall-apart roast every single time.  I'm mixing up a Greek spice mix here with oregano, basil, marjoram, and dill, among other things.  If you have a favorite store-bought Greek mix, feel free to use it!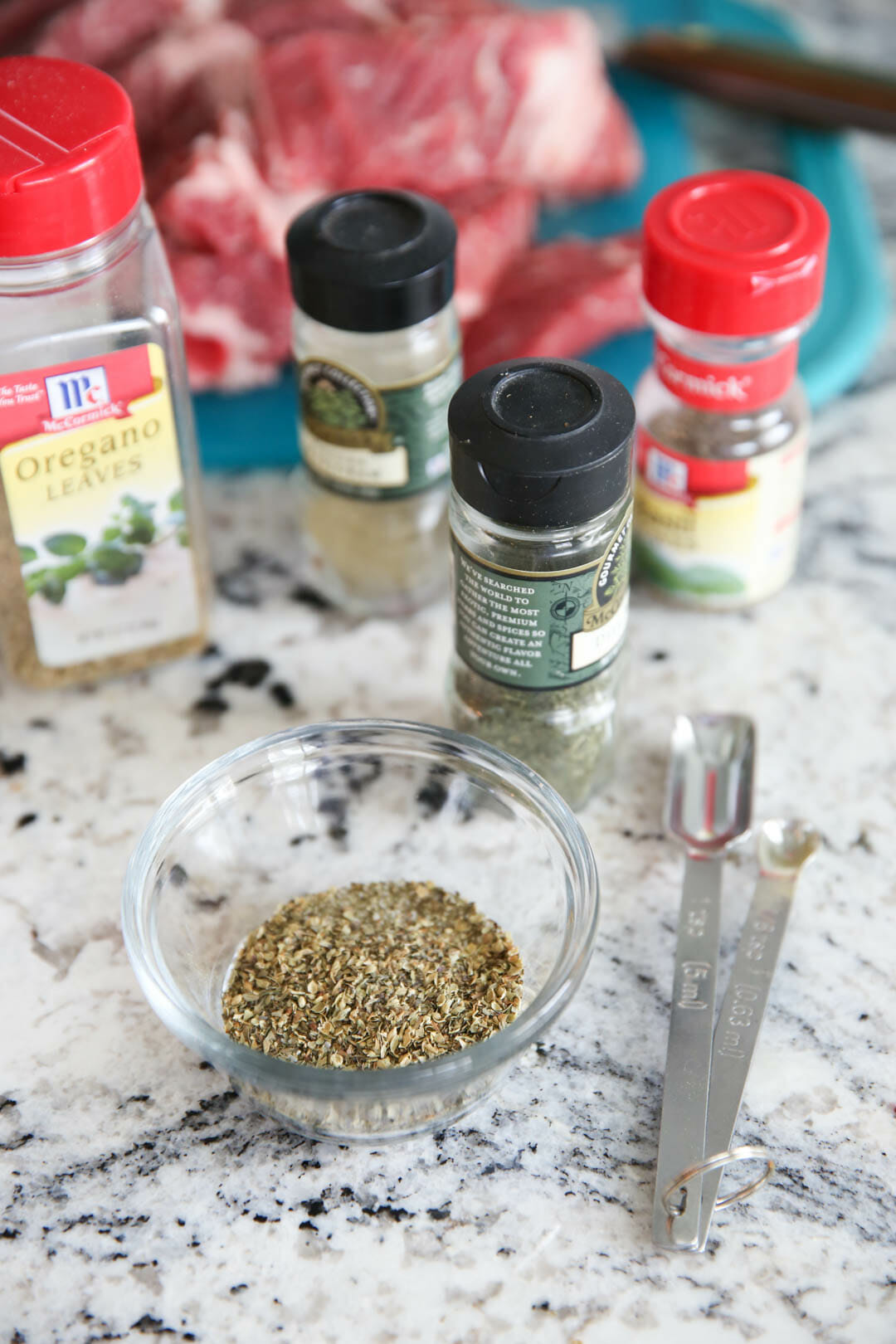 One little trick here, to infuse more flavor, is instead of using a bottle of olive or vegetable oil here, I use the olive oil directly from the bottle of sun-dried tomatoes we'll use in the recipe.  I drizzle this in my Instant Pot on saute mode and cook up some onions and garlic.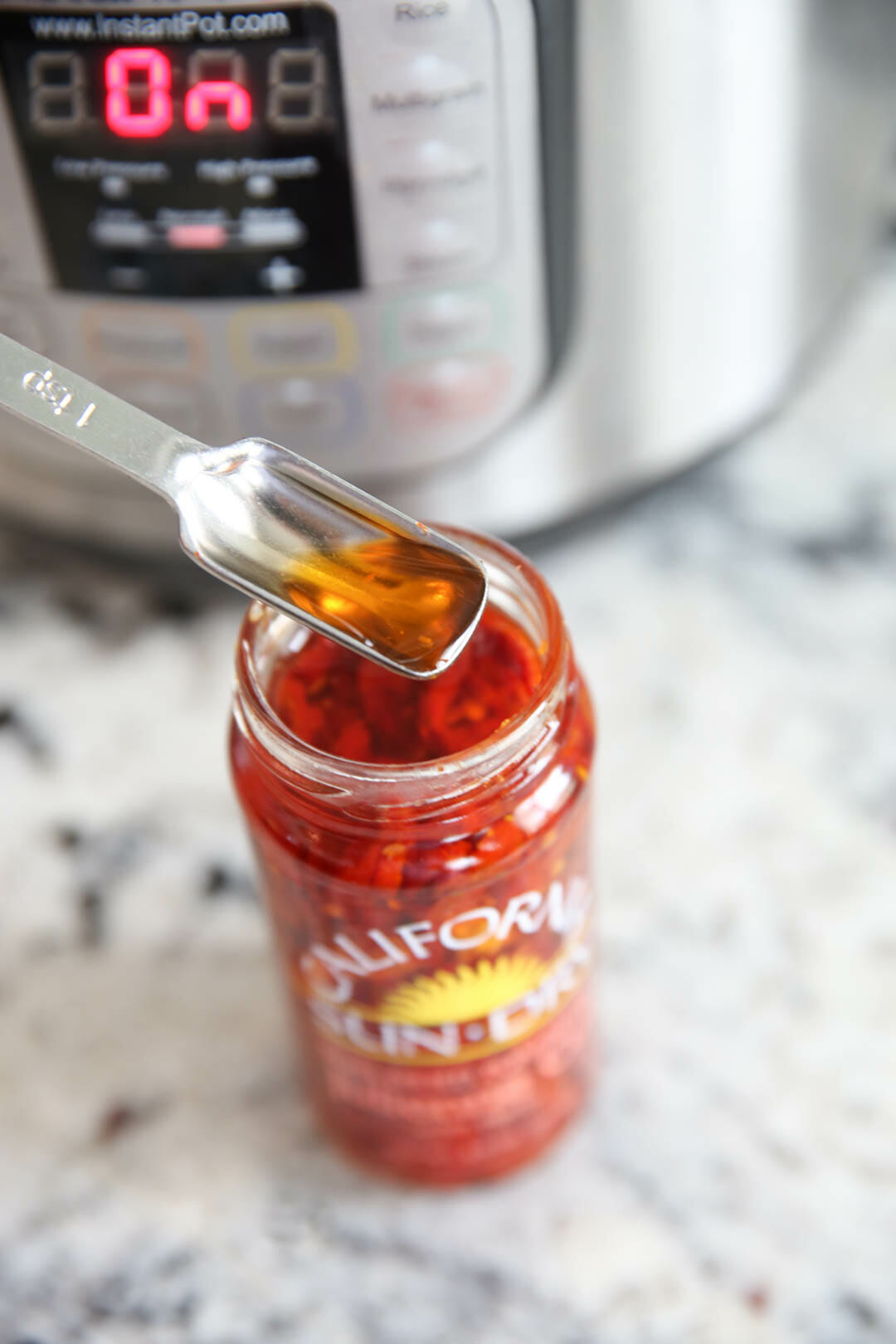 You'll drizzle a little more directly onto the meat and then sprinkle that spice mix on and then tuck it in with the onions and garlic.  Add some sun-dried tomatoes on top and a little beef broth and you're good to go.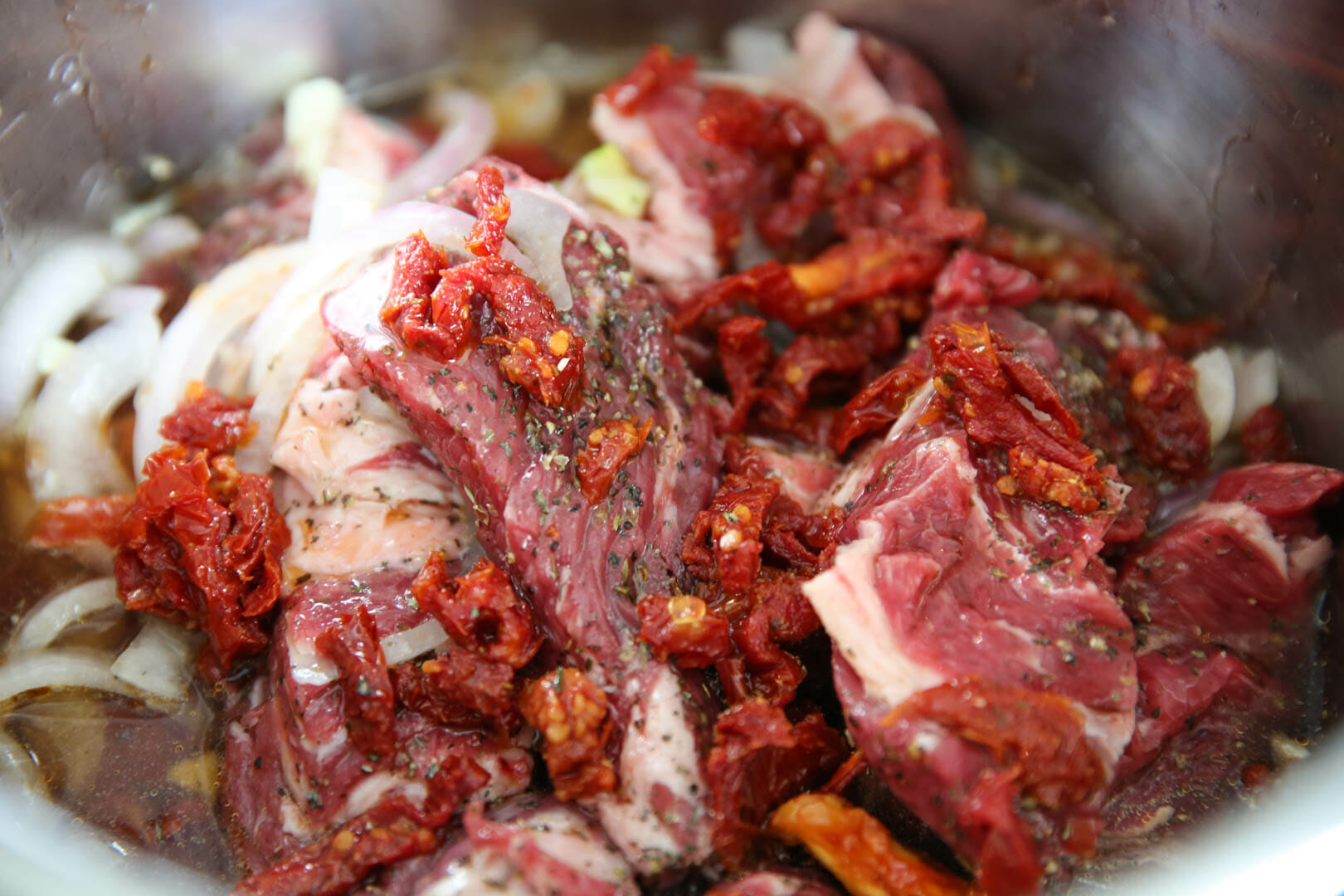 After your meat is cooked and it's on a cutting board to shred, I pour everything else from the pan into a fat separator.  If you don't have one of these, it's one of my favorite kitchen tools, ever.  Grab one on Amazon.  Even if you only use it 3 times a year you'll love that you have it!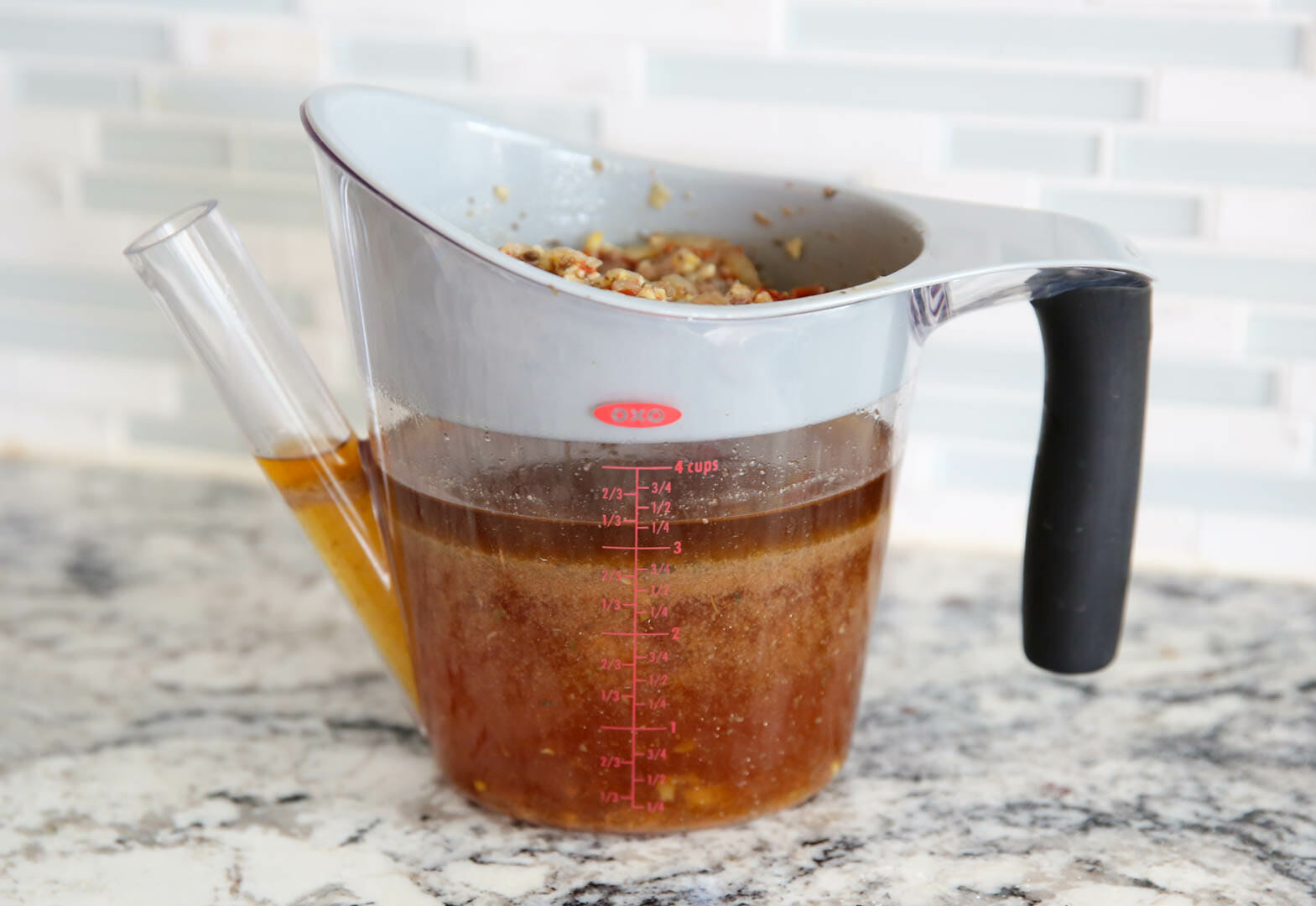 See all that good stuff in there?  I take out any pieces of fat, and add the rest back in with the meat.  That's a whole lot of good stuff right there.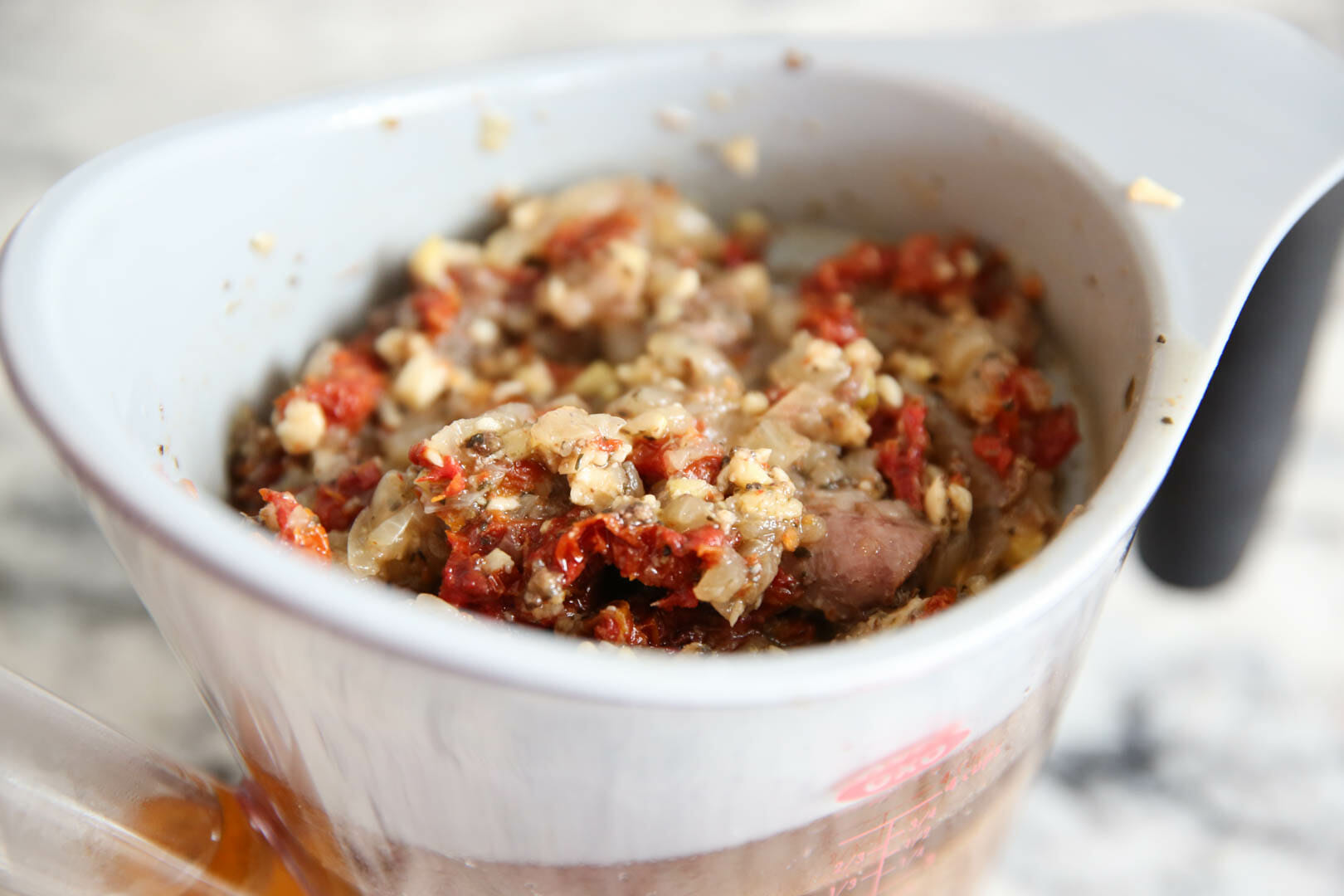 Pour the juices back over the meat and then adjust seasonings if necessary.  You can add more salt and pepper.  And I often give it another little shot of seasoning at this point as well if it needs it (prepared Greek seasoning, or just a little more oregano, basil, and dill.)  You could also pour those juices in a pan and thicken with cornstarch to make a gravy, or use this gravy tutorial.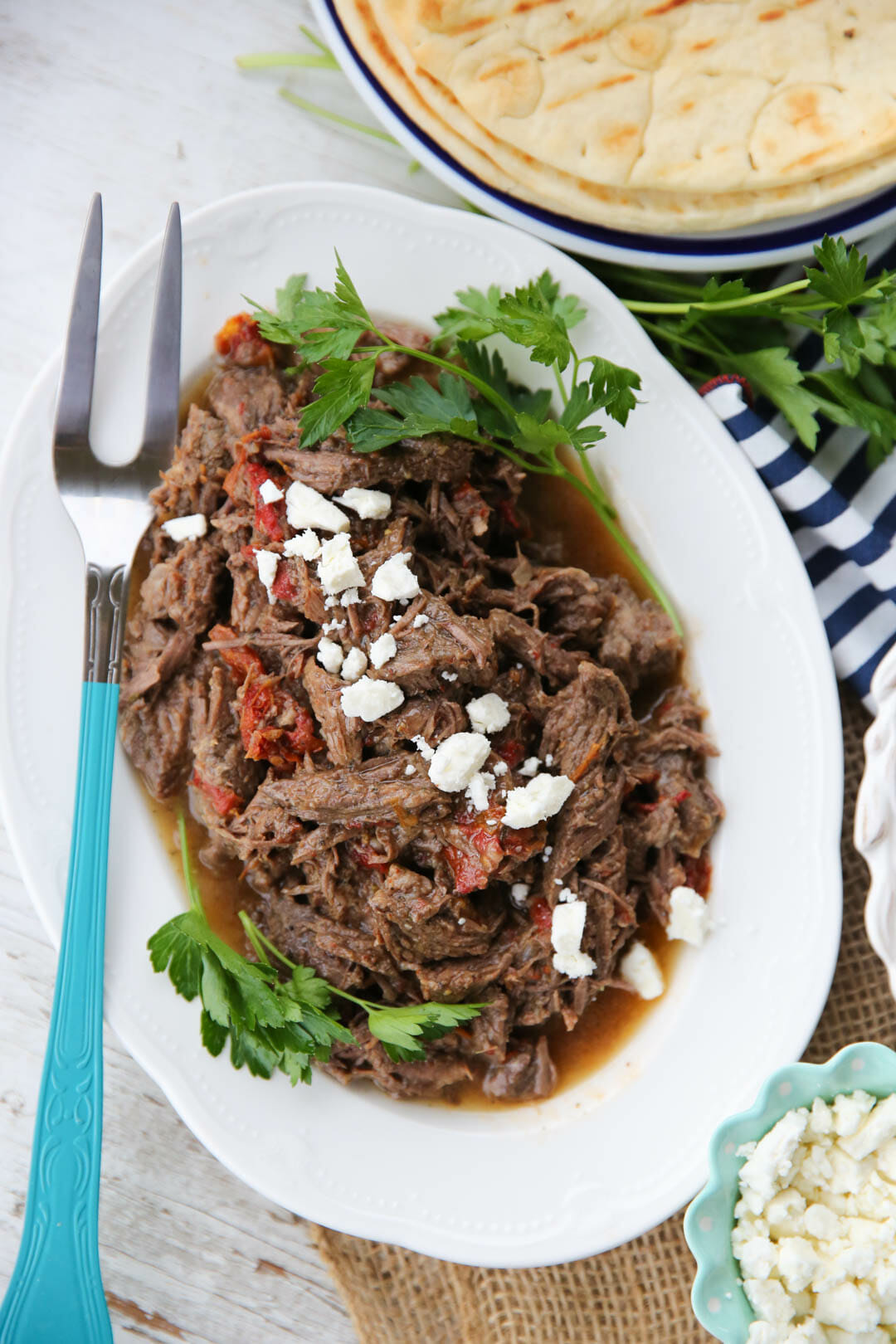 You can serve this over rice or with vegetables, but our favorite is on warm thick pita bread.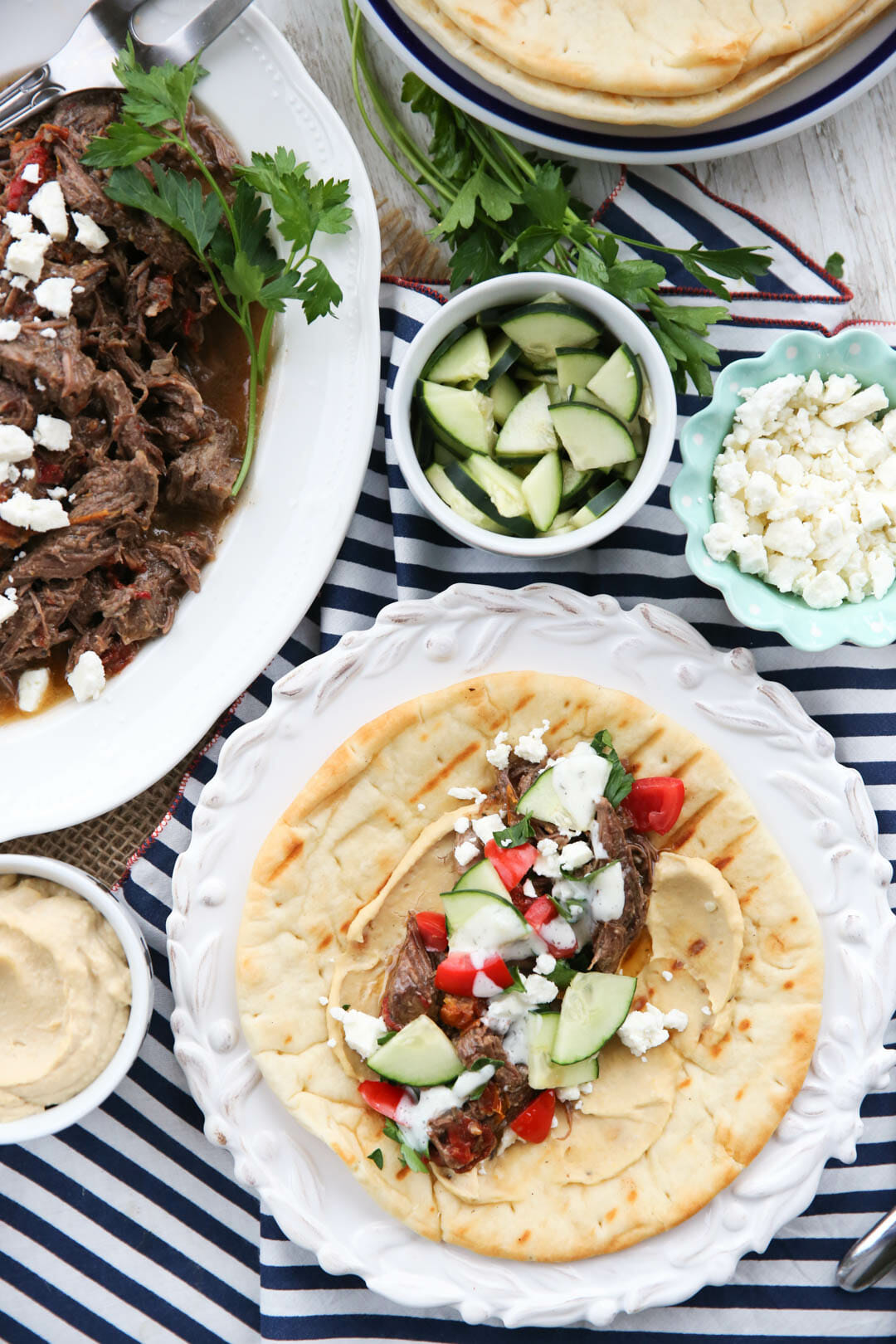 Not pita pockets, but rather the pita flat bread.  It feels kind of thick and dry at first, but simply brush with olive oil and pop in a hot saute pan or grill pan and in just seconds it's soft and amazing.  Naan style flatbreads are great, too.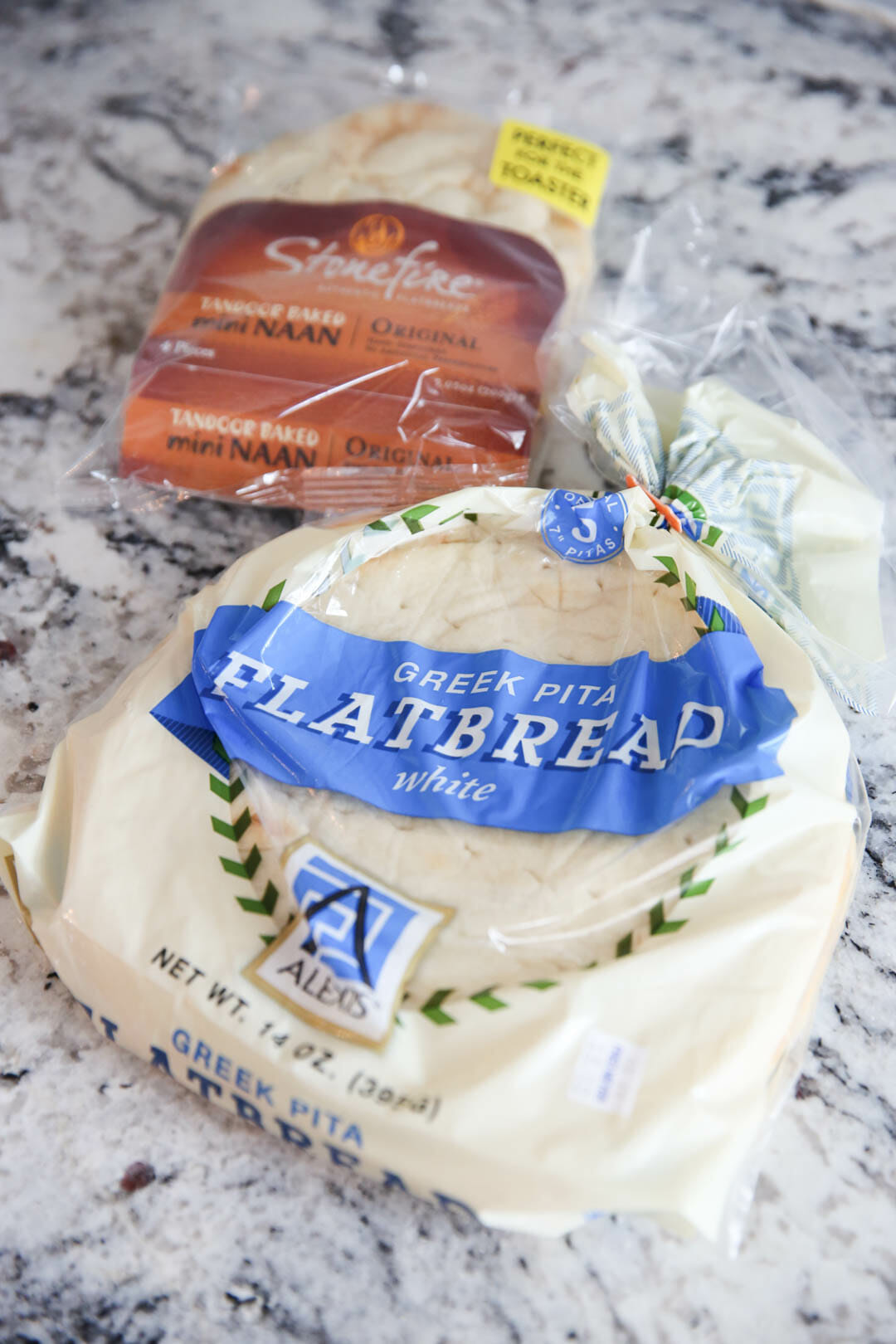 This is amazing served with fresh Tzatziki, but if you need something quick and easy, a Greek salad dressing will do.  Litehouse makes a Greek Yogurt dip that I like even better than this dressing- it's usually sitting right next to it in the produce section of the grocery store, so there's one to try out if you don't want to make your own sauce.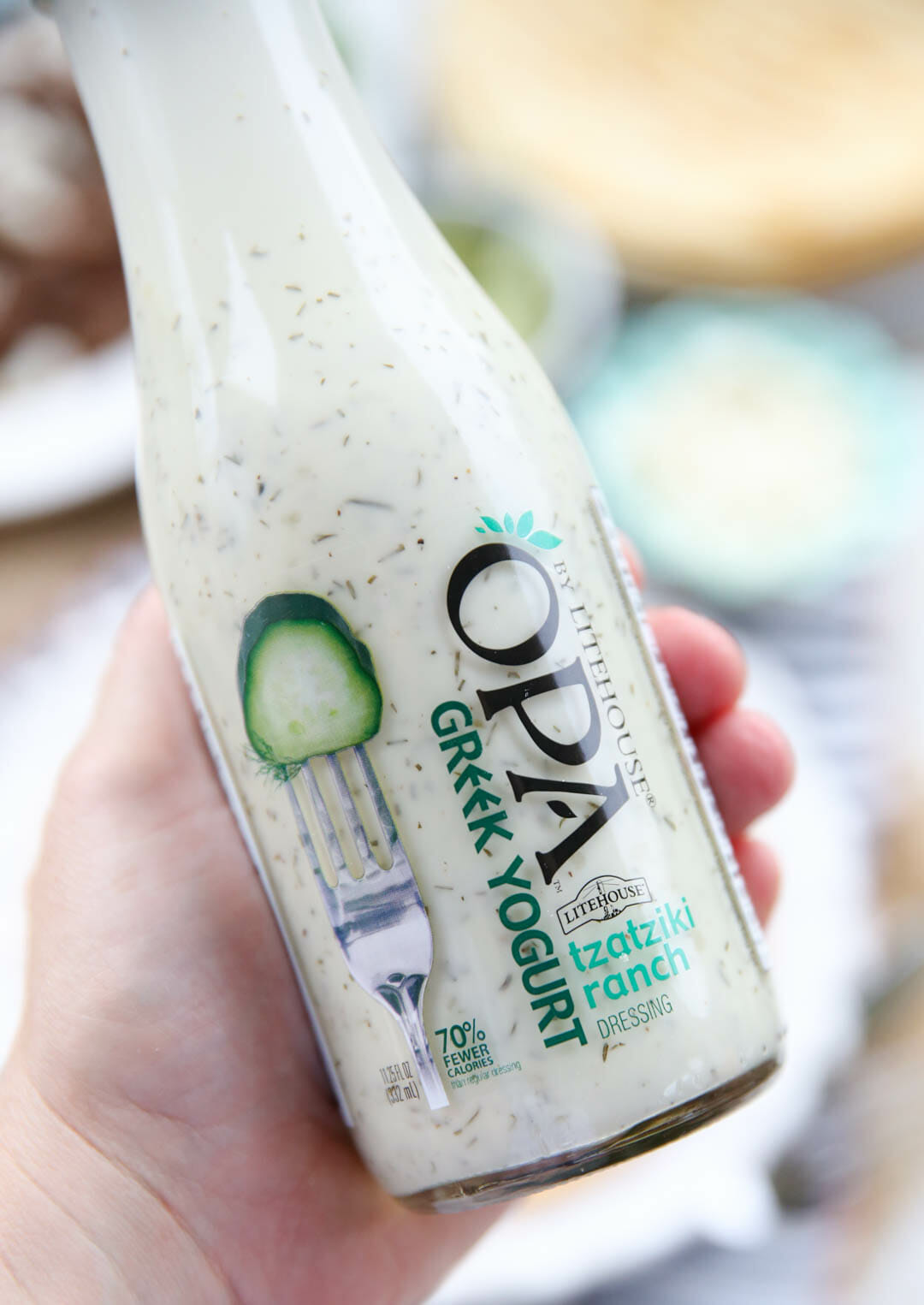 Spread a little hummus on your pita, then add meat and toppings like chopped tomato and cucumber, crumbled feta, and tzatziki.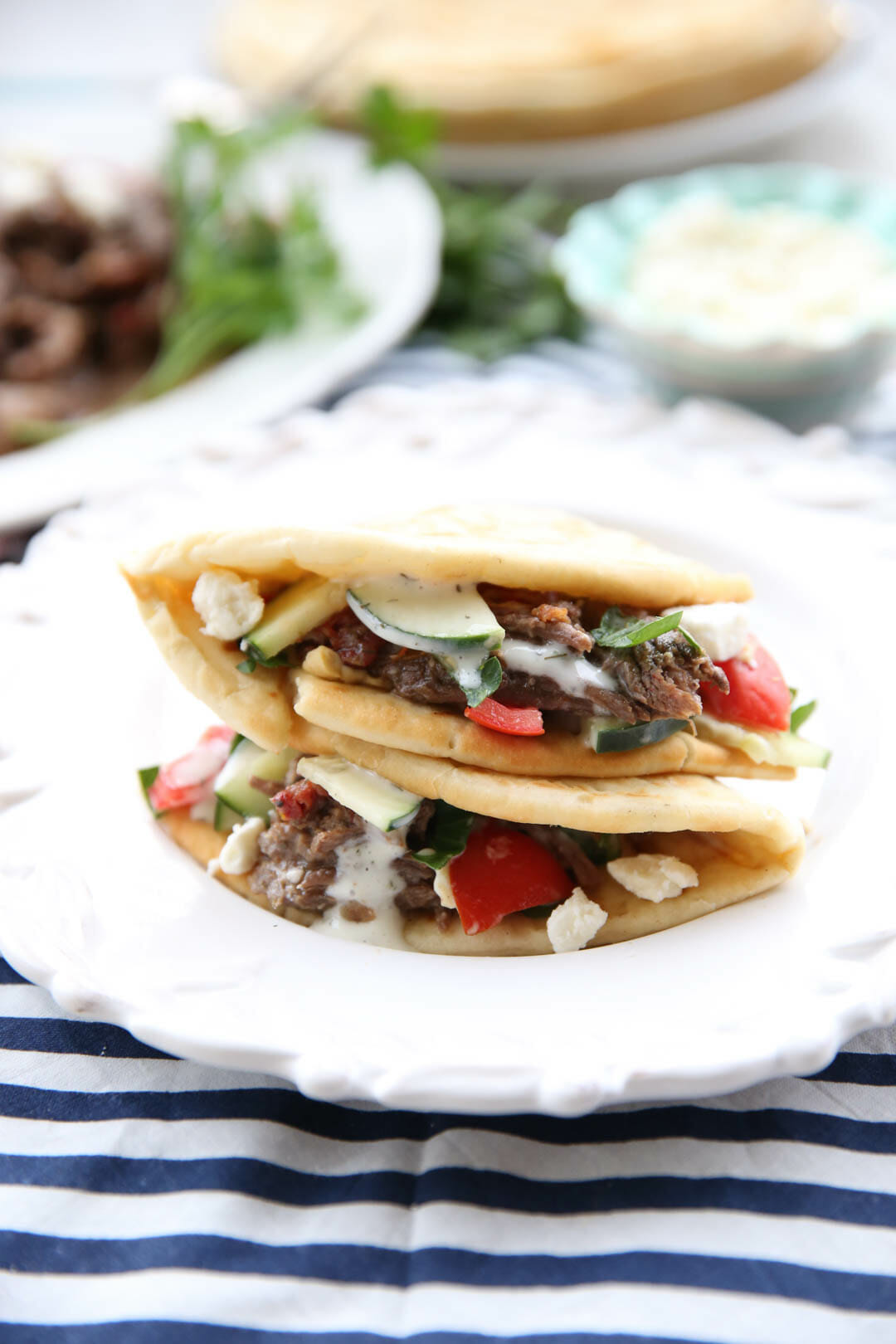 Print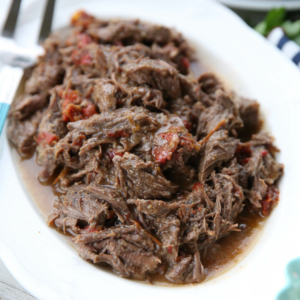 ---
Description
A deliciously tender fall-apart potroast with
---
2

–

3

lb boneless chuck roast

2 teaspoons

kosher salt

1/2 teaspoon

pepper

1/2 teaspoon

marjoram

1 tablespoon

dried basil

1 tablespoon

oregano

1 teaspoon

dill

1

small onion, peeled, cut in half and sliced thinly

5

cloves garlic

1/2 cup

sun dried tomatoes packed in oil, lightly drained

1 cup

beef broth

1 teaspoon

red wine vinegar
Optional for serving
warm pita bread
hummus
chopped cucumbers
chopped tomato
crumbled feta cheese
Greek Dressing or Tzatziki
---
Instructions
Trim any excess fat from roast and slice into 1-inch slices. Combine spices (salt through dill) in a small bowl. Drizzle meat with 1 tablespoon of oil from the jar of sun-dried tomatoes and then sprinkle with spice mix, rubbing in all over.
If using a pressure cooker, turn on to saute mode, (or place on stove top) to medium heat. Once hot, add another 1 tablespoon oil from tomato jar and add onion. Cook for 4-5 minutes, until tender and then add garlic and saute for about 30 seconds. Nestle beef into pot and place some of the onions on top of it. Add tomatoes and pour beef broth in.
Secure lid on top and cook on high pressure for 30 minutes. Let rest for 10 minutes and then release steam from pot and remove lid.
Use tongs to remove meat and place on a cutting board. Pour all pan juices into a fat separator (or if you don't have one simply let juices settle in pan and skim off any fat with a ladle.) Gently break up meat into chunks and place back in pan. Pour as much of the juices back into pan as desired. Add vinegar and toss. If you like, season with additional salt and pepper.
Serving suggestion: We love this served with thick warm grilled pita bread. Add some meat, crumbled feta, diced cucumbers, and Tzatziki sauce or a Greek salad dressing. It's also great over rice with those same toppings.
---
Notes
To prepare in slowcooker: Don't slice your meat, leave roast whole. If you like, you saute the onions and garlic in a skillet first, or simply add everything to the slowcooker. Cook on low for 8-10 hours (preferred) or high for 6-8.