So. I've seen this concept pop up over the internet in various places. Basically you slice a glazed doughnut in half and grill it (sugar side down) before stuffing it with macerated berries and fresh whipped cream.
You guys.
I have no words.
I used Krispy Kreme original glazed and they were soft and delicious. The magic happens when you plop those babies on the grill. The heat caramelizes the sugar, turning it into a sweet crispy, crackly, dream. Imagine the top of creme brulee and that's what we have here. It's pretty much amazing and you need to make it. Pin it. Share it with the world.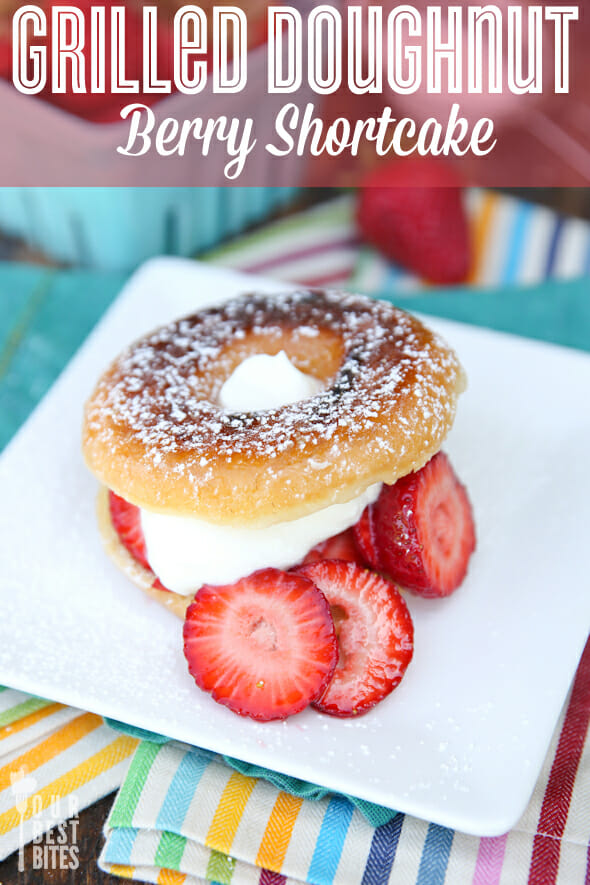 Start by prepping your berries because they'll need a little time to macerate. Just toss them with a little sugar and set them aside.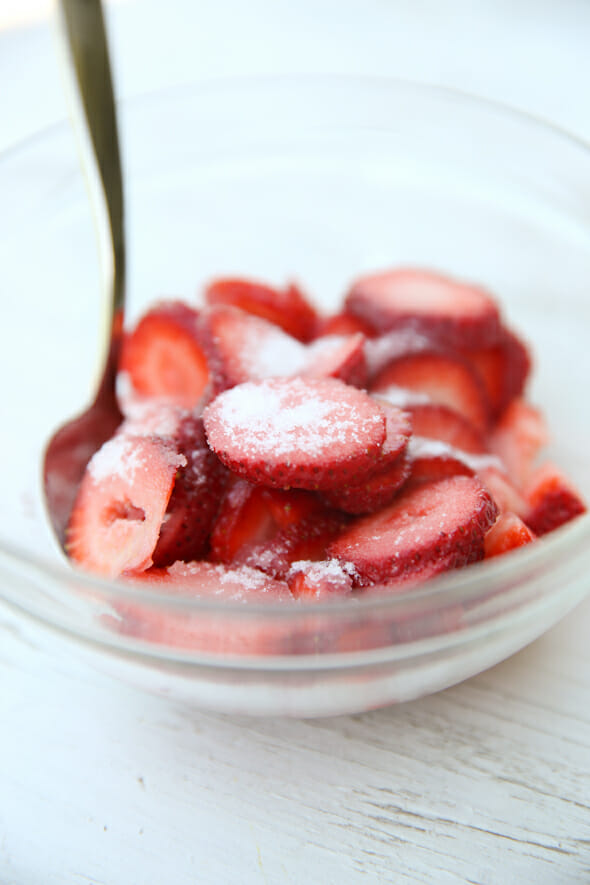 Next, slice some glazed doughnuts in half horizontally. You just want regular, glazed doughnuts, like Krispy Kreme Original Glazed.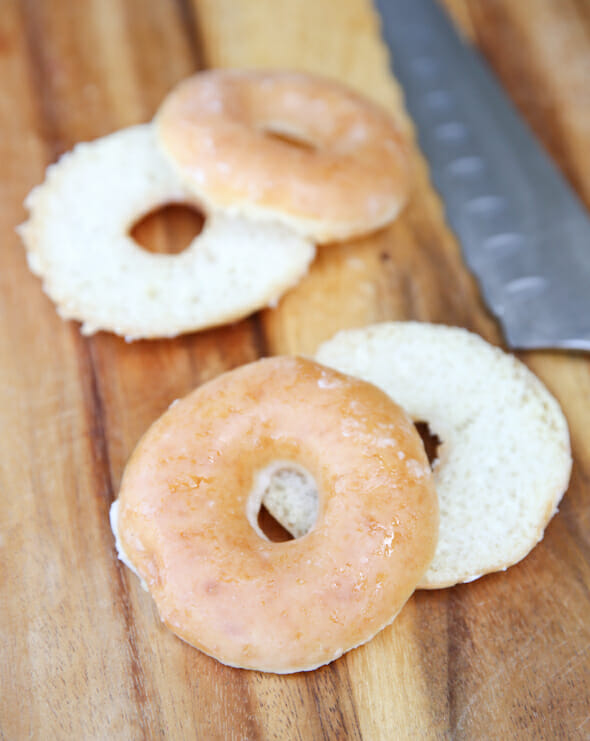 You want a hot grill, but not so hot that it burns the sugar. Keep an eye on that. A nice, clean (because you don't want your berry shortcake to taste like BBQ chicken) medium-hot grill. (I'm using my Camp Chef Grill Kate wrote about the other day!) Pop those babies on there and keep an eye on them. At the optimal temperature they should take a minute or two, but they could be done much quicker. They should be dark golden brown. Take them off the grill and set them sugar side up for a minute to cool just a bit so you don't scorch your mouth.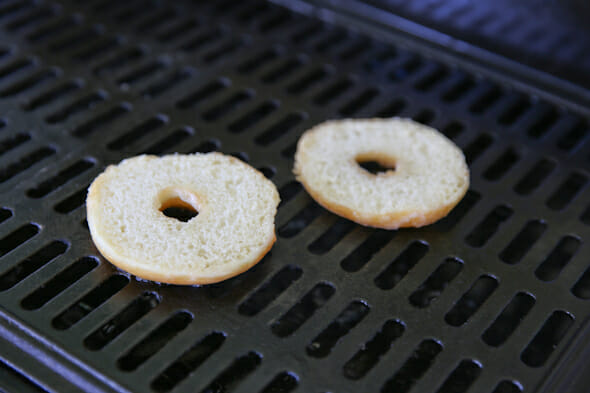 When you're ready, spoon your berries over one half of the doughnut, top with whipped cream,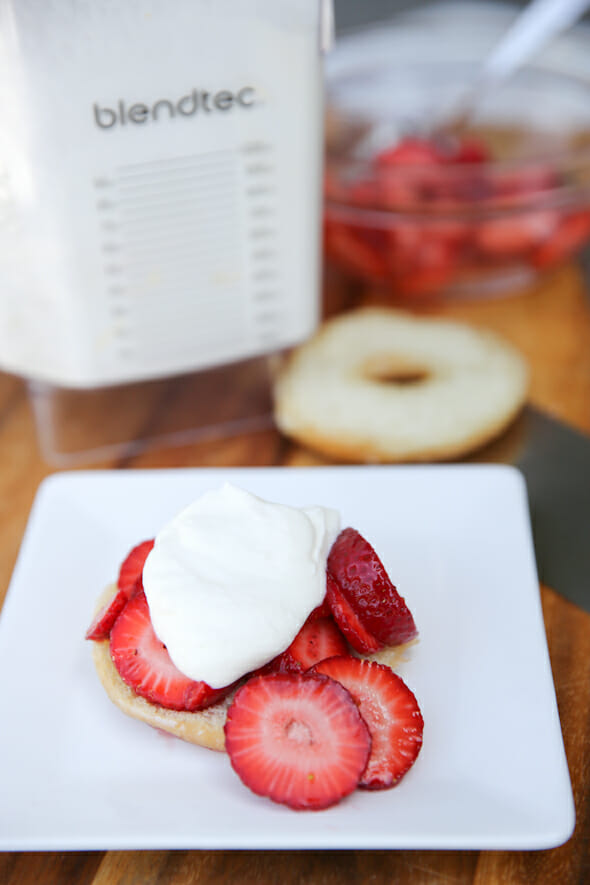 and then place the top half on. See how the sugar caramelized? I'm having a hard time expressing my emotions here without emojis.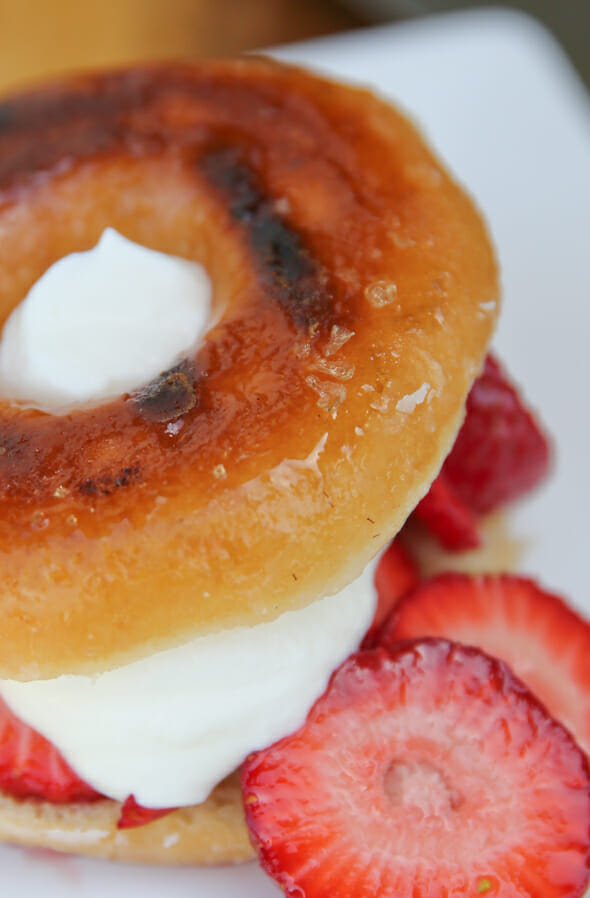 Hover over this image to Pin it, and for the love–go make these!!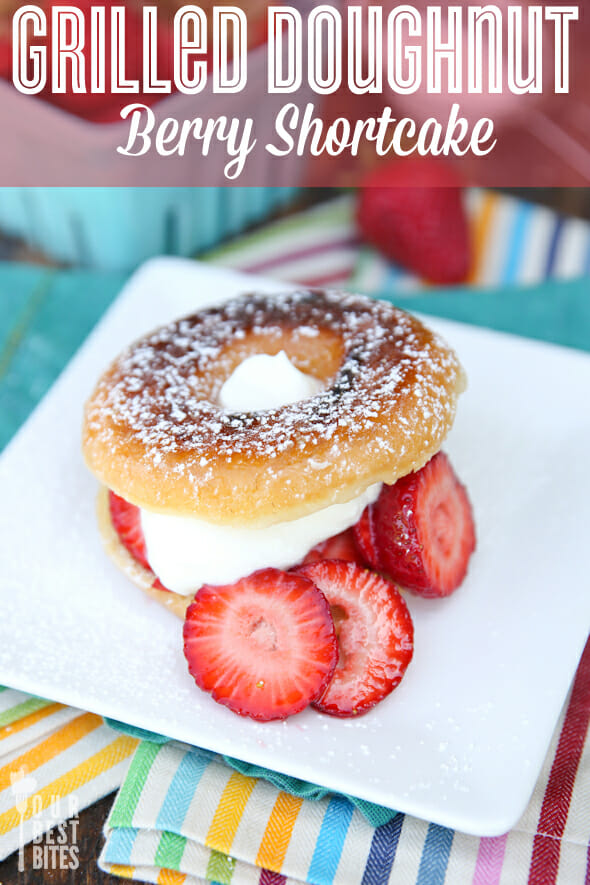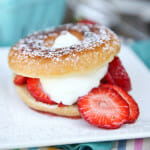 Grilled Doughnut Strawberry Shortcakes
---
Description
Caramelized doughnuts on the grill are stuffed with fresh berries and cream for the ultimate summer dessert!
---
1 1/2 cups

sliced strawberries

1 1/2 tablespoons

granulated sugar

2

glazed doughnuts (like Krispy Kreme Original Glazed)
sweetened whipped cream
powdered sugar
---
Instructions
Place berries and granulated sugar in a bowl and stir to combine. Set aside.
Heat grill or grill pan to medium heat. Slice doughnuts horizontally (like across the equator.) Grill doughnuts glazed-side down until heated through and golden brown. Remove from grill and let sit for 1-2 minutes for caramelized sugar to set. Place bottom half of doughnut on plate and top with berries. Add a dollop of whipped cream and top with remaining doughnut half. Sprinkle with powdered sugar and serve immediately.
---
---