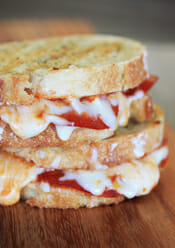 A lot of my family's favorite recipes are born out of necessity, when I'm simply forced to pull something together from whatever I can scavenge in the fridge and pantry when groceries are running low.  And many of the very best recipes are most simple ones!  I made homemade pizzas for my kids last week so I had half a jar of sauce left and some turkey pepperoni in my fridge.  I wasn't in the mood to do pizza all over again, but I did have a good loaf of bread in the pantry so I came up with these Grilled Pizza Sandwiches.  It's like a little pizza, smashed between two pieces of buttery garlic bread.  Paired along side a simple green salad, this is a great (and quick) weeknight meal that both kiddos and grown ups will love.   I think these would even be great on baguette slices as a party appetizer too!
Start with a good loaf of rustic style bread. The bakery section of the grocery store should have plenty of options, but it's important for a sandwich like this, you don't whip out something like Wonder Bread.  Get something with a little more oomph that will hold up to the fillings and grilling.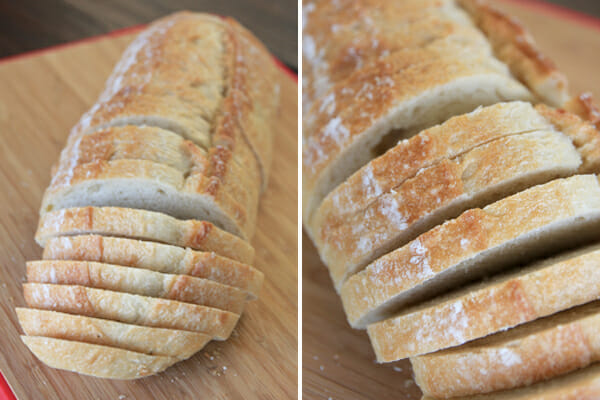 Lightly butter each slice on one side, making sure to cover all the way to the edges.  You could also brush lightly with olive oil if you prefer.  (Our garlic oil would be amazing here.) Then sprinkle on some garlic bread seasoning.  If you've never tried our homemade seasoning, it takes just seconds to whip up and I swear to you it is better than anything I have ever purchased in a jar. (Click here for the Our Best Bites Garlic Bread Seasoning Recipe.)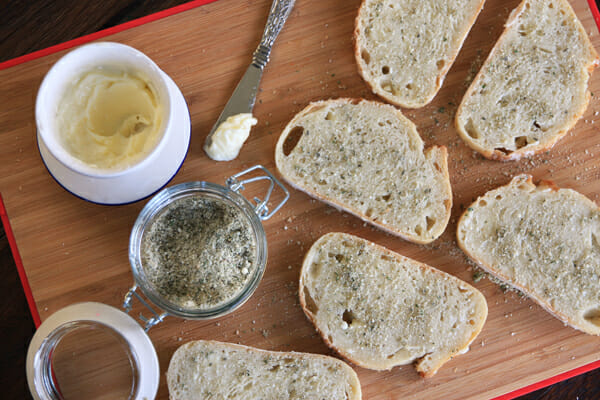 Gently pat the seasoning down with clean hands so it sticks to the butter, then flip each piece of bread over.
Next you'll need a little pizza sauce.  This is a great recipe to make when you have half a jar left in your fridge, or even spaghetti sauce would work here.  I just used some store-bought pizza sauce  from a jar that I happened to have on hand, but if you want to try making your own, our recipe for homemade Pizza Sauce is super easy and so, so good. (Click here for the Our Best Bites Pizza Sauce Recipe.)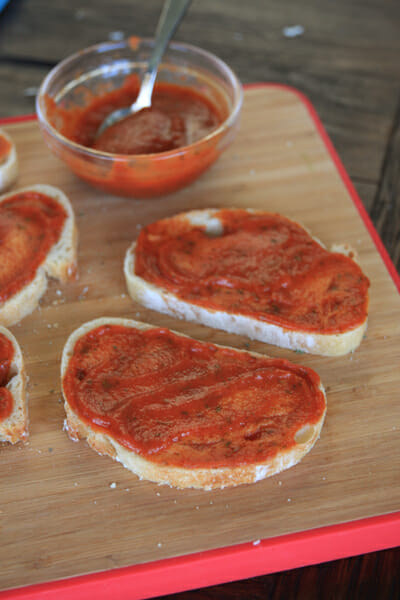 I'm pretty generous with the sauce because it starts to soak into the bread.  I also like my pizza practically oozing with sauce, so just put on as much as you like.
Now, we can't have a hot grilled sandwich without ooey-gooey melty cheese. Grate or slice some quality mozzarella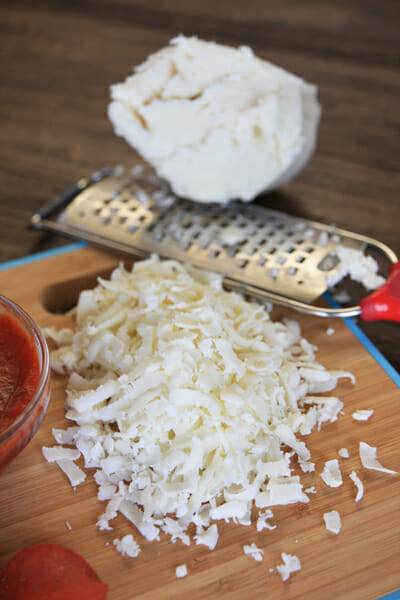 and sprinkle it on both slices of the sandwich.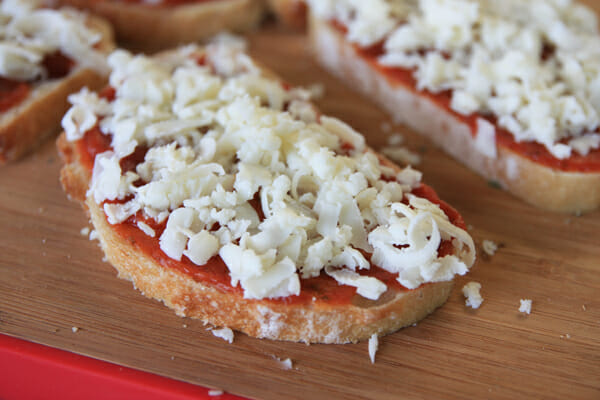 Then layer on some pepperoni slices on one of the halves.  I use turkey pepperoni; it actually tastes great and is pretty low calorie.  And even if you're not a pepperoni pizza fan, the pepperoni here adds great flavor, so give it a shot.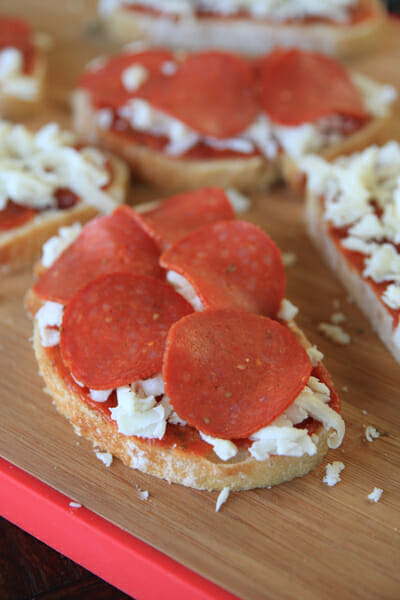 Now put the two sides of your sandwich together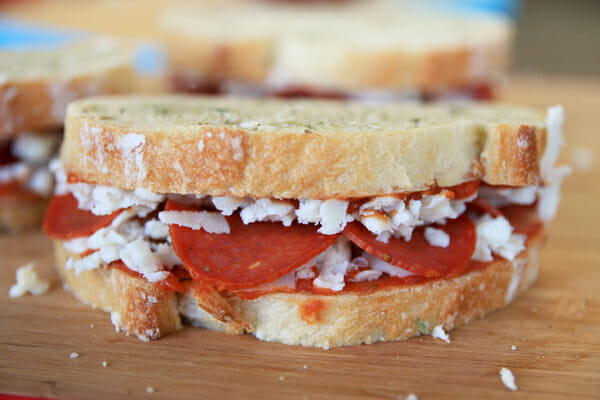 And you can either cook them on a panini grill, like I'm doing, or in a skillet (flip after one side browns) or to make a bunch at a time, put them on a baking sheet and broil until the tops are golden brown and the insides are cooked through.
I use my panini press, and I set the height up a little so they don't get totally smashed.  I set it so the top just barely rests on the top of the sandwich.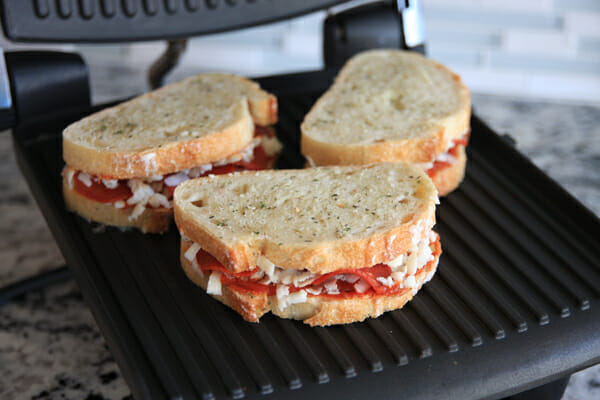 Then just cook them until the garlicky bread is golden brown and toasted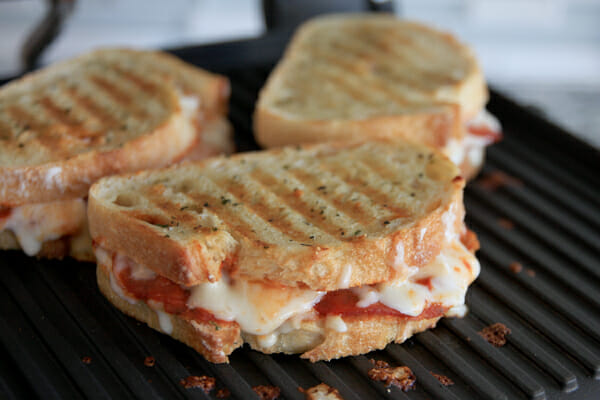 and the cheese is oozing out.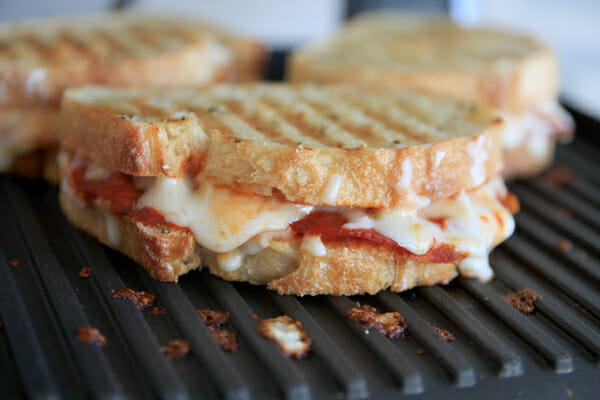 Let them cool for of couple minutes, or chances are, they'll fall apart on you when you start to cut them!  Use a sharp, serrated knife to slice in half and then eat up.
Be sure to use our pizza sauce & garlic bread seasoning recipes – you won't be disappointed!
Print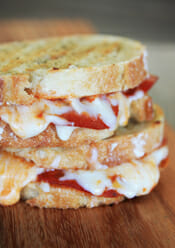 Cheesy Grilled Pizza Sandwich
---
Description
Grilled cheese and pizza hitch up in this easy (and yummy!) dinner idea.
---
Rustic style sandwich bread
Butter or olive oil
Pizza sauce
Garlic bread seasoning
Pepperoni or turkey pepperoni
Mozzarella cheese
---
Instructions
Lightly butter one side of each slice of bread, or brush lightly with olive oil. Sprinkle garlic bread seasoning on each slice and gently pat on with clean hands.
Turn slices of bread over. Spread pizza sauce on each slice and sprinkle with cheese. Place pepperoni slices on one of the sandwich halves and then place the two pieces of bread together.
Grill on a panini press or hot skillet, or place under a broiler in the oven, flipping once, until both sides of bread are toasted and golden brown and cheese is melted.
Cool for 3-5 minutes before slicing in half and serve.
---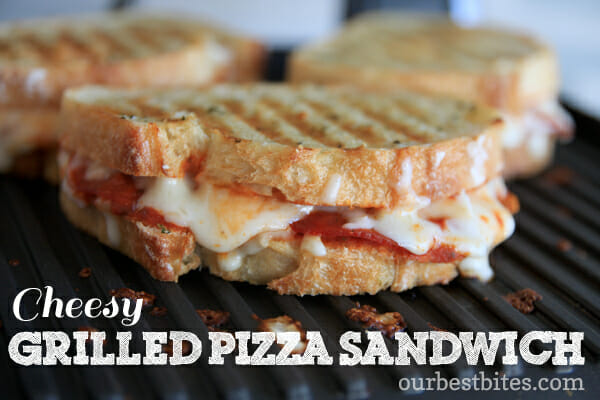 *Disclaimer: This post contains affiliate links.