A few weeks ago I posted these Bacon Ranch Chicken Sliders and they were SO popular!  I use that same method with a lot of different variations and I figured if you liked those ones so much, you'll probably like some of the others!  So today, we're getting our pizza on.  These have all of the elements you love about pizza (ie soft chewy carbs with gooey cheese and your favorite toppings) but these take a fraction of the time it takes to make homemade pizza.  Just like their Bacon-Ranch sandwich sibling, these are great for feeding a crowd and make a great dinner, lunch, or appetizer.  Oh!  And one of you awesome readers just emailed yesterday saying those Bacon-Ranch ones froze beautifully, so I bet these would, too!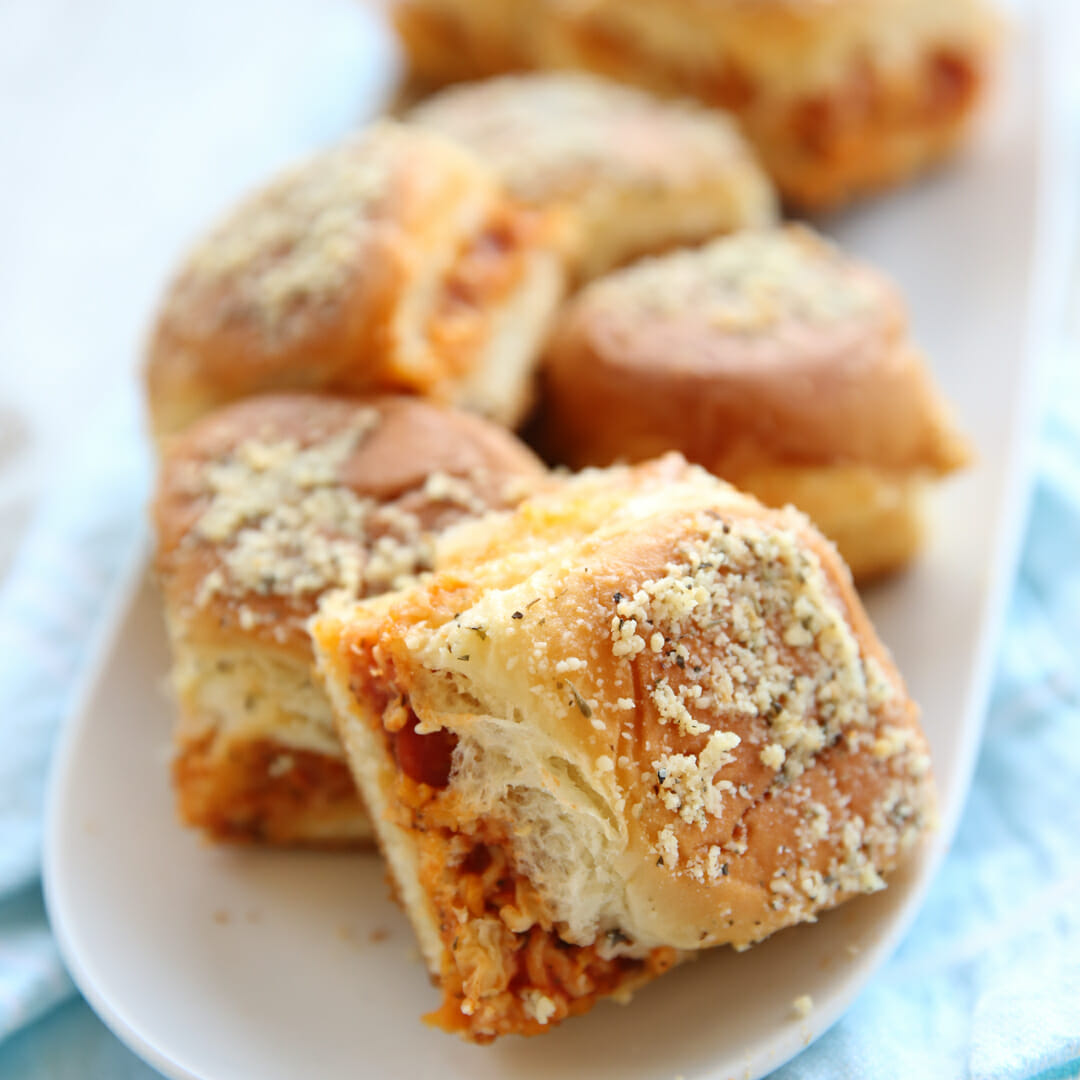 I start with 2 kinds of cheese, both cheddar and mozarella, and add in pepperoni, Italian seasoning, and just a little pizza sauce.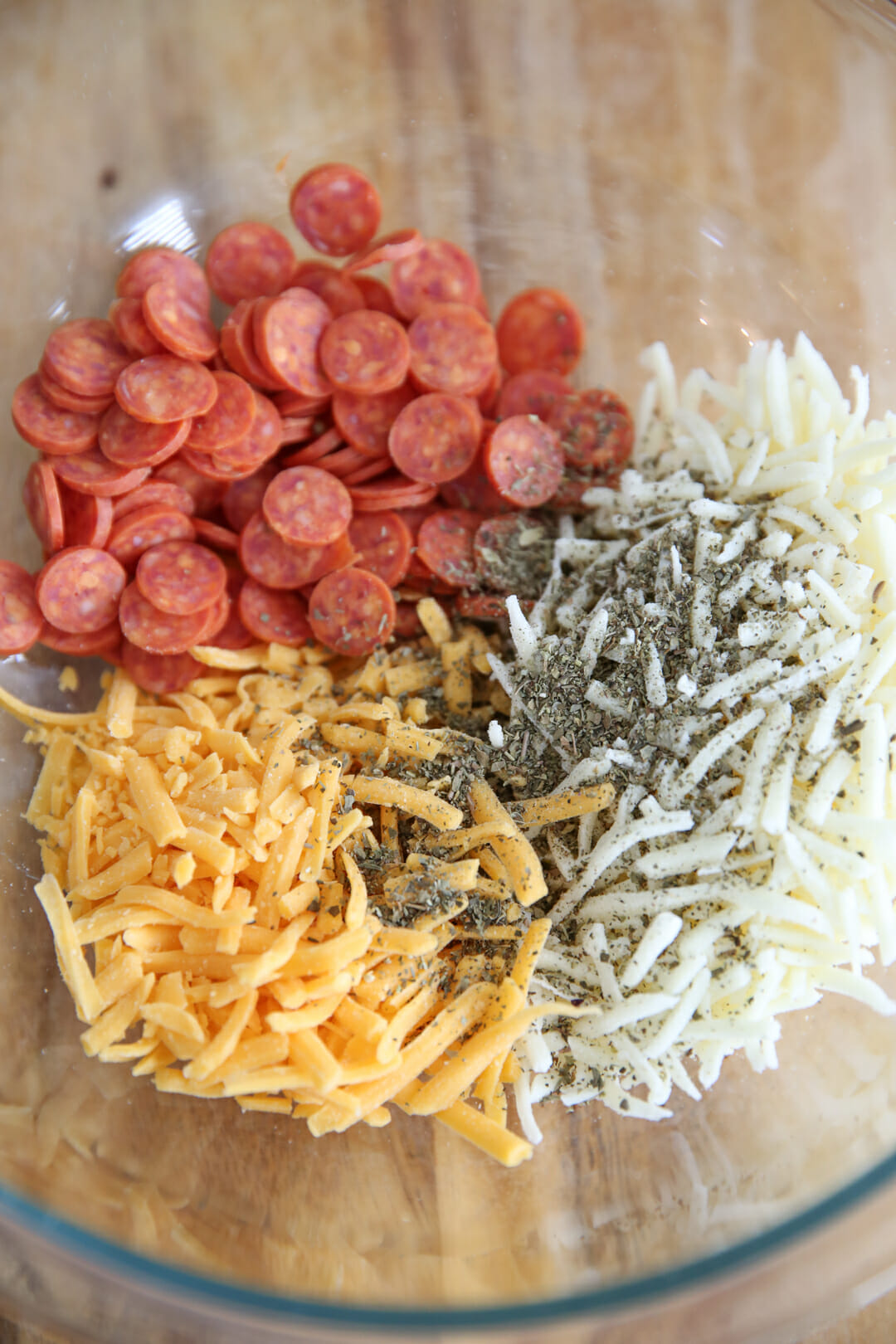 For the sauce, I just keep little jars or cans of inexpensive sauce in my pantry for stuff like this.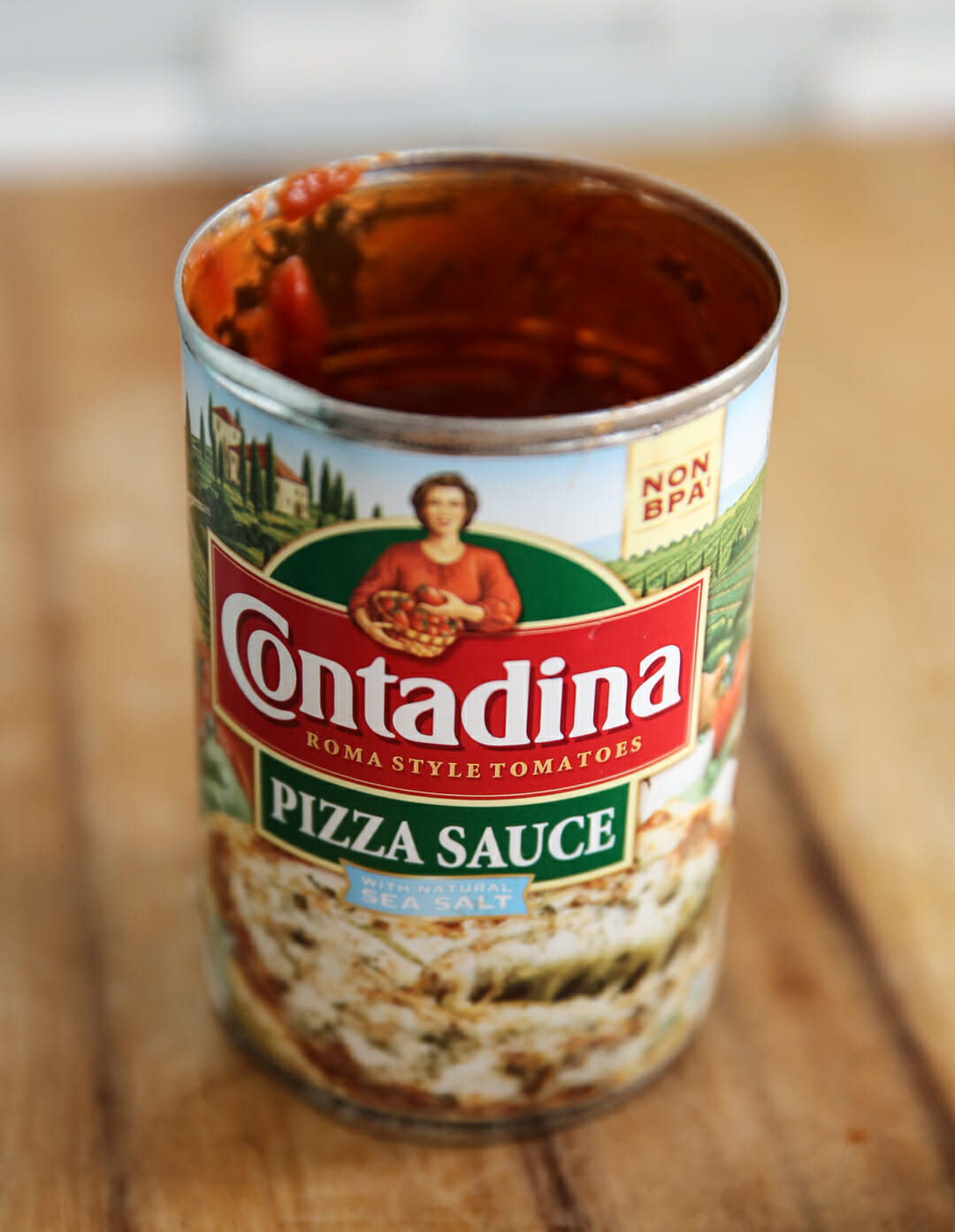 You could also use your favorite marinara, but pizza sauce tends to be just a bit thicker.  Since you won't be using much, I just pop the rest in the fridge and make something else with it another night (English muffin pizzas, spaghetti, etc.)
Mix that up and then spread it onto  your rolls.  I'm using Kings Hawaiian Rolls as always, because they're the best.  I did grab the "Savory Butter" variety.  You'll leave them in one big sheet and just cut horizontally like a giant sandwich.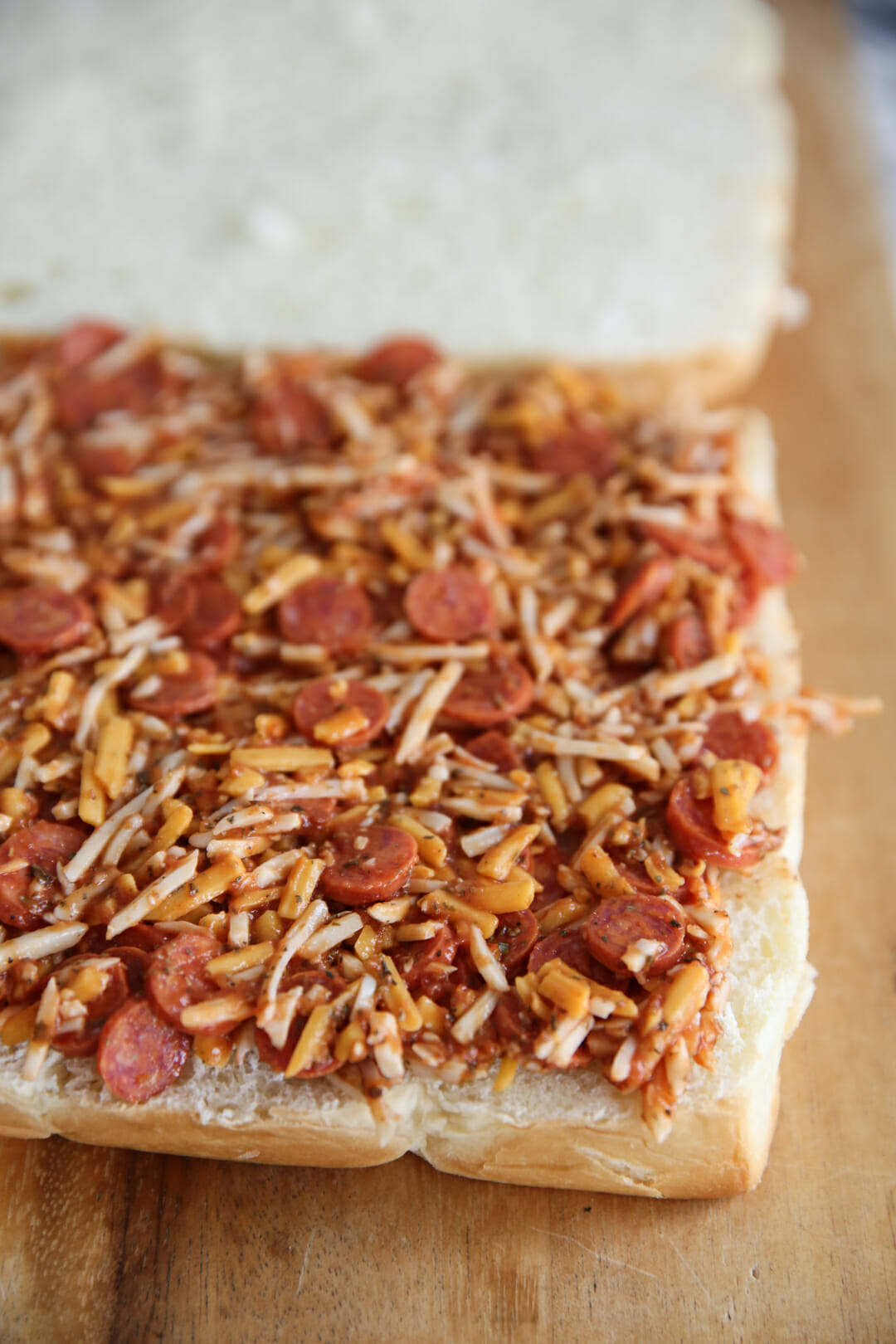 One thing I'm doing here that I don't recommend, is using the cheese I constantly tell you NOT to use, which is cheap generic bagged pre-shredded.  I had some leftover from something else (where good cheese didn't matter) so I'm using it up here.  But you'll see by my pictures that even when the sandwiches cook and the cheese is melted, it still retains that shred shape.  That's weird.  They tasted great, but I wish I had a better ooey-gooey cheese picture.  I always suggest grating your own cheese from the block, or using a good brand.  I love the Tillamook farm style cut, and the Kirkland brand shredded cheddar from Costco melts really well, too.
Okay off my cheese soap box.  Sandwich those together and then brush with a little olive oil and butter and top with an herbed parmesan cheese mixture (crumbled Parm + Italian seasoning).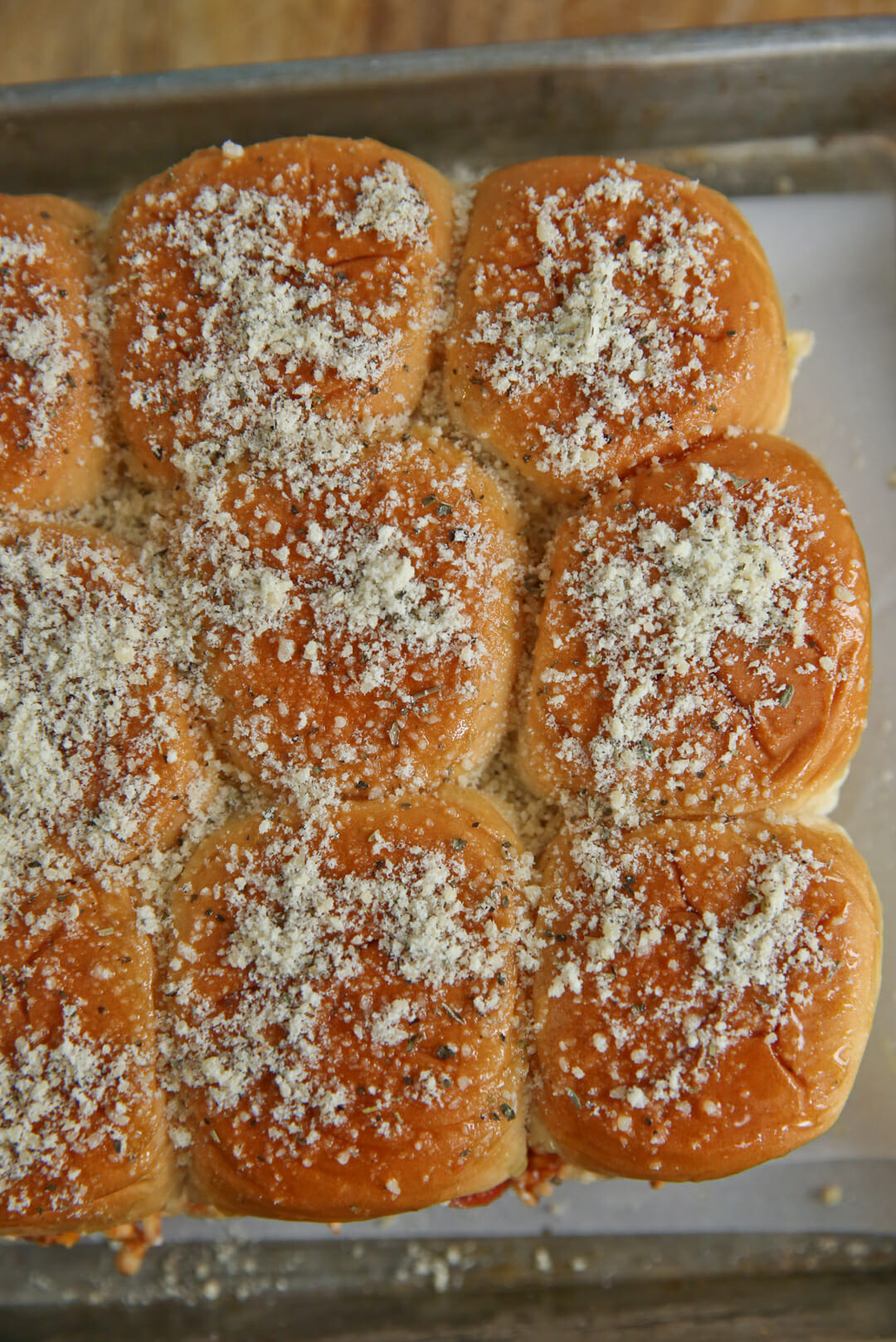 Bake for about 30 minutes and then slice!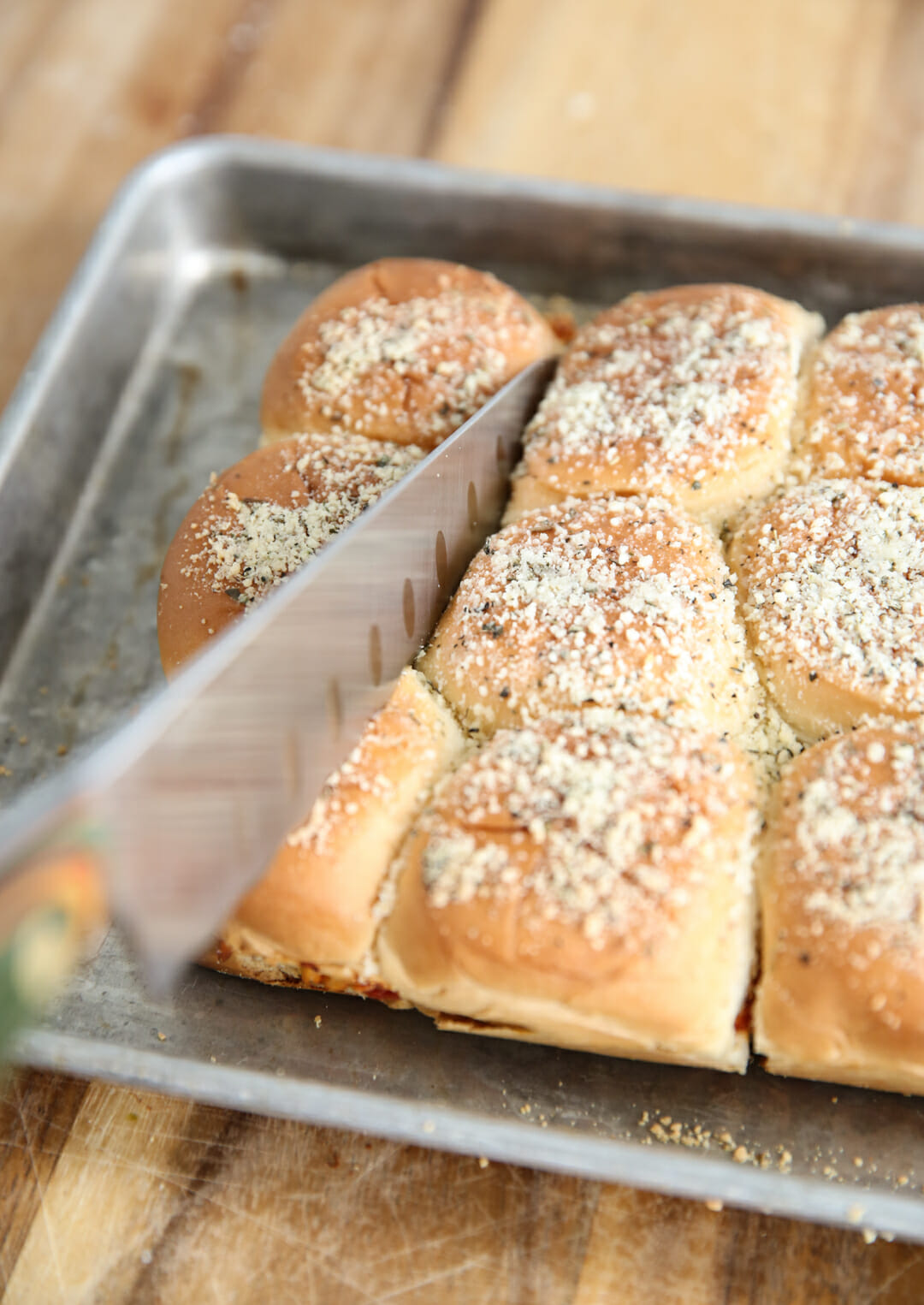 They taste like pizza (duh) but also like a hot meatball sub or something.  The sweet buttery rolls kind of melt into that sauce and it's just delicious comforting goodness.  Have a couple with a big salad and it's a pretty balanced meal!  You could also switch up the toppings inside and add stuff like Italian sausage, olives, etc.
Side note:  I always do my final recipe shot outside on my back porch on a low table.  This is what happens every time now, lol.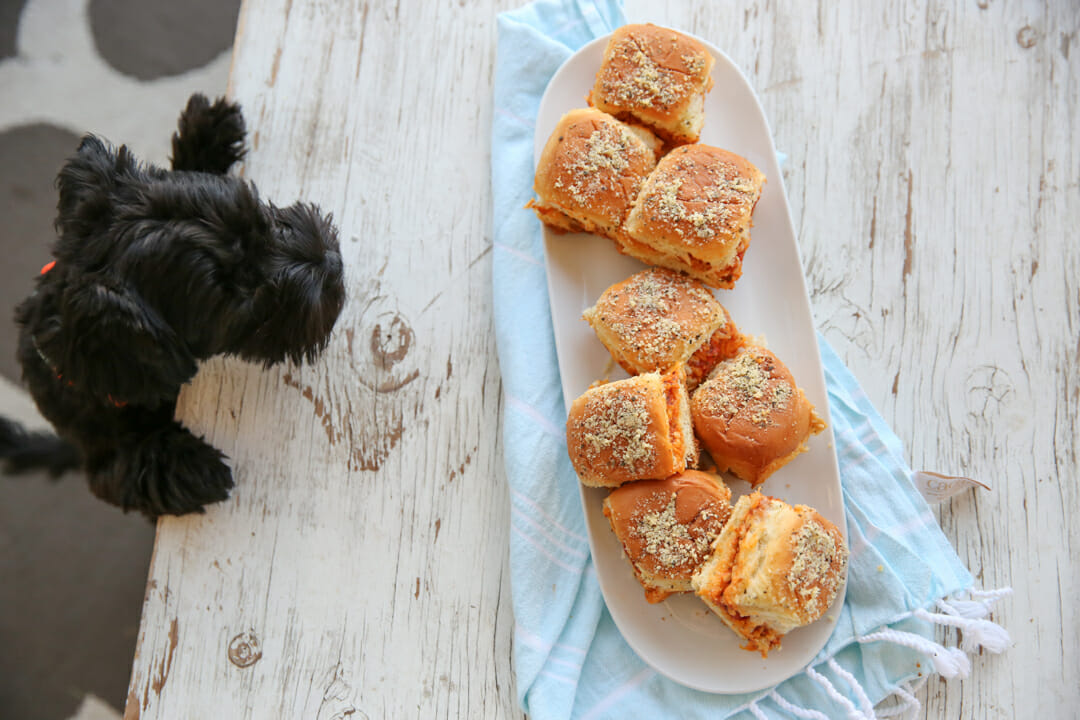 Our little Havanese is about 12 weeks old and a total sweetie.  We're still loving being dog-people. I mean, how could you not with that face?!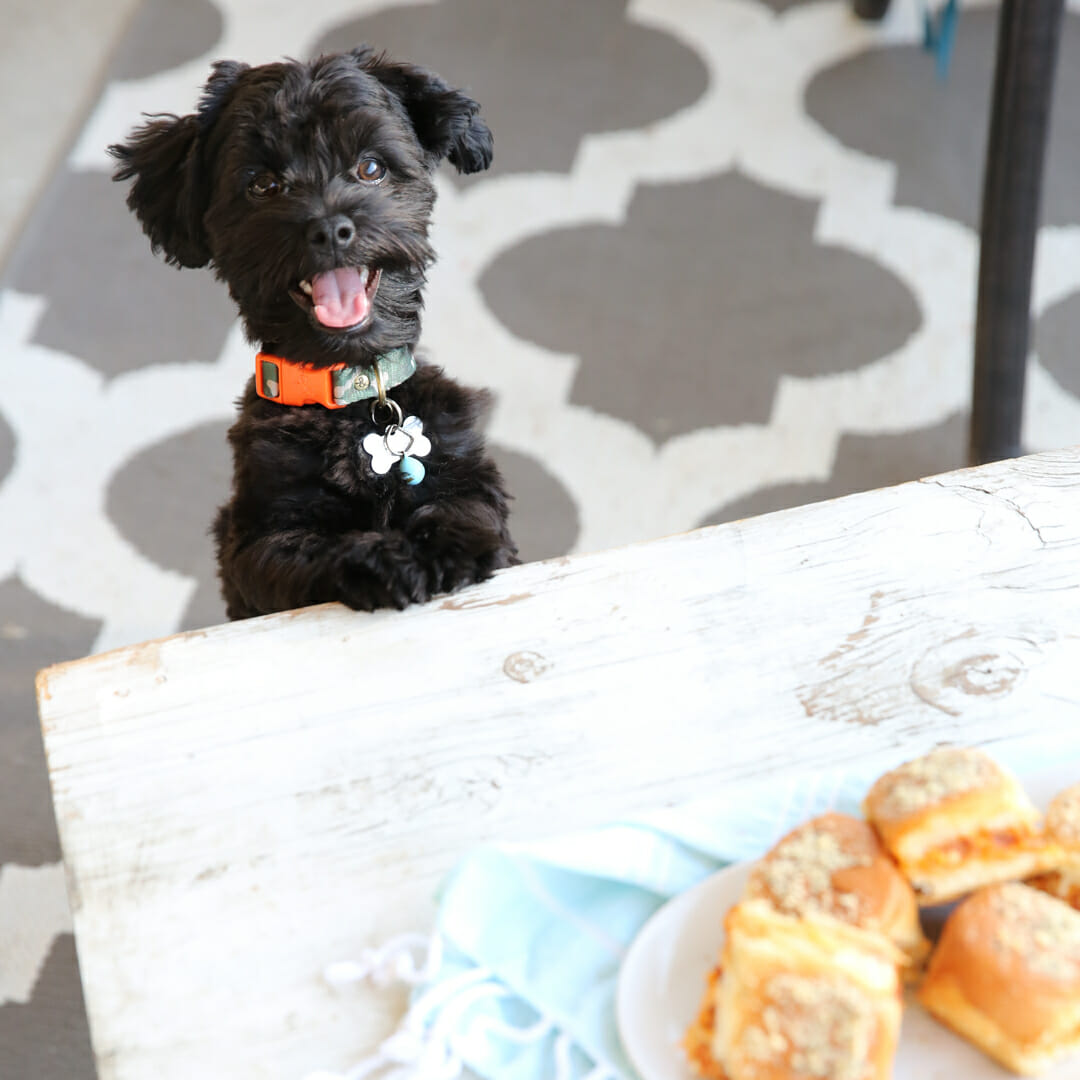 Anyway, this is a great recipe to try out now that school is starting again, and fall sports, and hectic weeknights!  Do what you can to still gather your family around the table.  If you want a great way to be inspired, check out our meal plans.  Lots of family friendly ideas like this one, all mapped out and organized for you!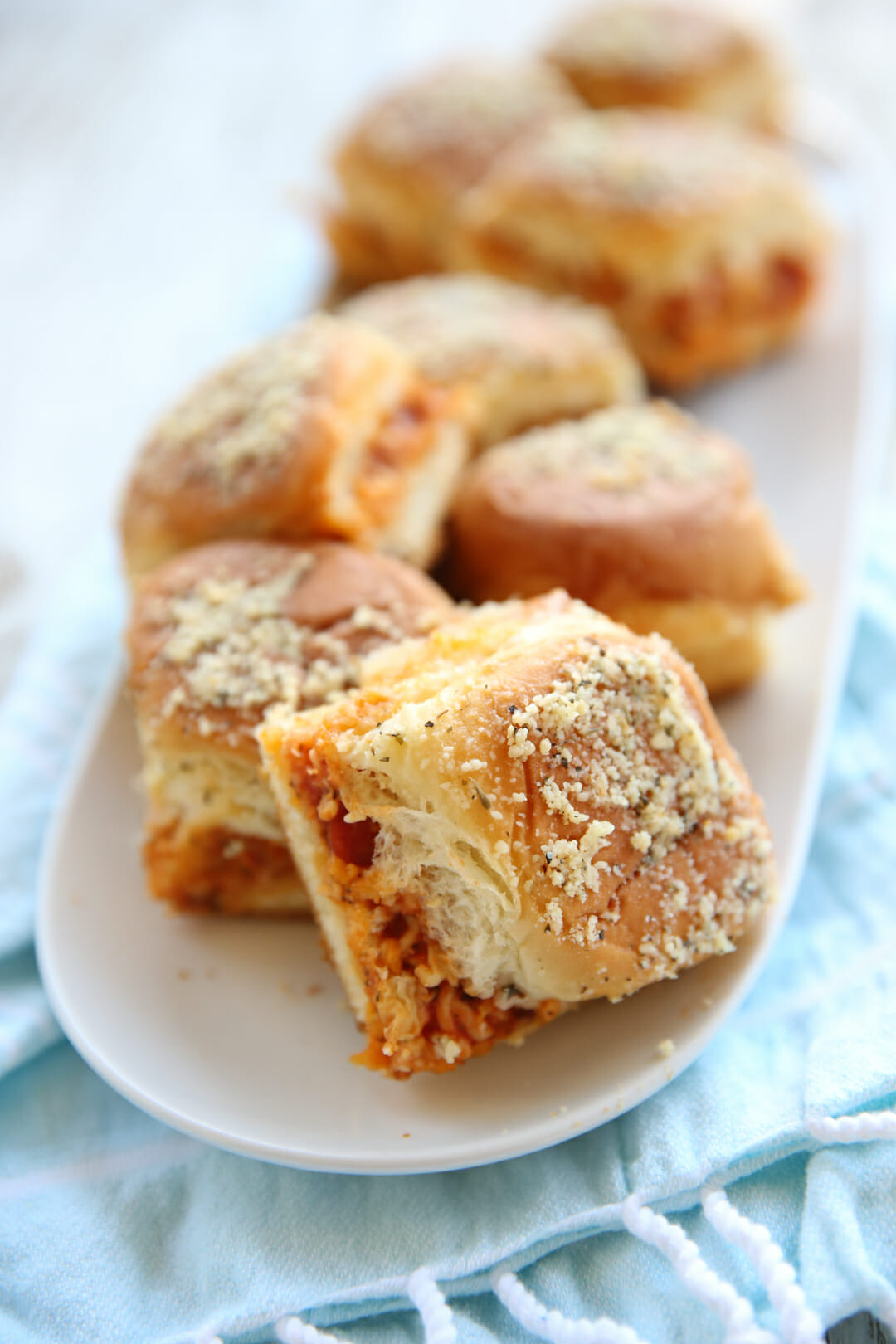 Print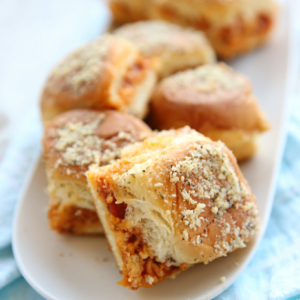 Pizza Roll Sheet-Pan Sliders
---
Description
Easy-to-prep slider sandwiches with all the best flavors of pizza!
---
1

bag Kings Hawaiian Rolls

1 cup

shredded mozarella cheese

1/2 cup

cheddar cheese

1/2 cup

mini pepperoni

1 teaspoon

Italian seasoning

1/2 cup

pizza sauce
Topping: 2-3 teaspoons olive oil or melted butter

2 tablespoons

crumbled parmesan cheese

1/4 teaspoon

Italian seasoning
---
Instructions
Preheat oven to 350 degrees.
Leave rolls attached and slice horizontally like a big sandwich. Place on a sheet pan.
Combine cheeses, pepperoni, Italian seasoning, and pizza sauce and spread evenly over bottom half of rolls. Top with other half of rolls. Brush top of rolls with butter or olive oil. Combine parmesan cheese and italian seasoning for topping and sprinkle over top. Cover pan loosely with foil and bake for 30 minutes, removing foil after 15-20 minutes. Let cool for a few minutes, slice and eat.
---