A few weeks ago my house turned into a video set and today you get to see why!  Click play below to take a little sneak peek into my life, my home, and my kitchen. (And watch for the part where my 2nd grader gets clothes-lined in the back yard.  #favoritescene.)
Kate and I have talked before about some of the funny misconceptions that exist when you're a food writer and blogger.  One of the most common, is that we must cook everything from scratch and spend hours in the kitchen for all of our super fancy organic meals.  If you've read this post from this past Mother's Day, you know how far off the mark that is!  While Kate and I have been working together over the past 5 years, we've actually never lived in the same state.  We had never even been to each other's homes until very recently.  Kate made the long drive up to visit me in Idaho and when she rolled in with tired, hungry kiddos, guess what we made?  Here's the Instagram picture for proof: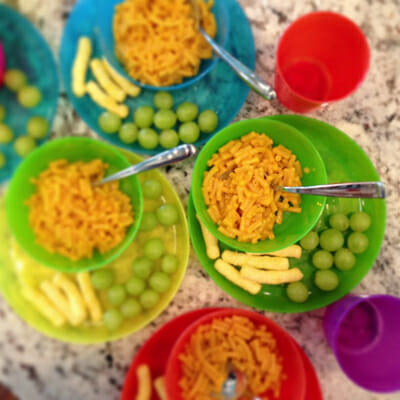 That's right,  classic Mac & Cheese with a side of cheese puffs.  On plastic plates.  It was fast, easy, and the only thing that every single one of our kids happily agreed on.  I mean what I said in that video- I really rely on pantry staples to create quick weeknight meals and many of my family's most favorite meals fall into that "semi-homemade" category.
Of all the great new varieties of Kraft Macaroni & Cheese, this Creamy Garlic & Herb Alfredo is my favorite.  Just like the name suggests, it boasts a smooth and creamy sauce, dotted with Italian herbs and seasonings.  It makes a terrific quick meal on its own, and works wonders as a base for endless add-ins.  I'm going to show you how I cooked the recipe in that video!  If you'd like to make this recipe all from scratch, just boil your own noodles and try our Guiltless Alfredo recipe.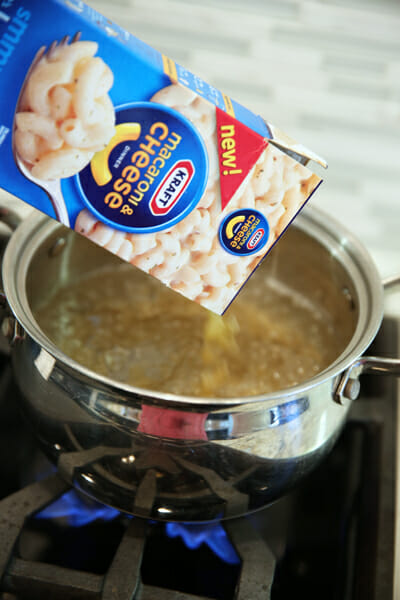 I'm using a few things I almost always have on hand for this dish: some jarred sun-dried tomatoes (roasted red peppers would work well, too) marinated artichoke hearts for a punch of flavor, some cooked and shredded chicken breast (great use for leftovers!) and a little fresh spinach.

All of those ingredients are pretty much ready to go, so really all you need to do is toss them in the pot of the prepared pasta.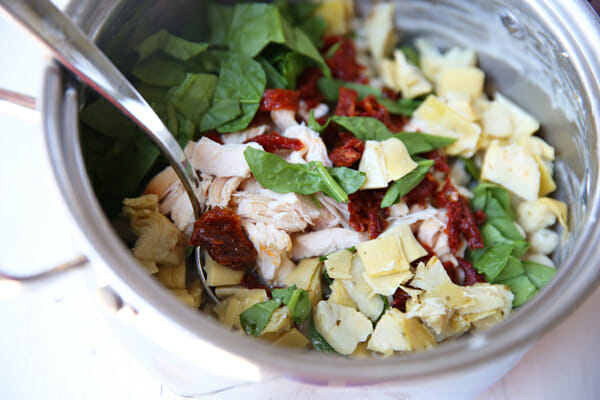 The creamy sauce coats everything in cheesy goodness.  You could place the whole batch in a baking dish if you prefer, but I like to plate up single-portions.  Besides looking adorable, it's a great way to keep an eye on portion control.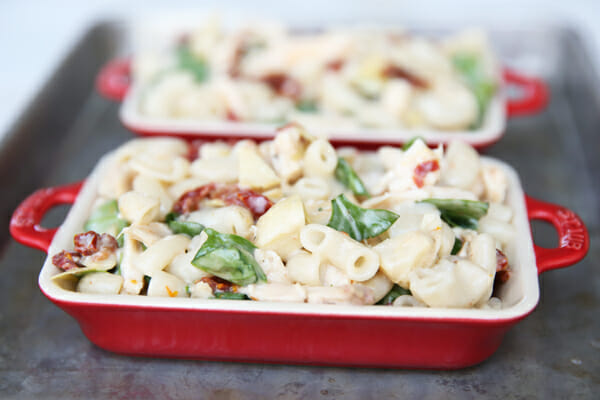 For an extra punch of both flavor and texture, I made a quick breadcrumb mixture for the topping.  This is a great way to use up that one last slice of bread that no one wants to eat; it's even okay if it's a little dried out!  Give it a quick pulse in a food processor along with some grated Parmesan cheese and a little drizzle of butter.
Top each baking dish,
and broil it in the oven until it's golden brown and lightly toasted.
You get a seriously flavor-packed bite.  The artichokes sort of blend in with the color of the pasta and then surprise you with tangy flavor.  The tomatoes add a little texture, and more of those Italian herbs, and the fresh spinach adds pops of color.  Shredded chicken creates a hearty meal that fills up happy tummies.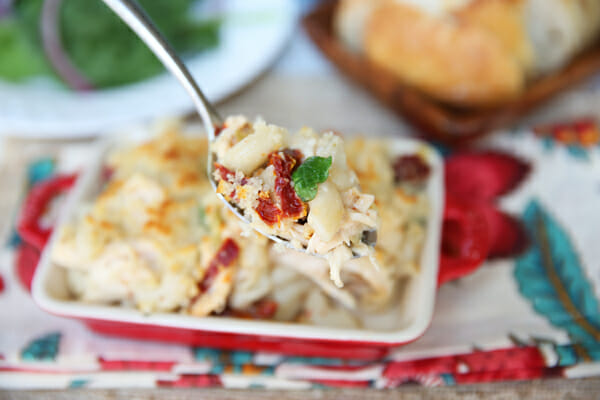 I'm not exaggerating when I say this meal takes less than 20 minutes start-to-finish.  Pair it with a loaf of crusty bread from the grocery store bakery and a quick green salad and you seriously have a filling, home-cooked cooked meal that's casual enough for a weeknight dinner, and sophisticated enough for company!
Hearty Garlic and Herb Alfredo Bake
Recipe By Our Best Bites
1 box Kraft Macaroni and Cheese, Garlic and Herb Alfredo Variety
1 cup cooked, diced or shredded chicken breast
1 1/2 cups loosely packed fresh spinach, torn into small pieces
1 6 or 7 ounce jar marinated artichoke hearts, drained and diced
1/4 cup sun-dried tomatoes packed in oil, drained and sliced
1 cup fresh bread crumbs
2 tablespoons grated Parmesan cheese
1 tablespoon butter
Prepare Macaroni and Cheese according to package directions.  Add chicken, spinach, artichoke hearts, and sun-dried tomatoes.  Stir over low heat until everything is combined and heated through.  Spoon mixture into a serving dish, or 6 individual ramekins.  Combine bread crumbs, Parmesan, and butter, and mix thoroughly. Sprinkle evenly on top of pasta and place under a broiler just until crumbs are golden and toasted.  Serves: 6.

Brought to you by Kraft Macaroni & Cheese.