Last month I showed you my backyard garden, or at least the beginnings of it.  We finished building the trellis in the middle, and had the iron fence and gate installed since then.  We still need to get our irrigation system finished up and finish the walking paths in between our planter boxes, but it's coming together!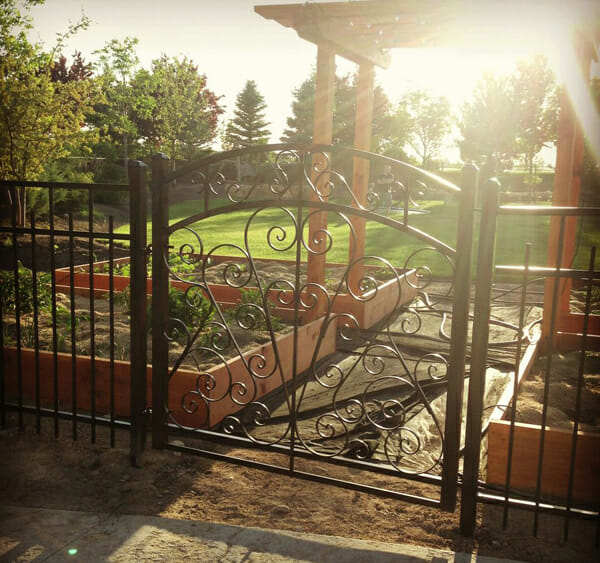 Anyone who follows me on Instagram knows I've been kicking back for the past week in a tropical paradise. I'll show you more of that in the next week or two when I share a couple of my favorite Hawaiian recipes.  I'm thinking I should give away some of my favorite beach-y things too, what do you guys think?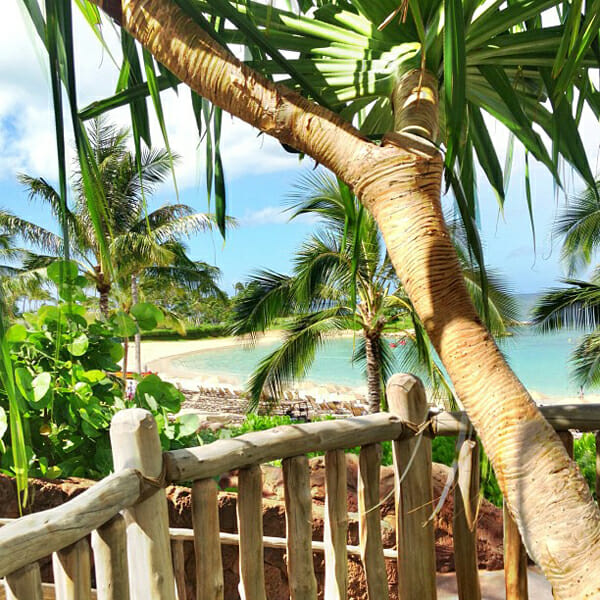 We were gone for 8 days and the first thing my exhausted children did as we rolled into our driveway at 5am was jump out of the car and sprint to the garden to see how it grew while we were away.  We were all amazed how everything took off while our staring eyes were  out of sight for a while.  There are tomatoes popping up everywhere, shin-high corn, little red strawberries ready to eat and herbs going out. of. control.  It makes me so excited for summer garden recipes.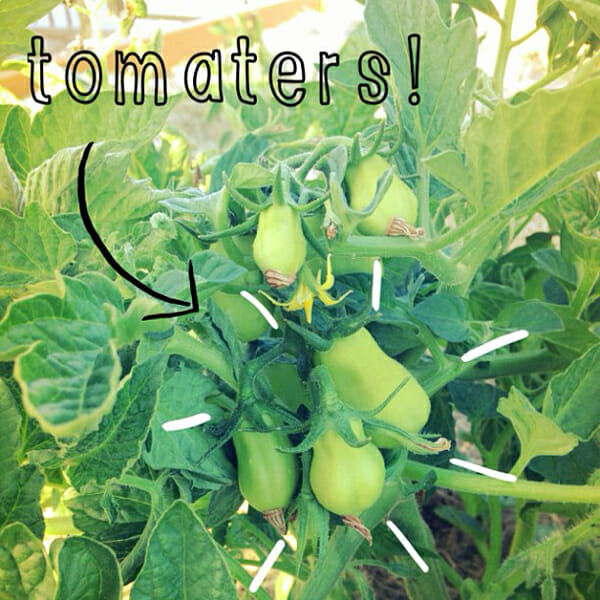 We all went straight to bed, but after waking up at 1 in the afternoon (we're so messed up!) we were all dying for some real food.  I'm still stuffed after a week of vacation eating, but you know when you crave just good, fresh, real food?  Our cupboards were pretty bare, but I did have an unopened block of feta in the fridge, as well as a lemon that needed to be used, and a baguette in the freezer that I bought at the farmer's market last week and didn't have time to eat before we left on our trip.  I ran out to the garden and started snipping and made this really easy, and really yummy garlicky bread to eat with canned tomato soup.  I make compound butters like this all the time, especially in the summer, because they're perfect for fresh bread, or rubbed on corn on the cob, or melted on grilled veggies or a steak hot off the grill.  It instantly dresses up just about anything.
I started out with some oregano and basil from the garden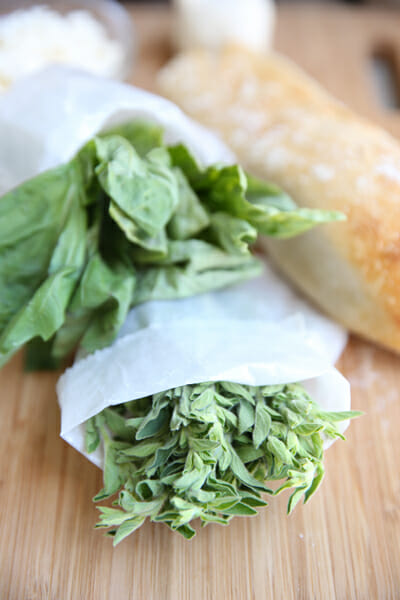 and that feta that I crumbed up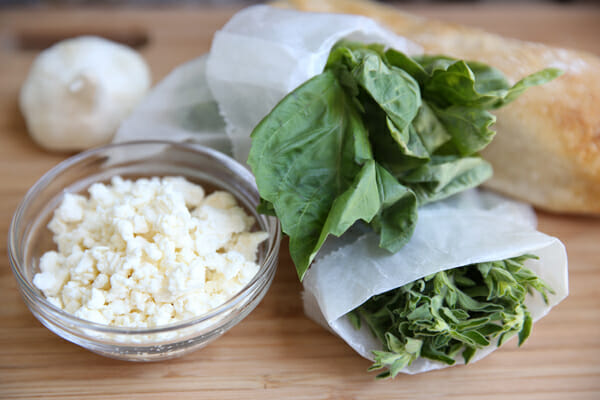 Just take some softened butter (not melted, just soft enough to mash up) and toss in the feta, fresh herbs, minced garlic, and tangy lemon zest.  Also a few cracks of black pepper and a tiny pinch of kosher salt.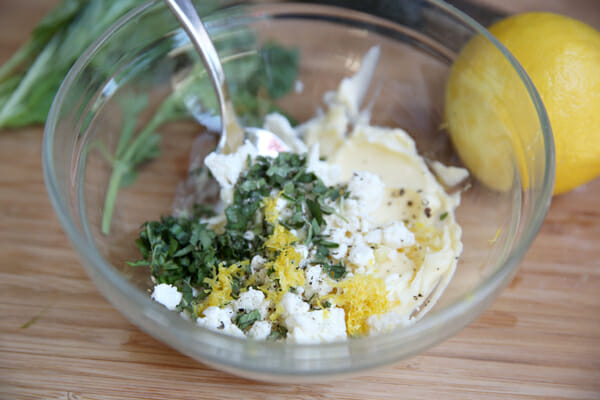 Mix it up until it's smooth and everything is incorporated.
You can use it right away, although I prefer to let it sit in the fridge for a few hours (or up to a day or 2) beforehand because all of the flavors really intensify.  Spread it on baguette slices (great side dish or appetizer) or mix it in to fresh veggies hot off the grill.  It's even yummy on hot pasta.  You can also make garlic bread like I did by spreading it on a baguette and popping it under the broiler, or on a hot grill with the lid shut for a minute or two.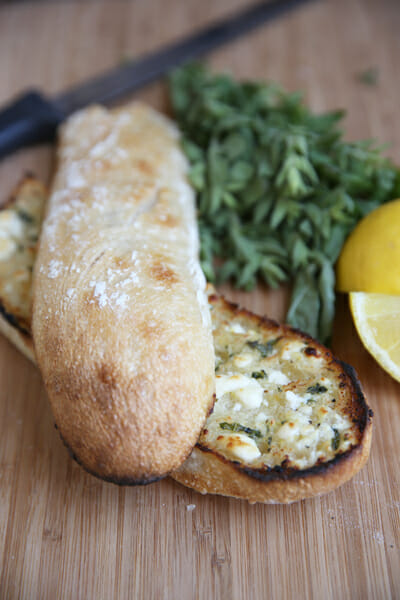 If you toast it, you'll want to eat it right away since feta cheese can get a little chewy once it's cooked and then cooled.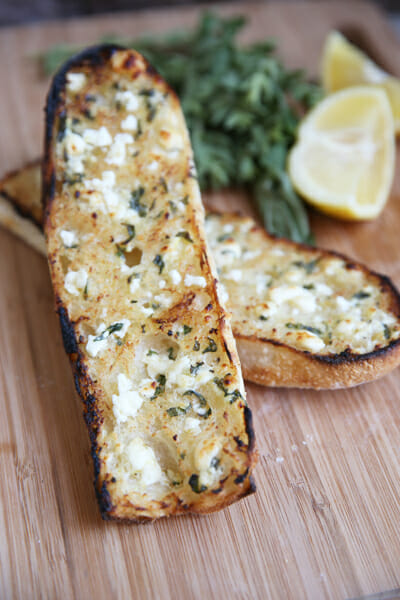 But hot out of the oven can't be beat.  The lemon and feta are tangy and the butter and garlic just melt in your mouth.  The flavor of the fresh herbs are the perfect blend of flavors and the whole things screams summer.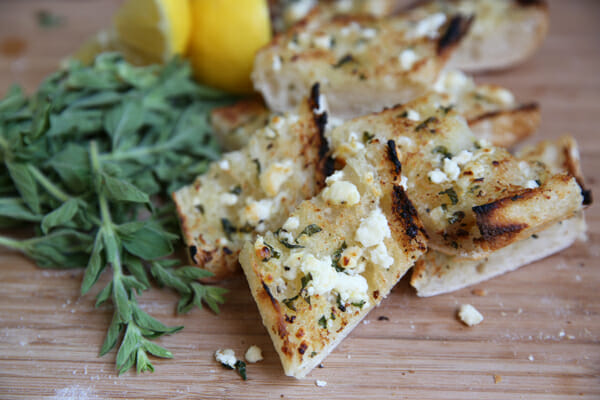 Whip some up and keep it in your fridge for a fancy dish in minutes!
Herbed Garlic Butter with Feta and Lemon
Recipe by Our Best Bites
Ingredients
1 stick (8 tablespoons) real butter (not margarine), softened
1/2 cup crumbled feta cheese
1 Tablespoon fresh minced basil
1 Tablespoon fresh minced oregano
1-2 cloves garlic, minced
kosher salt and black pepper
2 teaspoons fresh lemon zest
Instructions
Stir all ingredients together.  Store in an airtight container in fridge for up to a week (or longer if it still looks good!).  Spread on bread, or toss with hot grilled veggies, meat, seafood, or pasta.  To make garlic bread, spread on baguette and toast until golden brown.  Serve immediately.