Let me just get one thing out of the way:  I'm not the kind of girl who makes her own pasta.  I don't even bake my own bread.  I like buying stuff at the store in nice convenient packages.  So if you're like me and saw this post title and immediately became uninterested, well turn around and become interested for 2 more minutes.  I'm not suggesting you go all I-make-everything-from-scratch here.  I'm suggesting you go all dude-I-just-made-my-own-freaking-noodles-for-dinner-because-I'm-awesome here.  Making pasta sounds kind of scary, and most people think you need a big ol' pasta cranker machine thingy and 7 free hours in a day, but it's not so!  Believe it or not (no, seriously, believe it) making noodles is actually sooooo easy.  Like, 3 ingredient and 5 minutes easy.  For real.  It's a super fun thing to try for a special dinner, or a fun project to make with your kids, or simply to learn a new skill in the kitchen so you can casually drop into everyday conversations things like, "One time, when I was making my own noodles from scratch…"  My boys thought it was SO cool that we turned green goo into green playdough and green playdough into green noodles.  Which we then ate for lunch.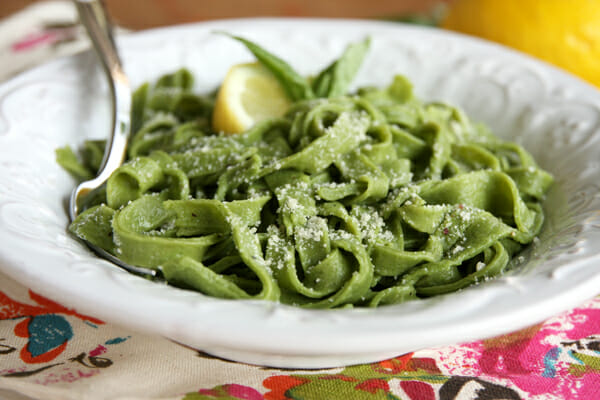 You can make pasta by hand or in a food processor, so don't worry if you don't have any special appliances.  You'll see in my photos that I'm making mine in my Blendtec Blender.  Blendtec just came out with this new Twister Jar.  Those of you with Blendtecs, have you seen these yet??  You need one.  It's a smaller jar, you can see the size comparison in the photo below, and the tines at the bottom are designed to scrape everything of the bottom and reach all the way to the sides of the jar.  It also has an extra lid with 2 prongs that go down.  You can turn the knob on the lid as the blender processes and it scrapes everything off the sides of the jar and pushes it into the middle.  The new Twister Jar is specially designed to make thick things like nut butters, thick ice cream and milkshakes, baby food, hummus, and doughs much easier to blend.  It's also great for smaller portions, like single serve smoothies or a little batch of salad dressing.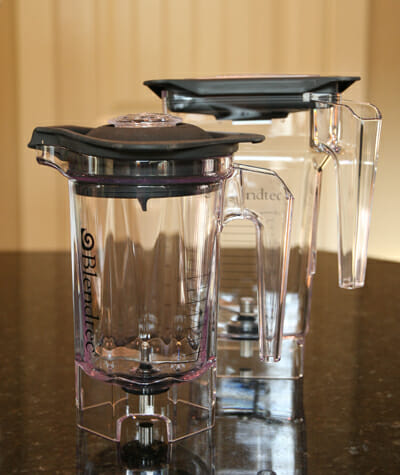 No, this isn't an advertisement or sponsored post- I just want you to see how awesome the Twister is so you'll want one.  Just in case we ever give one way.  Like tomorrow.  What?  You wish we'd give away 2?  Okay.  Huh?  If you get a Twister Jar then you need a Blendtec to go with it?  Fine, whatever.  Two of those too.  But only because you asked nicely.
So, super-powered blender or food processor, either one works.  Pasta is super basic, we'll start with an egg and a little water.
Add a big bunch of spinach, and if you like- some fresh basil leaves too.  You need about 3 cups total; I use 2 cups spinach leaves and 1 cup basil.  It all looks the same, so you can play around with that ratio if you want.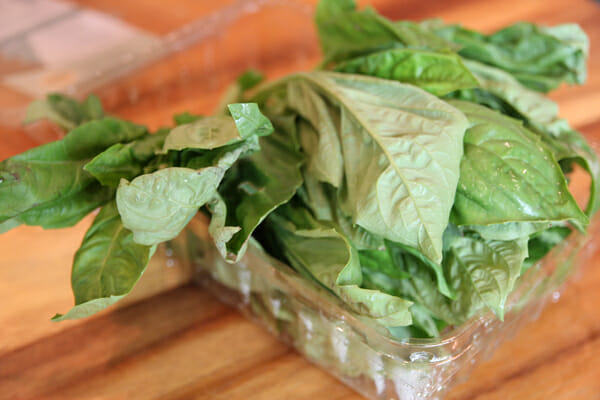 Just roughly tear up the leaves as you pop them in your machine.
Push the leaves down and pulse until it's nice and smooth and vibrantly green.  Scrape down the sides if you need to.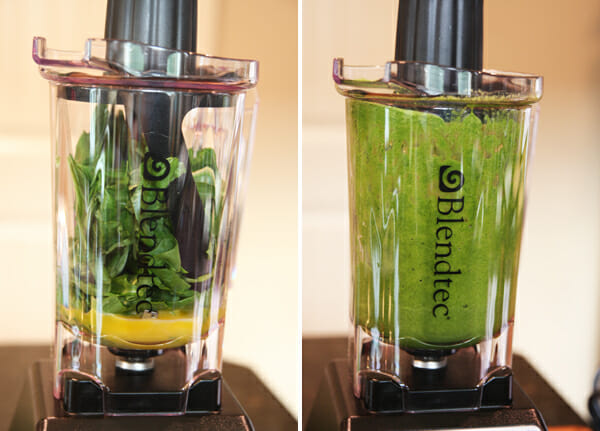 Then add a little flour.  We're just using regular all purpose flour here.  Some pastas use semolina, others a blend of the two.  All purpose white flour works great here and makes a very tender noodle.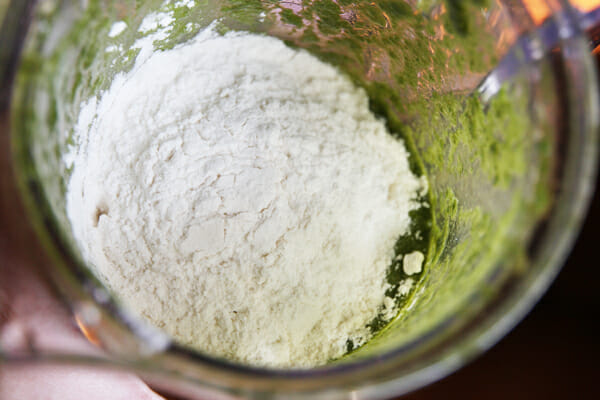 Pulse that until the dough comes together and is well mixed, it should form into a ball on it's own.  If it doesn't, no worries.  Don't add more flour, just scrape it into a ball yourself.  If you're making the dough by hand, you'll still need to somehow puree the spinach and egg mixture, but after that you can use a fork to mix and then knead by hand.
The dough will be pretty soft, and a little sticky, but you want to avoid adding a lot of extra flour because that will make your pasta tough and we want to keep it nice and delicate.  If you have a silicone baking mat, use that.  I spray my mat with nonstick spray, and then I spray my rolling pin and the top of the dough with spray as well.  If you're using a regular cutting board (and not a silicone mat) I'd suggest a very lightly floured board and then spray top of dough and rolling pin with nonstick spray.
Now.  Here's the trick to homemade pasta, and you better be listening.  You have to roll it thin.  Like, paper thin.  As thin as you can roll it without it breaking.  It will plump up when it cooks, so if you cut it thick it ends up being chewy and gummy and then you'll be mad at me.  Make it right and it's delish.  Roll it thin and it's soft and tender.  I suggest rolling out half of the dough at a time so you can get it pretty thin.  Just use a pizza cutter to slice thin strips.  (Yes, I cut on  my silpat– I'm crazy like that.  Livin' on the edge, baby!  My pizza cutter is super dull so it's no biggy.  If you're worried, get one of these.)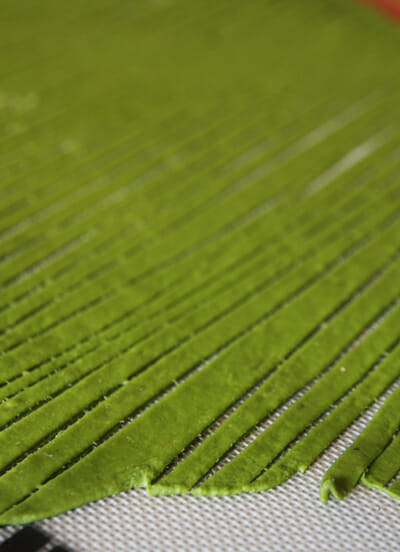 Simmer the noodles in salted water for about 5 minutes and drain.  Make sure to liberally salt your water, there's no salt in the dough so the water really adds flavor too.  How fun is that color?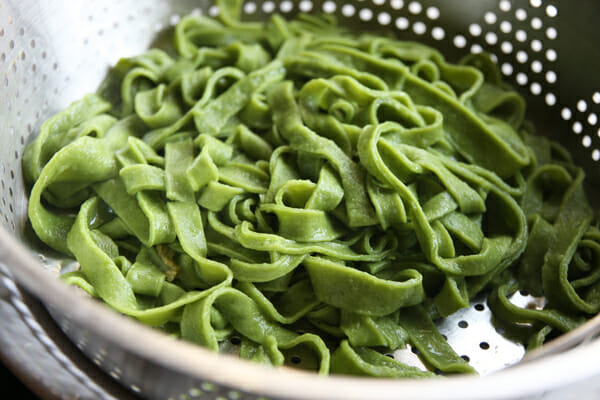 That's it!  You've got amazing homemade pasta.  That you made yourself.  With your own hands.  Because you're awesome like that.  Make sure you tell everyone at least 8 times during this meal that you made the noodles yourself.
With a flavorful homemade noodle like this, I think it's a shame to drown it in heavy sauce.  So my favorite topping for this is a drizzle of olive oil, a big squeeze of fresh lemon juice, salt and pepper, and a liberal amount of Parmesan cheese.
Right after I took this photo, I tossed in some roasted tomatoes and grilled chicken, and it was amazing.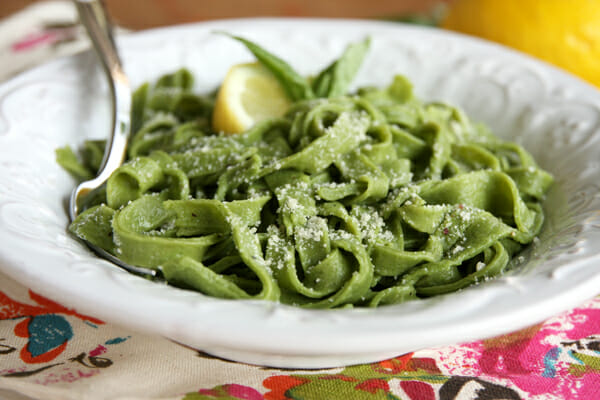 It's also super yummy with pesto.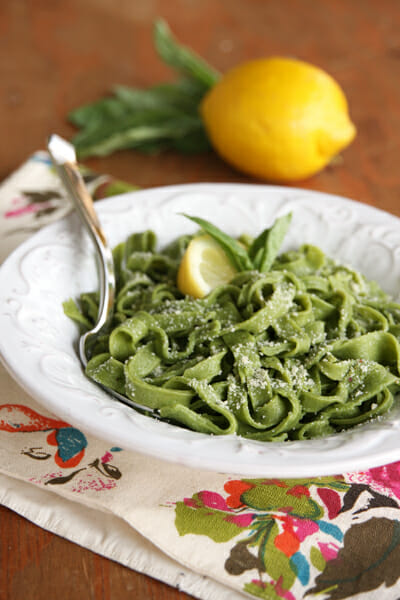 Homemade Spinach-Basil Pasta
Recipe by Our Best Bites, Adapted from Blendtec
Ingredients
1 large egg
1 tablespoon water
2 cups loosely packed spinach leaves
1 cup loosely packed basil leaves*
1 1/4 cups flour
For serving:
extra virgin olive oil
fresh lemon juice
Parmesan cheese
kosher salt and fresh cracked black pepper
*You can use any ratio of basil to spinach, including all spinach and I would recommend up to 50% basil.
Instructions
Note:  This is a small batch of dough.  If you are using a large food processor, you may want to double the recipe in order to get enough mass to process in your machine.
Place egg, water, spinach, and basil in a food processor.  Pulse until smooth,
scraping down sides if necessary.  Add flour and pulse until dough comes together into a ball.
Turn dough out onto either a very lightly floured cutting board, or a silicone baking mat that has been sprayed lightly with nonstick spray.  Form dough into a ball and spray rolling pin with nonstick spray.  Roll dough out into a very thin layer.  It may be helpful to roll out only half of dough at a time.  Roll as thin as possible and then cut into thin strips (about 1/4 inch wide.)  Let strips sit for about 20 minutes.
In the mean time, bring a large pot of salted water to a boil.  Add pasta and boil for 5-7 minutes.  Drain.  Toss hot pasta with olive oil, lemon juice, salt and pepper, and Parmesan to taste.  Add other add-ins if desired.  Also great with pesto, or with roasted tomatoes and sliced chicken.
Makes 9 ounces pasta, serves 4-6 sides or 2-3 main dish.
Nutritional Info for 3 oz portion (1/3 of total recipe, pasta only)
Calories: 218, Protein: 8 g Fat: 2 g Carbs: 40 g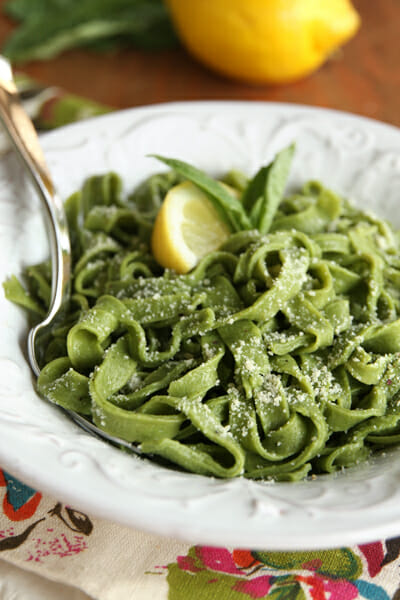 Fo' realz…you want a Blendtec?  You want the Twister jar too?  Be here tomorrow for details.  If you leave a comment on this post trying to enter a giveaway that doesn't exist yet, we can no longer be friends.  Consider yourself warned.