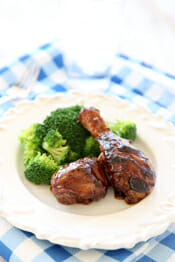 I buy a lot of rotisserie chickens from Costco.  Like, I never have them on my list, and I never really need them for anything, I purely just like to buy them to eat like a carnivorous madman.  Clearly I've rubbed off on my children who ravage though the groceries the moment I get home and upon discovering the chicken, immediately start fighting over who gets the drumstick.  Because we all want the drumsticks.  I remember as a kid always fighting with my siblings over who got the coveted drumstick from the bucket of fried chicken so it's not surprising to me that my kids have somehow discovered the value of the prized piece.  One night after a particularly heated chicken battle, I decided to just make a whole stinking pan of drumsticks for dinner.  You should have seen the looks on my kids' faces when they saw that they were ALL DRUMSTICKS.  It's now their favorite meal so I've come up with about 402 ways to prepare them.  This is one of our favorites lately!
Now, there are different sizes of drumsticks.  This recipe is for about 2 – 2 1/2 pounds, and for best results, look for the ones that are about 3-4 inches long and give you 5-6 drumsticks per pound or so.  They're on the smaller side, but not tiny like chicken-wing-size.  I don't really like the giant, meaty ones here.  You could also use boneless, skinless chicken thighs.  Don't use boneless skinless breasts or tenderloins.  It will hurt my recipe's feelings.
Start by rinsing the chicken in cold water and patting dry with paper towels.  If there is any excess fat hanging off, use a pair of sharp kitchen shears to snip it off, but don't remove all of the skin. That layer is what holds everything to the bone and they'll fall apart without it.  I trim it down about 1/3 of the way from the top, if it needs trimming.  I didn't trim these ones in the photo at all because they were very well trimmed.
Whisk up a quick spice rub of kosher salt, black pepper, onion powder and paprika.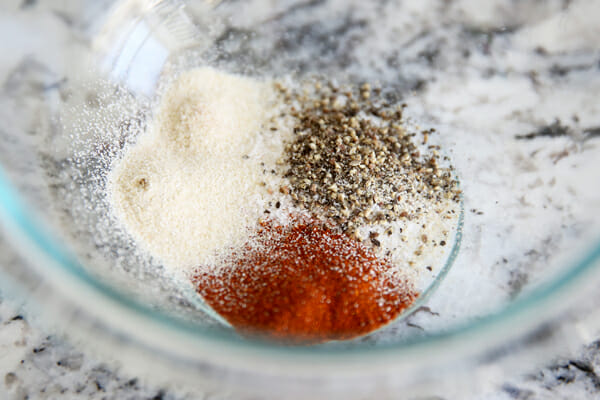 Give the drumsticks a little drizzle of olive oil and then sprinkle with the spice mix.
Use your hands (c'mon, be brave) to rub it all in and coat all of the pieces.  While you're doing this, have a large dutch oven heating up on the stove.
Drizzle in a little more oil and place your chicken in to sear for a few minutes on each side.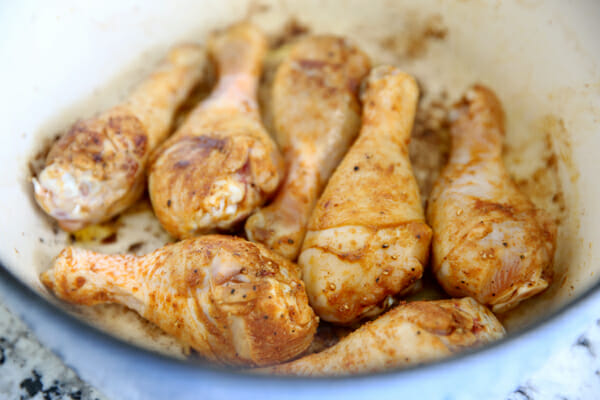 While chicken is searing, mix up the quick sauce.  The chicken will cook in this sauce and soak up a lot of the flavor, and then we'll thicken it up for the glaze at the end.  Start with a big drizzle of honey,
Add a splash of balsamic vinegar,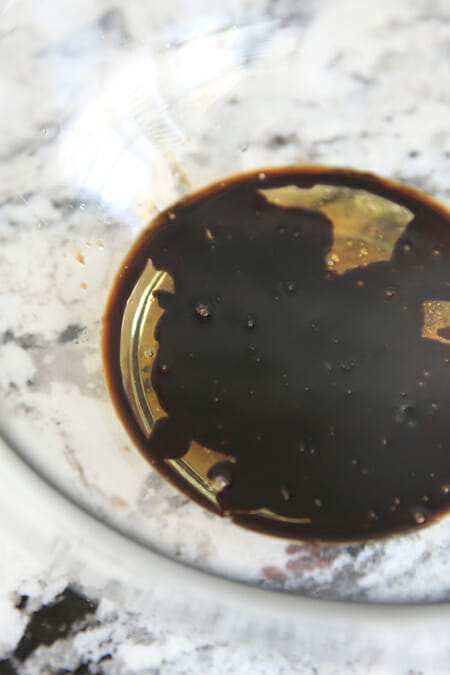 a squeeze of ketchup, and several cloves of fresh garlic.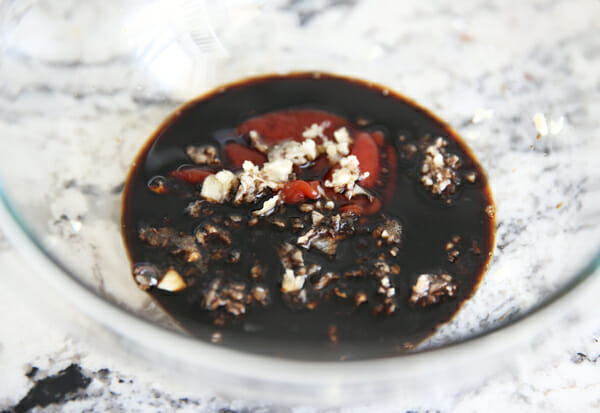 Whisk it up and pour it over the chicken.  Use a rubber spatula, or a good set of tongs, to toss the chicken around in the sauce, making sure each piece gets coated.  Place a lid on the pan and pop it in a 350 degree oven.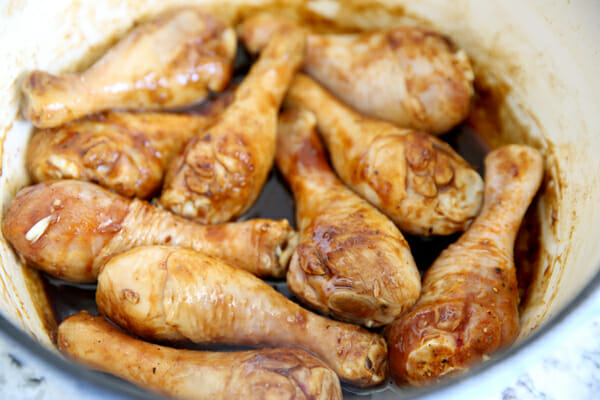 The chicken will cook in that sauce and stay super moist and flavorful.  When it's done, carefully remove the drumsticks (they might be falling off the bone) and cover them with foil to keep warm.
Put your pan on the stove top and bring that sauce to a simmer.  You just want to reduce it to a nice glaze-y consistency.  It only takes about 5 minutes and you'll see it thicken up so you can scrape the bottom of the pan like this and it almost has the consistency of a thin BBQ sauce:
Toss that chicken back in and get it all coated in the sweet, sticky glaze.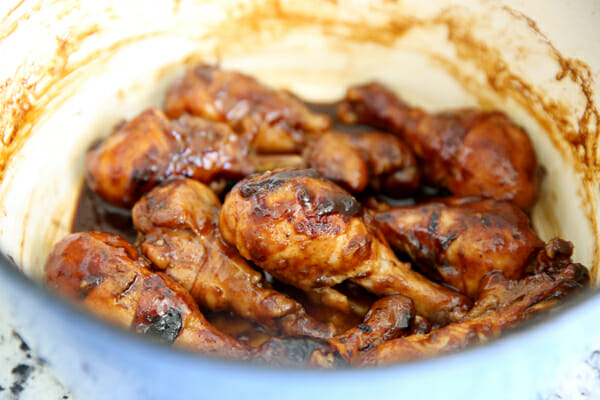 You can put them on a platter and drizzle all of the extra glaze right over the top or serve them right out of the pan.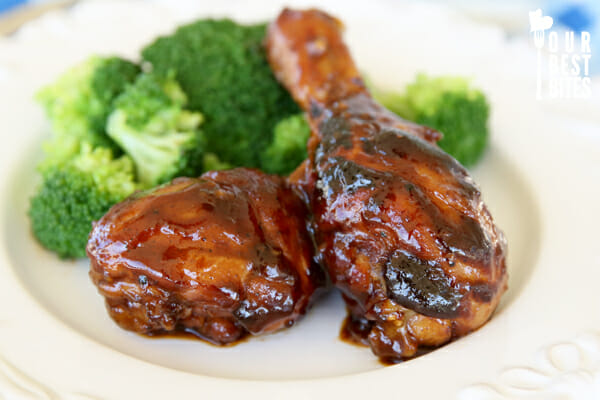 We love it with rice so it can sop up the sauce, but it's great as a lean meal just over veggies.  It's a terrific week night dinner and nice enough to serve to guests (if they're the kind of guests that don't mind getting their hands dirty.)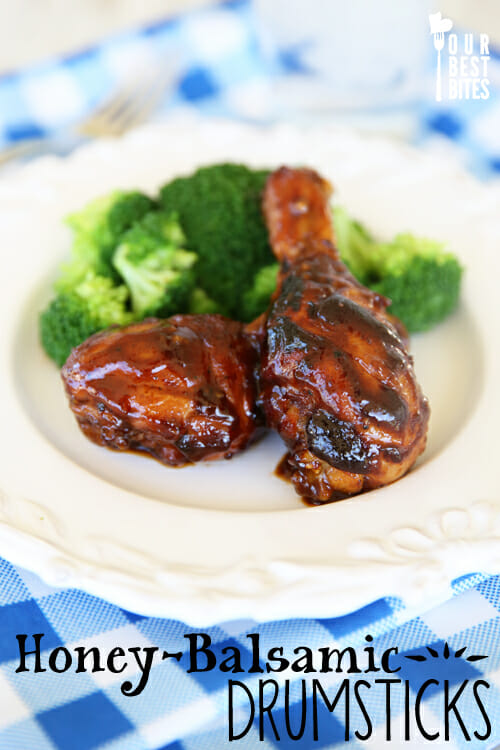 Print
Honey Balsamic Drumsticks
---
Description
These Honey Balsamic Drumsticks are a fantastic quick-and-easy dinner idea that everyone will love!
---
For the drumsticks
2

–

2 1/2

lbs chicken drumsticks (

10

–

12

drumsticks)

3 teaspoons

olive oil, divided

1/2 teaspoon

kosher salt

1/4 teaspoon

ground black pepper

1/2 teaspoon

paprika

3/4 teaspoon

onion powder
For the sauce
2 tablespoons

honey

2 tablespoons

balsamic vinegar

2 tablespoons

ketchup

4

cloves garlic, minced or pressed

2 tablespoons

water
---
Instructions
Preheat oven to 350 degrees.
Rinse chicken, pat dry. Drizzle with 1 teaspoon olive oil, toss to coat. Add seasoning mixture and use hands to massage into all pieces.
Heat large dutch oven (or heavy oven-proof skillet with an oven proof lid) to medium heat. When hot add 2 teaspoons olive oil and use a brush to make sure it's distributed over the entire surface of pan. Brown chicken 2 minutes per side (in batches if necessary.)
While chicken is searing, whisk sauce ingredients together and add to pan. Gently toss chicken to coat. Cover pan and bake for 20 minutes, flip chicken pieces and baste with sauce and return to oven for 20 minutes more. Remove chicken from pot and cover to keep warm.
Bring sauce to a boil and simmer for 4-5 minutes until thick and glaz-y. Return chicken to pan and gently toss in glaze. Let sit for a few minutes before serving, so glaze will thicken and chicken won't burn your mouth!
---
*Disclaimer: This post contains affiliate links.