I caused quite a stir on Instagram this past week when I shared a series of stories from a brand new Albertsons store here in my home town. Some of the comments left were "Is it weird I want to take a road trip to Albertsons?!" and "My official bucket list: Paris, Milan, Bora Bora, and Albertsons." Albertsons is headquartered here in Boise, Idaho and they've built two amazing flagship stores in our community. The most recent, Albertsons Market Street, is just minutes away from my house and it is spectacular!
Albertsons Market Street
With over 100,000 square feet, the entire is a culinary adventure that truly lives up to it's mantra: #EatLifeUp. You can find things like scratch-made breads and pastries, in-store made tortillas, amazing specialty desserts, gelato, in-store roasted and smoked meats, hundreds of varieties of specialty cheeses (including fresh house-made mozzarella, my kids LOVED watching this!) There is an impressive number of restaurant-style meals to-go and you can even dine in at their full service bar and bistro. They also have a fantastic catering department and a large variety of affordable classes for the public from everything from cake decorating to succulent planting. It's an experience like no other!
Quality Ingredients
When given the opportunity to create a recipe celebrating the offerings of this new store, I actually walked in the store without a plan! I wanted to see what ingredients caught my eye. Right away I was captivated by the produce section and they had huge containers of fresh berries for insane prices (like 2 pound boxes of giant strawberries for under $3- what!) I stocked up on a variety of fresh fruit and moved into the cheeses. I love cheese. The cheese department at this store is a dream. I noticed the Mascarpone and knew that I wanted to do a sophisticated twist on the average no-bake cream cheese pie. These little cuties have a dreamy filling and show off the seasons best produce (you can easily sub out whatever is in season- these would be amazing with peaches and stone fruit, too!) The crowning jewel here is the little drizzle of sweetness on top– read on to find out about that!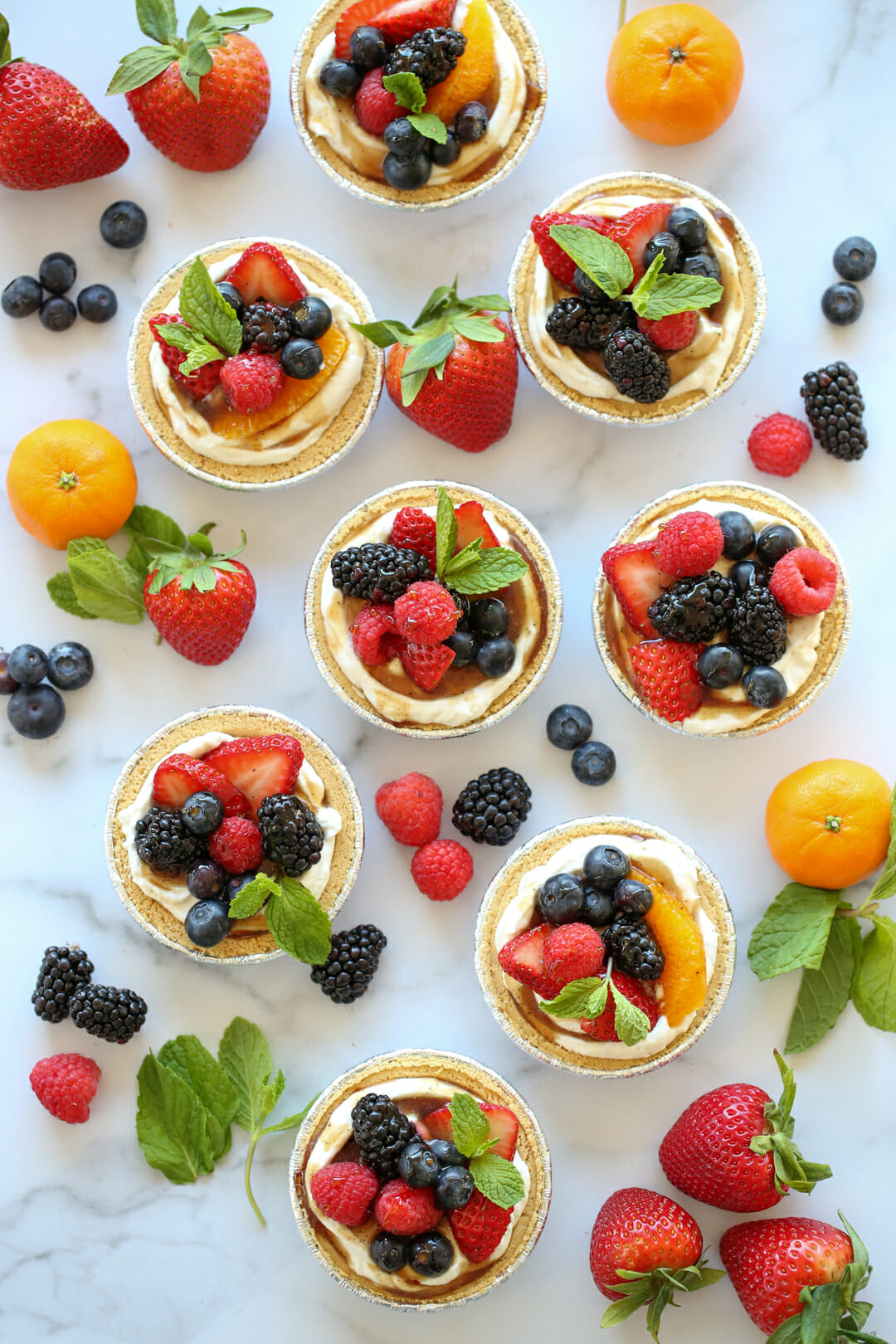 How to Make Honey-Vanilla Mascarpone Filling
I'm using a variety of dairy products in the filling to get a balanced flavor that's a little different than what you might usually expect.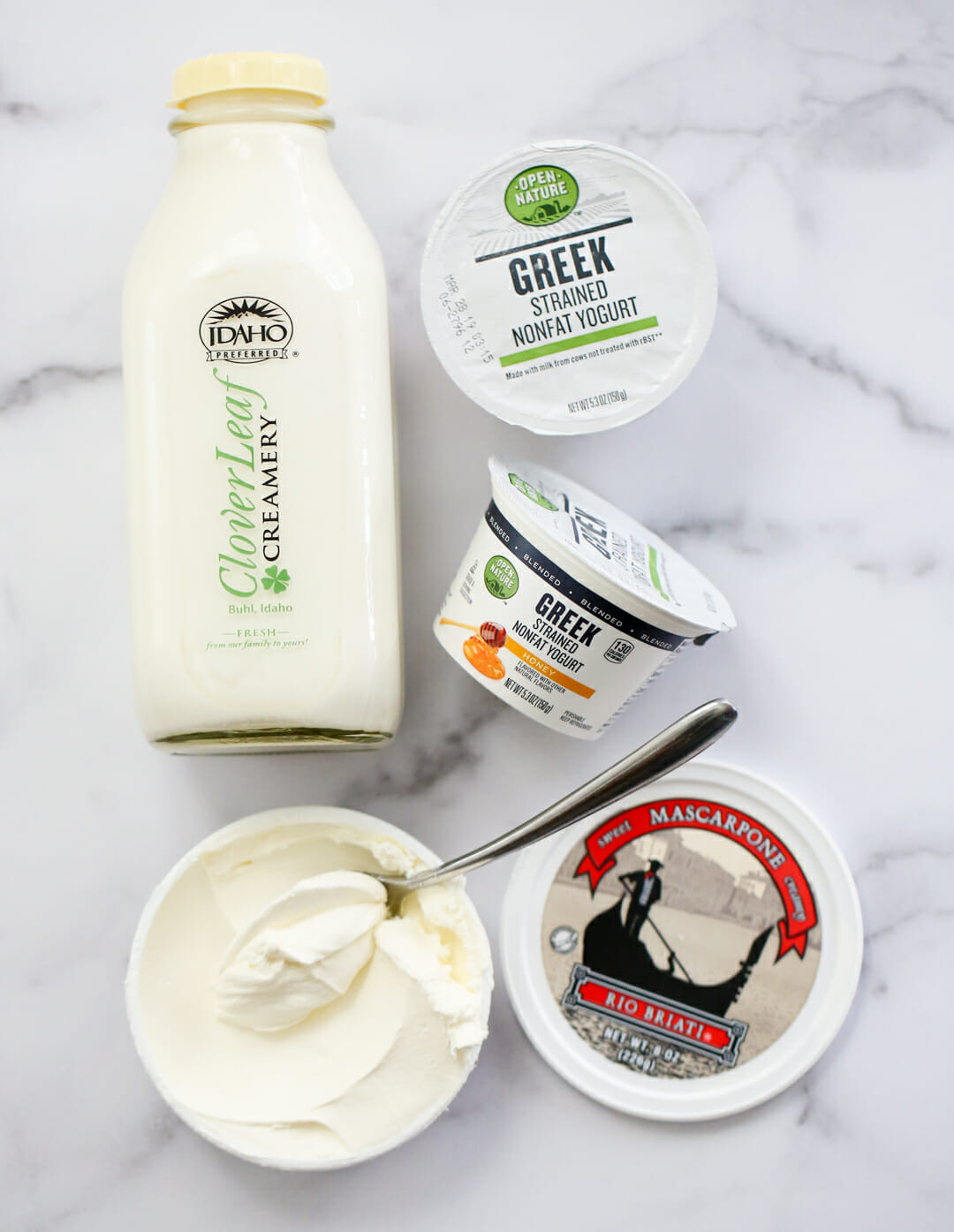 Mascarpone is an Italian soft cheese. It's very similar to cream cheese but it lacks the distinct tang. The mellow flavor is preferred here because we're going to lace the filling with gentle flavors of honey and vanilla and the mascarpone lets those come through beautifully.
I'm also including some greek yogurt, in honey flavor. It adds an extra flavor component, and even adds a little protein! One of my favorite things about our new Albertsons is that it is all about local. I immediately grabbed this Idaho brand cream that's made at a local creamery. The store shelves are FILLED with local companies and that just makes my entrepreneurial heart sing. I love supporting local. You can find products from right here in our community to specialty products from around the globe. The whipped cream gets folded into a yogurt, honey, and cheese mixture. You really can't go wrong with this combination of ingredients!
The fluffy cloud-like filling gets spooned into mini graham crusts. I just buy these pre-made in the baking aisle for convenience!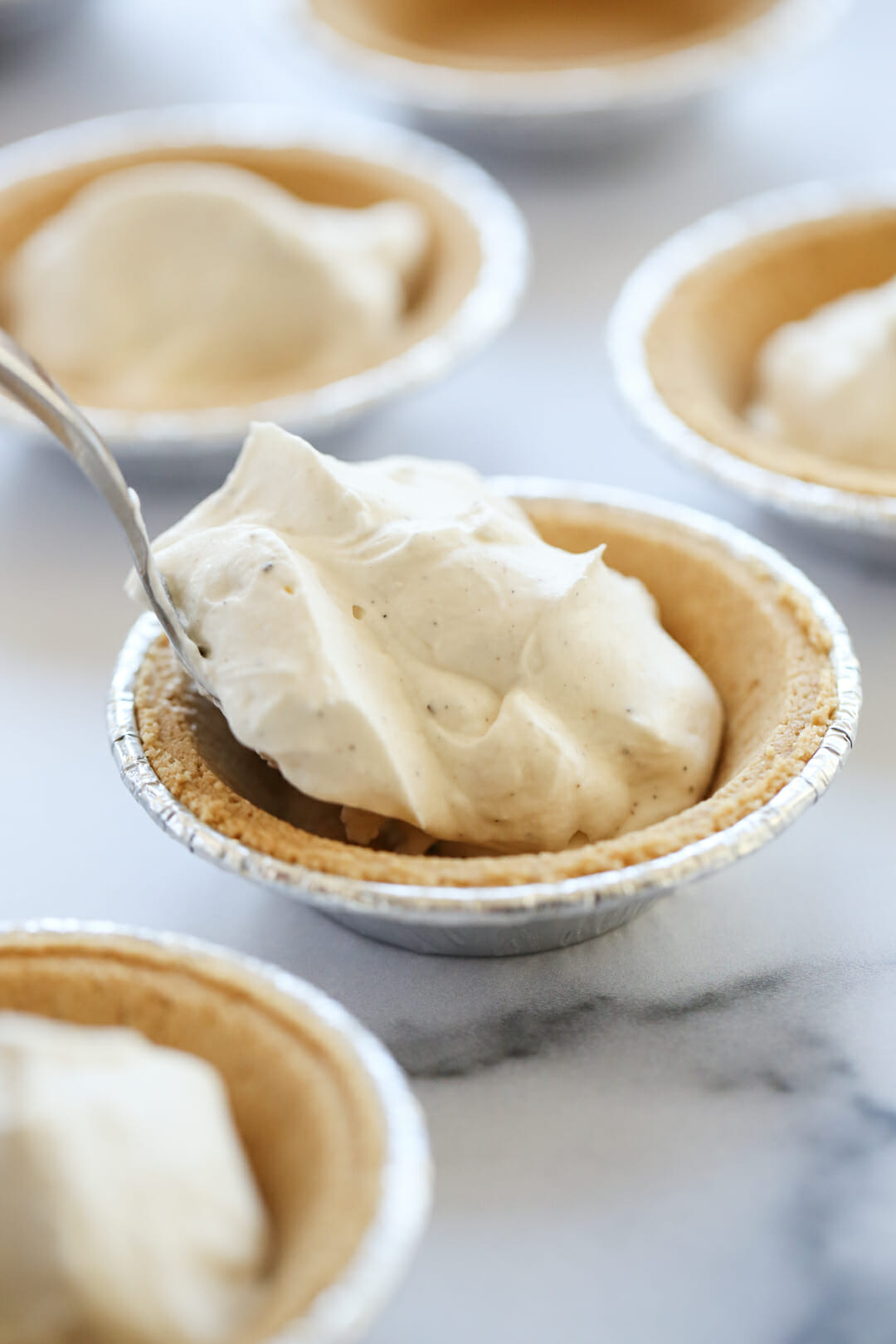 Using Ground Vanilla
You might notice the little specks in my filling- that's because I found a cool ingredient at Albertsons that was new to me! You can certainly just use a good vanilla extract in this recipe, or you can scrape a vanilla bean. I had never seen ground vanilla before so I bought some. It's a small jar but it has the equivalent of a lot of beans in there. It was so easy to use and added great vanilla flavor. I will definitely be using more of this!
Honey Balsamic Glaze
After topping our little pies with fruit, you'll drizzle on a sweet glaze. It's made by whisking together some honey, a touch of balsamic vinegar, and a tiny bit of vanilla (I used that dry ground vanilla again). Balsamic might seem like a strange ingredient in a dessert, but just trust me. The sweet acidity cuts through the honey and balances the flavor. I suggest using a good honey since it's a main flavor component here- I spent a solid 10 minutes in the store staring at all the honey choices because there were so many! This Buzz & Bloom brand won out partially because of that adorable jar. Admit you were all thinking the same thing.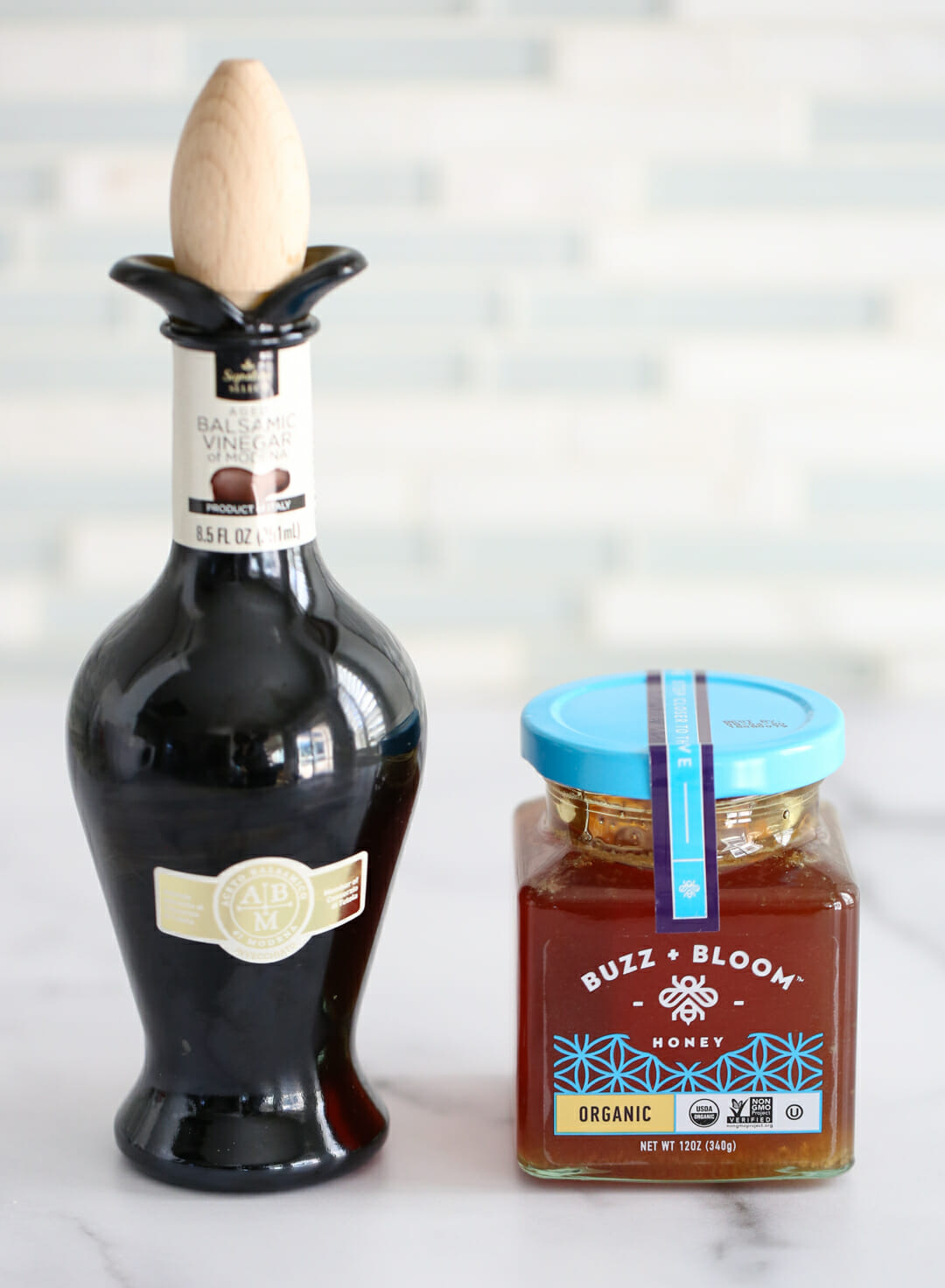 Just give each little pie a drizzle.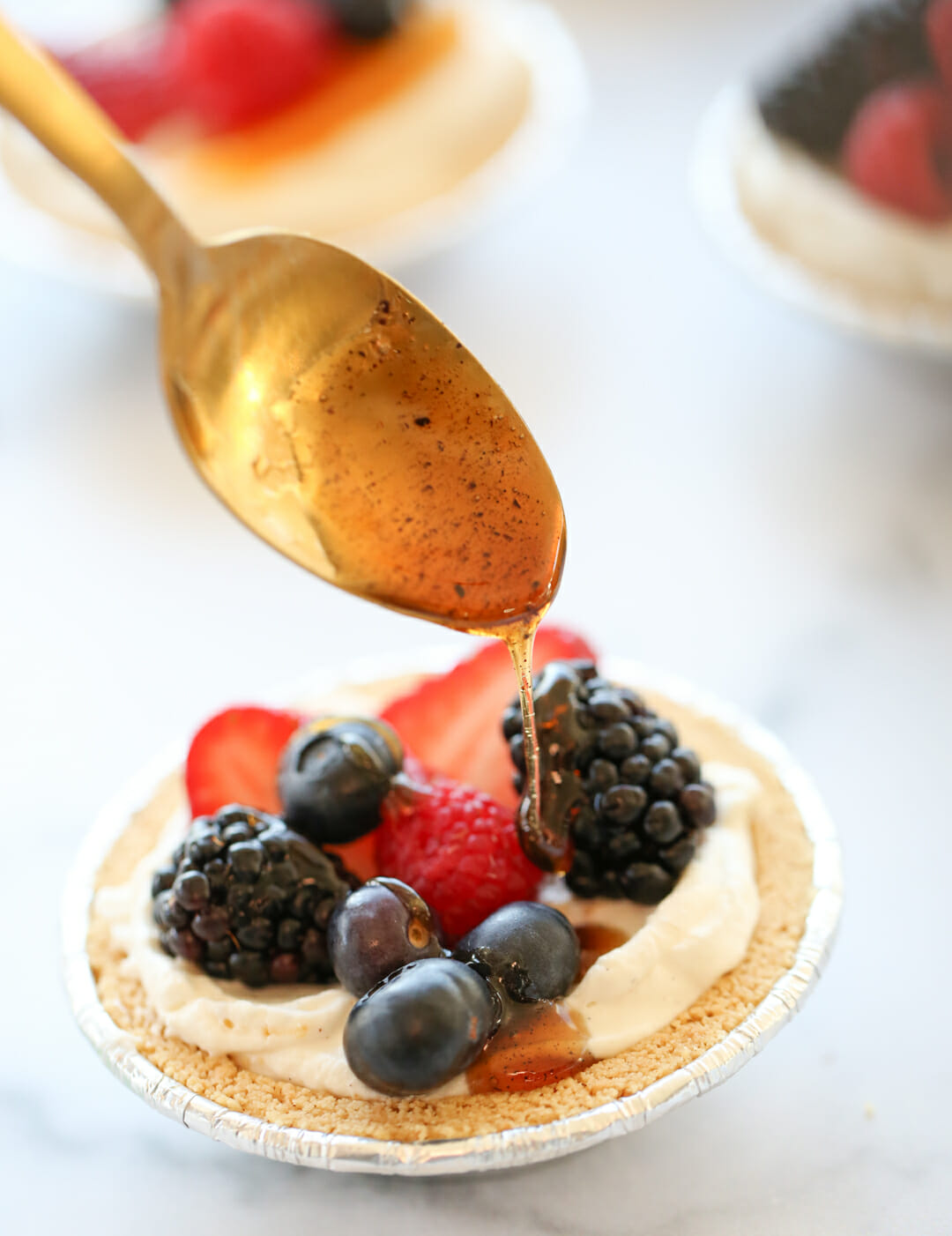 You can garnish with a little mint leaf if you like. These little pies are so gorgeous and so delicious. They have a sophisticated flavor profile, but yet a homey, comforting feel.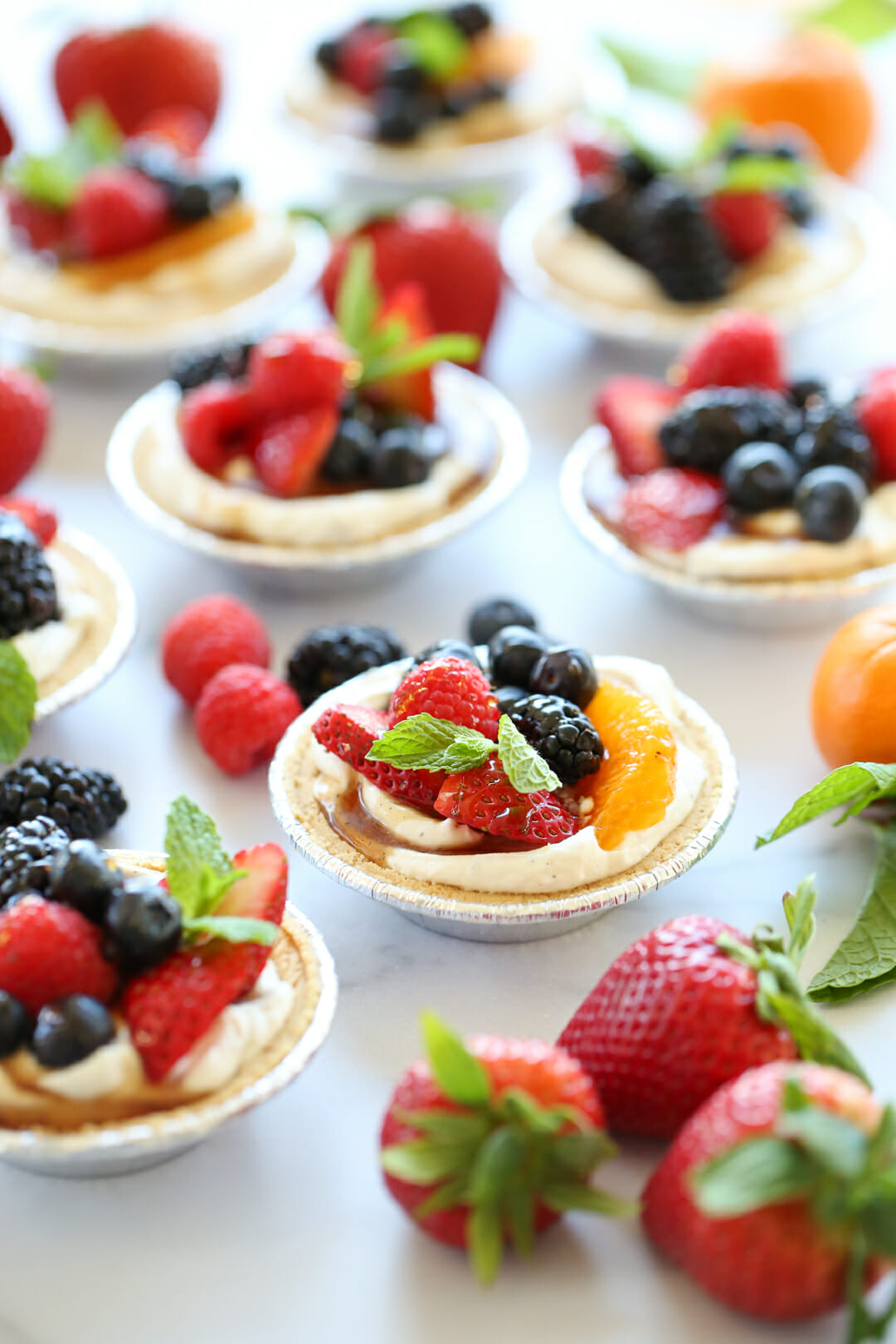 They'd be so great for a spring brunch or Easter celebrations, or baby or wedding showers, or simply a family treat.
For all of my local friends, if you haven't been to the Albertsons Market Street yet, zip over there this week! Take a friend or your significant other and make it a date- it's a great destination store and you could wander all afternoon! Just make sure to grab a cart, because I guarantee you'll fill it up!
Print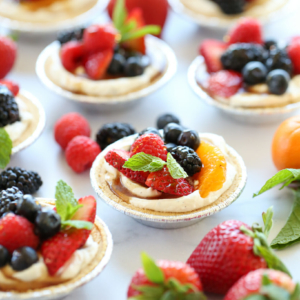 Honey Vanilla Mascarpone Mini Pies
---
Description
Sweet little graham crusts are filled with clouds of mascarpone, cream, honey, Greek Yogurt and vanilla bean, drizzled with vanilla speckled honey glaze!
---
Pies:
4 ounces mascarpone cheese
1 1/2 tablespoons honey
1 teaspoon vanilla extract, or 1 scraped vanilla bean or equivalent dried vanilla
1 5.3 oz container honey Greek yogurt (I used Open Nature Brand from Albertsons)
1 cup whipping cream
4 tablespoons powdered sugar
12 mini graham cracker pie crusts
3 cups assorted berries or other fruit of choice
optional: mint leaves for garnish
Glaze:
3 tablespoons honey
1 teaspoon balsamic vinegar
1/4 teaspoon vanilla extract or pinch of vanilla bean
---
Instructions
In a medium mixing bowl, combine mascarpone, honey, and vanilla and beat with a hand mixer until combined. Add yogurt and blend just until mixed. Set aside.
In a separate bowl, beat cream with powdered sugar until medium peaks form. Add whipped cream mixture to mascarpone mixture just a few spoonfuls at a time, gently folding after each addition. Avoid stirring!
Place graham crusts out and divide filling evenly among them. Top with fresh fruit.
In a small bowl, whisk together honey, balsamic, and vanilla glaze. Drizzle glaze over all pies. Garnish with mint if desired. Serve immediately or chill for 1-2 hours before serving.
---
Notes
Mascarpone is an Italian style cream cheese, without the tang of American cream cheese. Look for it in the specialty cheese section of the grocery store. You can substitute cream cheese but it will have more of a cheesecake flavor.