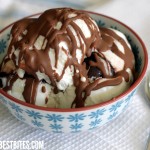 It is totally possible that this is the most random Our Best Bites post ever. We often get requests for how to make those crunchy things that are inside Carvel and Dairy Queen and other ice cream cakes, so I used my awesome stalker research skills to find out how they're made. I also had this little awesome tip on how to make your own chocolate shell at home. Suddenly, I had these two seemingly unrelated mini recipes that are so simple that it was kind of weird to post them on their own, but they were things I really wanted to share with y'all. And since they really are related, I combined them. I'm living on the edge here. With Oreos and Magic Shell.
Because those are the only two ingredients in the Crunchies.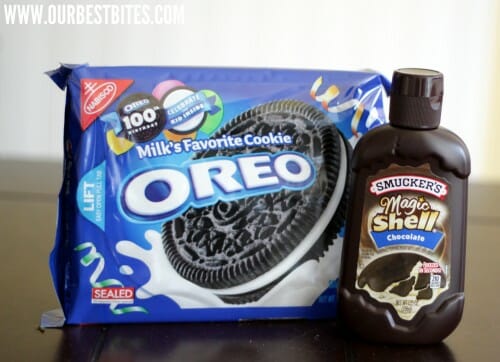 Except that in all my stalking research, all the measurements were these vague ideas like, "Cut up some Oreos and pour enough Magic Shell over them so they're moist but not soaked." Um, huh? That does me no good. So I started playing around with proportions until it felt right. Except that I measured all along the way so I could give you guys measurements because I love you that much.
You know how those standard-sized packages of Oreos have 3 rows  in them? Place two of those rows in a food processor.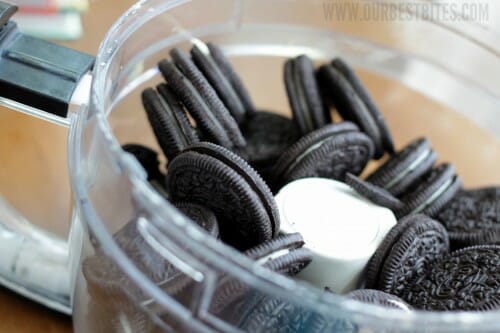 The rest of the Oreos left in the package will be sad that their friends are gone and when cookies are sad, they become devoid of calories. Just sayin'.
If you don't have a food processor, you can place them in a heavy-duty Ziploc bag and then crush them with a rolling pin. Or take out all your aggression with a meat mallet. It works, I promise. Either way, you'll want to crush them so they're mostly crumbs, but it's cool if there are a few chunks in there. And you'll want 2 1/2 cups of crumbs.
Pour a 7.25-ounce bottle of Magic Shell over the cookie crumbs.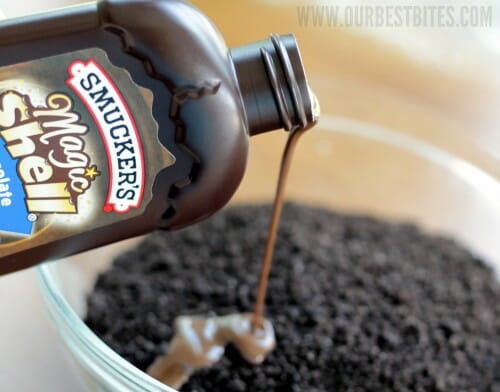 Mix it up well.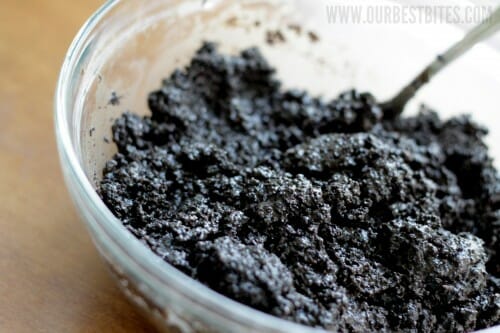 Spread it between layers in ice cream cakes (or similar desserts like these Mint-Chip Ice Cream Brownie Squares) or hand-mix them into softened ice cream, press them into ice cream bowls or ramekins before adding ice cream sundae toppings, or sprinkle them on top of your favorite frozen treats.
But alas, you say, I do not have/like/want to use Magic Shell. No worries. All you need is a little chocolate and some coconut oil.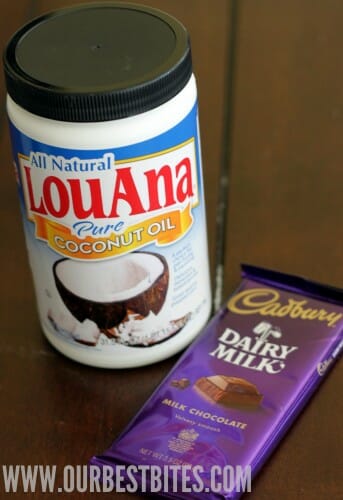 There are a lot of cool things about coconut oil (and lots of great health benefits in spite of the fact that it's high in saturated fat), and one of those things is that it's solid at room temperature, so it's good at helping melty things like chocolate stay firm at room temperature and hard and crunchy at lower temperatures.
Anyway.
Chop up some high-quality chocolate and combine them in a microwave-safe bowl with the coconut oil.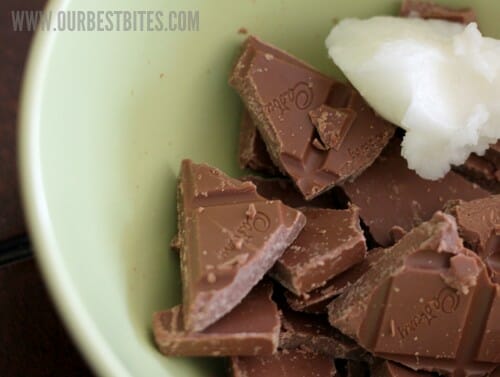 You can also use chocolate chips…I actually planned on using chocolate chips, but I couldn't find them and assumed SOMEONE had snacked them away until I found them in an empty box of cereal a week later. My life is complicated.
Heat the chocolate and coconut oil in the microwave for 20 seconds at a time, stirring every 20 seconds, until the mixture is smooth. Drizzle it over ice cream…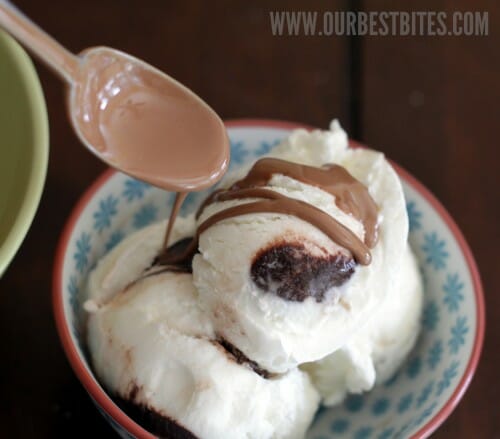 or dip your favorite cold treats into the sauce. Or mix it with crushed Oreos to make your homemade Carvel Crunchies (and we come full circle…DUM DUM DUM!) Just don't forget to lick the spoon because that is the very best part.
We've had a few questions about different flavors and colors of Homemade Magic Shell. It's TOTALLY do-able, but be sure any flavors or colors you add don't have any alcohol in them; otherwise, it will cause the chocolate to seize up and clump and that is not magical in any way. Wilton has some good basic flavors–you can look for them in a store like Hobby Lobby or Michael's or buy them online here or here. Gel/paste food colorings (like Wilton or Americolor) are also alcohol-free, so if you want to use those to tint white chocolate, they should be fine.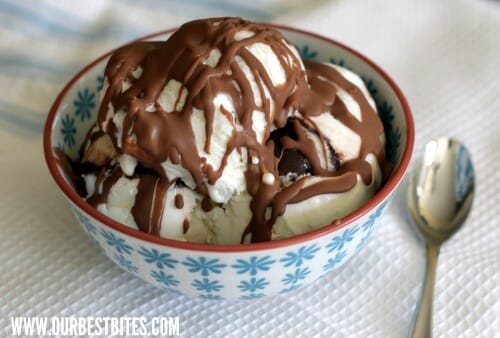 Homemade Ice Cream Cake Crunchies
Ingredients:
2/3 standard package of Oreo cookies (or 2 1/2 cups Oreo cookie crumbs)
1 7.25-ounce bottle Magic Shell ice cream topping (or almost 1 cup of homemade Magic Shell, recipe below)
Instructions:
Crush the Oreos so you get 2 1/2 cups Oreo crumbs. Pour the Magic Shell topping over the cookie crumbs and mix well to combine. Use as an ice cream topping or the filling for ice cream cakes or pies.
Homemade Magic Shell
Ingredients:
8 ounces high-quality chocolate
2 tablespoons coconut oil
Instructions:
Combine chocolate and coconut oil in a microwave-safe bowl. Heat in the microwave in 20 second increments, stirring every 20 seconds, until smooth. Drizzle over ice cream, dip frozen/cold treats in the chocolate, or use in the Homemade Ice Cream Cake Crunchy recipe.