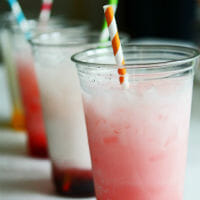 When I was a teenager, sometimes I would do really cool and edgy things like go to the local coffee shop after school with my friends and order…Italian sodas. Blackberry Italian sodas to be exact. Notice how un-edgy all of those things are? After school? Italian sodas? Yeah, I was a total rebel, but I felt cool holding onto my Cafe Ibis cup, walking around (or driving around in my awesome vehicle that looked just like this).
After I left home for college, whenever I came home, my best friend Brittany and I would make an Italian soda run and catch up on life and gossip. And on the day I got married, as I was running out of the door and Brittany came running up the driveway to my front door holding a Blackberry Italian soda for me. Because that's the kind of friend she is.
I kind of forgot about Italian sodas until recently, but in the last few months, they've become our family's favorite go-to treat. On the 4th of July, we had the missionaries from our church over for a little celebration and we had a full-on Italian soda bar. Turns out they thought it was pretty awesome, so if you're looking for ways to impress 18-21-year-olds living in poverty, Italian sodas are the way to go.
For starters, I laid out a layer of butcher paper on my dining room table. I bought a roll of it at Sam's Club awhile back and I'm not kidding when I say I used it almost every day, whether it's for blog stuff or kids' art projects or low-maintenance table covers. Then I set out the flavored syrups. For Italian sodas, fruity flavors are generally preferable. I have pretty much all the fruity flavors, but the most popular ones at my house have been strawberry, coconut, watermelon, pina colada, and cherry. You can get them a lot of places (when I say you, I mean you–I live in the middle of nowhere and had to order mine because there is nowhere to buy flavored syrups where I live)–Amazon, World Market, Orson Gygi, Soap.com, Lollicup Store, and the Torani website are all really great resources. Then I set out the same 24-ounce cups I used in this post, (something like these would work well) a bucket of ice, bottles of club soda, seltzer, or sparkling water, a pitcher of half and half, and a bunch of colored striped straws…
(I collected in the fashion of a hoarder got mine from Pick Your Plum when they sold them recently, but they're not hard to find). Orson Gygi has an awesome selection, both on-line and in-store; Sara and I always stock up when we visit Utah!
Now, you can either have a "bartender" making drinks or you can let people mix their own. I actually wrote directions right on the butcher paper with a Sharpie so people would kind of have a guideline for how to make them. Either way, if you're using a 24-ounce cup, I've found that 3 pumps of syrup (the pumps are available at all the places that sell the syrups), which equates to 3 tablespoons of syrup, is just right.
You can also mix and match the flavors–one of our family's favorites is "Tiger's Blood," which is 1/2 strawberry and 1/2 coconut.
After you add the syrup, fill the cups about halfway full of crushed ice (pebble or "Sonic" ice or ice from Sara's supersexy ice maker is kind of perfect–scroll all the way down to the bottom of the post to see some ice beauty shots).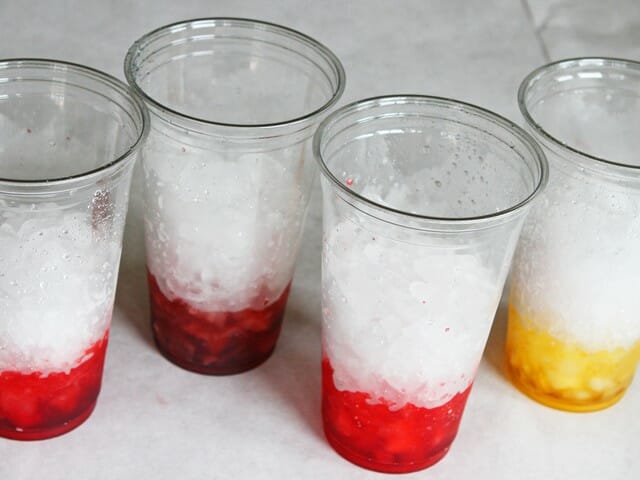 Fill the cups about 1-1 1/2″ from the top with soda water…
and then add a splash of half and half (about 1 tablespoon).
Add a straw and stir…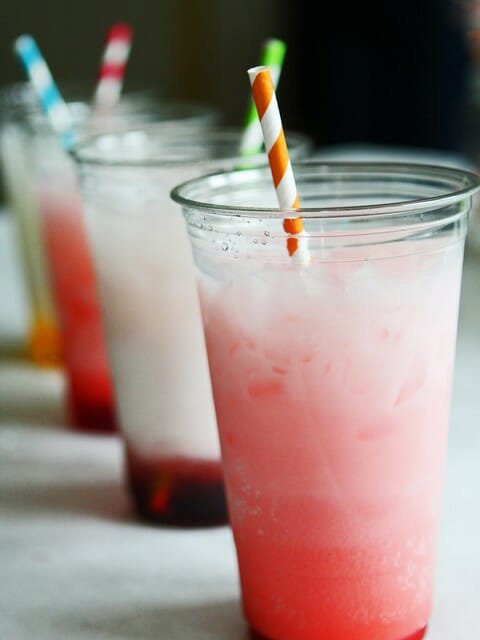 And enjoy! I love these because they're easy to make on a small or large scale and everyone can get exactly what they want!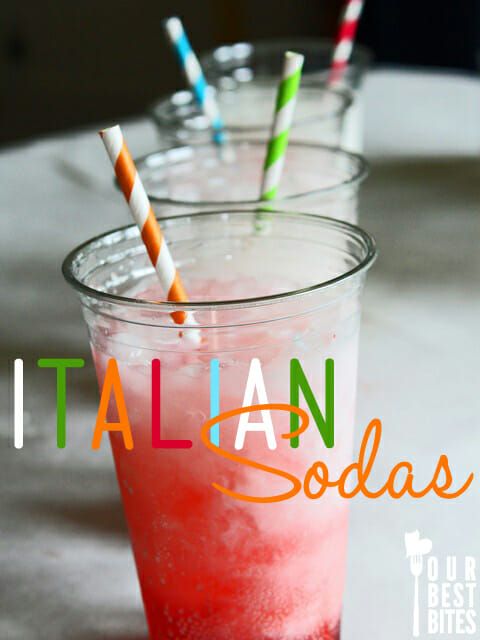 ---
Description
Perfect for a party (and so much easier to pull off than you might think!)! Your guests (or…just you) will love mixing and matching Italian Sodas.
---
24

-ounce clear cups
Straws (striped paper straws are super cute and fun)
Flavored Syrups (fruity ones are best for Italian sodas)
Ice (crushed or pebble ice)
Soda water/sparkling water/seltzer
Half and half
---
Instructions
Measure 3 tablespoons (6 pumps) of syrup into the bottom of a 24-ounce cup.
Fill the cup halfway with ice.
Add sparkling water about 1-1 1/2″ from the top.
Add a splash of half and half (about 1 tablespoon).
Stir with a straw and serve!
---
Notes
Note
Feel free to mix and match flavors or add fresh fruit garnishes like cherries, strawberries, or lime or lemon wedges.
*Disclaimer: This post contains affiliate links.
If you missed our post earlier this week, click here to see a fun event we're participating in- and how you can help get one blogger's ice cream creation rolled into production and seen on grocery shelves near you! Vote for your favorite flavor HERE! If you want to see our flavors, Sara's is the Crumb-Topped Huckleberry Pie, and mine is Salted Caramel Banana Pudding! You can vote for one per day for the next few weeks.
Save