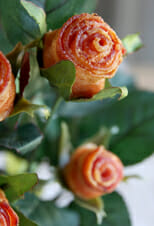 Oh, you betcha.  We're really doing this.
Why?  Because who wouldn't want a fresh picked bouquet of salt-cured meat?  It's possibly the most romantic display of affection, ever.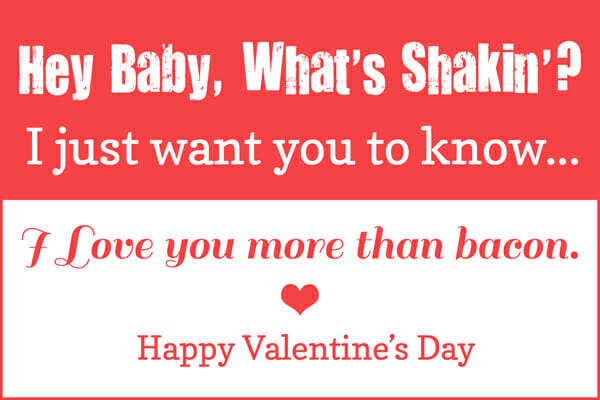 Remember this tutorial on cute little felt rosettes?  Sort of the same thing going on here.  But with bacon.  Oooh, is anyone else having visions of a bacon wreath now?  Just me?  Okay.  Anyway, take a strip of bacon and roll it up.  Most strips of bacon have a "meaty" edge and a "fatty" edge.  You'll want the meaty edge to be the top of the flower, so keep the fatty edge aligned at the bottom.  On a side-note, I think that's the first time I've used the terms "meaty" and "fatty" when describing flowering shrub.  I knew I went into horticulture for a reason…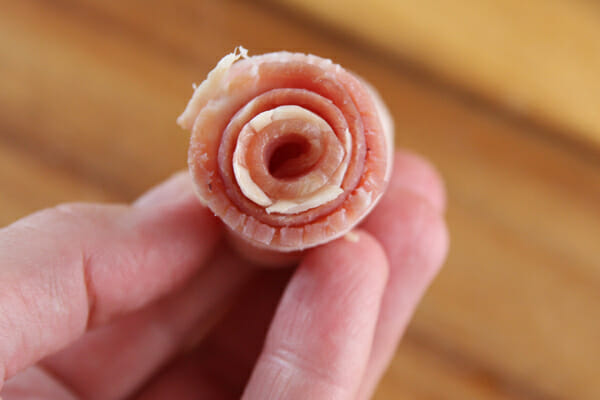 Keep a pair of clean scissors nearby as well.  If your bacon is oddly shaped you may need to snip off a bit after you roll to make it lay nicely.  Now, I've seen lots of ways to make these after my sister first sent me a link, and some of them called for ridiculous things like drilling holes through a mini muffin pan.  There's no need to ruin your best bakeware here, just grab some toothpicks.  Insert them in the bottom of the roll, keeping them both as close to the bottom of the bacon as possible and close to each other. You can actually do this without toothpicks, but it's a little safer with them, since sometimes the bacon comes unraveled.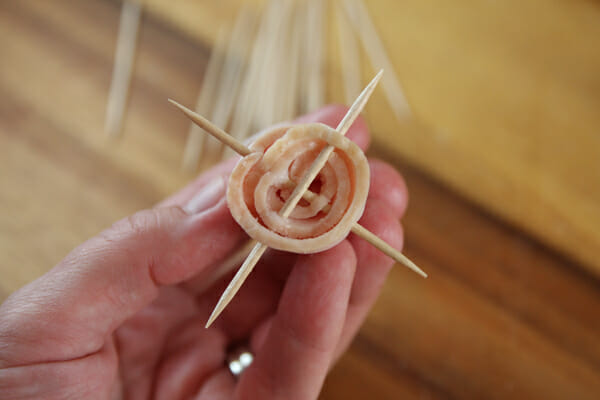 This not only holds the bacon together, but it creates a little stand for it, so it doesn't topple over during cooking.  Place those little beauties on a rack, sitting over a foil-lined baking sheet.  Cooking them on a rack lets the bottoms cook as well so you don't end up with mushy-bottomed flowers.  Because that would be an atrocity.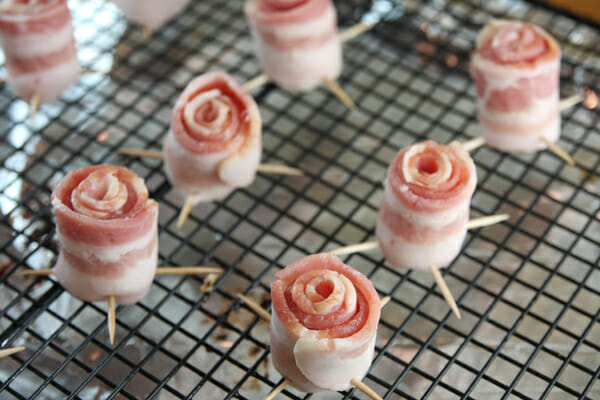 Pop them in a 400 degree oven for 20-30 minutes.  The outside should be crisped and browned, and the inside won't be crisp, but it will be cooked.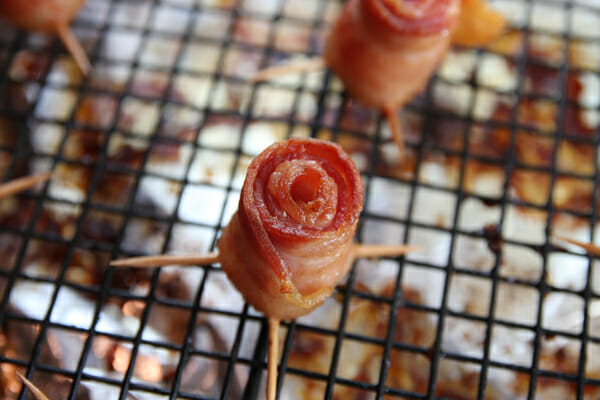 After my little rosebuds came out of the oven, I realized I wanted a heftier flower in there, and thus was born- the jumbo bacon flower: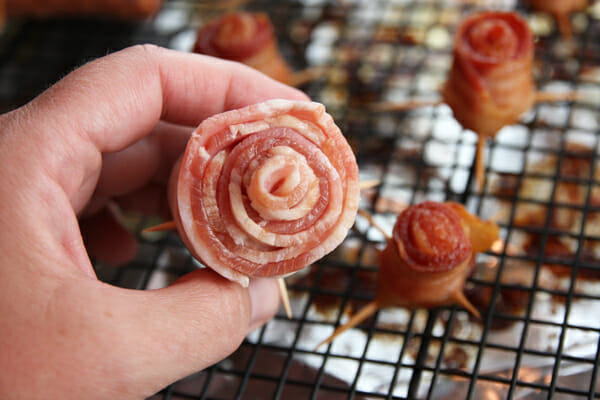 Just layer on another strip.  That's a real man-flower, there.
Now, for such a thing as glorious as a bacon flower, you really need to display it tastefully.  Super tastefully.
So grab some discount silk flowers from the craft store.  I found these in the clearance bin outside Michael's for 75% off, plus I had a 20% coupon that was apparently only for Canadians, but since I totally look Canadian and know all of the words to Oh Canada I got to use it.  Bam.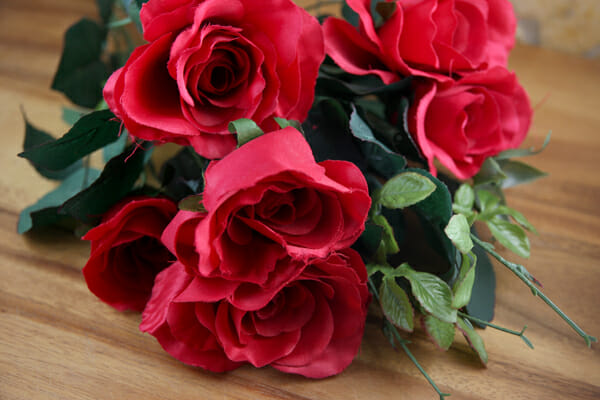 The only thing that can be really annoying is if you grab a batch of flowers that happen to be super-glued onto the stems, which some are.  So just take a quick peek, and make sure you're buying the kind that can be easily pulled apart.
Pull those red petals off.  Some flowers have several parts in there that you might have to disassemble, but basically, you want this part left: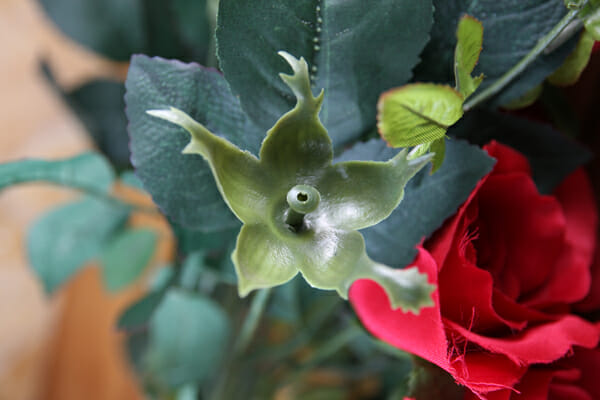 That green base and the thing sticking up in the middle of it.  The bigger the "thing" the better for your bacon stability.  Wow, that sounds very technical.  Pop those babies right in there, like they were always meant to be.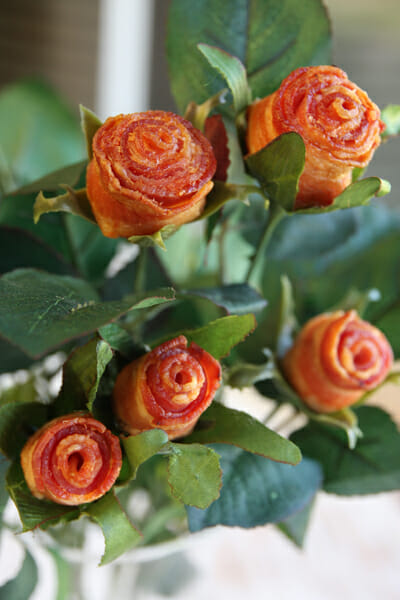 And then gaze upon the beauty and majesty of the salty blooms, freshly picked from your kitchen.  If only bacon roses really grew in the ground…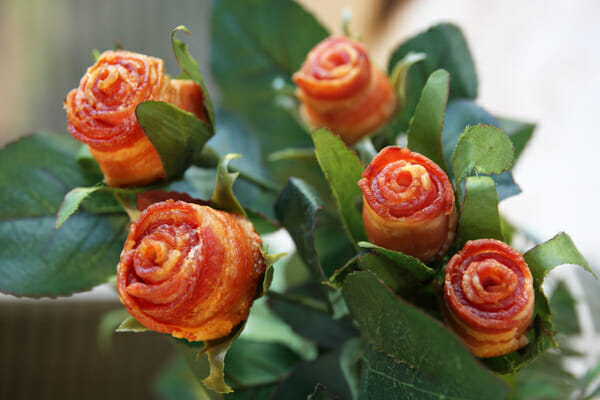 Guaranteed to make grown men swoon.  Or at least giggle like little girls.  Either way it's a win-win for you.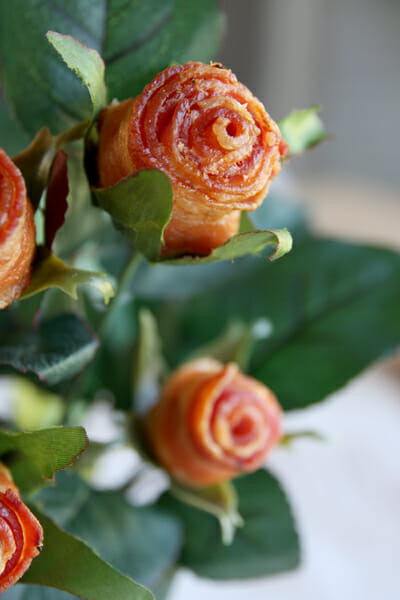 And just because I know you need it, here's a printable to go along side that gorgeous vase on your table: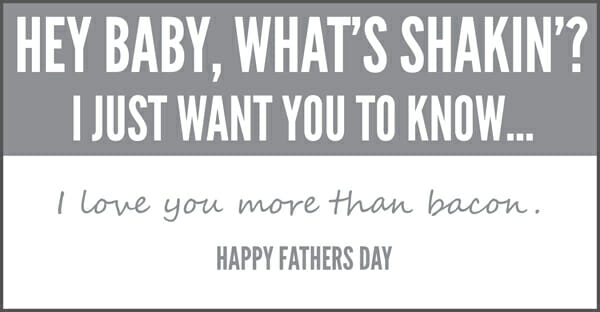 Happy Baconing.
And Happy Pinning to you Pinners:


Apple iOS Users,
Click Here
to Read this tutorial!