My Dad's birthday was right around Valentine's Day and when I asked my kids what kind of cake we should make him, my seven year-old jokingly said, "For Grandpa?  I know! A thin-cake cake!"  Because if you've ever read my blog post about my family crepe recipe, or as we call them, "Thin Cakes," you'd know they are one of my Dad's signature dishes.  As soon as my little guy said that I could almost feel an actual light bulb turn on above my head, just like in the cartoons.  I explained to my kids that Crepe Cakes were actually a "thing" and I had always wanted to try one.  This was absolutely the perfect occasion!

(Some pretty ones from Victoria Magazine, Martha Stewart, and The Suburban Soapbox, L-R)
Crepe cakes are just as they sound.  It's simply a stack of delicate, thin, crepes layered with something delicious between each one, piled high on a beautiful platter.  Nothing spectacular happens to the crepes to change their flavor, texture, or appearance, so if you love crepes, you'll love crepe cakes (and vice a versa.)  As opposed to titling this post "Strawberry Chocolate Crepe Cake" I went with "How to make a Crepe Cake" because honestly it's so easy and there are endless filling options when it comes to creating one.  I'll show you exactly what I did, and include my filling recipe at the end, but use your imagination and fill with anything you dream up!   For this cake I decided to go with a no-fail flavor combination of hazelnut, chocolate, and strawberries.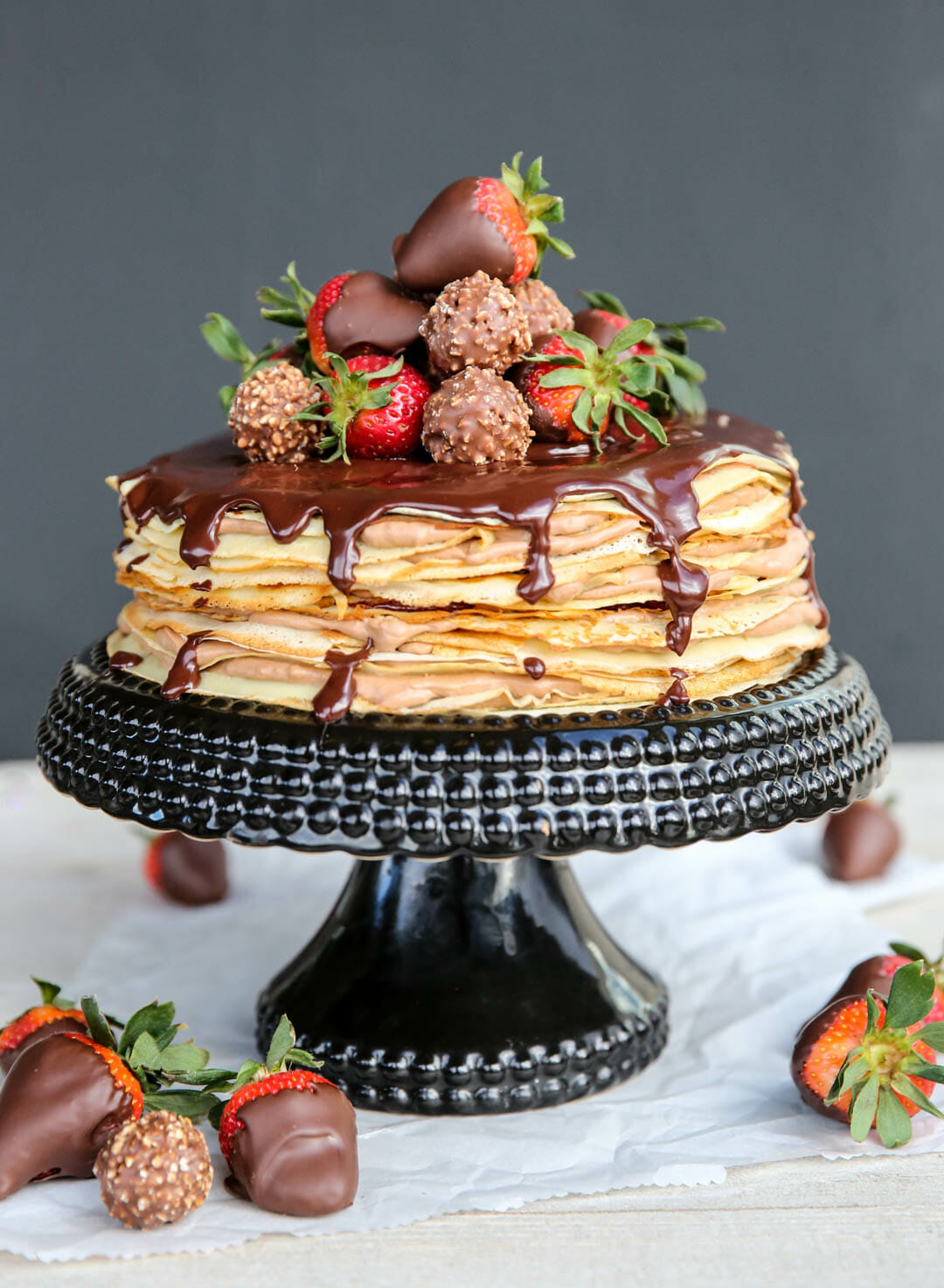 First you'll need a big ol' stack of crepes.  If you have a favorite recipe, feel free to use it.  Here's my recipe if you need one! This is the sort of thing you can eyeball a little bit.  You can vary the size of your crepe if you want a smaller/taller, or wider/flatter.  I went with a size that fit nicely on my cake stand and would be easy to cut into quite a few slices.  Making the crepes is definitely the most labor intensive step, here.  You can make them ahead of time and layer them between parchment or wax paper in a ziplock bag if you want to make them a day ahead.
Then feel free to experiment with different fillings.  Fruit curds and chocolates are really delicious.  Basically anything that would be good in a crepe is good in a crepe cake!  I made up a chocolate-hazelnut filling and included a little gelatin to help it hold its shape.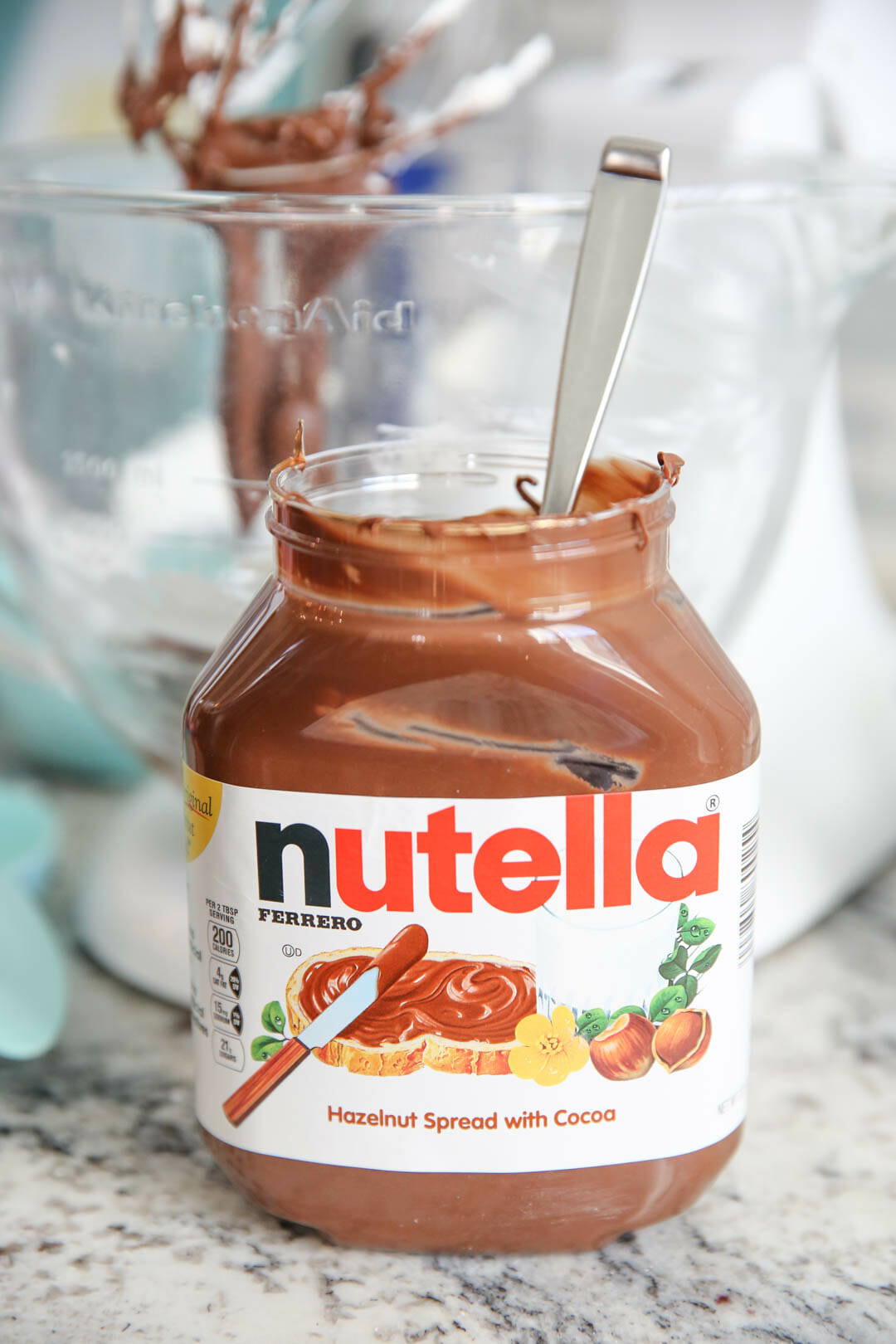 Basically I started with my Stabilized Whipped Cream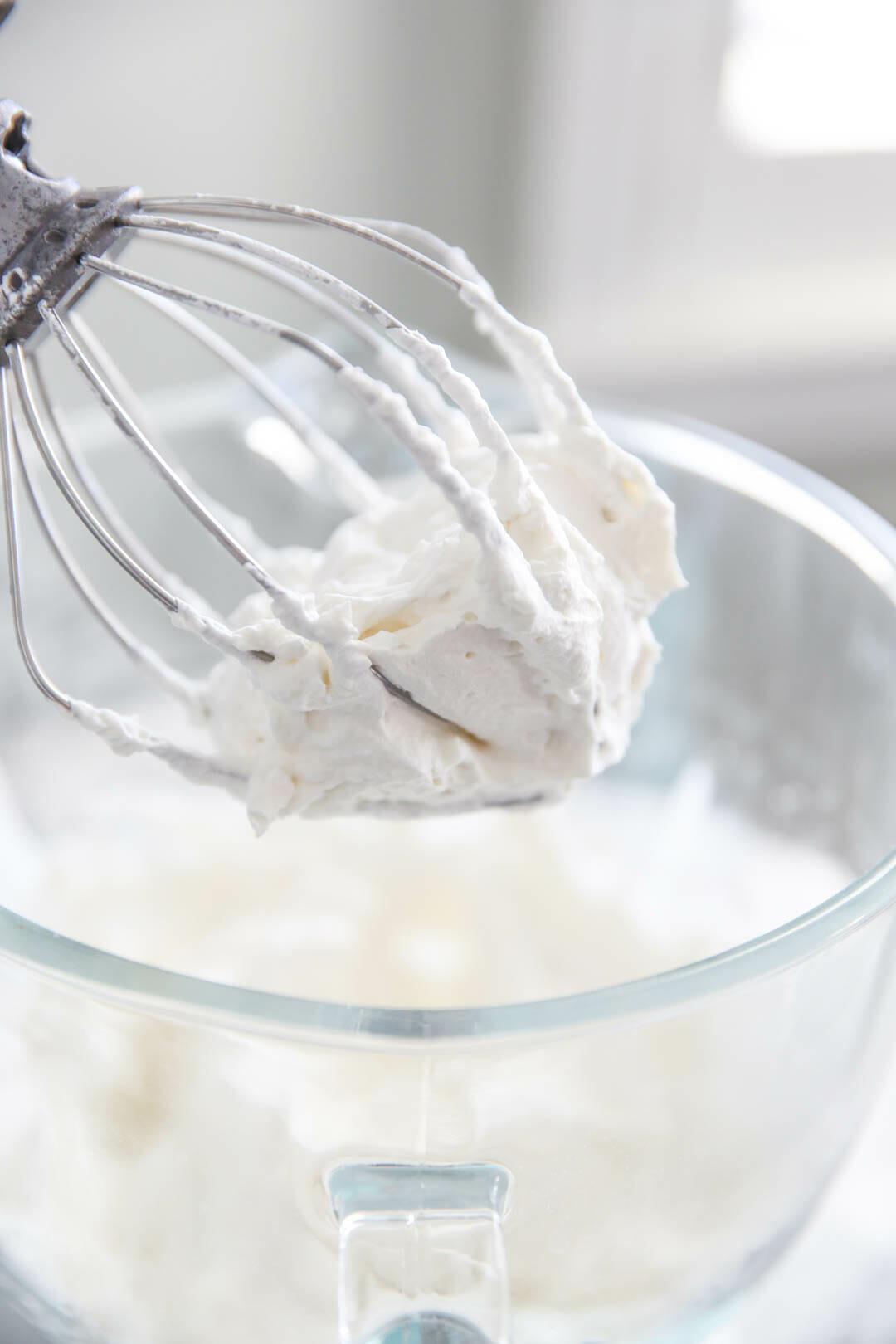 and then folded it into a mixture of whipped Nutella and cream cheese.
To assemble the cake, you basically just lay down crepes and spread your filling.
Now I had this great idea and after every 2 or 3 Nutella layers, I spread on a layer of Strawberry filling (I used one of those  Natural Smuckers Fruit Spreads).  While the taste was fantastic, it made the layers super slippery!  They kind of slid around, especially after slicing.  So next time I'll avoid jams and jellies and stick to more "sticky" fillings.  Stabilized whipped cream would be really fantastic though.
When I was all done stacking the layers, I spread on a quick layer of ganache (which is just melted chocolate and cream)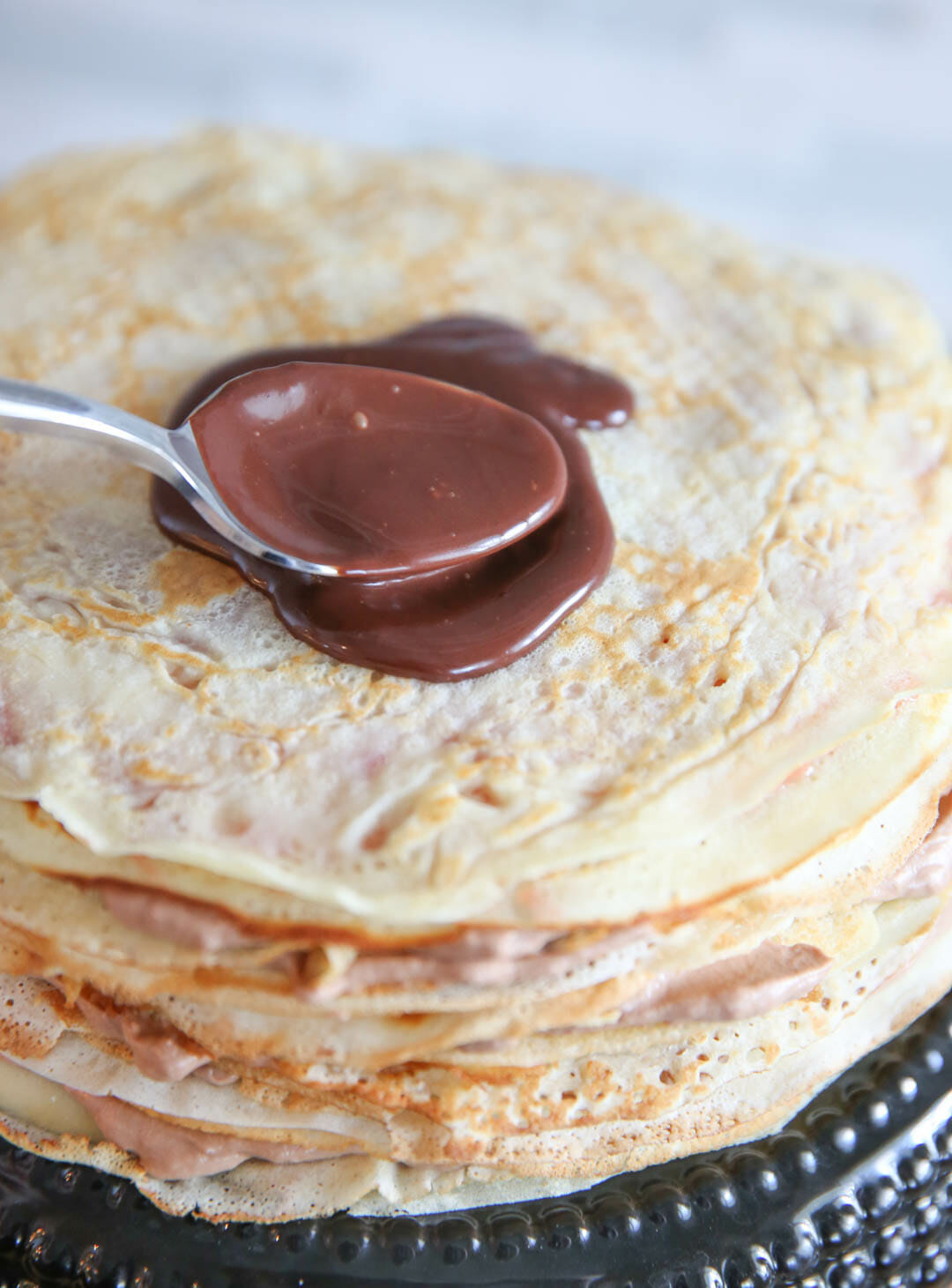 and let some of it drip down the edges.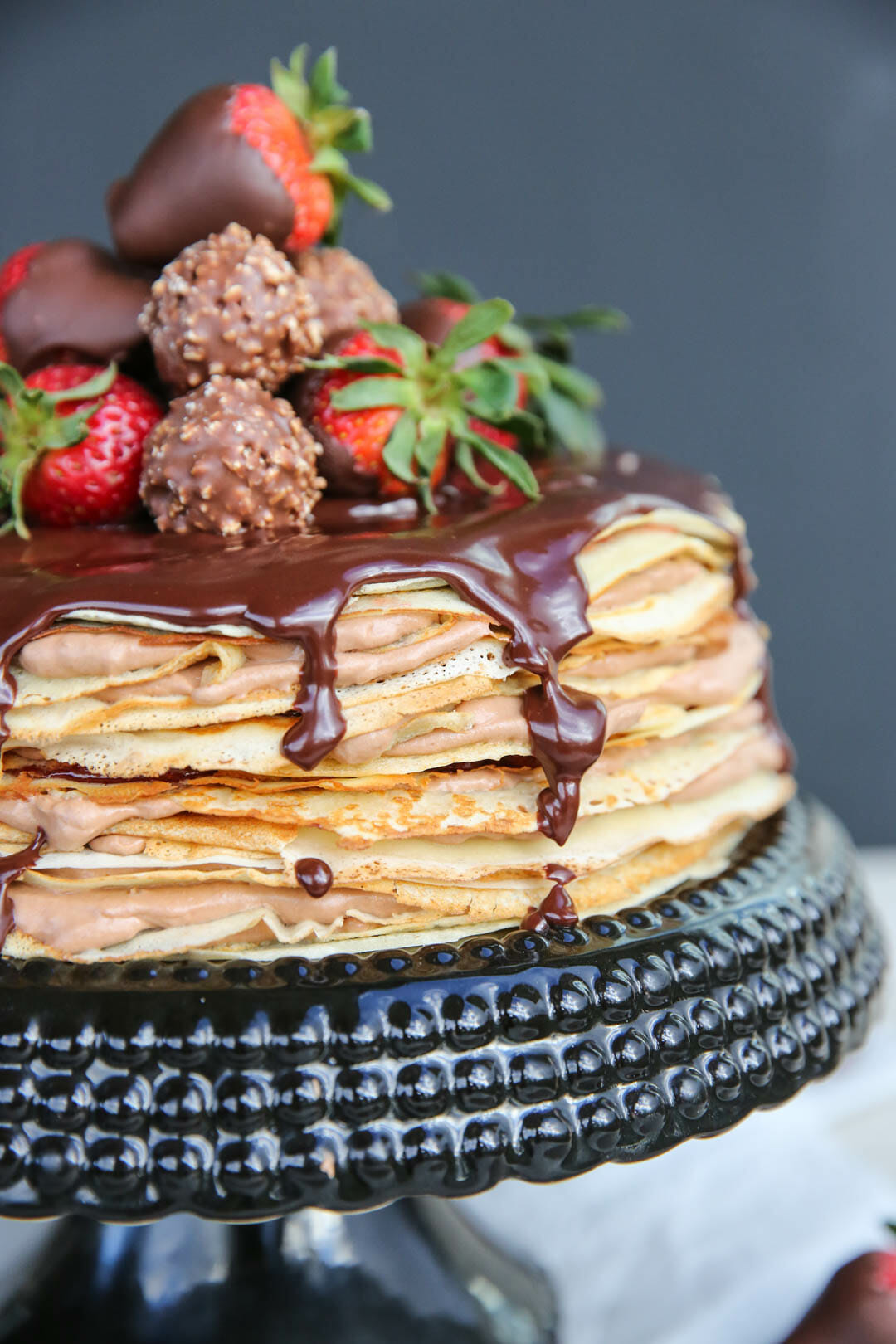 For the top, I used some chocolate dipped strawberries and Ferrero Rocher chocolates (which you can find at pretty much any grocery store)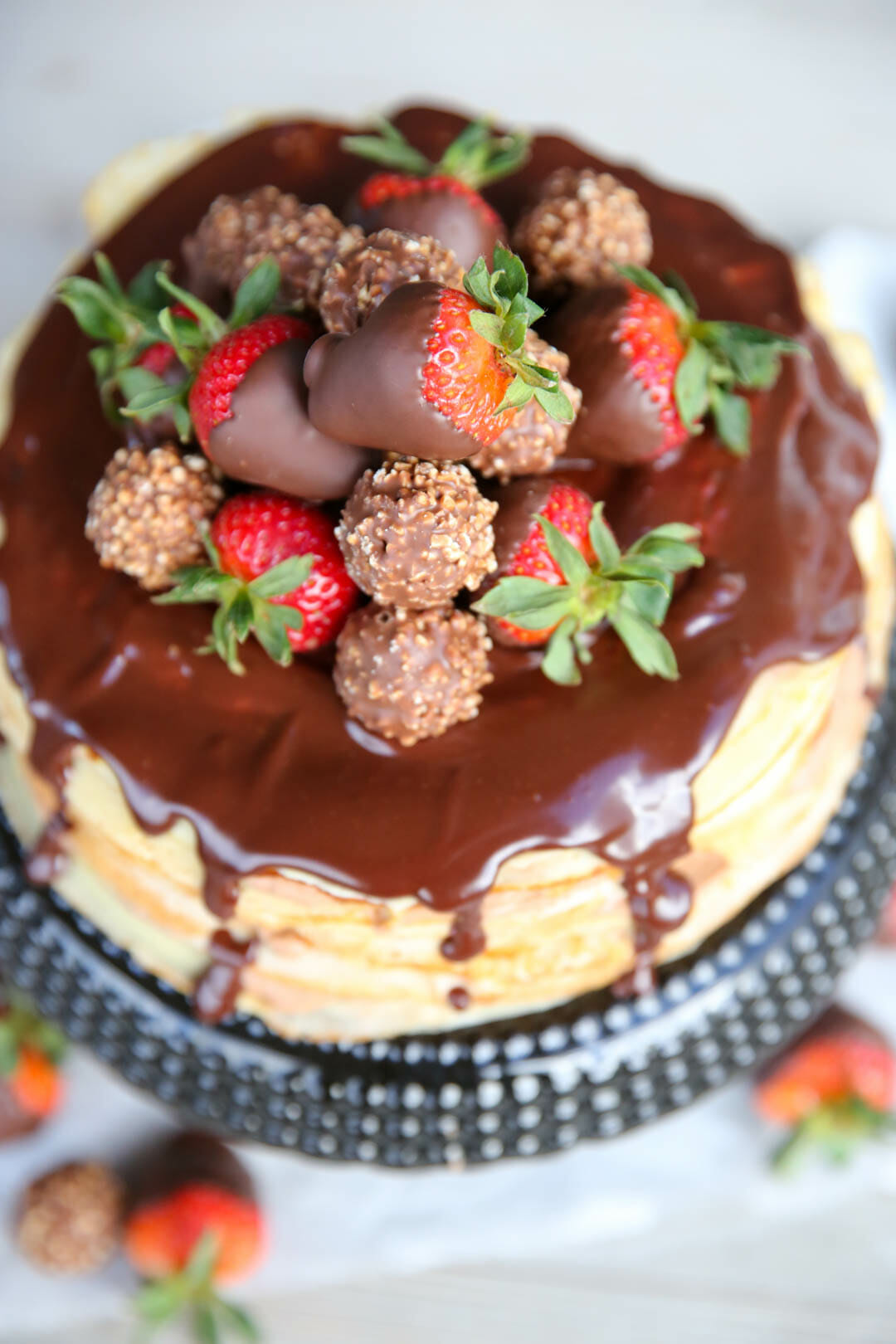 Even though it seems like a lot of steps, crepe cakes are actually really easy to make!  And they look SO impressive.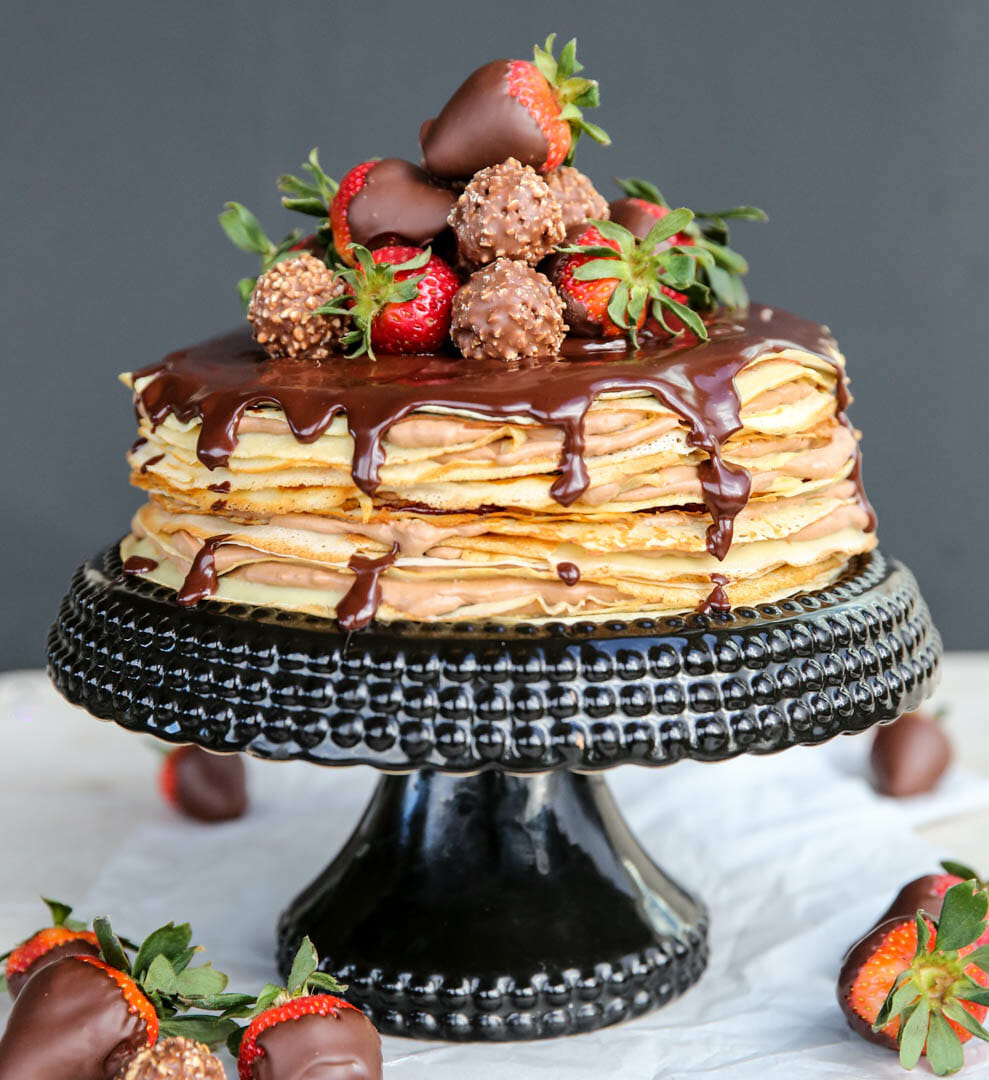 Next time I will also make my filling layers a little thicker.  My layers kind of all smashed together.  They still tasted amazing, but I would have liked a thicker filling.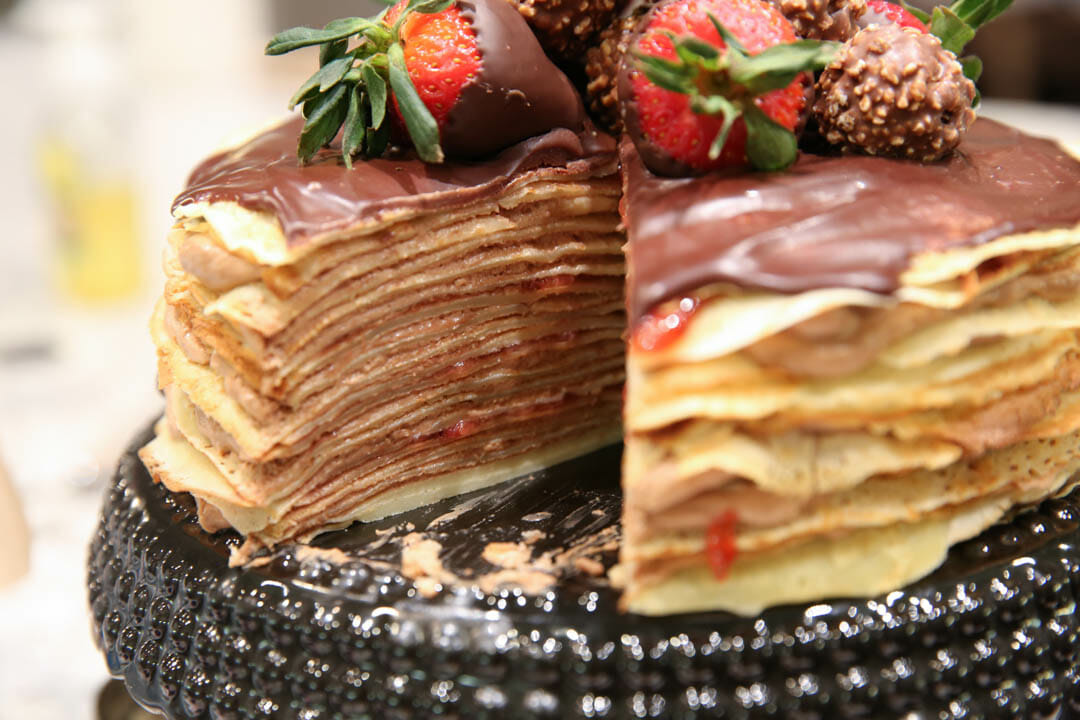 I think this would be amazing with lemon curd and whipped cream in the layers and powdered sugar and berries on top.  I think that might be what I try next!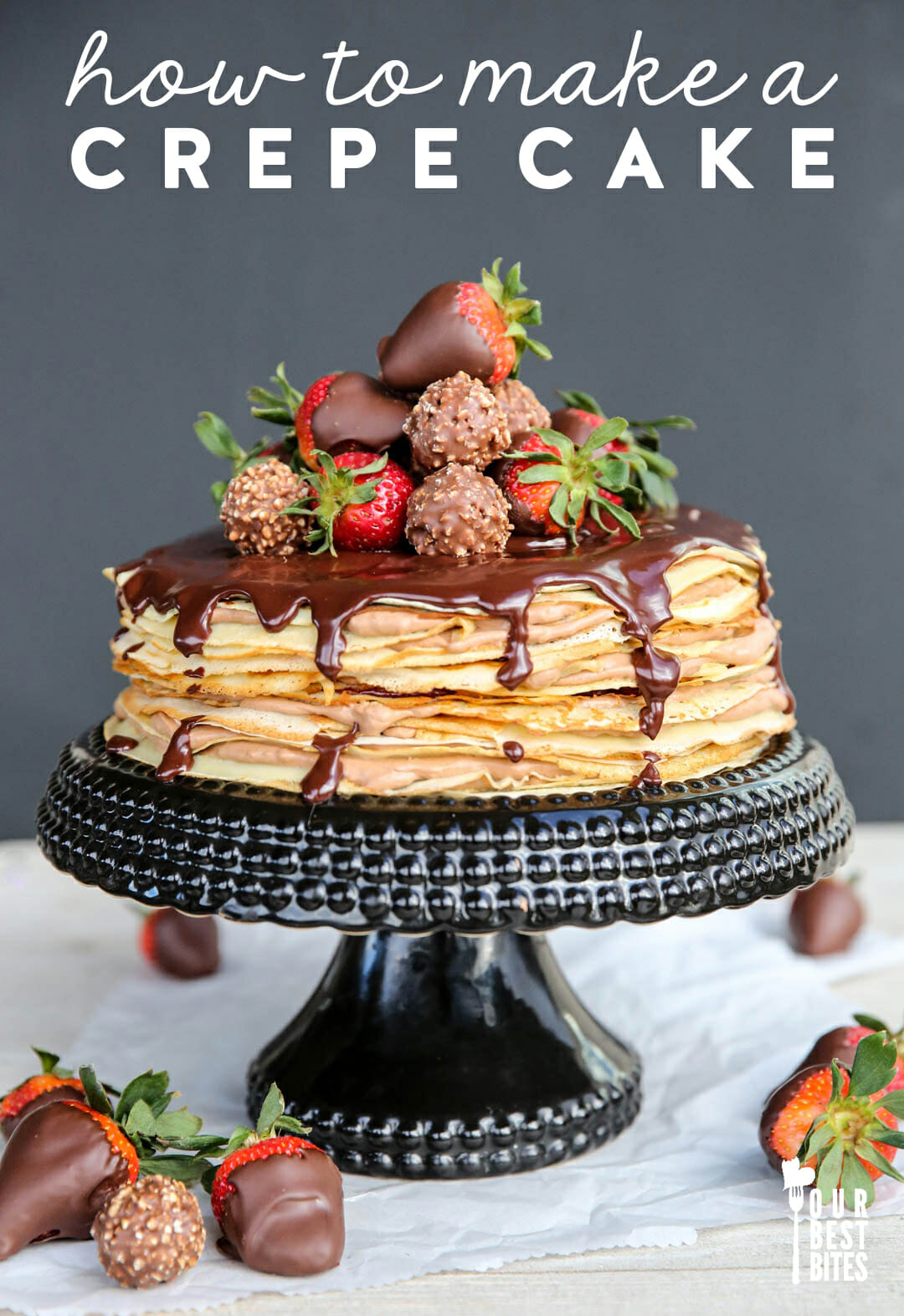 Related Links
Find more Valentine's Day ideas right here.
For more berry desserts, check out these favorites!
Chocolate Covered Strawberry Cream Puffs
Print
Strawberry Chocolate Crepe Cake
---
Description
A uniquely beautiful cake made with layered crepes and a sweetly indulgent Nutella Mousse.
---
Crepes
4

eggs

4

Tbs canola oil

6

Tbs sugar

2

C flour

2 2/3

C milk
Nutella Mousse
1 1/2 cups

whipping cream

1/3 cup

powdered sugar

1 teaspoon

vanilla extract

1 teaspoon

hazelnut extract (optional)

3/4 cups

Nutella

4 oz

(half block) cream cheese

1 teaspoon

unflavored gelatin
water (see instructions)
Ganache
2 ounces

whipping cream (by volume)

2 ounces

chocolate chips (by weight)
For Garnish
Farraro Rocher Chocolates
Chocolate Dipped Strawberries (see notes)
---
Instructions
To make crepes (you'll want to make them and let them cool completely before using)
Combine all ingredients in a blender and blend on low speed until combined, scraping down sides as necessary.
Heat a non-stick skillet to medium-high heat. Hold pan with one hand while you pour the batter with the other hand. Twirl the pan in a circular motion pouring just enough batter to coat the bottom of the pan. Place on cooking surface and cook until edges are set and you can easily run a rubber spatula around the edge of the pan, 30 seconds. Flip crepe and cook an additional 15-20 seconds. Remove crepe from pan and either keep warm in the oven or cool to room temperature. *You can choose the size of pan by the circumference of cake you want. Keep in mind smaller crepes will produce more, and therefore a taller cake, but fewer slices. In my photos I used a 10″ skillet and that is as large as I would go.
To make mousse
Place gelatin in a tiny bowl and add 1 teaspoon cold water. Let sit for 5 minutes and then add 1 tablespoon boiling water and stir until smooth. Place cream, powdered sugar, vanilla, and hazelnut in a stand mixer with the whisk attachment on. Beat for about 1 minute and then slowly drizzle in the gelatin in a tiny stream. Continue beating until a little firmer than standard whipped cream (but don't turn it into butter! I do stiff peaks). Remove and set in a separate bowl. Place cream cheese in mixer and beat until soft and creamy, add nutella a little at a time and beat until incorporated. Remove bowl from mixer and gently fold the whipped cream into the cream cheese mixture in 3 additions.
To assemble cake: Place a crepe on a plate or cake stand and spread on about 1/4 cup nutella mixture. Add another crepe and continue until crepes or mousse is gone! If desired, double the ganache listed and use half for the top of the cake and use the rest to spread after every few crepes on the inside.
To make ganache
Heat cream in microwave safe bowl until steaming. Add chocolate chips and let sit for 5 minutes and then whisk until smooth. Spread on top of cake and gently spill over edges. Garnish with berries and chocolates. Store cake in fridge if not serving right away and set out at room temp for a few minutes before serving.
---
Notes
Chocolate Dipped Strawberries: I just eyeball my dipping chocolate, but use about 1 teaspoon coconut oil (or canola oil) per 1 cup of chocolate chips. Place both in a microwave safe bowl and heat in 30 second intervals, stirring after each one, until melted and smooth. Hold berries by stems and gently dip in chocolate and then place on parchment paper or a silicone liner. Let sit until chocolate is firm.
The size of your cake will depend on the size of your crepes. I used an 8-9″ skillet and got about 20 crepes.