When it comes to Valentine's Day desserts, I'm usually looking for something that's not just heart shaped or colored pink.  I tend to want to make something extra…special.  Not something extra hard, or extra complicated, but something that we don't make very often that feels kind of fancy and fun.  Enter, pavlova.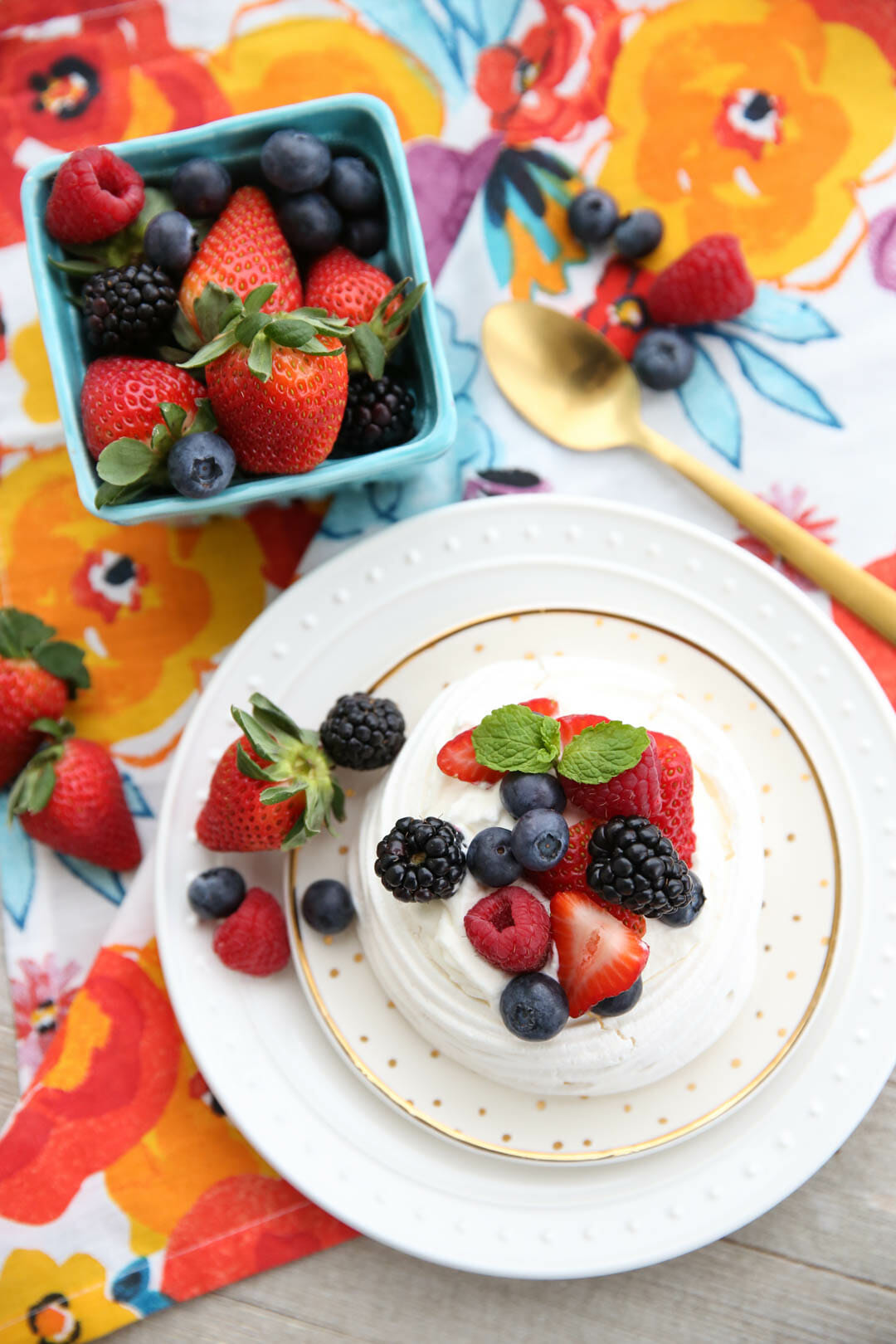 If you've never had pavlova before, it's a dessert made of puffed meringue-like shells, baked so the edges are crispy and airy and literally melt in your mouth, and the centers are pillowy-soft and chewy, almost like a marshmallow.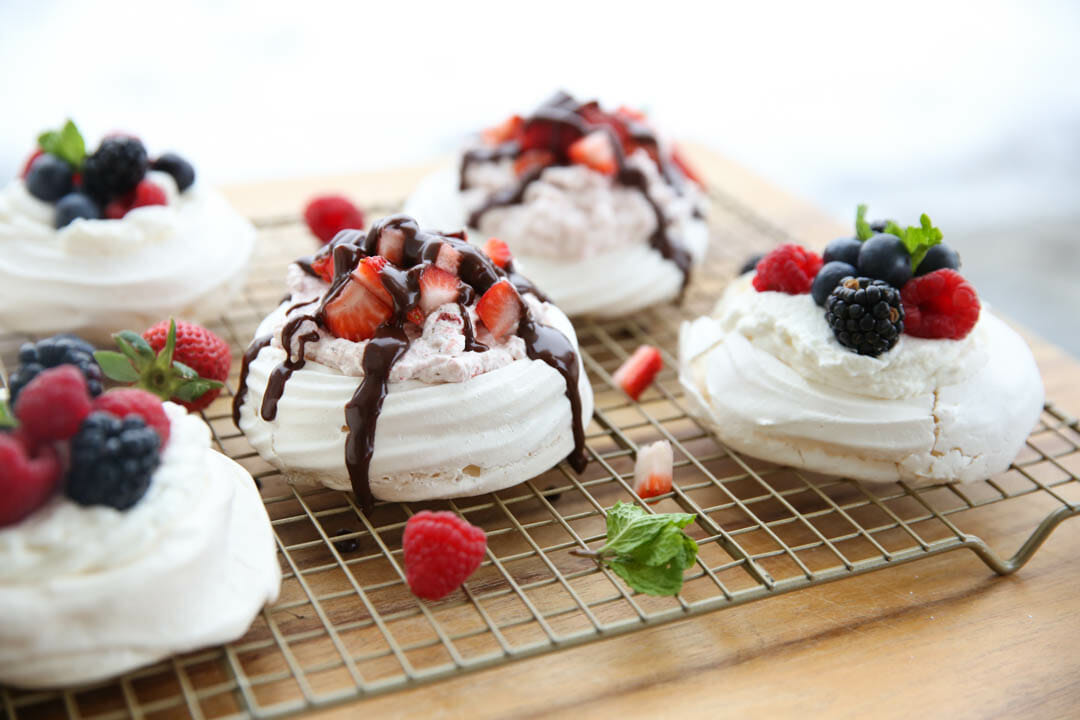 A little "nest" in the center is traditionally filled with whipped cream and topped with fresh fruit, but is a canvas open to creativity.  They're simple to make, yet look sophisticated and impressive, perfect for Valentine's Day!
Let me show you how easy they are to make.  You'll need 4 egg whites.  I don't care how good of an egg-cracker you are, this is the time to crack each egg individually and add them to your mixing bowl one at a time. If you get any yolk in there, your whites will have trouble whipping up.
You'll beat them just for a minute or two, until soft peaks form, which look like this: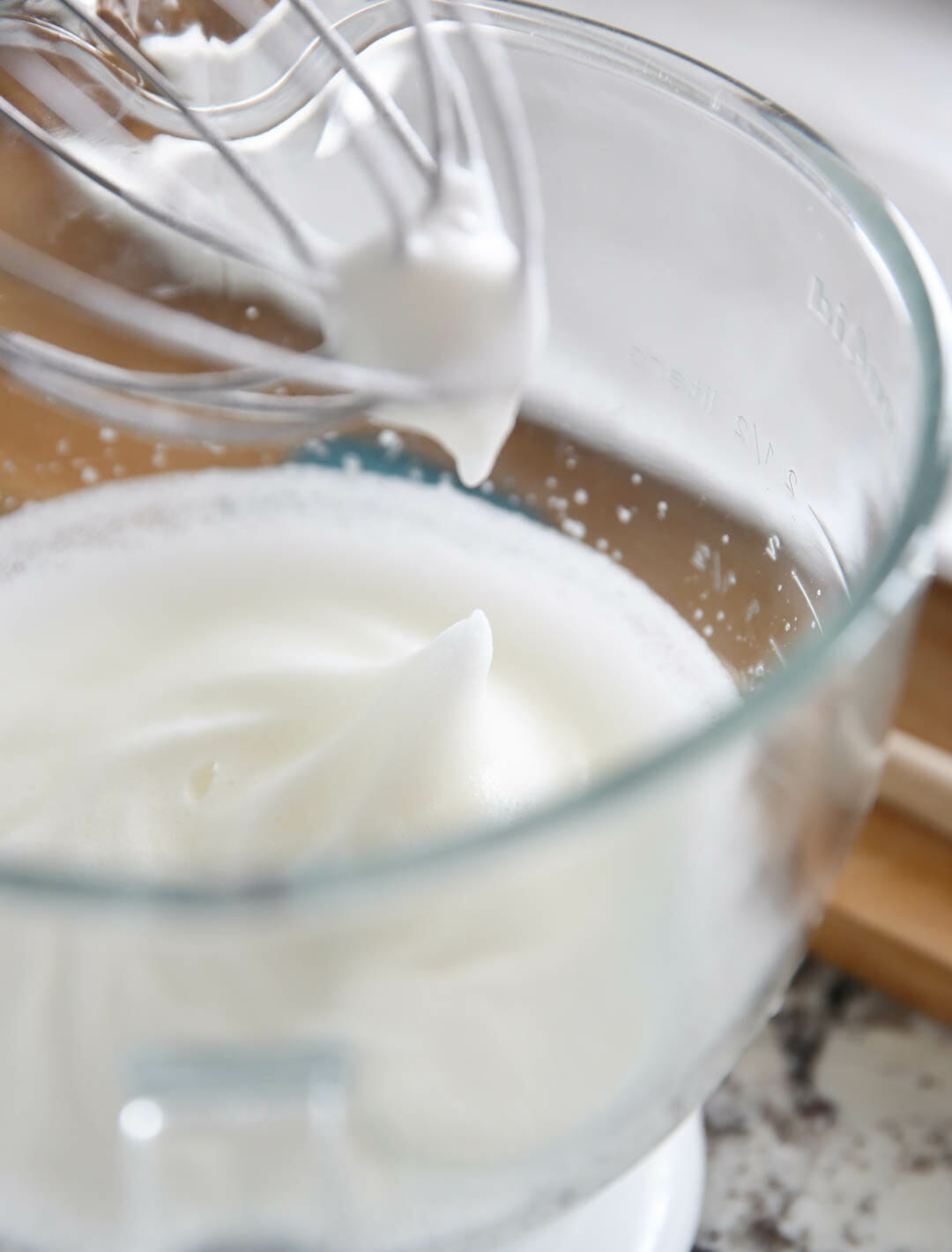 At that point you spoon in sugar and a little cornstarch a little at a time and then continue beating for few minutes until it's smooth and glossy and holds a peak.  It will look like this: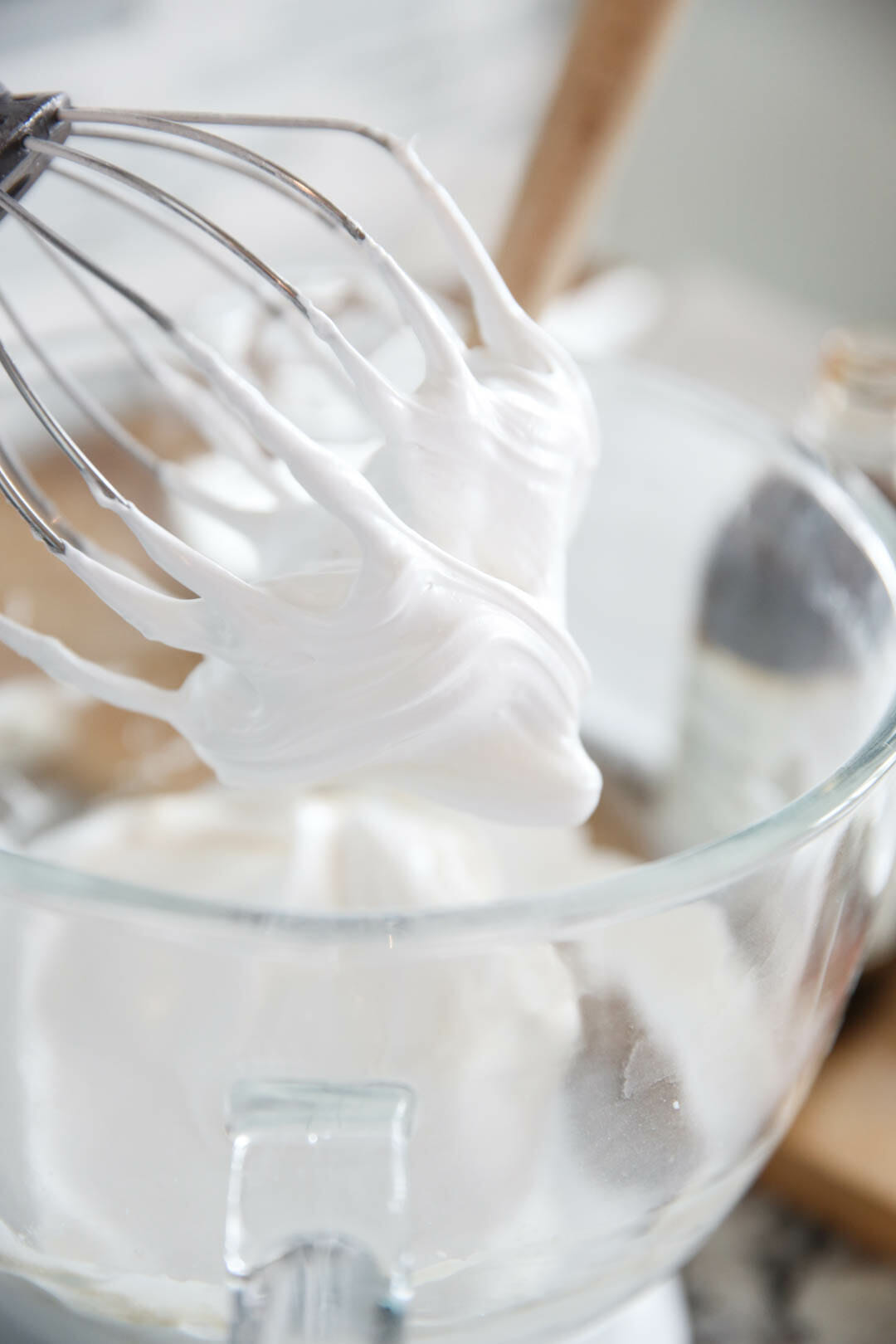 You can make one big pavlova, like a giant pie you slice into wedges, but I prefer to make mini, individual ones.  They're absolutely adorable for one thing, and easier to eat, in my opinion.  You can spoon mounds of the egg mixture and spread them out with a spoon, or do as I do and put the mixture in a piping bag.  It makes it really easy to pipe round circles.  If you want to make them uniform size, use something like a mason jar as a stencil and draw circles on parchment with a pencil.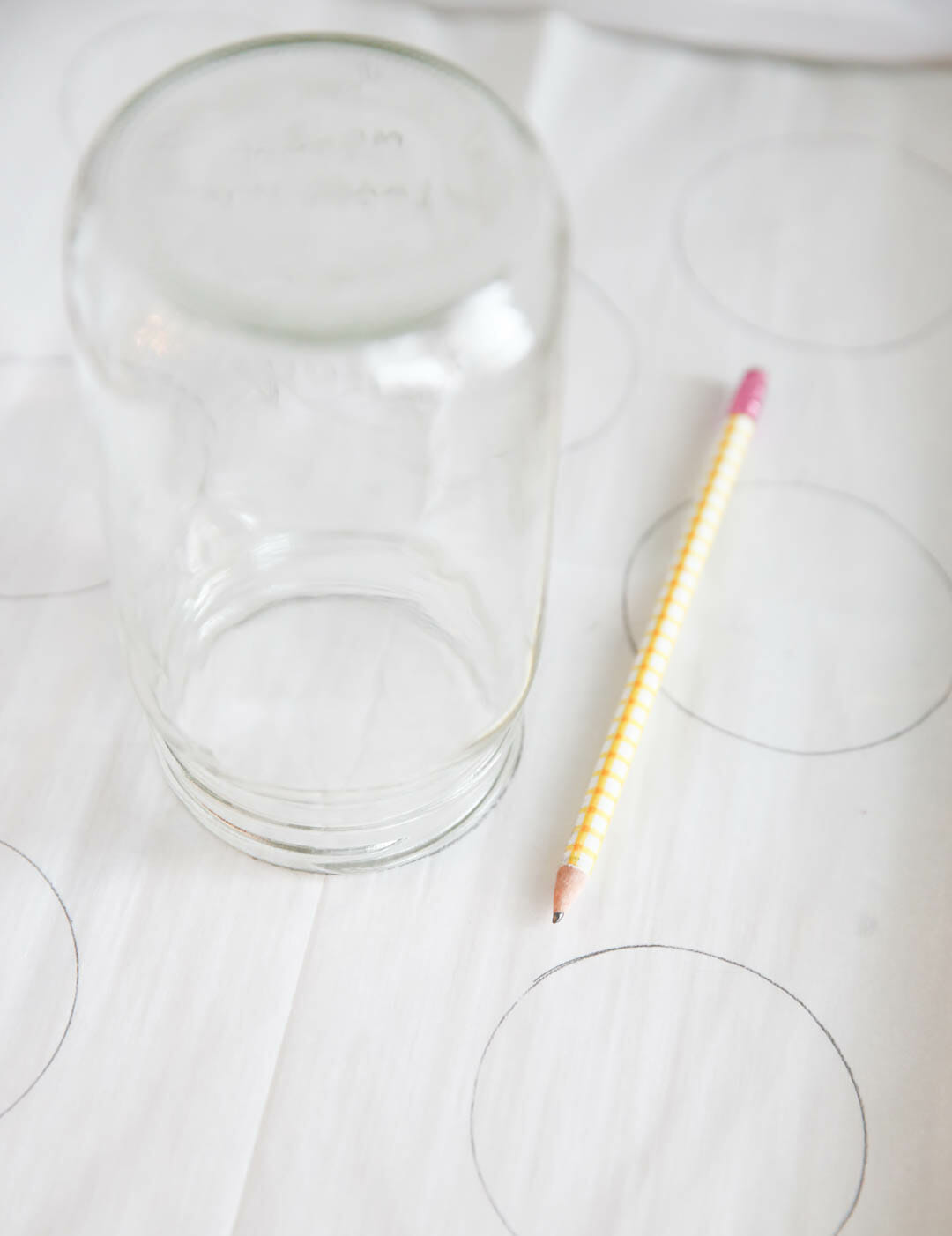 Flip the parchment over and then pipe around the circles, making a flat base and then a round layer or two around the outside edge, like this: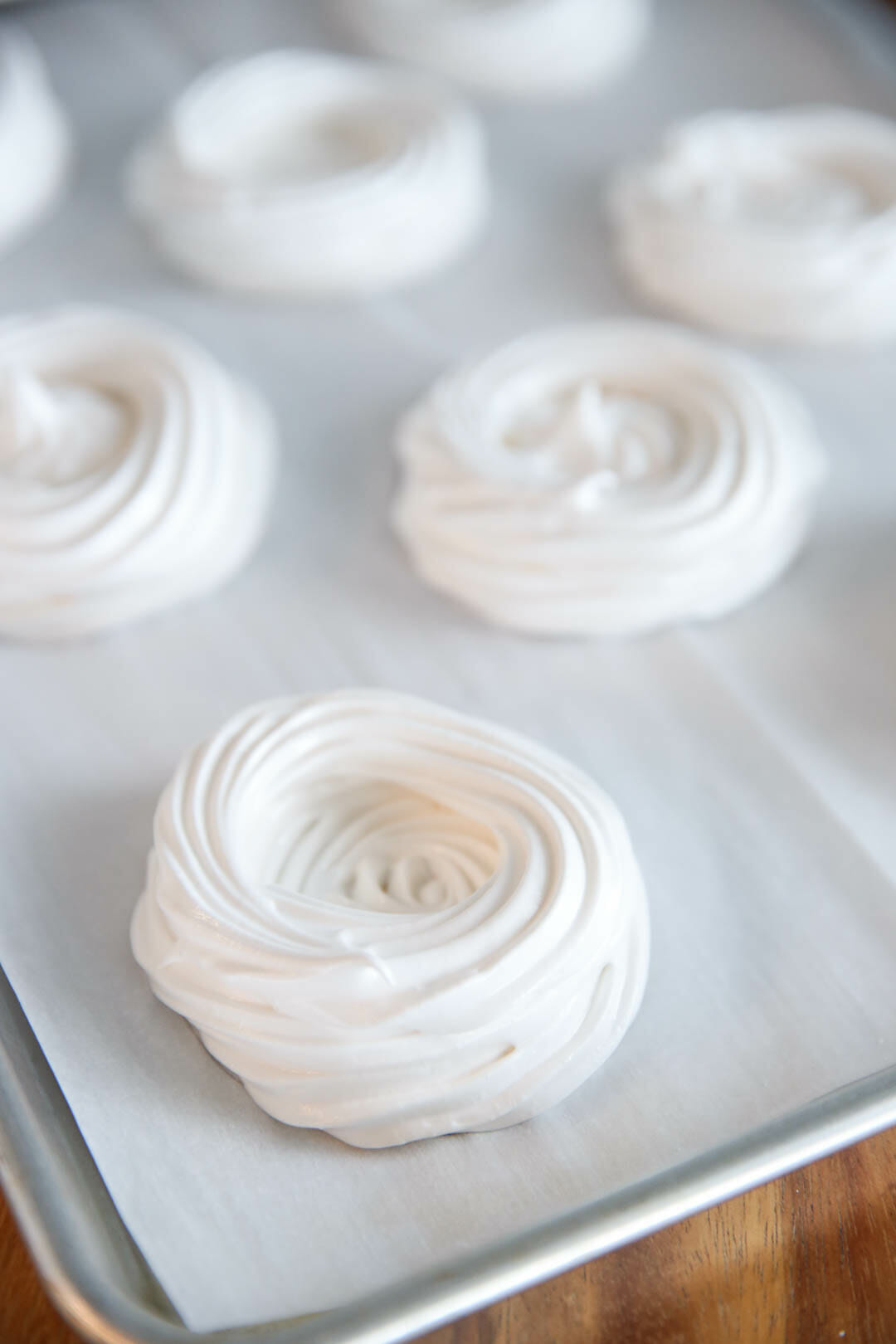 Then use a spoon to gently smooth out a little nest in a middle.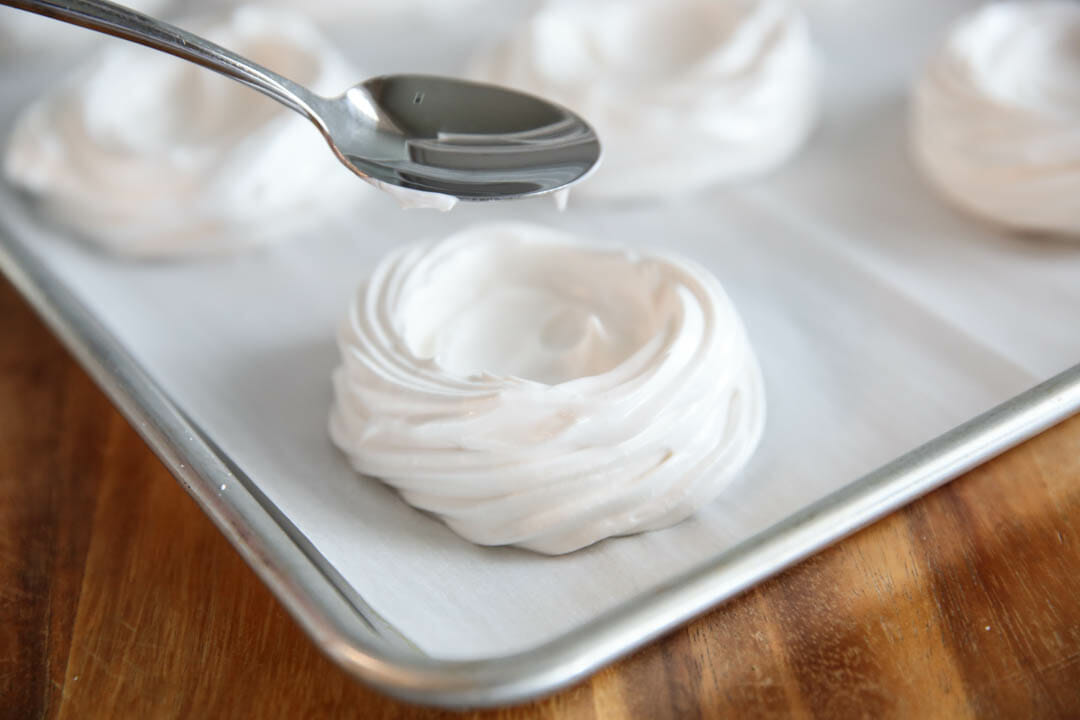 I've left a few of mine piped, and I've smoothed out the edges on some so you can see the difference.  It really doesn't matter, just personal preference!  They'll bake at a fairly low temperature for a little less than an hour, and then they need to sit in the oven and cool slowly.  They puff up a little while baking and then as they cool you'll see some cracking, which is totally normal.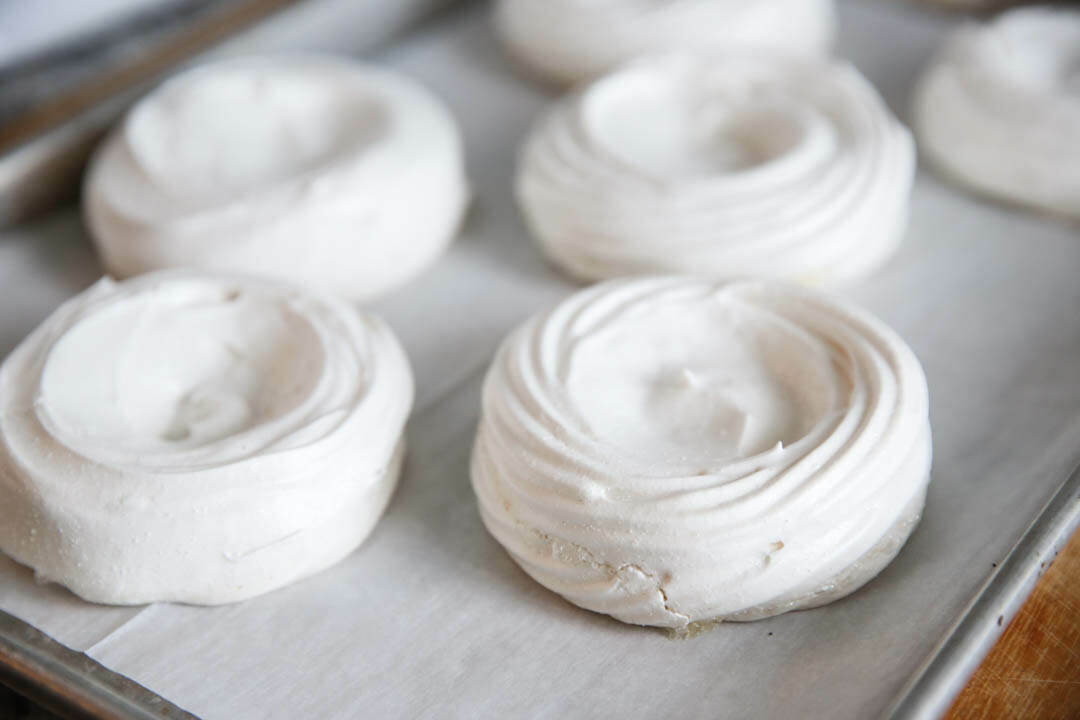 After they're cooled completely, you can fill the centers with sweetened whipped cream and fresh fruit.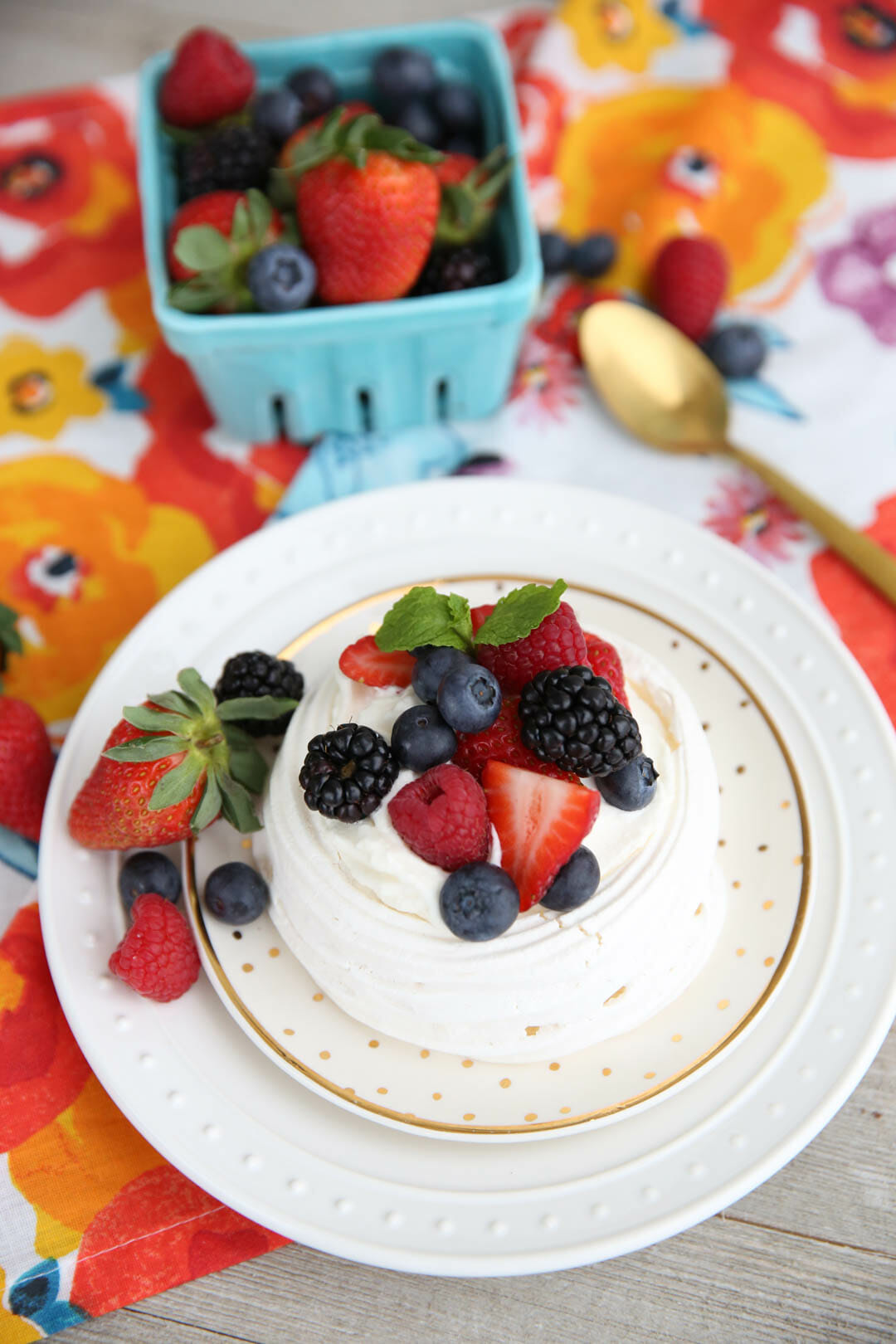 Honestly any kind of fruit is fantastic here so use whatever is in season.  Fresh peaches and other stone fruits, berries, kiwi and mango and tropical fruits, pomegranate, you name it. If you want to add a little decadence, top with a little chocolate ganache, too. How gorgeous is that?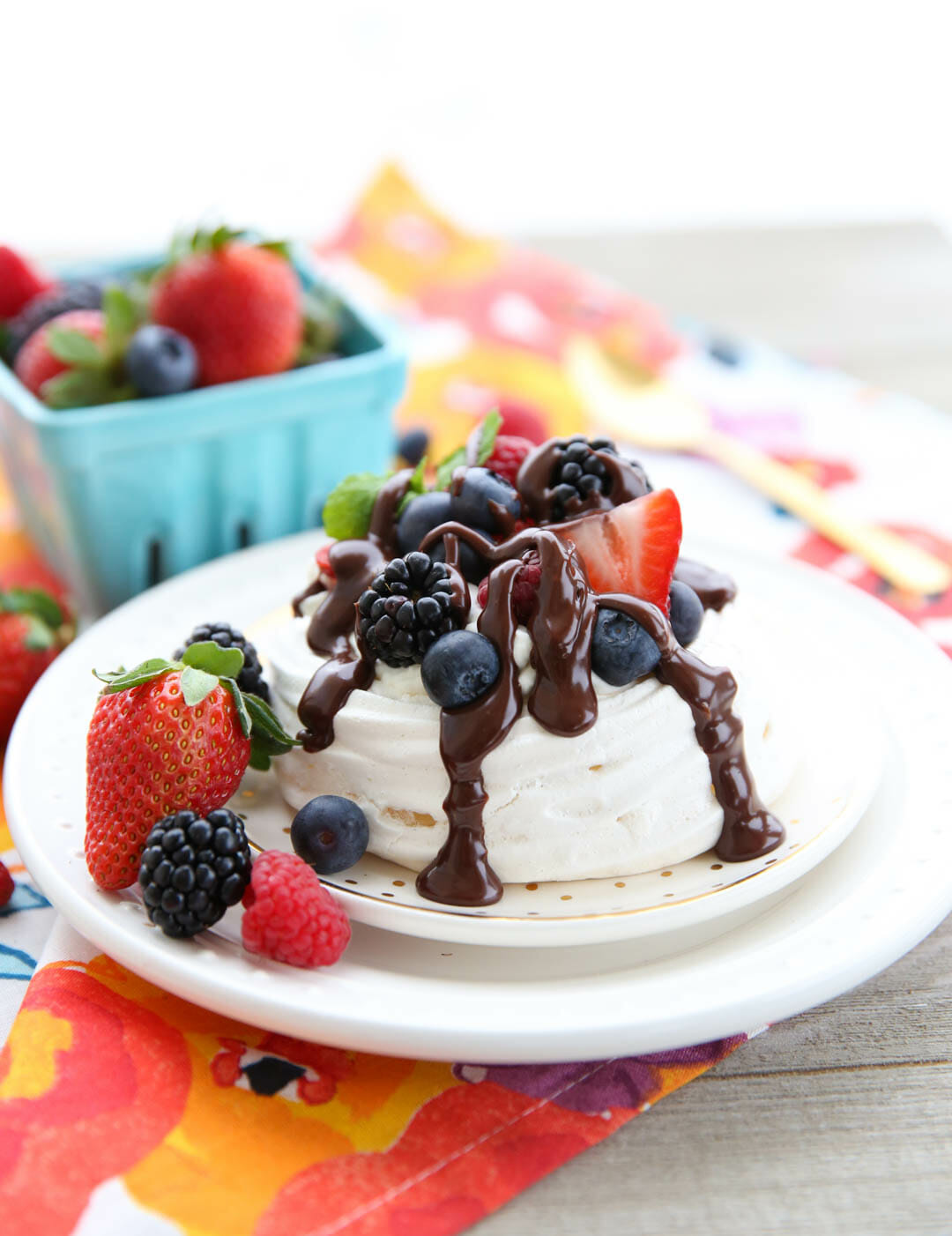 Another really amazing combo is filling them with my favorite Strawberry Whipped Cream, which you can find in this post here, and then topping with fresh strawberries and a chocolate drizzle.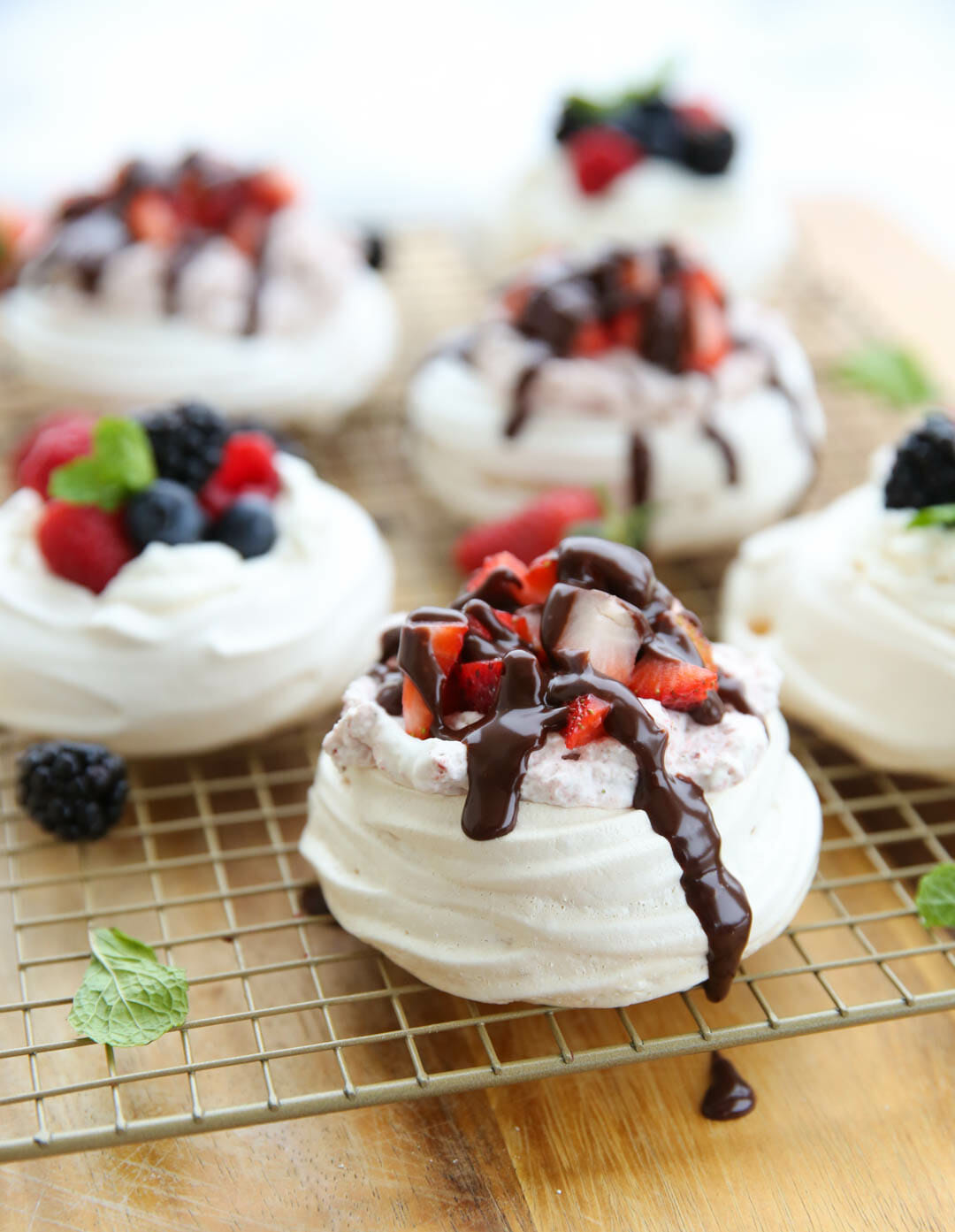 Whatever you do, you'll want to know that the pavlova shells themselves are very sweet, so you'll want to compensate by making your whipped cream a little less sweet than you normally would, and keeping your fruit unsweetened.  It's tempting to mix fruit with sugar, like you would for berry shortcake, or pouring over a sweet berry sauce, but I've found I really prefer a barely-sweetened cream and fresh fruit.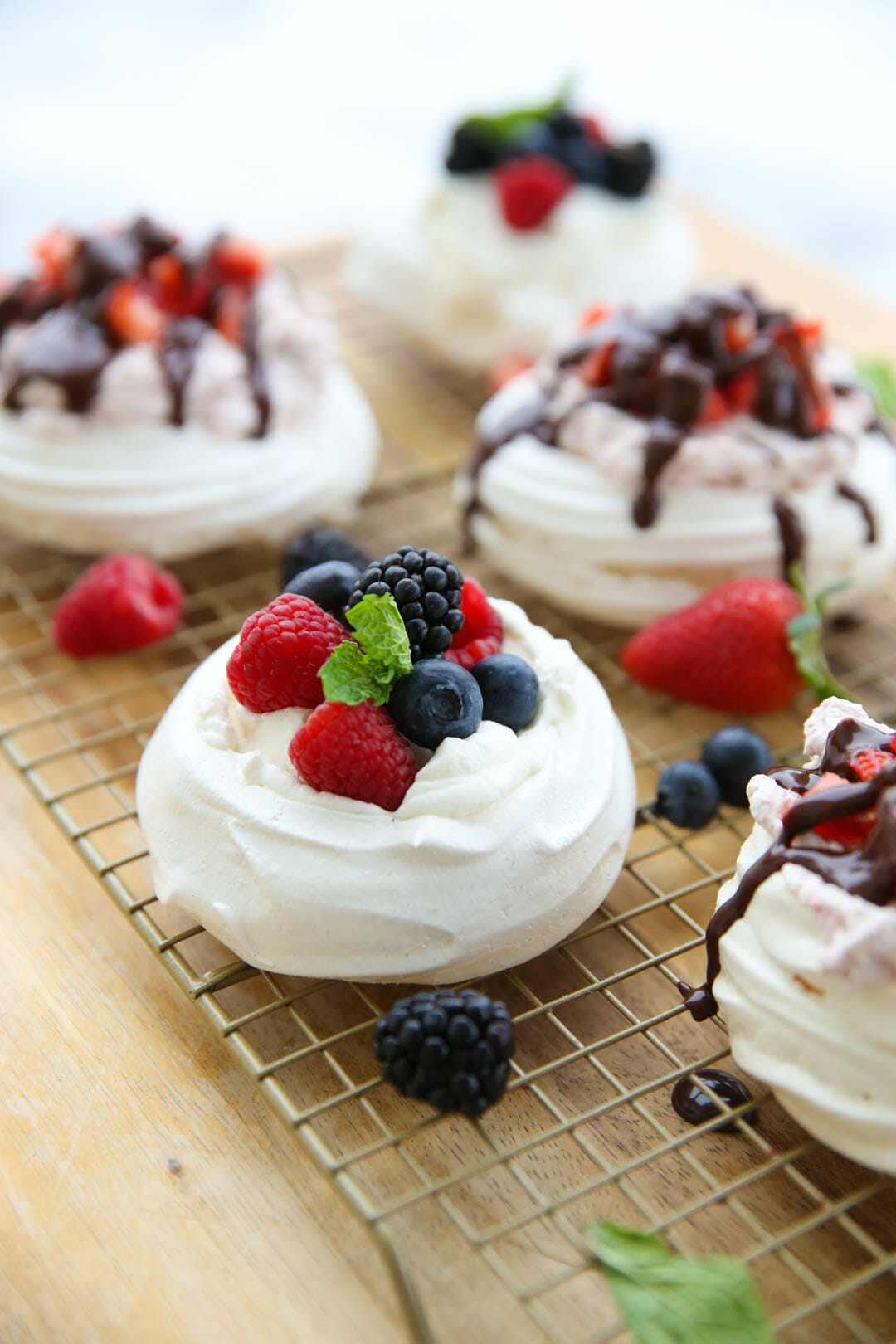 If I drizzle with chocolate, I prefer a nice dark ganache for the same reason.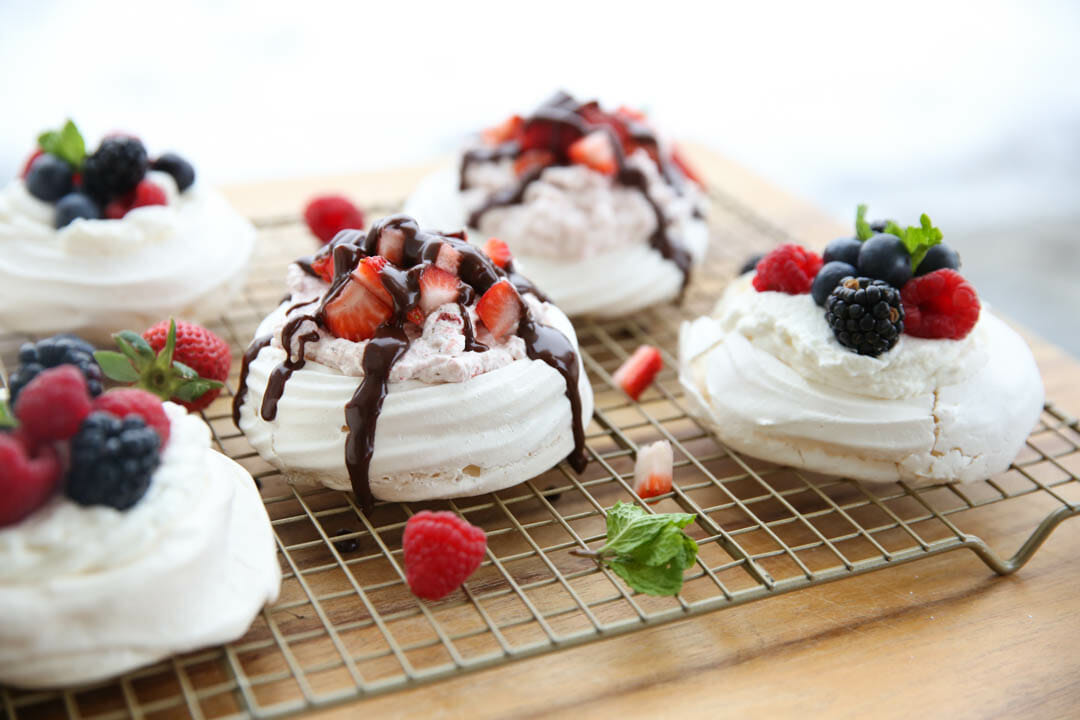 Then you put it all together and each bite, with the crispy, melt-in-your-mouth shell, the chewy soft center, the billowy cream, and the juicy fruit is PERFECTION. Such a fun dessert to make and eat.
One other bonus is that the shells can be made ahead of time and kept in an airtight container for a day or two before you fill them.  Here's an image to pin!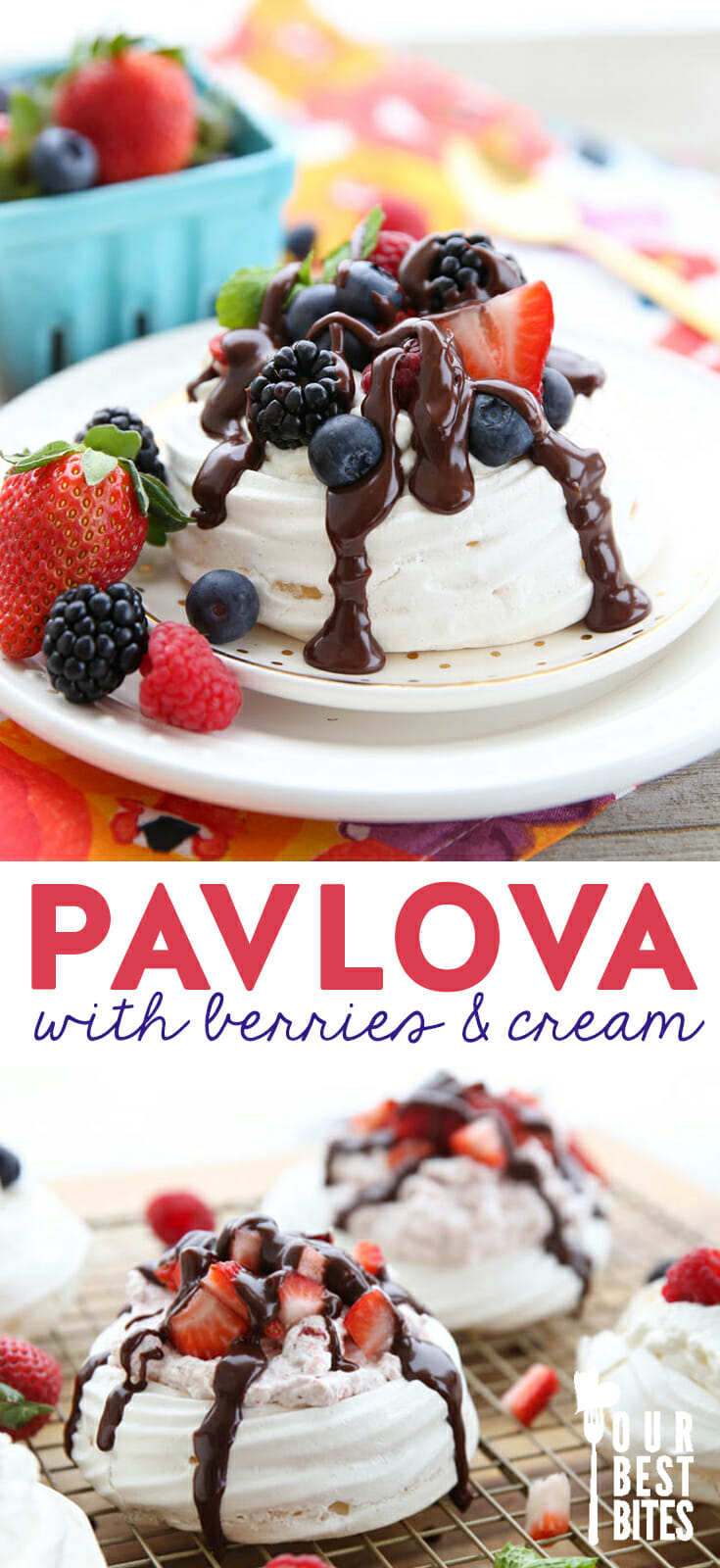 Related Recipes
Find more Valentine's Day ideas right here.
For other desserts like this, check out these favorites!
Did You Make This?
I'd love to hear from you! Snap a picture on tag me on Instagram, then come back and give this recipe a rating!
Print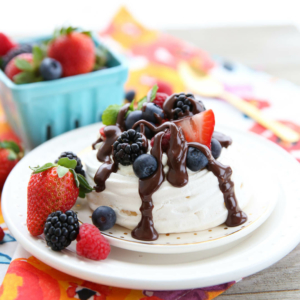 Pavlova with Fruit and Cream
---
Description
Light and pillowy shells filled with sweet cream and fresh berries for a sophisticated, yet casual dessert.
---
4

egg whites

1 cup

granulated sugar

1/2 tablespoon

cornstarch

1 teaspoon

vanilla extract

1 teaspoon

white vinegar
Whipped Cream

1 cup

heavy cream

1 teaspoon

vanilla extract

3 tablespoon

sugar
Fresh fruit for topping
chocolate ganache, if desired
---
Instructions
Preheat oven to 275 degrees F. If desired, trace 6-8 circles onto a piece of parchment paper with a pencil (the top of a large, wide-mouth mason jar or drinking glass works well). Flip paper over and lay on baking sheet. Set aside.
Place sugar and corn starch in a small bowl and whisk together. Place egg whites in a stand mixer with whisk attachment. Beat for 1-3 minutes, until soft peaks form. With mixer running on medium-high speed, slowly add sugar mixture, one spoonful at a time until all is incorporated. Increase speed to high and continue mixing 3-4 minutes longer, until mixture is smooth and glossy and holds stiff peaks.
Add vanilla and vinegar and mix to combine, scraping down edges with spatula. Place mixture in a piping bag and pipe rounds onto prepared sheet. (Alternately you may simply spoon mixture onto the 8 rounds and shape with a spoon.)
Use a spoon to make a little indentation in the center of each mound.
Place pan in oven and decrease temperature to 250 degrees. Bake for 45-50 minutes, until edges are set and sound hollow when tapped. Turn off oven and with oven door cracked open, let pan cool completely.
Pavlova shells may then be stored in air-tight containers for a day or two, or filled.
To fill, whip cream, vanilla, and sugar until soft peaks form. Spoon into center of each shell and then top with desired fruit.
---
Notes
If you'd like a little ganache, simply heat equal parts of heavy cream (by volume) and chocolate chips (by weight). For example, weight out 4 ounces chocolate and pour over it 4 ounces (by volume) heated cream. Let sit for about 5 minutes and then whisk until smooth.