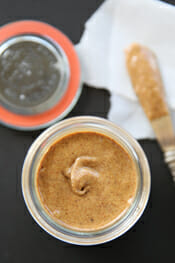 Premium nut butters are becoming more and more popular, and for good reason.  Freshly made butter tastes out-of-this-world amazing when compared to it's pre-made, processed counterpart.  Fancy nut butters can also be incredibly expensive, but with a little  know-how (and the right tools), you can easily make these amazingly flavorful mixes at home.   A few weeks ago I posted this photo on Instagram, and it caused quite a stir!  The subject of my affection: This Designer Series Blendtec Blender.  In SEAFOAM.  Anyone who knows me knows that I loved this color long before it took over Pinterest.  We've talked so much over the years about things we love about our Blendtecs , but we've never actually posted about nut butter!  Let me just say first- if you want your dreams to come true and you'd like one of these bad boys delivered to your doorstep fo' free, be here tomorrow.  On the Scoop.  Don't claim we didn't warn you.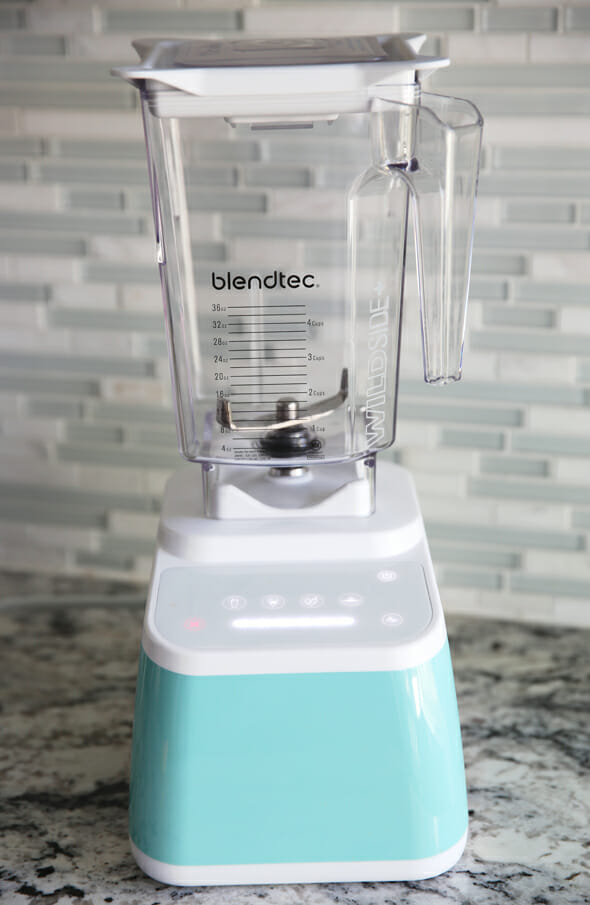 Choosing Nuts
You can use pretty much any variety of nuts to make nut butter.  Each variety yields a different flavor, and a different texture.  Nuts with higher oil contents, like macadamia nuts for example, will yield looser butters.  It's really fun to experiment with different varieties, but it's safe to say, that if you like a certain nut, you'll probably like it in butter form!  This link is an awesome resource from Cooking Light that gives a general description for different nuts and the type of butter they yield.
Prepping Nuts
I always always toast my nuts before making butter with them.  You might prefer the flavor of a raw nut, but I've never made a nut better that didn't taste better when the nuts were toasted first.  To roast at home, roughly chop your nuts and spread out on a baking sheet.  Bake in a 400 degree oven until golden brown. You can usually smell them when they're just right.  Cooking time really depends on the variety so just keep an eye on them.
My local Fred Meyer (Kroger) sells roughly chopped, toasted nuts in the bulk section that are literally labeled "Almond Butter".  They're a great deal, so it makes it quick and easy!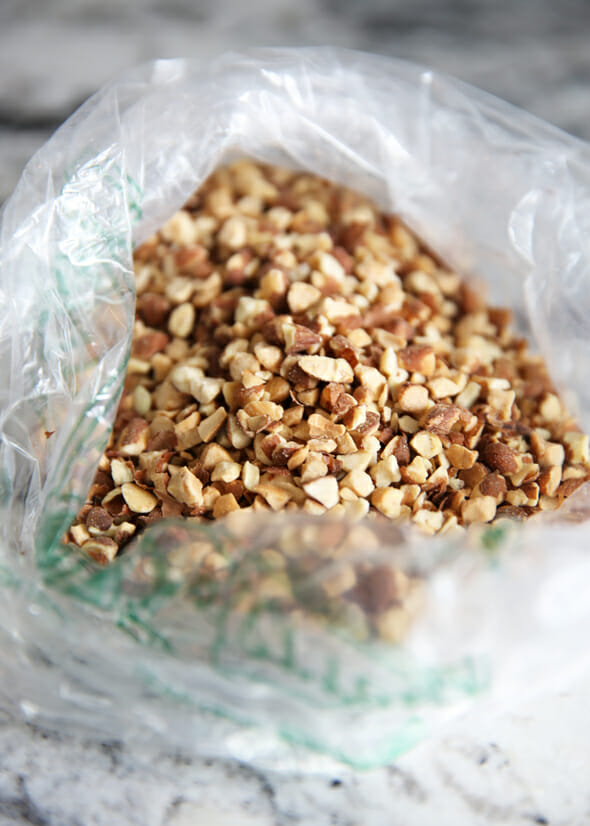 The Blendtec has a Twister Jar  (there's also a mini Twister Jar option) that is specifically made for making things like nut butter.  It makes it SO easy.  If you don't have a high-powered blender like a Blendtec, you can use a food processor.  The amount of nuts you use is going to be dependent on the container you're working with.  I really love my  Twister jar because I can make nut butter with as little as a cup of nuts, or up to 2-3 cups.  If you have a large food processor, you'll need enough nuts that they can fully process in there.
As you start blending, the nuts go through 3 phases.  In this photo below, I'm making cashew butter, and I've added a fresh vanilla bean to it, which is why you'll see little dark specks.  First, they become finely chopped, almost like a powder: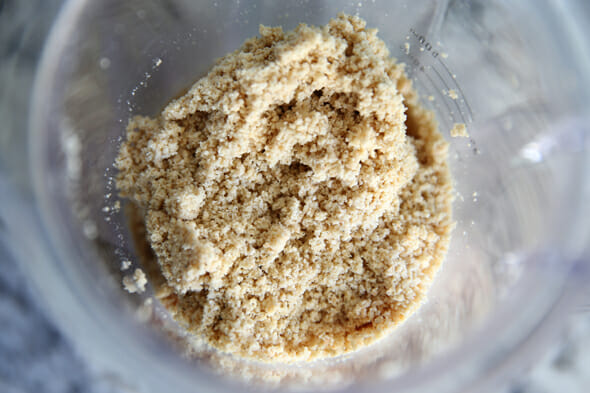 As the oils release, they start to have a paste-like consistency, like a really thick peanut butter dough: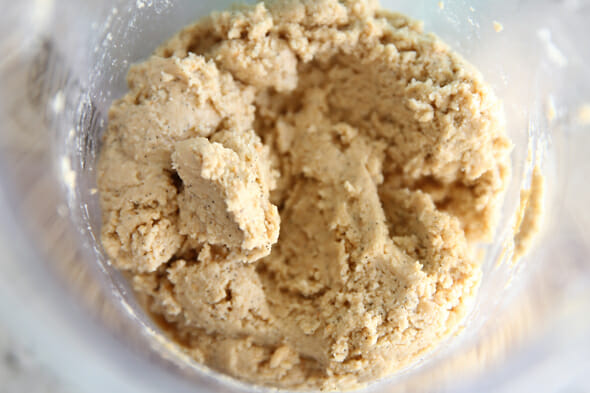 Then finally as all of the oils are released, they transform into this smooth, creamy, in some cases pourable mixture:
Now with a food processor, you sometimes have to be patient for that process to happen.  Depending on the nut variety, and the volume, they can turn to butter quickly, or other times take up to 15 minutes or so.
One thing that's especially awesome about a Blendtec is that it happens fast.  Like, really fast.  I timed it.
Less that 30 seconds, not bad.
Sweeteners
When you're making your own nut butter, you can choose how and to what level, you sweeten it.  Kate had a great idea she shared on Instagram recently, where she just processes a can of honey roasted peanuts.  Brilliant!  If you want to control sweetness a little more,  just add your own to taste.  Granulated sugar is always a good bet.  I like to use dark brown sugar for a delicious warm sweetness.  You can also use honey, or my favorite: pure maple syrup.  Add your sweetener (and salt, if you like) at the very end.
One thing I've learned about liquid sweeteners, honey in particular, is that it often changes the consistency of the nut butter.  Generally it causes it to immediately thicken (which can in some cases be a good thing.)  Because of this, I recommend stirring in a little honey by hand to a spoonful of your butter in a separate little bowl, just to make sure the consistency is okay, and then go ahead with the whole batch.
Flavors
You can also add spices and seasonings to your butter.  One of my favorite things to add is vanilla bean paste. I also almost always add a little cinnamon.  This one pictured below is Maple Vanilla Almond Butter and it's amaaazing.  You can also experiment with cocoa powder and even melted chocolate.  Have you all seen our recipe for Homemade Nutella?  You're basically just combining homemade hazelnut butter with melted chocolate, cream, and butter.  Can't go wrong with that.
(I did not notice until just now- but look at that above photo.  Doesn't it look like a little almond butter man lying face first waist-up in a puddle of almond butter??  Like he tried so hard to get out and just gave up.  Sorry little dude.)  Have fun playing around with seasonings.  Pecan butter is out of this world when sweetened with maple syrup, and spiced up with cinnamon, cloves, and a little nutmeg.  You can also play around with savory seasonings like curry, chili, and cumin.  Savory nut butters work beautifully in Thai dishes like peanut noodles or satays.
And of course sweet butters are killer on toast, waffles and pancakes, swirled in oatmeal, on a sandwich, or even mixed into ice cream.
Now, I definitely want you all to enjoy the beautiful world that is nut butter, and what better way to do it than with a brand spankin' new Designer Series Blendtec Blender??  I'm going to make you be a little patient though, so you have to wait until tomorrow.  Actually, it will be live on the Scoop tonight at midnight.  Set an reminder on your phone for tomorrow so you don't forget to come back and enter!
And let me know if you have a favorite nut butter combo!
Homemade Nut Butter
Tutorial by Our Best Bites
2 cups (or more) roughly chopped and toasted nuts
kosher salt, optional
sweetener of your choice: maple syrup, sugar, honey, etc.
additional seasonings if desired
Place nuts in high-power blender or food processor.  Blend until fine crumbs and then scrape down sides if neccessary. Continue blending until thick paste forms, and then finally buttery nut butter.  Place mixture in a bowl and stir in sweetener and seasonings as desired.