After all these years in the kitchen, there has been one culinary skill that has eluded me until now:  the poached egg. I swore off poached eggs years ago after several failed attempts left me feeling less than confident, but decided to give it a go once again a few months ago and guess what?  I DID IT.  I am now an egg-poaching master.  Honestly I think the problem was that I didn't realize that poached eggs are supposed to look like failure when they first hit the water. Some of the whites fly all over the place and you think you've totally screwed it up, but the key is patience and not messing with them.  I always stuck a spoon in there and tried to "fix" them.  Just let them do their thing and it's all good!  I make poached eggs all the time now.  I love them on a English muffin, or buttered toast, or on top of a waffle or salad or bowl of black beans.  SO many things are better with an egg on top.  You can do it too!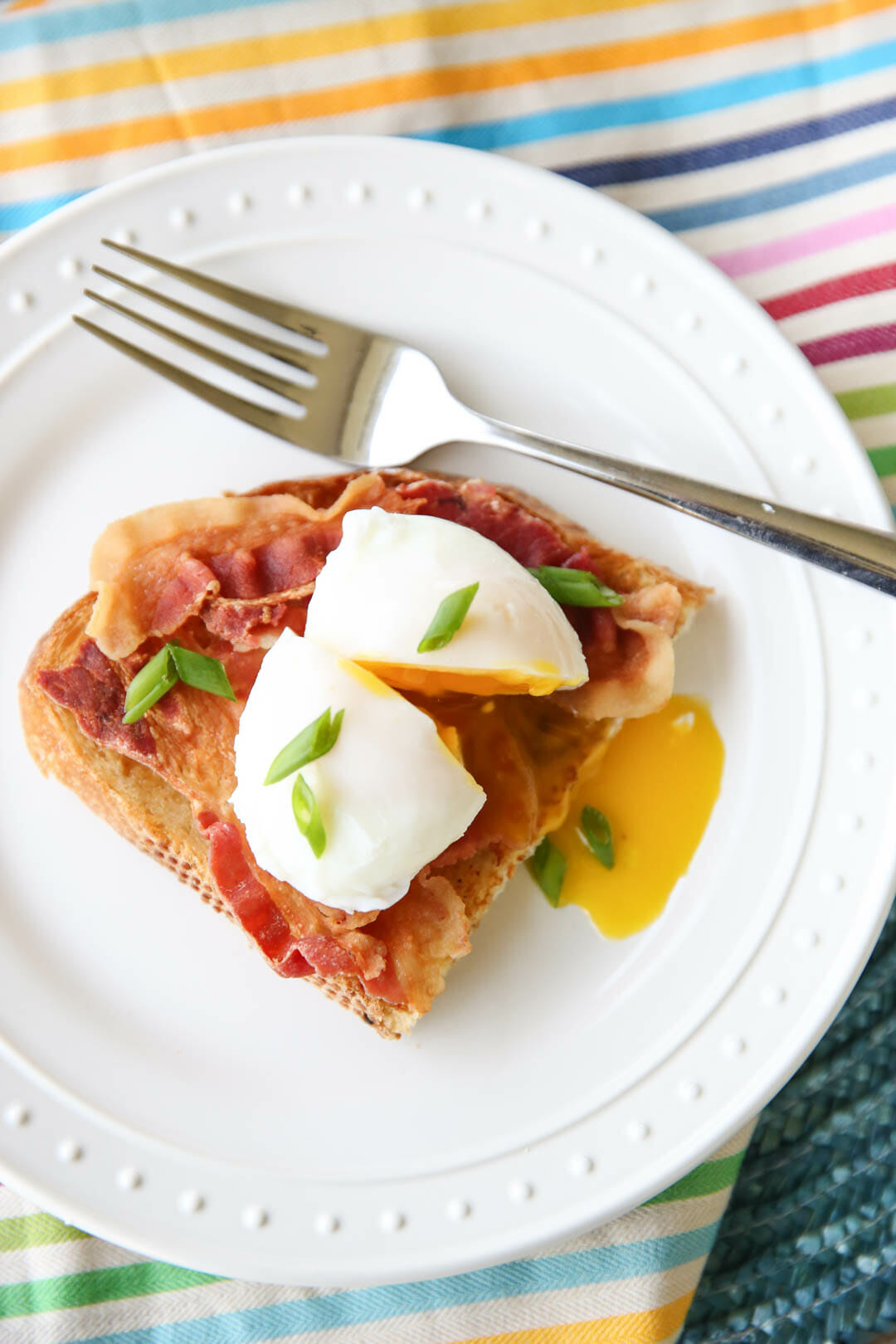 You don't need many supplies here, just fresh eggs (old eggs won't poach well!) a little vinegar, and a slotted spoon.  Also some paper towels.
I'm going to show you two slightly different methods, using two different styles of pans.  One is a small pot, this one is about 6 inches wide.  If you're poaching a single egg, this works great.
And this is a large skillet with tall, straight sides.  If you're using a pan like this it needs to have straight sides at least a couple inches tall and you need to be able to fill it up with enough water that it will cover an egg.  I find this pan works better if I want to poach more than one at a time.  You might also like this method to first learn because you have a little more room to get your bowl close to the water.  You might try both of these methods and see which one you like.
Either way, you'll fill up your pan/pot and turn the heat to medium-high.  We're not looking for a full on boil, or even a full simmer, here.  I found for me it works best right before it starts simmering.  You'll see tiny bubbles like this all over and when they start fizzling up to the top of the pan, like an itty-bitty simmer, that's when I usually poach my egg.  First drop a little swig of vinegar into the pan.  I don't measure, 2-3 teaspoons is great.
You'll want to crack your egg into a small bowl or ramekin and then gently drop it into the pan.  Notice my bowl is almost touching the water.
Now when it first goes in there it looks like failure.  The white goes everywhere and looks all crazy, but just leave it alone.  Don't try and fix it or stir it, just leave it.  After about 3 minutes you can put a slotted spoon in there and retrieve the important part.  Most of the excess egg floats off, but if it's still attached, you can use a pair of clean scissors to trim the edges into a nice shape.  See how pretty?
Now the other method works best with the smaller, taller pan.  You'll do everything the same, except before dropping in your egg, you'll use your spoon and stir the water to create a gentle whirlpool.  Then drop the egg right into the center.  The swirling water helps wrap the egg whites right around itself.  Again, don't mess with it. Drop it in there and leave it.  If you try this whirlpool action with the other wider, shallow pan, it will probably look like a hot mess.  But with a smaller pot like this, it works beautifully.  The swirl method creates a slightly different shaped egg.  You can kind of see in the photo below, there is way less egg white mess in the pot, but the egg is kind of football shaped.  Depending on how you're serving the eggs, you might like one or the other better.
When the egg is done, just remove with a slotted spoon and place on a few folded paper towels to drain any excess water and then serve.  It's driving me crazy I forgot to salt and pepper this on in my photo!  Definitely salt and pepper. Try this and then come back and tell me how you are an egg poaching master.
Print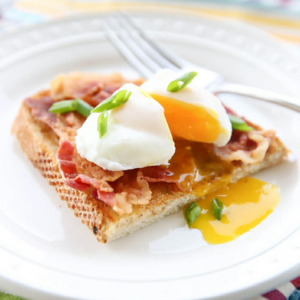 ---
Egg(s), make sure they are fresh
vinegar
other supplies
slotted spoon
paper towels
---
Instructions
Fill either a small pot, or a shallow sauce pan with 2-3″ straight sides with water. Turn heat on to medium high and wait for tiny bubbles to appear all over the bottom of pan and just barely start moving through the top in a teeny tiny simmer. You don't want your water to actually be boiling, and I don't like it to even be at a full simmer, more like a baby simmer.
Add a small splash of vinegar to the water. 2-3 teaspoons is great, no need to be exact.
Crack a fresh egg into a small prep bowl or ramekin. Lower the bowl to just above the barely-simmering water and slowly let the egg drop into the water.
Don't be scared if the whites look all funky and spread out- just leave it alone! Let it cook at that same temperature for 3 minutes for a runny egg, and a minute or two longer if you like it a bit more firm.
Use a slotted spoon to remove the egg and set it on some folded paper towels to absorb excess moisture. If you like, you can use a clean pair of scissors to clean up the edges of the egg.
Season with salt and pepper and serve however you like!
---
Notes
Tip: If using a smaller pot, try swirling the water to create a gentle whirlpool before dropping the egg into the center. The swirling water helps wrap the egg whites around the yolk keeping everything together.