While Kate has a love-hate, but mostly-hate relationship with eggs, I love them and a lot of my quick-fix dinner recipes revolve around them.  I have such comforting memories from when I lived in Brazil and the locals would serve a late dinner of black beans and rice with a fried egg on top.  It seemed like a strange combination to me at first, but since then I've come to absolutely love eggs with things other than the traditional breakfast combos.  So this is my take (emphasizing the word my) on the classic Latin dish, Huevos Rancheros.  I've purposely kept this recipe amazingly flavorful, while at the same time keeping the calorie count low.  It's a great light meal, whether you whip it up for breakfast, lunch, or dinner, and with a good mix of both protein and carbs, it's quite filling as well.
We're going to start by mixing up a quick pan salsa.  You'll be amazed at how flavorful this is, with just a few simple ingredients.  Finely mince some onion, jalapeno, and garlic.  You want them minced small so they cook quickly.  The jalapeno adds just a slight kick, but not too much heat.  I'm a total wimp when it comes to spicy foods, so if I say it's mild, I really mean it.  If you're concerned though, you could always substitute some mild canned green chillies, and wait to add them until the tomatoes go in.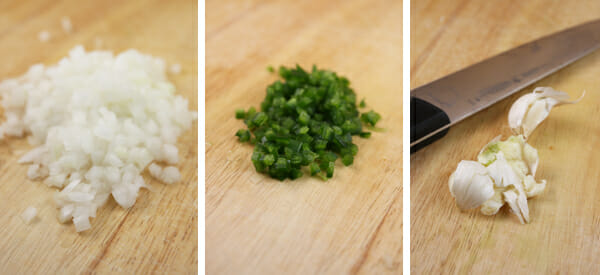 Saute the onions, jalapenos, and garlic in a drizzle of olive oil for a few minutes.  If you're using a stainless pan like me, all of those browned bits are a good thing, just keep stirring so the small pieces don't burn.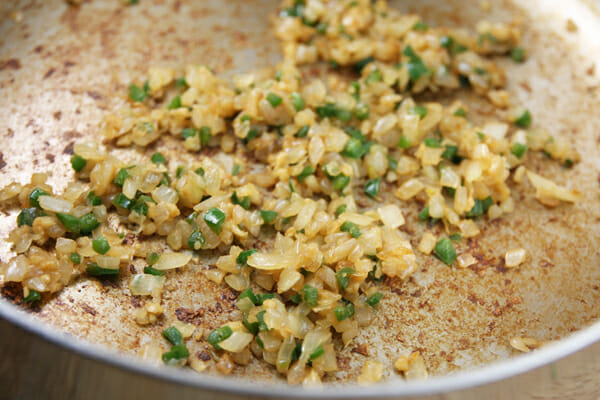 Stir in a little ground cumin, along with a sprinkle of salt and pepper, and then we're going to use a great shortcut.  Canned, diced tomatoes are something I always have stocked in my pantry.  For this recipe, use fire roasted ones if you can.  They add awesome flavor and smokiness.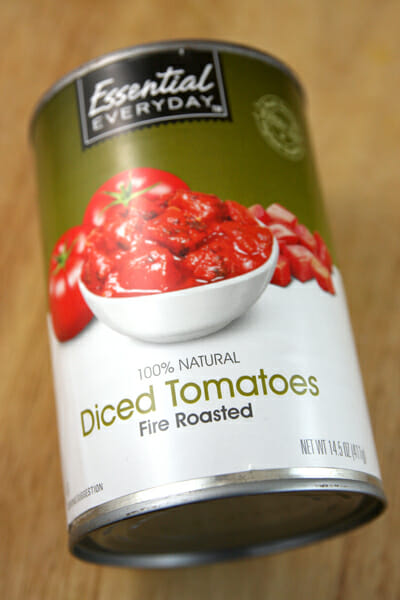 Pour them in the pan, juices and all.  Bring the mixture to a simmer and use a spatula or wooden spoon to scrape up those bits off the bottom of the pan.  It just needs to simmer for about 5 minutes to let those flavors combine and finish softening the onions and jalapenos.  You get this amazingly flavorful salsa in less than 10 minutes.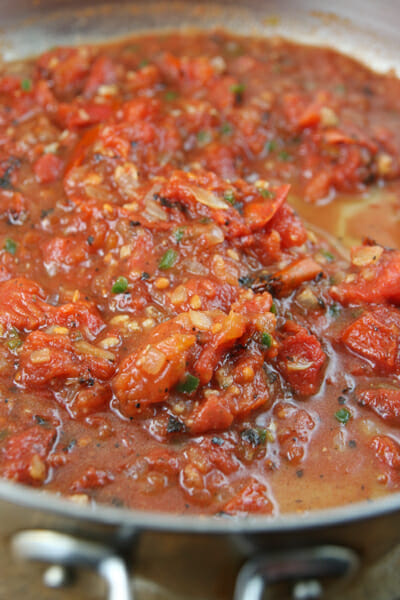 Set the salsa aside, and warm up a can of refried beans.  You could make your own batch of our quick and easy black beans but we're going for a super fast low-fuss meal here and canned refried beans actually work great.  I use low-fat refried black beans.  They already have seasonings in there so you just need to warm them up.  I just pop them in a bowl and heat them in a microwave.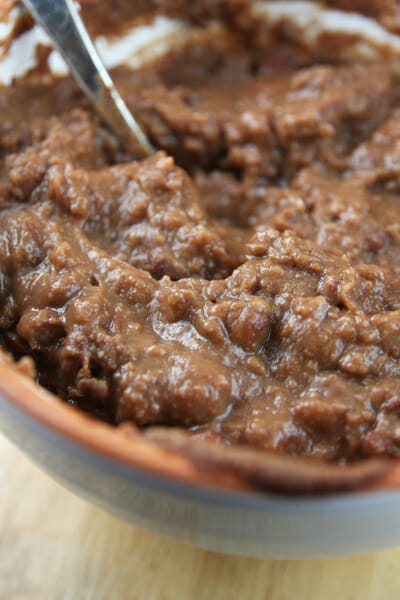 Next up: tortillas.  You can use any kind you like, homemade, flour, or corn.  My favorite, which I'm pretty sure I've mentioned before, are these white corn tortillas from La Tortilla Factory.  I love the flavor and body of good corn tortillas, but so often the regular brands at the grocery store are dry, crumbly, and bland.  I haven't found any that are like these- you get really great corn flavor, and a slightly chewy texture, but they're still really soft and pliable.  They taste like a corn/flour hybrid, because they are!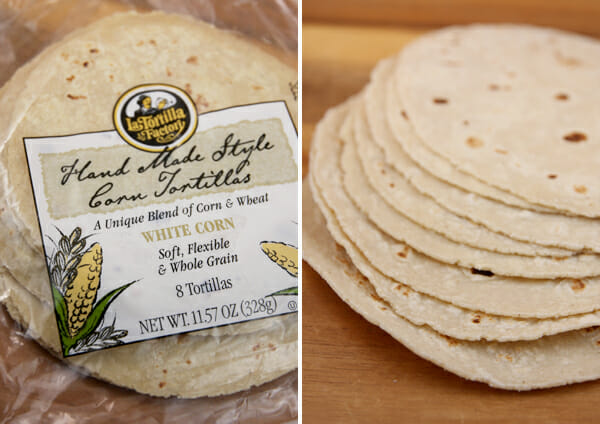 Heat up a non-stick pan and once it's hot spray a little nonstick spray in there.  It just takes a minute to warm up the tortillas; cook them until you see little bubbles and they turn golden brown.  Keep the cooked tortillas wrapped in foil, or in a warm oven to stay warm and soft.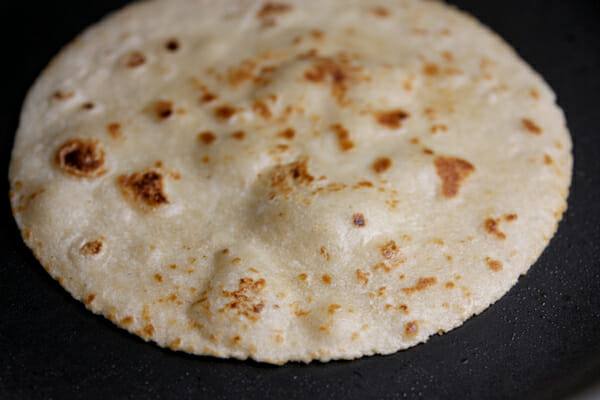 When you're ready to assemble, just spread the beans on tortillas and top with an egg.  You can fry the eggs, poach them, whatever your little heart desires.  I usually just fry up a few eggs in the hot pan I warmed the tortillas in.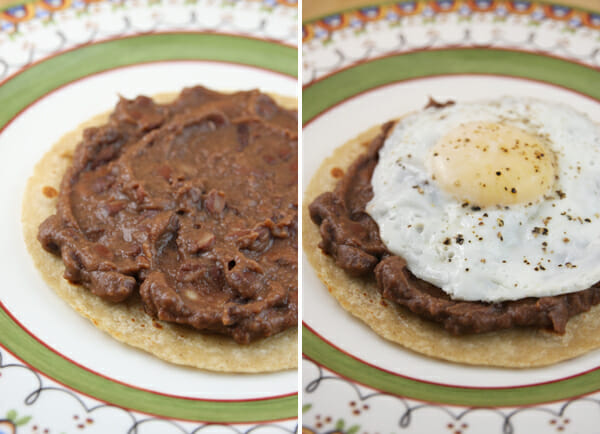 If you're making quite a few of these to serve, great trick is to spray or butter a muffin tin really well and crack an egg into each one.  Bake them in the oven at 350 until they're as done as you want them.  That way they're all done at the same time.
After that, spoon the salsa mixture over the top and sprinkle with a little chopped cilantro and a little feta.  You could certainly use any other type of cheese; pepper jack and cheddar are great, and traditional recipes usually use a Mexican cheese like cotija, but I actually don't love cotija- I don't think it has a lot of flavor and gets lost in this recipe.  I use fat free feta because it's really low-calorie, yet strongly flavored so you don't need to use very much.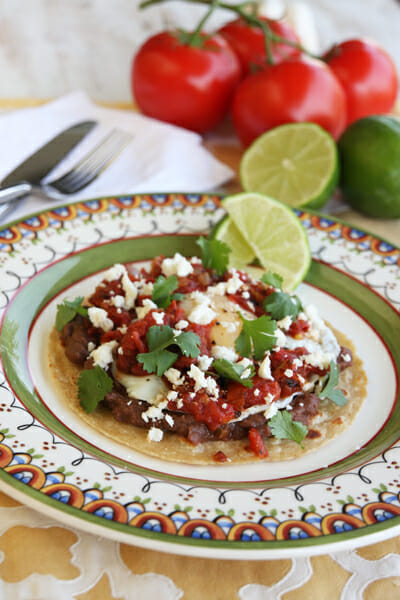 You don't need to try and wrap it up like a burrito, just eat it with a knife and fork.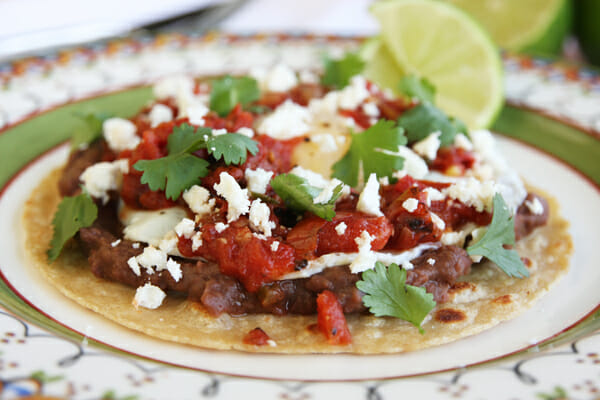 It makes a great dinner, or breakfast or lunch.  and you can even have the salsa made ahead of time which makes it really easy to assemble last-minute.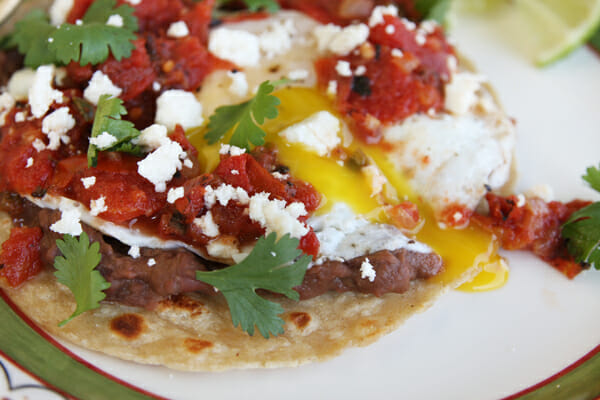 If you have an avocado around, it's really good sliced up on there too.
Huevos Rancheros
Recipe by Our Best Bites
1 teaspoon olive oil
1/2 cup finely minced onion
2 cloves garlic, pressed or finely minced
1 jalapeno, seeds and membranes removed, finely minced (click here for how to)
1/2 teaspoon ground cumin
1/4 teaspoon kosher salt, more to taste
4-6 cracks black pepper
14.5 ounce can fire-roasted tomatoes
6 small tortillas (I like La Tortilla Factory White Corn)
16 ounce can refried beans, heated according to directions on can
6 eggs, fried, baked, or poached
6 tablespoons feta cheese
chopped cilantro and lime wedges for garnish and serving
Heat a medium sized skillet to medium heat.  When hot, add olive oil and then onion, garlic and jalapeno.  Saute, stirring constantly for 4-5 minutes.  Add cumin, salt and pepper and stir.  Add tomatoes (including juices) and bring mixture to a simmer.  Stir while simmering for about 5 minutes, using a spatula to scrape bottom of pan to release browned vegetables.  Set salsa mixture aside.
Heat a clean non-stick skillet and spray with non-stick spray.  Heat tortillas one at a time until bubbly and golden brown.  Spread about 1/4 cup beans on each tortilla and top with a fried egg.  Spoon about 1/4 cup salsa over the top and sprinkle with cilantro and feta.  Serve with lime wedges if desired.  Serves 6.
Calories Per Serving: 252 (using low-fat beans, fat free feta, 1/4 cup each salsa and beans)  Protein: 17g, Fat: 6g, Carb: 28g